Today, as part of our series of comparisons, we will look at a smaller, yet still popular multiple account browser – Incogniton.  Originating from Russia, this browser often comes up in searches for Incognito mode in Chrome. Don't mix the names up!
Incogniton has its share of faithful users all around the world. Niche forum users often mention it as a free alternative to all other browsers that manage multiple accounts.
TLDR: skip to the end for a quick comparison table with all the main points.
But is Incogniton worth buying for business in 2023? Can it be trusted for managing multiple accounts? In this article, we'll take a closer look at Incogniton, look at the features and rates, and compare it to GoLogin.
Incogniton: features and usage nuances
At the official website, Incogniton positions itself straight: it's an antidetect browser. This means if you get to this website, you already know what is and what you want from the software.
Otherwise you won't get far ahead, and there are a lot of reasons why: we'll show it later on.
We will check Incogniton from the point of a new user's view: download and install it, test all features available on the free plan and try to mention important and curious nuances of work that Incogniton offers.
First impressions
Installing and registering an Incogniton account already feels a bit complicated. There's no Google login, the client form has lots of questions and the password requirements are very strong (which is not necessarily bad). We also had to actually buy the free plan for $0 through the cart to use it, which is quite strange as well.
At the first glance, Incogniton is more of an "old school" browser for multiple accounts. It requires a good technical background. Incogniton feels like the interface was copied from some other browser's old version and hasn't been updated since.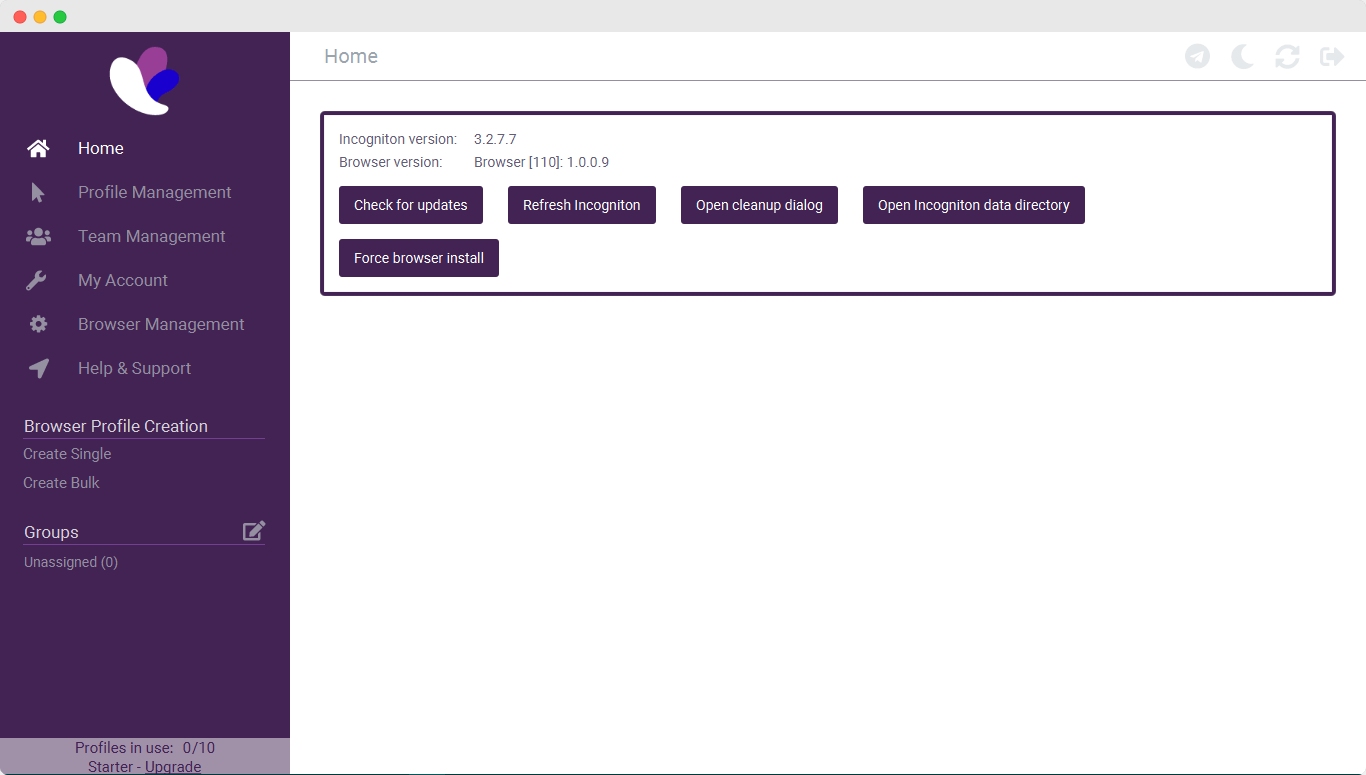 The documentation center includes good enough docs and videos. Still, you will need some technical background with Incogniton as it requires a lot of manual adjustments to work. As we said, you're supposed to know well what you want from the virtual browser profiles. There are no tooltips for newbies, but you will receive a first run email with initial guides.
There is a free plan with a 10 profile limit: it worked well enough for us to test Incogniton's multiple account abilities.
Profile creation: immediate problems
Creating a new profile and setting up proxies in Incogniton is not easy at all. It requires more technical knowledge about fingerprinting than other modern browsers.
We created a few profiles with standard settings, but all of them failed to pass Iphey and Pixelscan checkers on the hardware side. This means problems with the unique digital fingerprint: the most important thing in an antidetect browser.
It turned out Incogniton has quite an outdated Chrome 110 browser core version, but offers a newer user agent somehow. For some reason these don't correspond.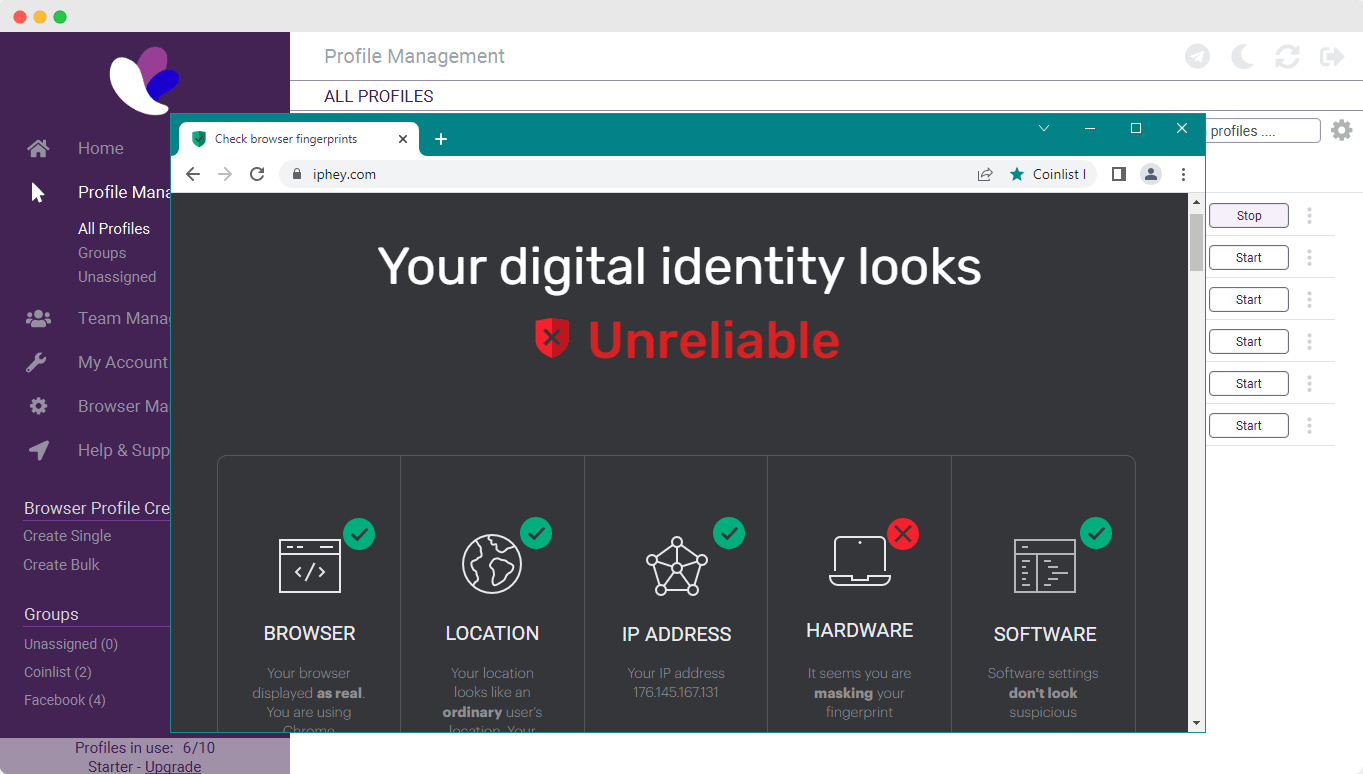 We decided to make a support request about how that system works in Telegram chat. The answer was more or less quick. The team advised leaving everything as it is and turning the "Pass Iphey checker" option on (spoiler: it didn't help).
They also promised to issue a browser core update soon to help with checkers, and for now simply trust them with the accounts. A new browser core is a hard to believe promise. The last update on Incogniton website was issued a shocking 5 months ago.
Another difficult moment for us was assigning proxies – a seemingly basic task. You can add and check proxy IP port only manually in each profile settings, which is a terrible routine for 2023 standards. There is no option to paste a bulk of proxy IPs and then spread them among profiles. At least there is automatic paste of one proxy parameters so you don't have to paste your proxy username and proxy password separately.
Bulk profile creation is available, but – surprise – it requires some coding experience. CSV tags are not actual coding, but this can easily overwhelm a new user. In 2023 operations like this should be done with a button.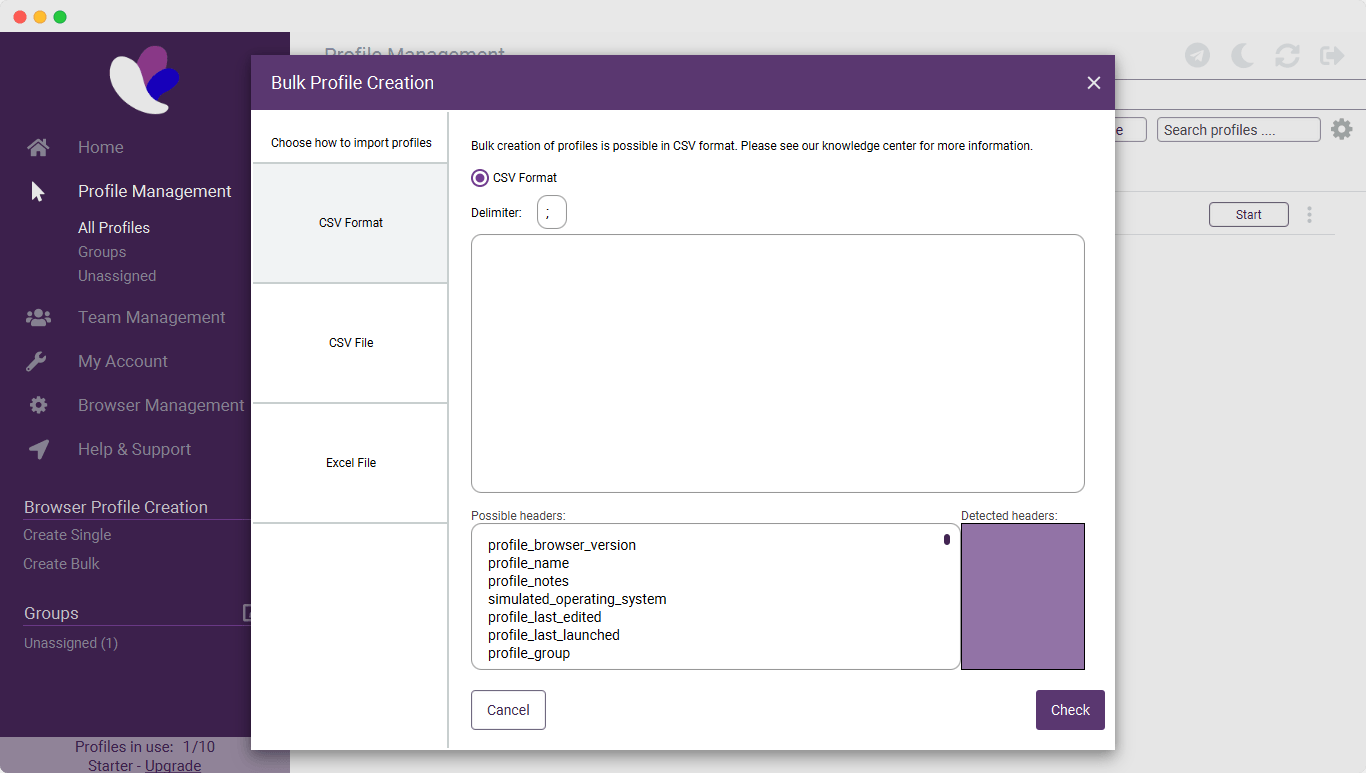 Profiles launch and stop with moderate speed, including the mass launch option. We haven't met any lags or bugs with the profile launcher during our tests – at least on the free plan with 6 profiles.
On the whole, we found Incogniton's interface to be very outdated and too technical (especially on the proxy side). It leaves an impression of an old, neglected and suspicious piece of software for tech-savvy enthusiasts.
Comfort of use
If you're a more technical person or simply suffer from nostalgia, Incogniton might be an adequate free option for you, once you learn the basics of its interface. The table of profiles is quite primitive, but it can be customized. It also has relatively good mass actions, although we weren't able to test the Cookie work on the Free plan.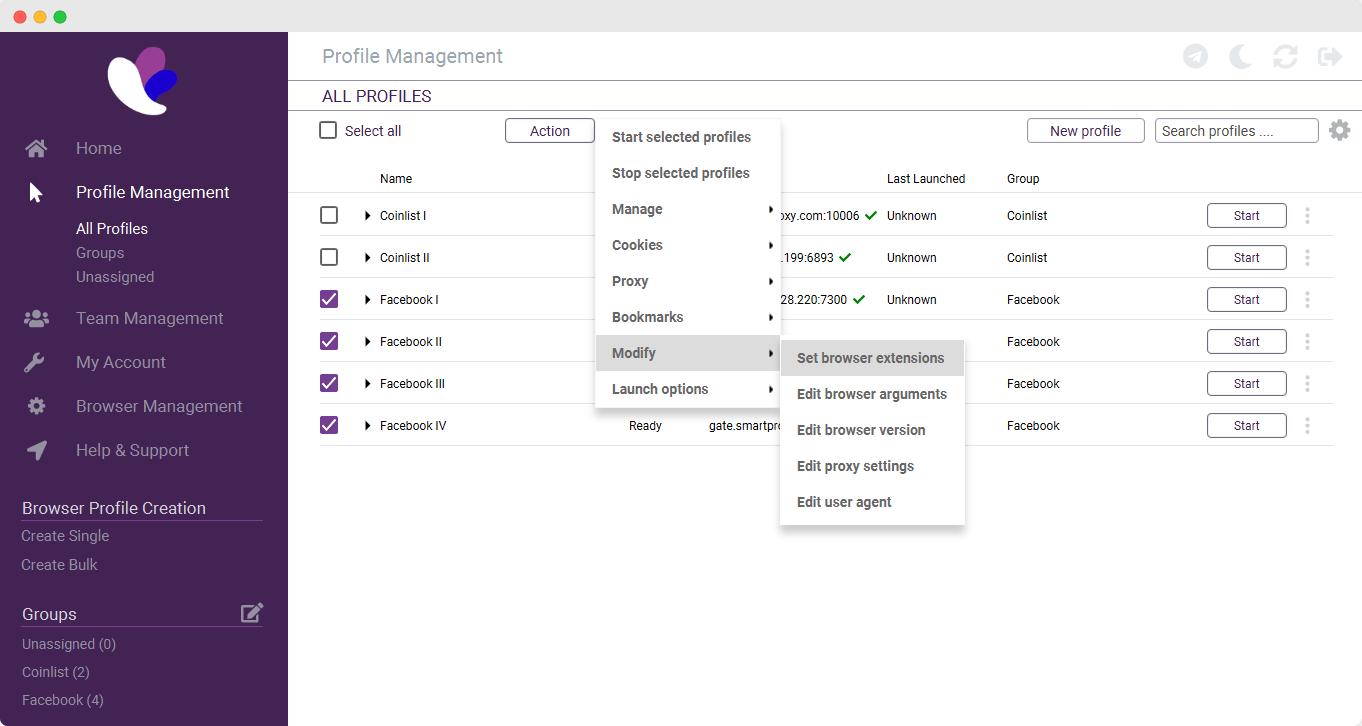 Incogniton browser is adapted relatively well for mass profile actions and working with larger amounts of profiles, although we haven't tested that. Multiple browser profiles can be grouped into Folders with adequate team permission options. However, we noticed there are no tags – this simple option is extremely useful for sorting and teamwork. Incogniton users must be solving the profile statuses with some other method.
A curious feature of Incogniton that used to be unique is human type-in. It allows to imitate real human typing when filling website forms. This was unique for Incognition years ago, but now most major browsers including GoLogin offer it as standard.
Like most browsers, Incogniton offers managing extensions and bookmarks. However, it's done through a very outdated interface. Bookmark URLs don't auto-wrap: you can't simply write address.com without the https prefix.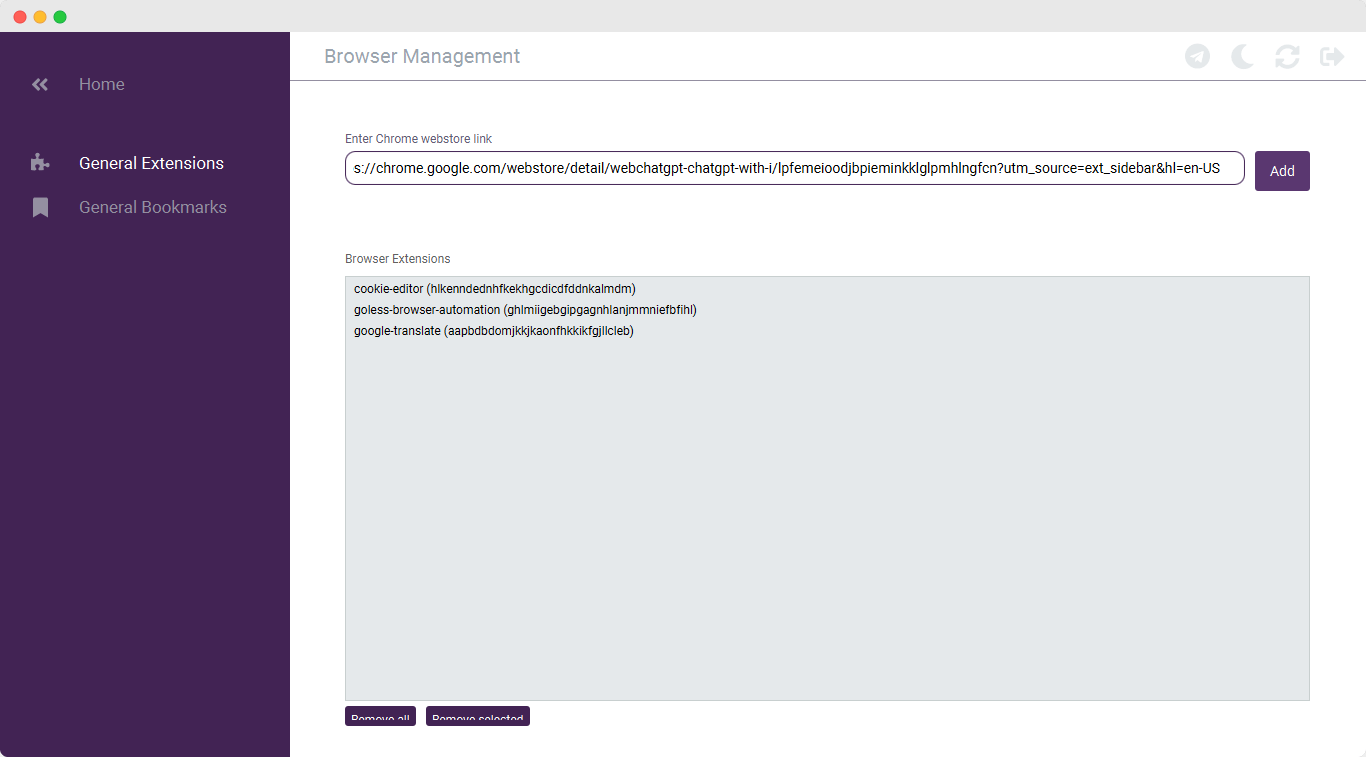 Mobile devices and fingerprints
This is yet another area where Incogniton is far behind. Remote access from different devices is a complete necessity in 2023. Unlike GoLogin, Incogniton offers no mobile or web version for remote work. This is a serious limitation: many alternative browsers offer mobile apps.
Incogniton also does not offer any mobile fingerprints. Only Windows and MacOS operating systems are available. This might be critical if you work with mobile platform ads.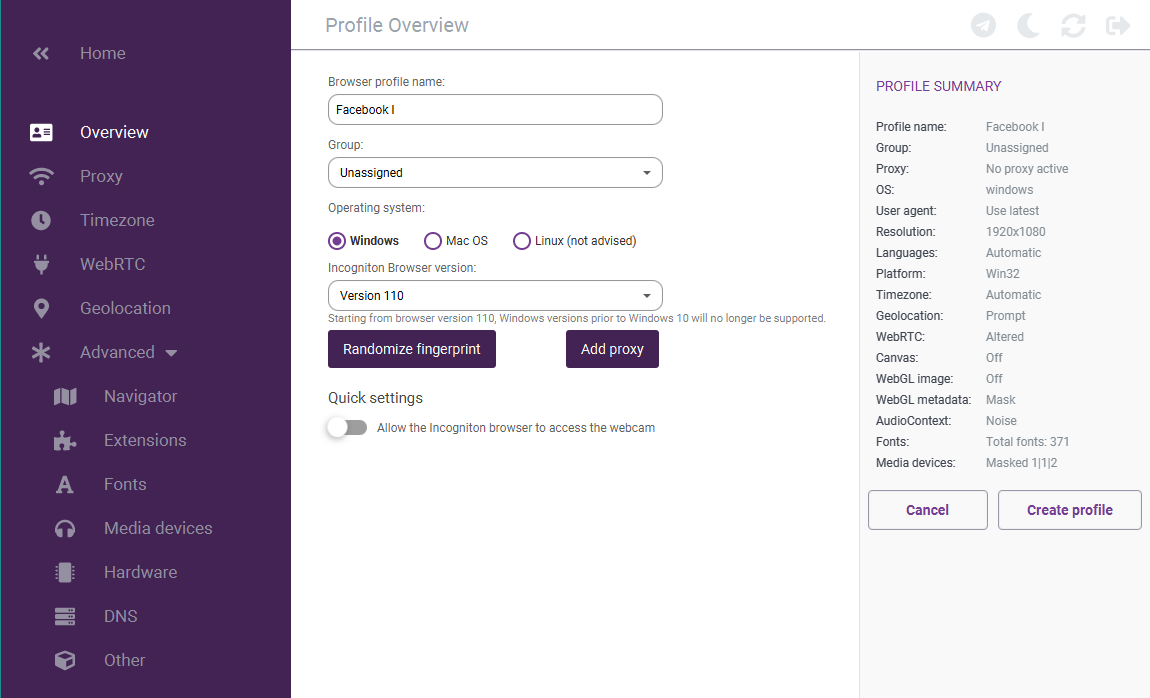 Support and updates
Another mixed up moment with Incogniton is the updates frequency. At the moment of our tests, the latest update on Incogniton website was marked March 2023 – almost 6 months old. Update frequency is a critical safety moment. Even 1 month with no updates is already a very long time in the browser fingerprinting world.
It turned out the Incogniton team posts updates on their Telegram channels. Still, the latest version of the browser core available was Chrome 110, which is 8 months old.
We weren't able to grasp why Incogniton offers a user agent newer than the browser core version. This might be some curious scheme for work with Facebook. Still, it certainly didn't feel safe running the accounts after failed fingerprint checks.
The support works on Telegram and e-mail only. We should note we received an answer on Telegram very quickly, although it didn't quite solve our case. Also, we haven't been able to find any user community: there are only Telegram channels led by the team.
We should also mention Incogniton has recently had a user data leak only a month ago. Users lost funds from their crypto accounts managed via Incogniton after a malware attack. We haven't seen any messages about compensations from the team. At GoLogin, we advise you to change passwords frequently and always use 2FA operating sensitive data or crypto accounts.
Compared to Incogniton, GoLogin seems straight-up superior in both functionality, interface and pricing. It leaves an impression of a well-maintained and modern software. Under the simple, minimal interface GoLogin offers powerful all-round functionality.
GoLogin is well suited for both solo use and professional teams of any size due to its affordable prices and advanced features.
Let's compare Incogniton to GoLogin, and at the end take a look at prices and rates.
Features and comfort of use
GoLogin has an intuitive and clean interface that will suit any new user. However, inside GoLogin also has a great set of advanced features. Simple controls are connected to a lot of sophisticated settings and features.
Unlike Incogniton, GoLogin has:
More advanced and up-to-date fingerprint settings
Proxy manager that saves a ton of time pasting proxies
One-click profile creation
Built-in free proxies right in the browser
Frequent updates of the app maintaining safe work
Tags for sorting and organised team work
Android app + Web version with cloud-based profile management
Support right in the app and on the website
Good English community
Free 7-day trial of all paid features.
Thanks to a more modern interface and simplicity, GoLogin is often used as a team database for agencies. Even an enterprise sized team can be organized here without problems.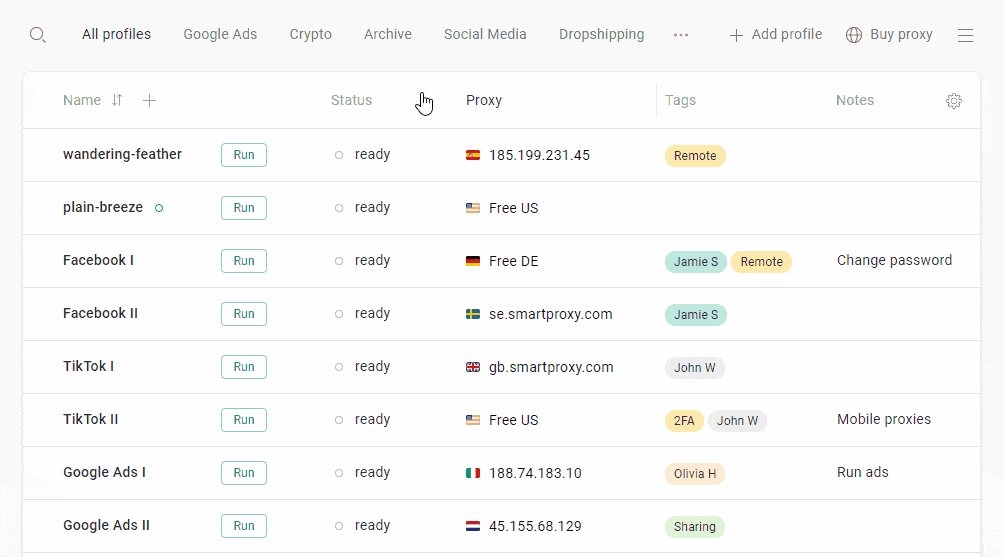 Mobile app and web version
Unlike Incogniton, GoLogin has a web version, which can be accessed from any of your devices. From there, you can launch and edit profiles without a computer: they will work on a safe cloud server. GoLogin is also available as an Android app.
For comparison, Incogniton browser can be downloaded only for Mac and Windows operating systems.
Support quality
The support team quickly responds to all user requests and tries to help in any situation. GoLogin managers often collect customer feedback and suggestions directly from the users, making browser updates as relevant as possible.
Users ofter say their problems were solved by chatting with GoLogin team or through browser updates that happen quite often.
Updates frequency
Compared to Incogniton, GoLogin team updates the browser quite frequently. It is a well-maintained software. The team does everything necessary to keep user data safe and take user needs into account. Updates are automatic: you just need to restart the browser.
Clients often praise GoLogin for the stable profile work in 24/7 mode without downtime. The stability factor is often the reason why users move from Incogniton and other alternatives to GoLogin.
Let's move on to the final part of the comparison: plans and pricing.
Incogniton vs GoLogin – Pricing
Free plans and trial periods
Both Incogniton and GoLogin offer forever free plans. Incogniton comes more generous with 10 free profiles included (compared to three in GoLogin). That amount will be enough to remain anonymous for personal needs, if you trust Incogniton enough with your personal data.
GoLogin offers 3 profiles on the Forever Free plan, but there's also a free trial of all paid features for 7 days with no restrictions when registering a new account.
Paid plans
Incogniton and GoLogin seem to have a close match on pricing at first glance. However, there are nuances that become serious when you begin to actually count the costs.
Let's take a closer look at the paid plans and prices of Incogniton and GoLogin. We will calculate the costs with different use scenarios and scales of work. To stay objective, we'll keep monthly payment option in mind. We'll also consider long term payment discounts.
Personal use
The first paid plan (Entrepreneur, 50 profiles) costs $29,99 a month. When you add it to cart, it's already $35,99: VAT is not included in the Pricing page. That's not very transparent for an already suspicious software.
Incogniton team offers an option to evade paying the VAT for non-EU businesses. We will mention both prices for a fair comparison.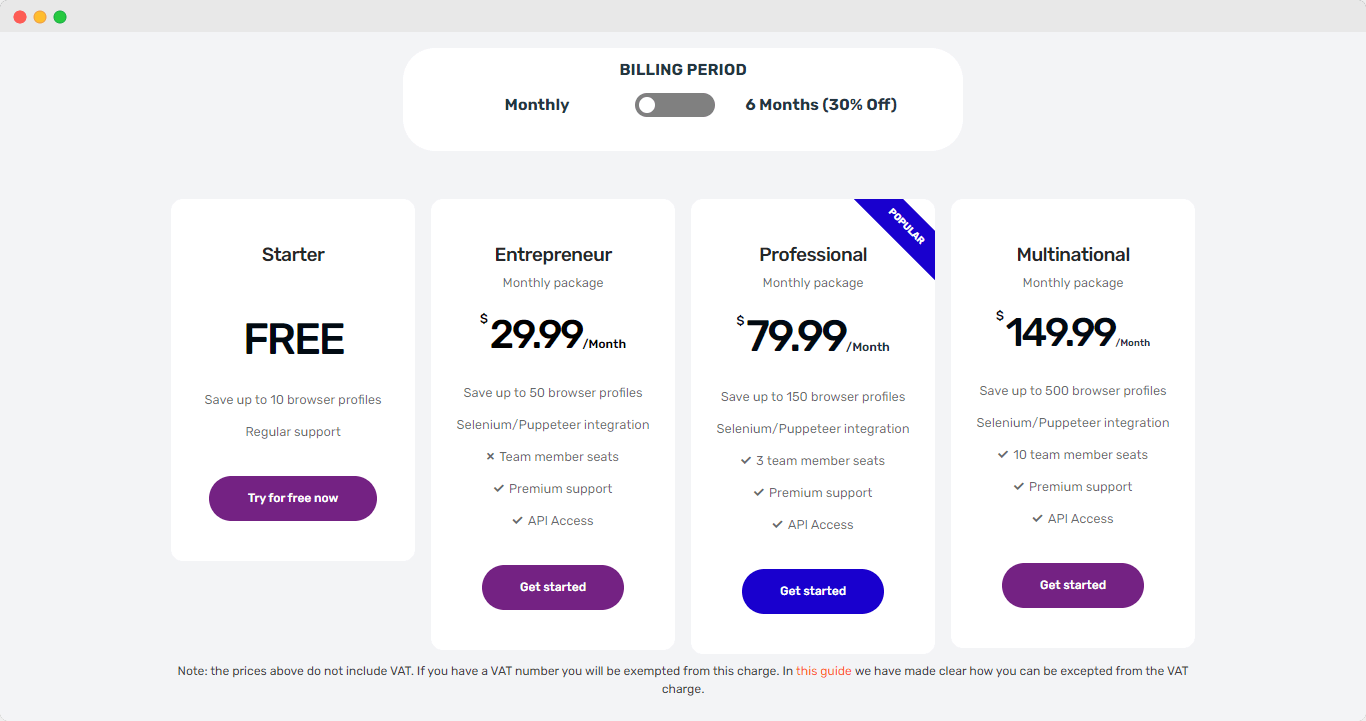 A similar GoLogin plan (Professional, 100 profiles) costs $49 per month – no extra. That's about half the price if you consider the average profile price. GoLogin offers more for the money, and also gives a week of free trial for testing.
Incogniton offers a long-term discount: you can get a 30% discount if you pay for 6 months. GoLogin offers a discount only for a yearly payment, but offers a generous 50% discount.
A year of 50 profiles use will cost $252 on Incogniton, while 100 profiles on GoLogin will cost $294. That's a double amount of profiles for a comparable price. 
Team plans
Incogniton team plans – Professional and, for some reason, Multinational – contain 150 and 500 profiles. These are claimed to cost $79,99 and $149,99 per month without VAT.
Let's count the VAT in: that's $95,99 for Professional and $179,99 for Multinational per month. These plans include 3 and 10 team seats respectively.
GoLogin comes even cheaper here, offering more seats and more profiles for the teams. Business and Enterprise (300 and 1,000 profiles with 10 and 20 team seats) will cost you $99 and $199. GoLogin ends up costing twice cheaper again, even without the yearly discount.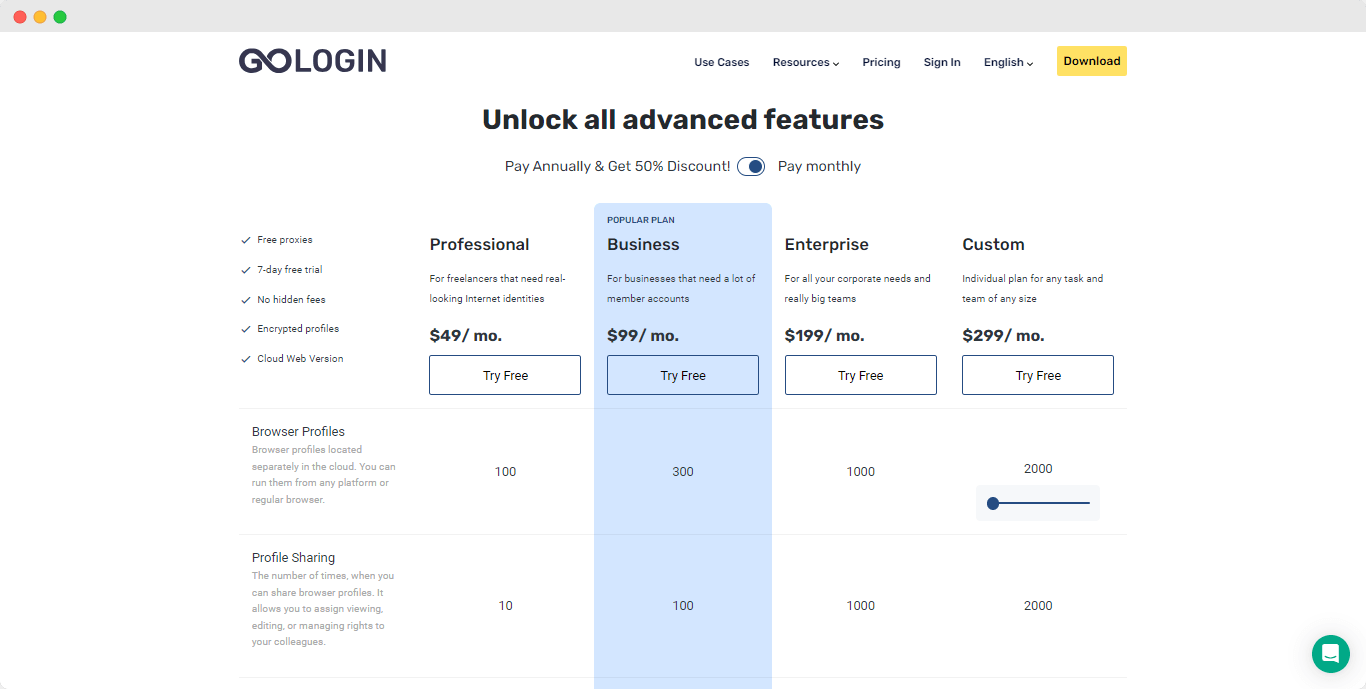 We were not able to compare the top Custom plans: unlike GoLogin, Incogniton does not offer a Custom plan at all.
After all, GoLogin has a more fair price-quality ratio. Evaluate your company's budget and consider how much you're willing to pay for the software.
If you are already working with Incogniton, you can replace it with GoLogin. Try it out on the free test period and evaluate how many accounts survive in the first and the second browser. This is the parameter that most often reflects how expensive is the browser for your work.
Incogniton vs GoLogin: Summary
Browser comparison often comes down to one key factor: think about what you need from an anti detect browser. If you know exactly where you want to get your work, it is much easier to make a choice.
We've prepared some questions to help you choose the best anti detect for your situation:
How many browser profiles do you need?
Do you need to share profiles with partners?
How much are you willing to pay for a program to work?
Does the browser have a good reputation? What do reviews and forums say about it?
Can you test the browser for free? If yes, which one suits you best?
To summarize the comparison, we have compiled a brief table of pros and cons so that you can compare browsers on your own.
| | | |
| --- | --- | --- |
| Comparison Criterium | Incogniton | GoLogin |
| Free plan | ✅ | ✅ |
| Free trial of paid plans | ❌ | ✅ |
| Features set | ❌ | ✅ |
| Comfort of use | ❌ | ✅ |
| Beginner-friendly | ❌ | ✅ |
| Country of origin | 🇷🇺 | 🇺🇸 |
| Updates frequency | ❌ | ✅ |
| Affordable paid plans | ❌ | ✅ |
| Mobile app | ❌ | ✅ |
| Profile cloud launch | ❌ | ✅ |
| Free in-app proxies | ❌ | ✅ |
| Support quality | ✅ | ✅ |