In this Honest Comparison, we will look at Dolphin Anty browser as one of the top contenders in this space. This affiliate marketing browser was created in 2021 by Denis Zhitnyakov, who is considered almost a legend in Russian-speaking affiliate and ads world.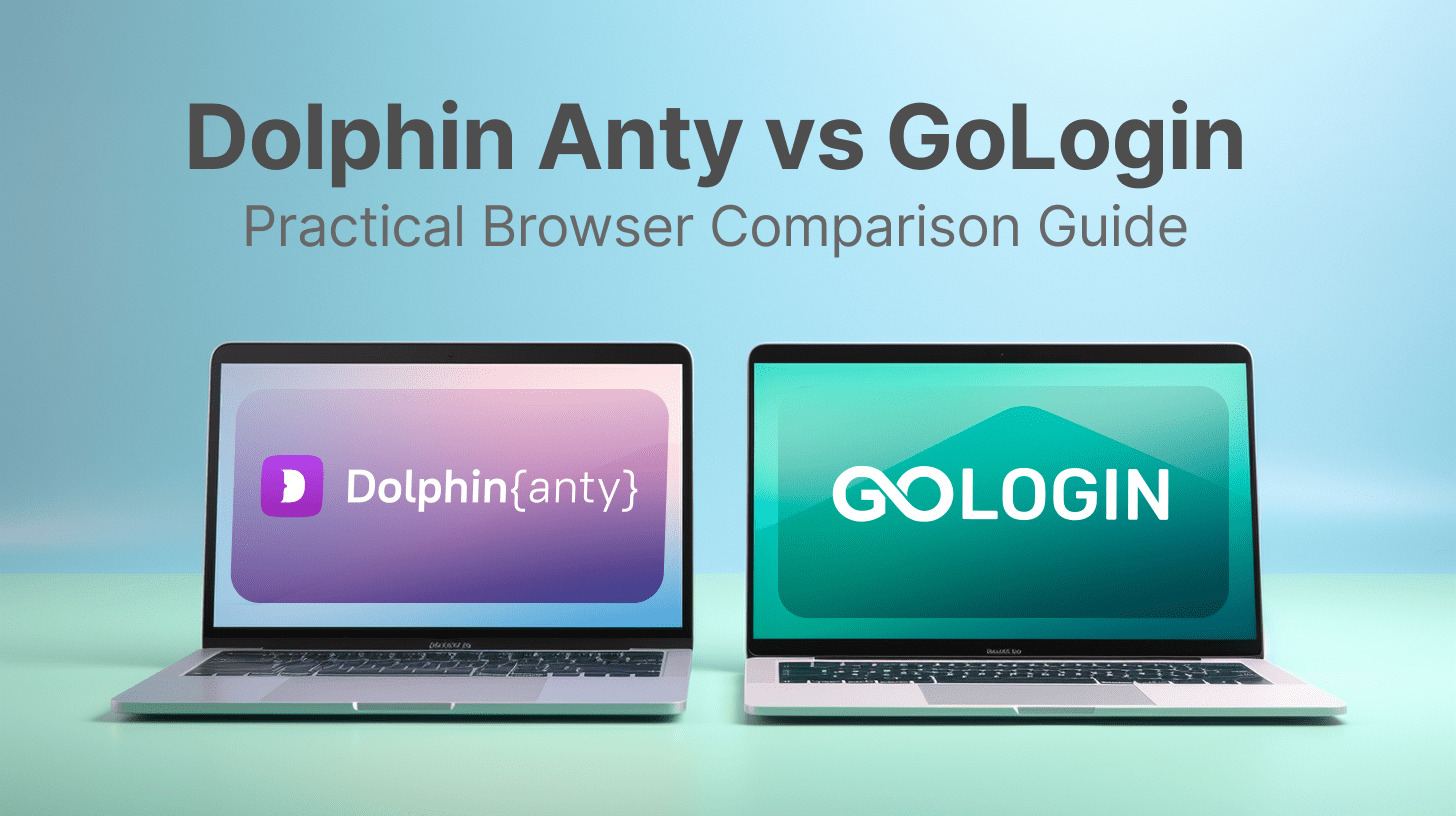 Anty Dolphin became almost an instant hit in the local ads community. That's mainly because it was originally made by an experienced marketer who knew the exact pains affiliates have running ads on Facebook and other platforms.
Anty Dolphin is targeted straight at these people: that's what it declares out loud at their main website page.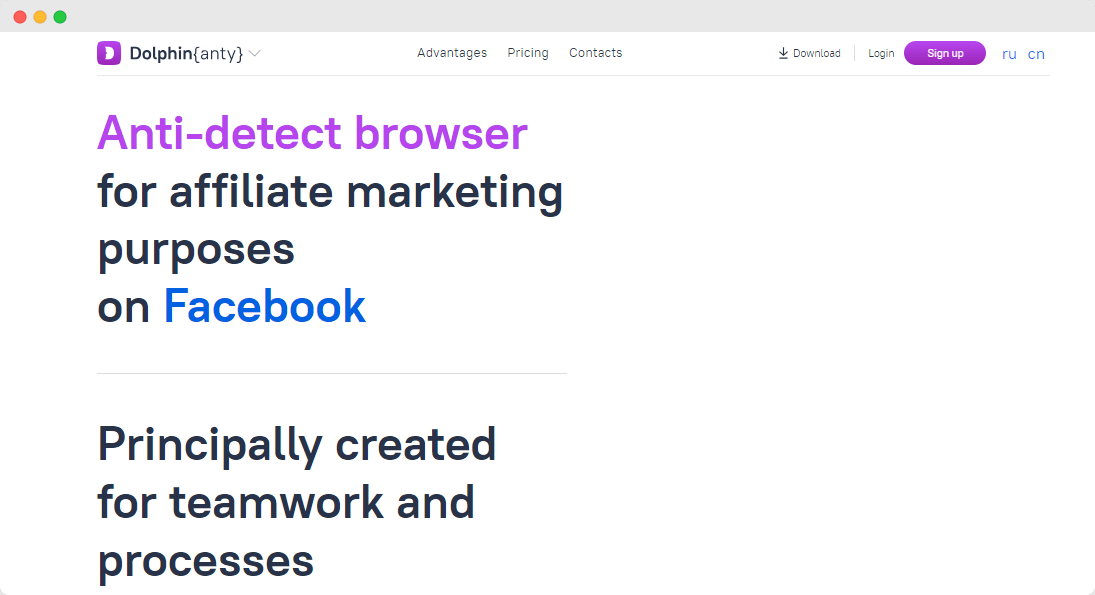 Dolphin seems pretty straightforward with its main website page – at least, for an affiliate marketer.
All this makes Dolphin Anty Browser quite a curious product to review. It really has great features if you're all into paid traffic ads (also called traffic arbitrage).
But is Dolphin Anty worth investing the money for work in 2023? Can it be used for other work areas? Let's take a closer look and compare it to GoLogin!
Dolphin Anty – Features
So, what is Dolphin Anty's main strength? It is a very niche-specific affiliate software, so naturally it has its curious and unique features. We're not able to cover all of them here, but we'll choose those that seemed interesting to us.
Social media automation
Dolphin Anty (also named Anty Dolphin and even Anti Dolphin) is all about paid traffic ads: everything is optimized for you to run Facebook and other ads on a pro level. Dolphin even offers a special tool for automatic Facebook Ad campaign running, which sounds like a killer thing for affiliates that need to scale.
However, the automated ads thing alone will cost you $99/month (that's not including the browser itself). That's quite underwhelming, considering how expensive Anty Dolphin is in the first place. Let's touch on the pricing later on.
Dolphin also has some curious built-in no-code automation for social media, where you can build your scenarios from scratch using blocks. It can be very useful, but there are no ready-made scenarios or some marketplace where you could buy these.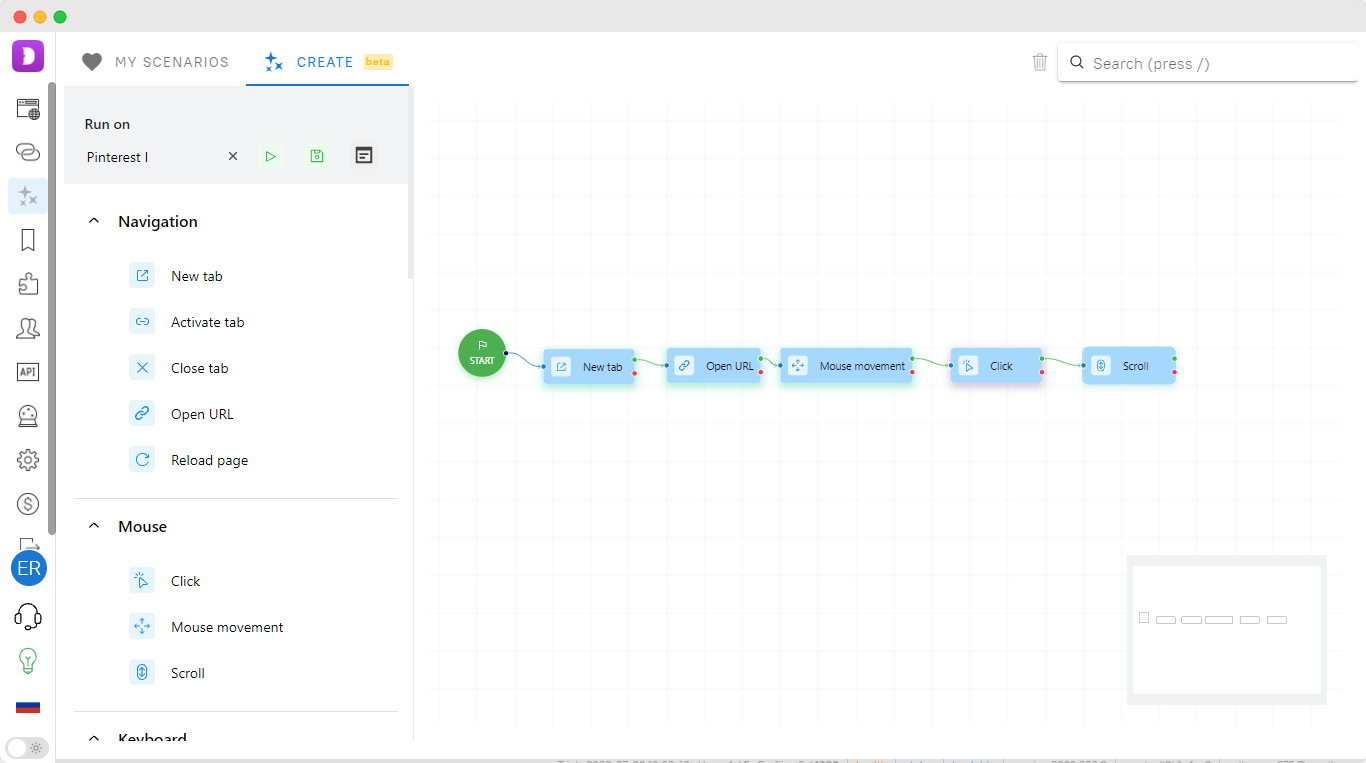 Building a new custom working automation is curious, but it's not a trivial task for a regular user. Hopefully, the team will add some pre-built scenarios in the future.
Mass profile actions
Dolphin's strong point is the ease of keeping track of what's going on. Most of the actions are not one-click, but you can easily import, organize and operate many profiles with well-thought mass actions.
Changing proxies, custom statuses and colors, handling cookies can be done with any amount of profiles you want. Dolphin feels like everything needs to be learnt, but it's highly customizable and logical. It's part of why users love it.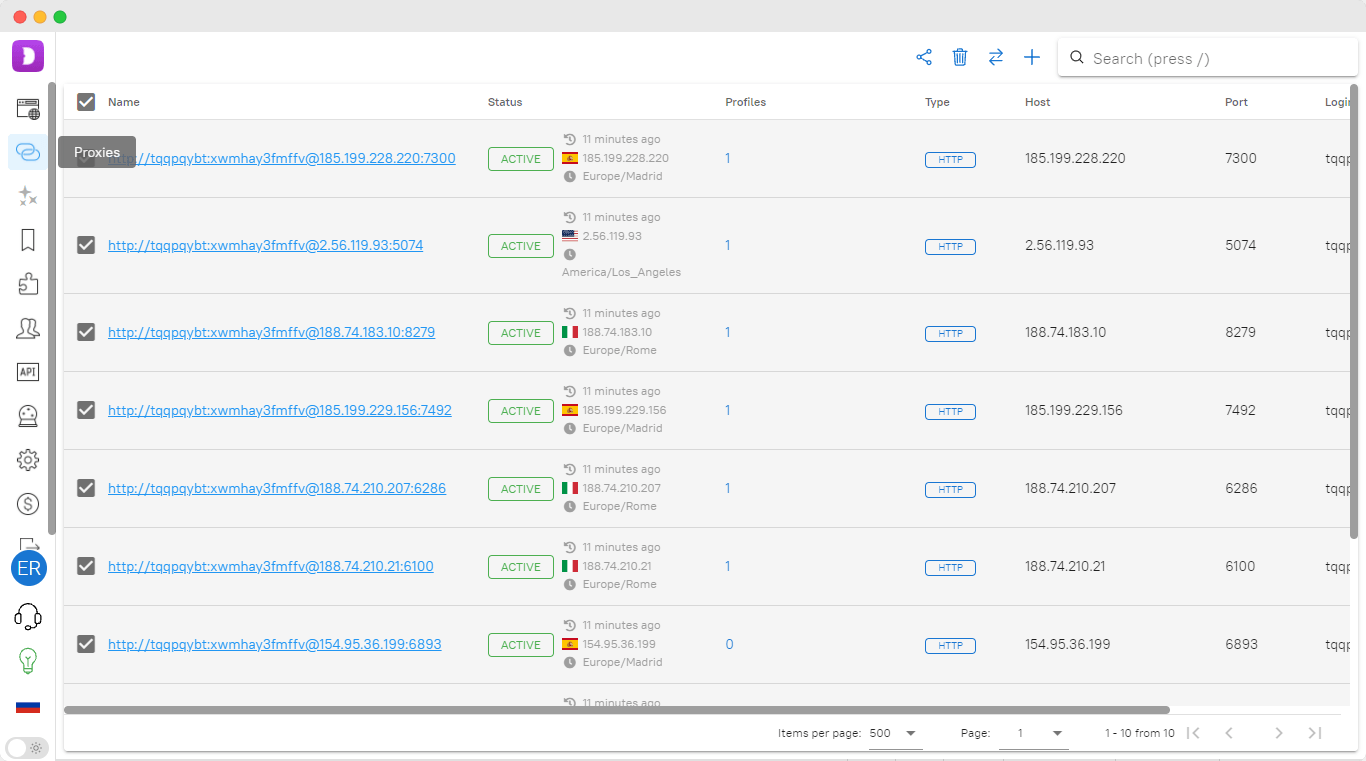 For example, Dolphin's Proxy manager may seem complicated for a new user, but most long-time Dolphin users find it quite well-organized after they've learned everything.
Teamwork
Dolphin has good team options – profiles can be easily shared and transferred to another account. There are profile permissions for team members as well. However, we weren't able to find any folders to organize profiles for several users or topics.
We found it at least strange for a browser that's oriented on high amounts of profiles to not have any kind of folder system.
Dolphin Anty – Comfort Of Use
Making an app, especially a niche-specific one, it's important to look at it from a new user's point of view. Dolphin Anty has a relatively high entry level for new users, in fact even comparable to AdsPower anti detect browser. Learning how to use Dolphin Anty work wise can be hard – so why not make it easier in the first place?
This simple truth does not always apply, and here's how. Dolphin Anty Browser has a serious following among affiliates claiming this is exactly what they've always needed. Users praise Dolphin browser for being "exactly as it is, clear and obvious" and consider this one of Dolphin's success factors.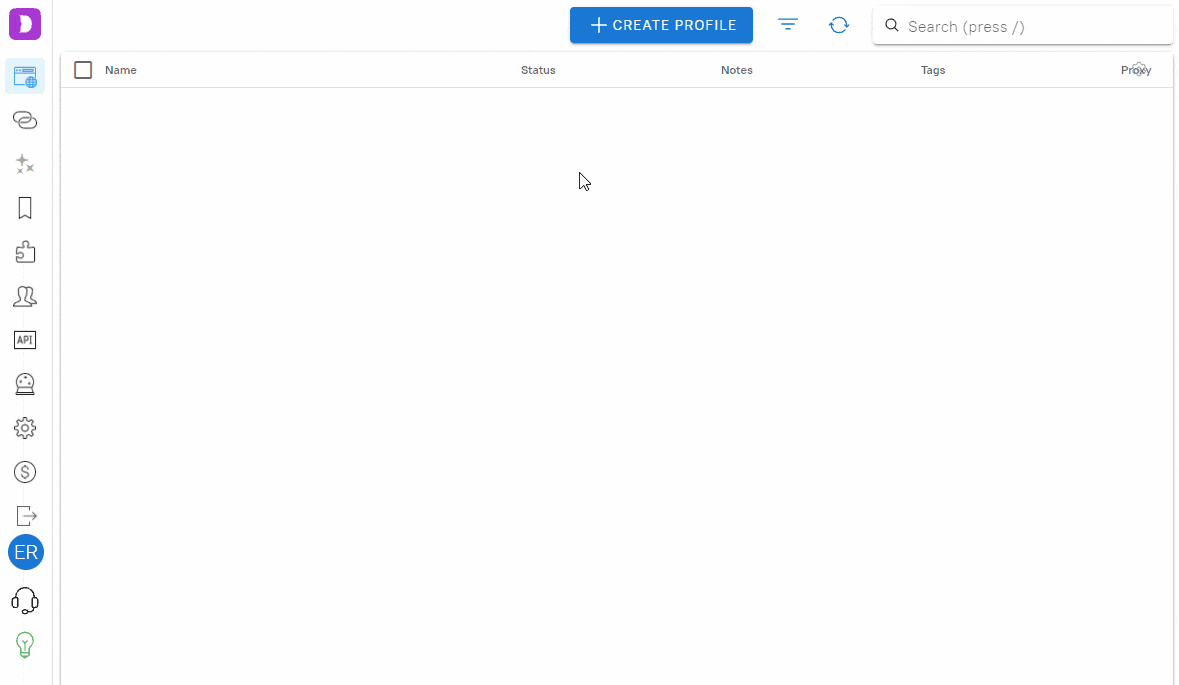 We haven't noticed any tooltips or first run tutorial guides. Hence, the profile creation screen might be a bit overwhelming for a non-experienced user.
So, Dolphin browser seems to be a good choice for a very specific niche – if you know exactly where you're going and you're ready to pay for it. It can be overwhelming for a newbie, as there are no guides or pop-up tutorials during the first run – you'll have to fly in the manual mode. Despite that, it has much acclaim from its long-time fan base of affiliates.
Dolphin Anty – Updates Frequency
Dolphin team issues the app updates quite frequently, but you will need to reach for their Telegram channel to see these. We weren't able to find any release info on the website. On the Telegram channel there are a lot of various promo offers and giveaways for Dolphin users.
Some users claim this browser to be more prone to crashes during long-time usage when compared to Dolphin Anty alternatives. This can be a serious factor for users that operate bigger business risks or need browser profiles to work 24/7.
We, however, cannot prove these claims right or wrong. Dolphin is able to pass checkers just like most other anti detect browsers, and it's quite popular for business multi accounting in the CIS. It provides stable user agents, unique browser fingerprints and hides your IP address via proxy IP. For personal private browsing Dolphin will probably be enough, just like any alternative.
Dolphin Anty – Support Quality
Dolphin was originally created around and for the Russian speaking community. However, the browser was quite heavily marketed around the world, and it gave some fruit: there are a lot of users from Europe, Brasil and other regions. You can expect good support in English from Dolphin team.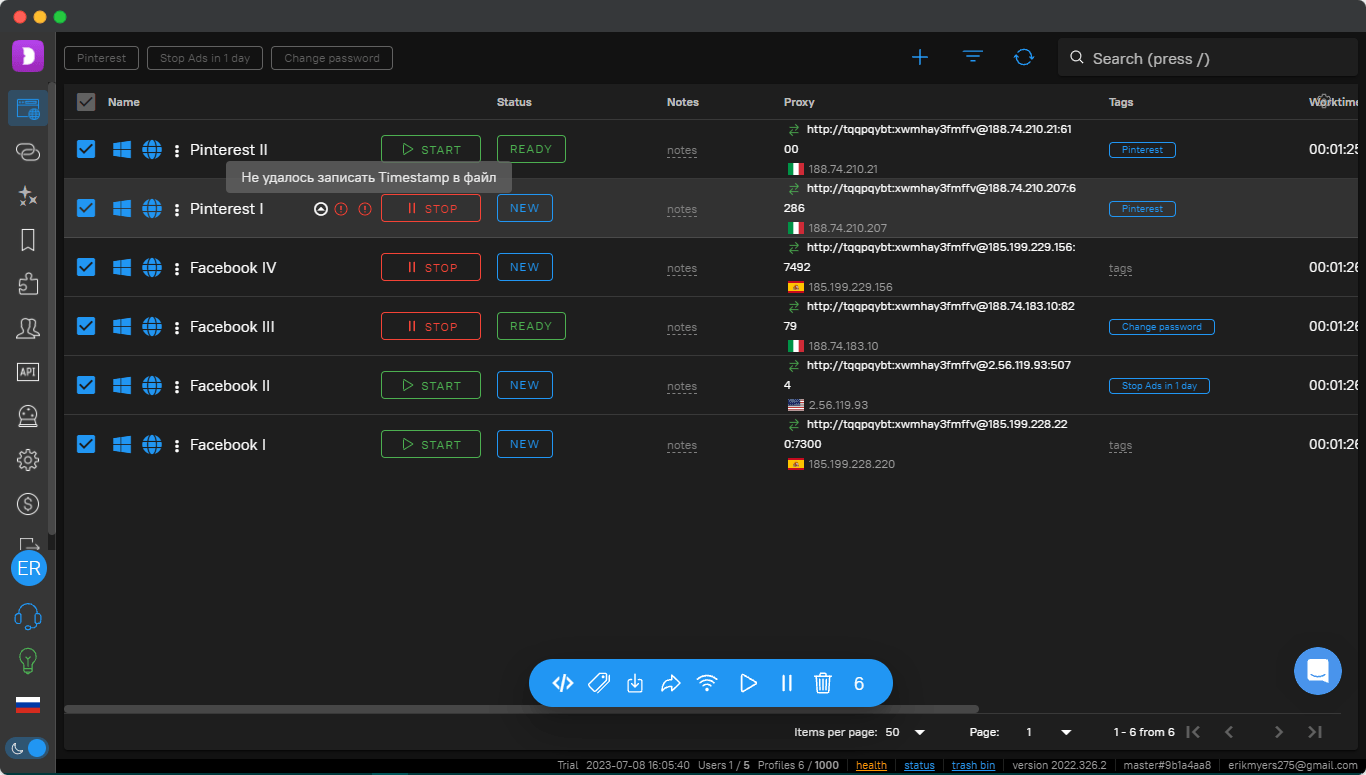 The English translation of the app is OK, but for some reason we still saw some messages in Russian. And yes, there's dark mode available.
There is a blog with some usage guides in English, but no documentation for some reason. So, most of the questions will lead you to the live support chat. As we said, the support has good English, but some users claim it's not always quick, so response times can be quite long.
It will be fair to mention Dolphin experienced a major leak of user personal data in July 2022. About 15% of all user profiles were stolen, which caused serious damage – many users lost funds from their personal crypto accounts.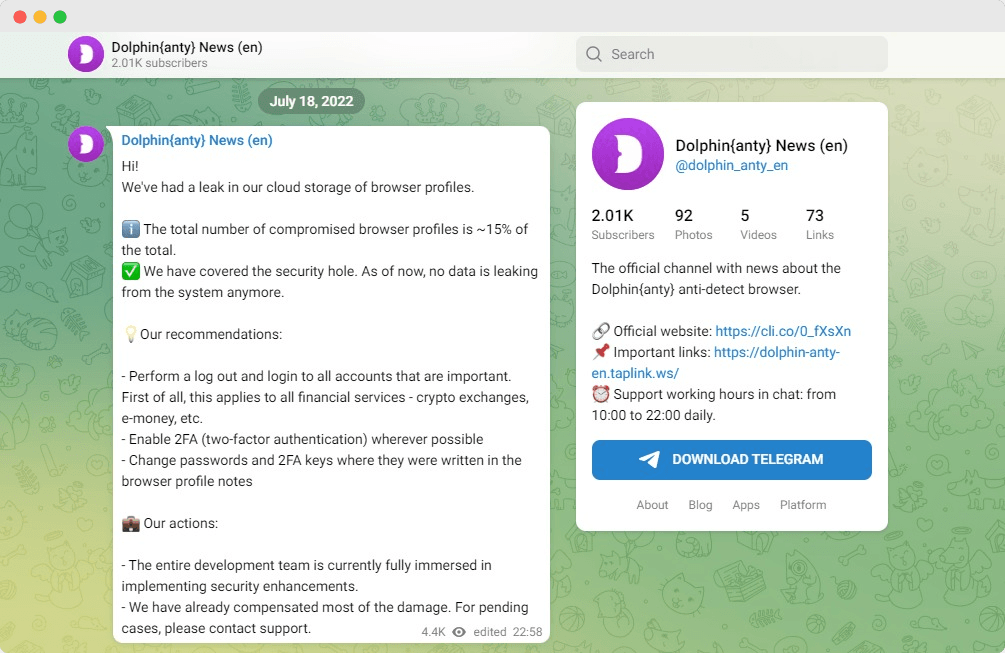 The official Telegram announcement from Dolphin team about the user data loss.
With all fair respect, Dolphin Anty team has fully compensated a lot of users with what they lost after the leak. This is certainly a great mark for Dolphin's owners. However, at GoLogin we believe users don't have to even consider risks of data leaks and downtime when investing in business software.
Compared to Dolphin Anty Browser, GoLogin is a way more universal app. Simple, effective and friendly for new users, it will work for both individuals and teams of any size. Let's take a quick tour of GoLogin, compare it to Dolphin Anty and take a look at their pricing in the end.
GoLogin Features and Comfort of Use
GoLogin's strong feature is an intuitive user experience. Its well-designed, clear minimalist interface allows for managing multiple profiles with ease. Lots of things can be done with just one click – for example, new profile creation or mass proxy import.
Experienced users often praise GoLogin for being "clean", not overloaded with unnecessary detail. You can choose to see only what you need to see and stay focused.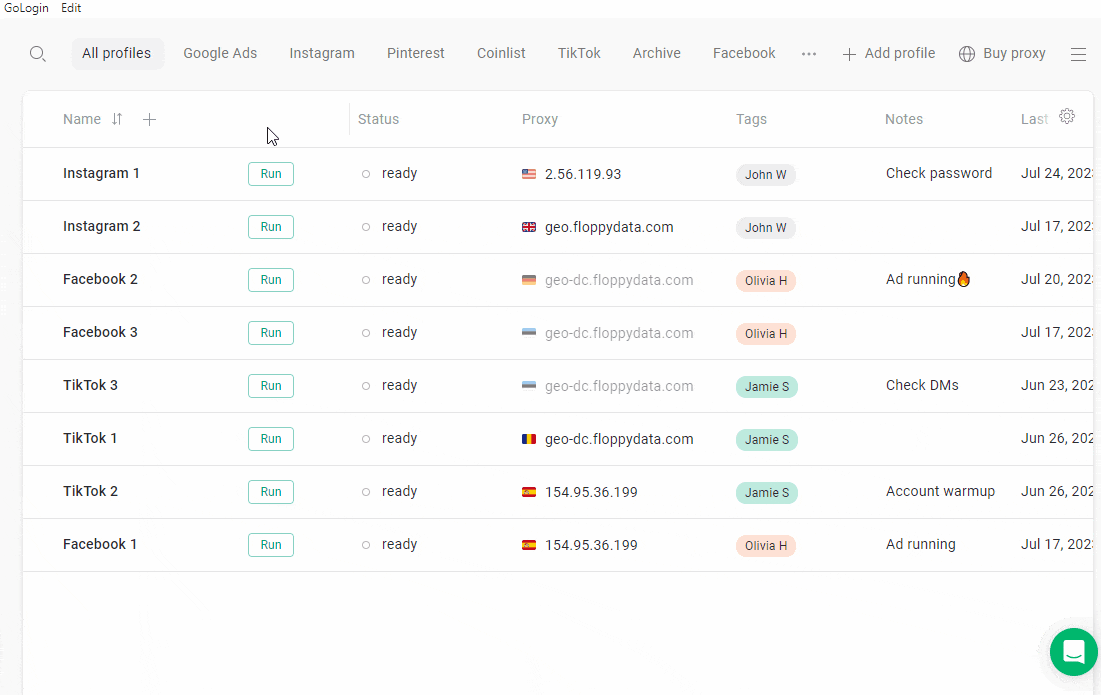 There's an informative side panel for Quick profile settings that allows for quick changes.
It does not mean GoLogin has limited functionality: it is a tool for multiple accounts management with advanced safety. However, a new user won't accidentally mess the settings up. Most of the critical settings are automatic, meaning that less technical users are able to freely use it with ease.
GoLogin is often used as a professional marketing agency database: it allows to organize work for a big team with no extra hassle. Remote managers are now able to share work without password management and verifications. GoLogin has team permissions, profile sharing and folders: all that's needed for easy team collaboration.
GoLogin Support Quality
Top-level support is a priority for GoLogin. There is a responsive customer support team that addresses all user requests and tries to help users in any situation. GoLogin team often tries to get and consider feedback from their clients to set future updates and new features.
In user reviews, clients often claim the GoLogin team has solved their problems through live support chat or via app updates.
GoLogin Updates Frequency
GoLogin team updates the app frequently enough, doing everything necessary to keep the user data safe and avoid detection problems. The app updates are automatic, so no extra actions are needed from the user. Clients praise the app for stable 24/7 work with no crashes.
Users name the stability factor (and not the price!) as one of the main reasons for switching to GoLogin from Dolphin Anty.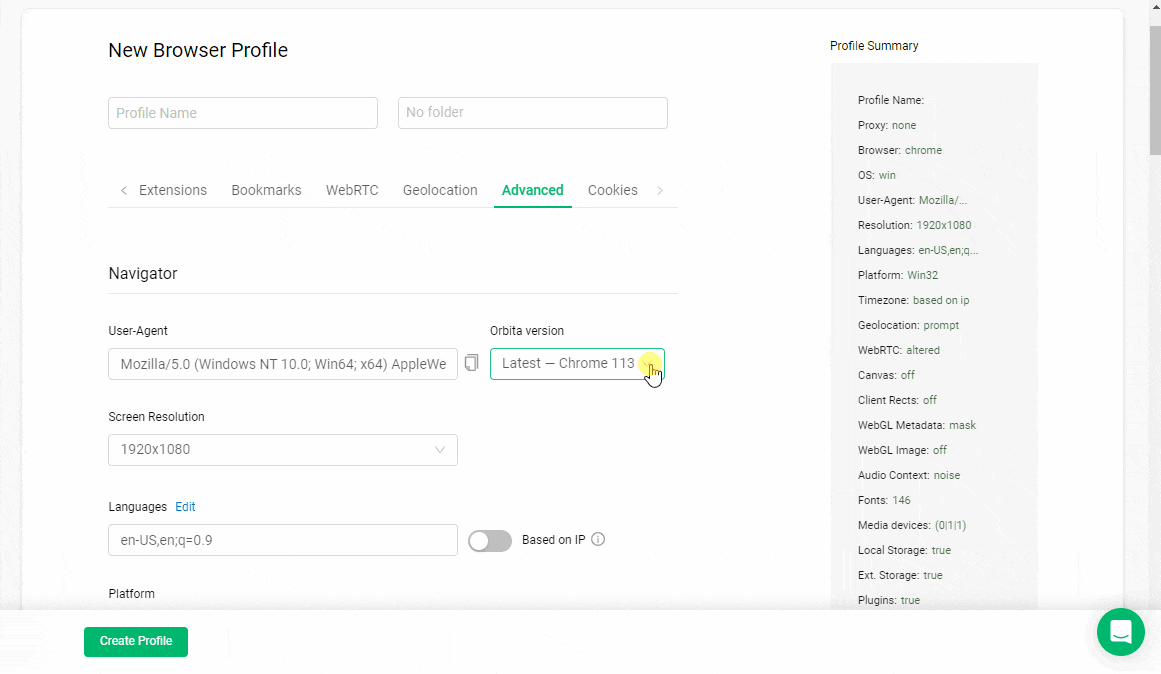 If needed, users are able to choose older Chrome core versions for work: no need to download or install anything.
Let's move on to the final part of the comparison: pricing plans.
Dolphin Anty vs GoLogin – Pricing
Free plans and free trial periods
Both Anty Dolphin and GoLogin offer a forever-free plan and a free trial of paid features. Dolphin's free plan comes more generous, offering 10 free profiles compared to only 3 in GoLogin's.
On the other hand, GoLogin offers a longer trial period: 7 days of paid features trial against only 4 days with Dolphin.
Paid plans
Pricing for business software, especially on enterprise levels, is purely a numbers game. Let's cut to the chase and look at the paid plans and figures keeping in mind several usage scenarios. We will mainly consider monthly payment scenarios, but also touch on yearly payment discounts.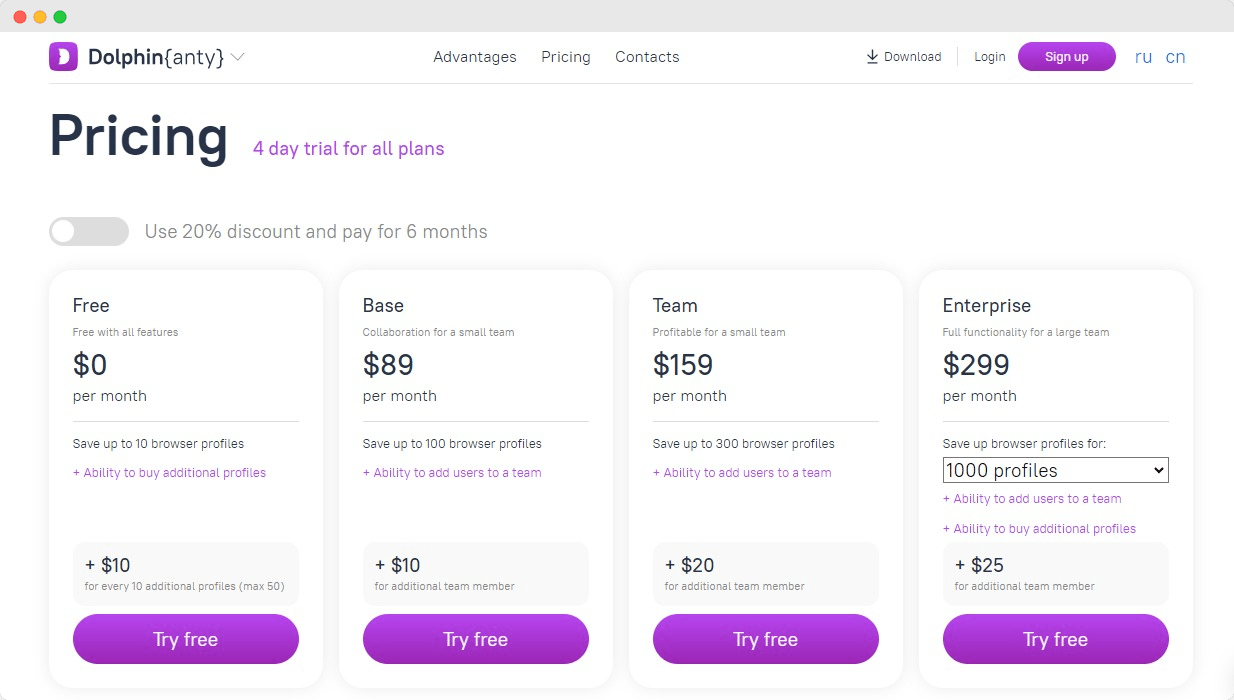 Dolphin Anty Browser's pricing page
Personal use
Dolphin's first paid plan (Base, 100 profiles) will cost you $89 per month. There is an option to add team members ($10/team seat). The same plan at GoLogin (Professional) does not offer team options, but it starts at $49/month, which is almost twice cheaper.
GoLogin also gives a 50% discount for yearly payment, instead of only 20% discount offered by Dolphin for a 6-month payment.
Team use
Dolphin's team plans (Team and Enterprise with 300 and 1000 profiles) will cost you $159 and $299/month accordingly. That's already pretty expensive for any kind of business software.
Here's a surprise, though: Dolphin's team plans do not include team seats. Each team member will cost you $20 extra, which seems quite unfair and strange considering the price level. We believe pricing pages need to be as straightforward as possible: users want to be treated fairly.
On the other hand, GoLogin has its team plans both way cheaper and with enough team seats fairly included in the packages. Business and Enterprise (300 and 1000 profiles) will cost you $99 and $199 accordingly, with 10 and 20 team seats included. Again, GoLogin comes almost twice cheaper even without the yearly subscription discount.
The price difference is quite serious, and we probably know one of the reasons why. Some of our faithful clients that have used both Dolphin Anty and GoLogin for a long time, claimed that most of the Dolphin users stay on a free plan or a promo subscription, not really paying for it. This might be one of the reasons for such a high pricing level.
To make a quick recap, GoLogin has a fair and balanced pricing level. It has a great price to quality ratio. We encourage you to do the math yourself. Evaluate your budget and think exactly how much you're ready to pay for software you're planning to earn with.
Dolphin Anty Browser vs GoLogin: Recap
We have mentioned a lot of factors and points, but in the end the comparison comes down to one key factor: evaluating your needs. It's way easier if you know exactly where you're going with privacy browsers.
Still, we prepared several questions that will help you make a wise decision:
How many browser profiles do you need to run?
Will you need to share work with partners?
How much are you ready to invest in a work tool?
What is the tool's reputation? What do reviews and forums say?
Can you test it for free? If so, what fits you better?
For a conclusion, we made a short pros and cons chart for you to make a fair comparison yourself.
| | | |
| --- | --- | --- |
| Comparison Criterium | Dolphin Anty | GoLogin |
| Reliability | ❌ | ✅ |
| Features set | ✅ | ✅ |
| Comfort of use | ✅ | ✅ |
| Beginner-friendly | ❌ | ✅ |
| Support quality | ✅ | ✅ |
| Country of origin | 🇷🇺 | 🇺🇸 |
| Frequent updates | ✅ | ✅ |
| Affordable paid plans | ❌ | ✅ |
| Free plan / Free trial | ✅ | ✅ |
| Free in-app proxies | ❌ | ✅ |
| Mobile app | ❌ | ✅ |
| Facebook Ads automation | ✅ | ❌ |