If you are seriously into online real estate, you might want to create more than one Zillow agent login for growing your business. Here are some of the reasons to:
Your Zillow account was disabled and you are seeking a way to unblock a vital part of your business.
You need to log in to a property owner's account and avoid profile suspensions.
You would like to create several specialized profiles (e.g. based on property type) to boost lead generation.
You want to create localized profiles for each region you work with.
You want to safely share work with partners.
You struggle to increase your listing visibility and views from multiple profiles help to boost your Zillow listing. If you aren't ready to pay the Zillow rental manager cost.
What if I told you there is a straightforward way to create and manage 2+ Zillow rental logins in a safe and comfortable profile organization? In this short guide, we are sharing why it is risky to have only one Zillow profile and how to create and run more than 2 profiles without extra stress.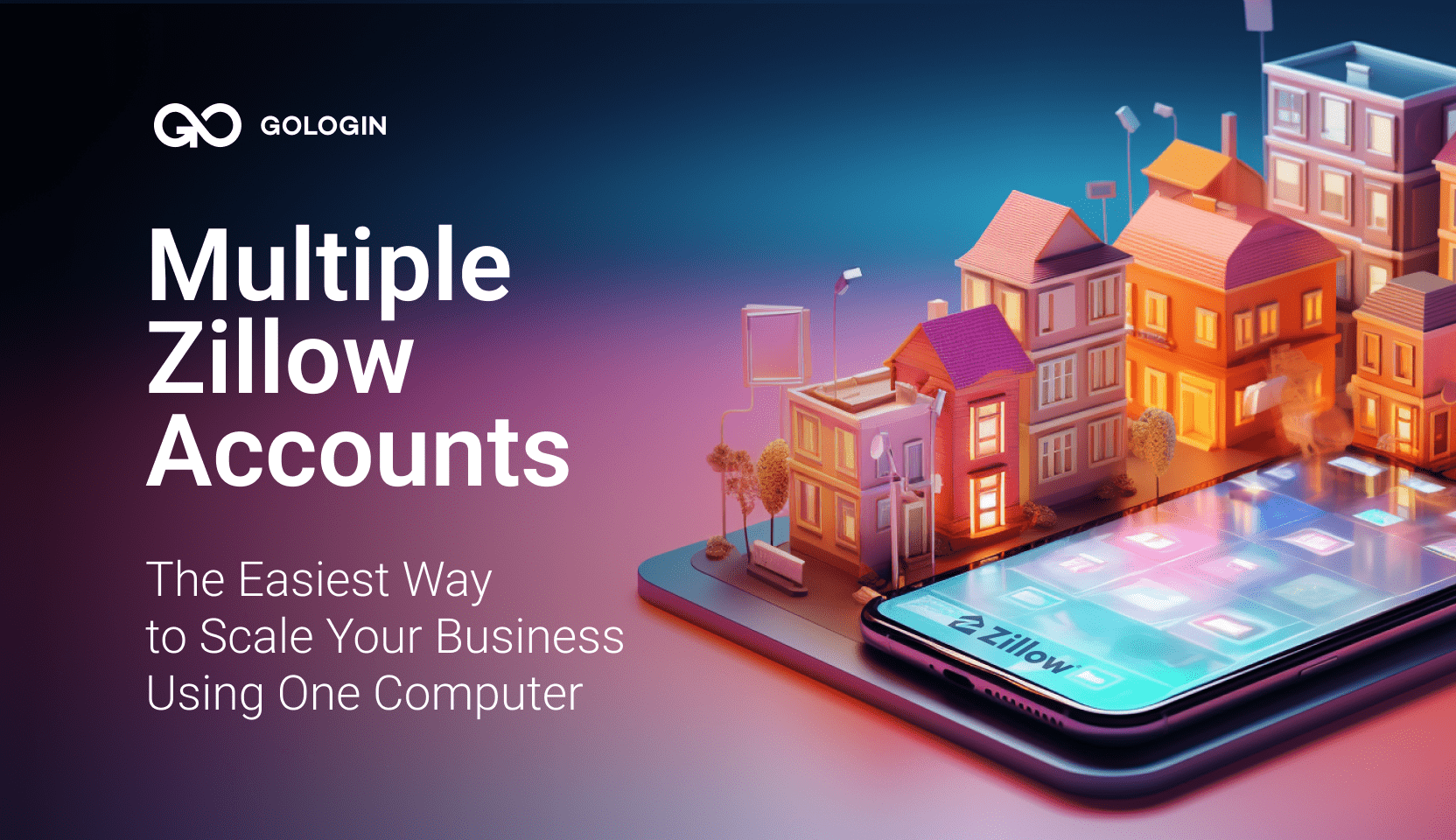 Problems with Zillow at scale
Zillow is one of the top sources of leads for realtors. This makes you rely heavily on a platform that doesn't really care about individual users' interests. Here are some of the limitations real estate professionals face using Zillow, Trulia and Hotpads listing platforms.
Profile safety
Zillow can deactivate your profile out of the blue. It will be almost impossible to reach the Zillow rental manager customer service. Check out this Zillow rental manager review:


If you try to create a new account, they will disable it too. According to their Terms of Use, they don't allow a new Zillow agent profile login after suspension, even if you were a Zillow Premier agent.
Managing multiple profiles
Zillow's Terms of Use do not explicitly prohibit individuals from having multiple profiles until you create them to violate their rules.
However, they don't allow managing someone's profile or sharing profiles with your colleagues:
"Due to privacy concerns, multiple people are not permitted to share the same login. To protect the privacy of rental applicants, only one landlord per account is able to verify and view screening reports".
Also, Zillow doesn't have an option to easily switch your accounts let alone smoothly organize and manage them. But what if you need your partner to manage your rental, list your property or simply collect rent to credit card and run through new Zillow offers from your account?
How to have a multiple Zillow realtor login safely
Disclaimer: Zillow rules don't equal laws. As long as your business operates ethically and adheres to legal standards, you have the right to protect it and explore opportunities for growth.
Safety problems we described in the previous section happen because you either log in to one account from different digital identities (which looks suspicious for Zillow) or try to bypass their suspension with the same digital identity.
Digital identity is a unique set of digital fingerprints you are leaving when using Zillow (or any other) platform. Examples of such digital characteristics are IP, device model, operating system, installed plugins, fonts, canvas, etc.
A well-known way to protect your digital ID is VPNs and proxies. However, they can change only your IP and location info. They just make you a little harder to detect for websites like Zillow.
You can also log in from several devices. It is a safe enough option and might work out if you need just a few extra Zillow agent profile logins. It won't work out with more than 5 profiles or when using property owner's accounts.
Multi accounting browsers
Multi accounting browsers are the most comfortable alternative to such use cases, as we just discussed.
Multi-account browsers have emerged in response to privacy concerns on various platforms and the drawbacks of depending on third-party services. Such solutions are rather affordable as convenience fees (especially compared to the monetary losses you can end up with if suspended).
In general, multi-accounting browsers function like regular browsers. The difference is that they create separate digital fingerprints for each account (all digital characteristics are different).
It means, for example, you can safely register on the platform if your main account is suspended. Zillow will see your Zillow agent login as a completely another user. In case you share your account with someone else, thanks to this technology you both can log in with the same digital ID each time.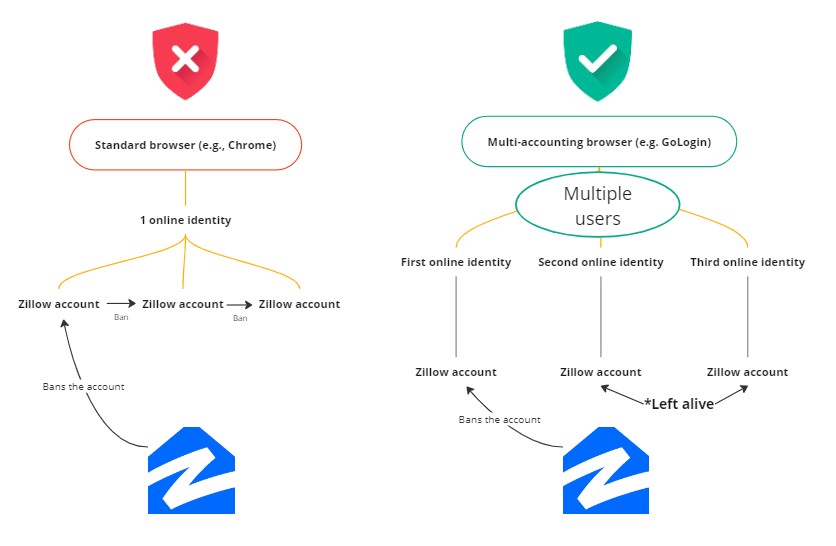 If you plan to have multiple Zillow rental manager profiles to scale your efforts, this solution also allows you to organize a smooth workflow. For example, you can:
Name each profile
Group profiles into folders
Add tags and notes
Filter profiles by various variables
Share profiles with clients and remote team members. You and your team members never log out of the accounts.
Multiple accounti technology is already used by real estate agents and property managers. GoLogin is one such solution: we have talked to real estate users like you using it together with other property management tools.
Here is a short guide on how to manage your Zillow accounts smoothly and safely.
How to use a multi-accounting browser for multiple Zillow rental manager login
Step 1. Download the GoLogin app and complete a quick registration.
Download GoLogin for free and manage multiple accounts without bans!
Upon registration, you will automatically receive a 7-day free trial. Open Settings – Billing to choose a plan that fits your needs.
You can also switch to the forever-free plan after the trial ends.
Next, go back to the main page (Table of Profiles) to configure profiles for your multiple Zillow sign-in.
Step 2. Set up a proxy for every profile.
Though a proxy alone doesn't fully protect your digital identity, it is an essential ingredient of a multi-accounting browser.
For each account, hover over the proxy column and click Add or Paste proxy to see a list of free proxies you can use for testing. Keep in mind that they might not be suitable for heavy media or long-term usage.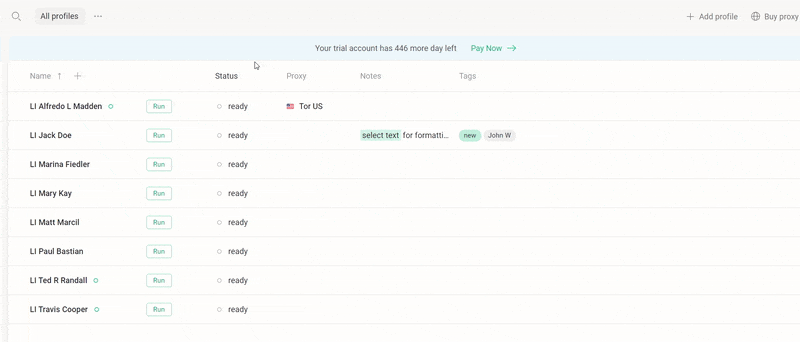 In the GoLogin app, you can purchase more reliable proxies. There are three proxy types.
Residential proxy simulates a regular desktop computer. In terms of cost and safety, it's the most popular option. You can start from there.
Mobile proxy type is far harder to detect, as it gives a mobile IP which is taken as more natural by websites. It is more expensive though.
Data center proxy is cheaper than the previous two types but less secure. You can use these proxies when your device already has a high trust level on a website.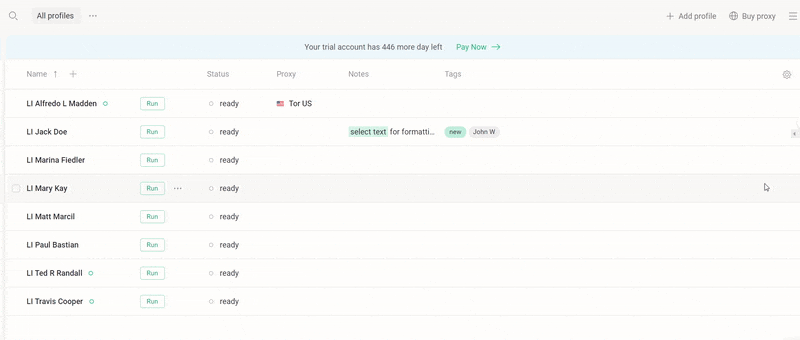 Get multiple proxies at once by mass-pasting them from a third-party provider. Use our list of trusted proxy providers to choose from: there are promo codes and deals inside!
Copy proxies from a third-party provider website and click the Paste icon in the Proxy column. The proxies will be verified and added to your list automatically.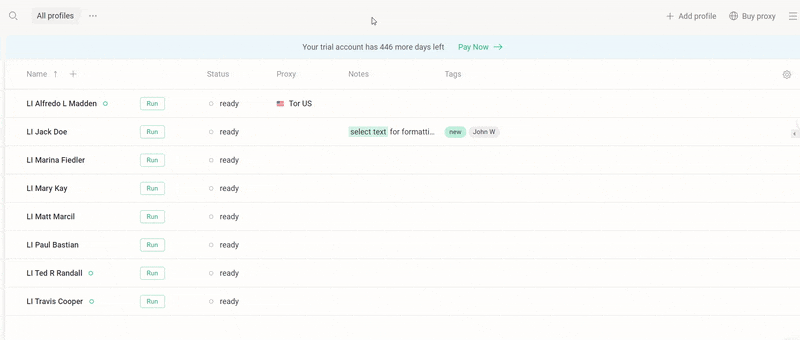 Important note! The country selected in the profile settings should always match the proxy IP country. By default, Based on IP option is on for your Geolocation. This way the system will match your Geo setting to the proxy IP automatically.
Step 3. Do NOT change any other profile settings until you are 100% certain about what you are doing.
GoLogin automatically pre-configures settings for your system and device. It makes your extra Zillow login rental look normal (aka not suspicious) to Zillow algorithms. If you implement any incorrect changes in the settings, Zillow is able to detect you.
Having trouble with a pre-configured profile? Contact our support team for assistance.
Step 4. Once you have set up proxies, click Run to open a browser window.
Every profile is an isolated browser session. Zillow won't be able to see it's you controlling all of these profiles thanks to separate digital fingerprints.
Sign in to one of your Zillow profiles or create a new one. Your Zillow realtor login information is saved, just like when using Chrome, so you don't have to log in again for future sessions.

Step 5. Customize your GoLogin experience (especially relevant for 3+ Zillow profiles):
To change the profile name, click on it once.
Group your profiles into folders. Profiles and folders can be shared with your clients and colleagues.
Add or remove more fields from the Profile Table and swap them around.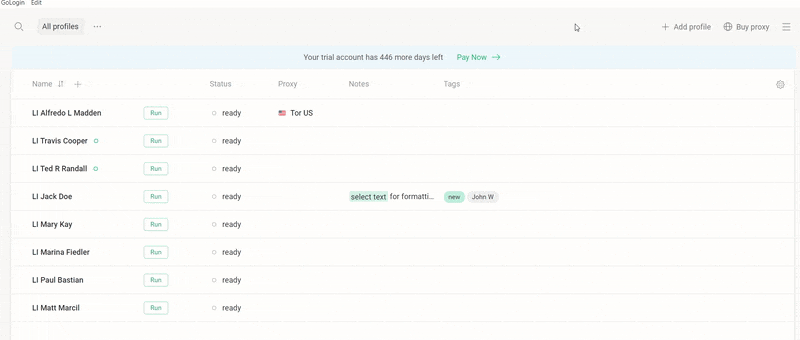 To mass manage profiles, check the box to the left of a profile, then use the mass action panel at the top to share, edit, delete, or perform other tasks.
Add tags to filter your profiles.
Wrapping up
Browsers such as GoLogin are not originally made as property management software, but they can be a wonderful tool to focus the work with multiple accounts on any platform in one safe control panel. If you rely on Zillow as one of your main sources of leads, we highly recommend:
having more than one profile
sharing work with partners
protecting accounts from suspensions with GoLogin.
For now, a multi-accounting browser is the only safe (and at the same time affordable) option for having multiple Zillow agent login, sharing profiles with partners and growing your business.
Download GoLogin for free and manage multiple accounts without bans!
References:
Holt J. R., Borsuk M. E. Using Zillow data to value green space amenities at the neighborhood scale //Urban Forestry & Urban Greening. – 2020. – Т. 56. – С. 126794.
Nolan D. et al. Rest-based web services //XML and Web Technologies for Data Sciences with R. – 2014. – С. 339-379.
---

Read more on the topic:
How To Run Multiple Accounts On Amazon: Pro Marketer's Tips
How To Run Multiple Accounts On Facebook: Step-by-Step Guide
Banned From Facebook For No Reason? Here's How To Avoid It
Shadowbanned On TikTok? This New Tool Helps Avoid It
Web Scraping Zillow: Pro Scraper's Guide + Code