Today in our series of comparisons we will look at quite an interesting solution for multiple sessions: Session Box. Originating from Hungary, Sessionbox for Chrome  is evolving into a full-scale antidetect browser at this moment. It is positioned as a simple daily driver tool for multiple accounts on any platform.
Does it work, and is it worth the investment for business? Will creating a new session in SessionBox protect your accounts from tracking? We studied all SessionBox products and features, counted the costs and compared it all to GoLogin as one of the best SessionBox alternatives.
TLDR? Skip to the end for a quick comparison table.
SessionBox: First Impressions
Website and Apps: Figuring Out What To Install
The SessionBox multi login tool download page looks good enough, although it could be a bit more clear. The illustrations are not too straightforward as we don't see how the app itself looks or works.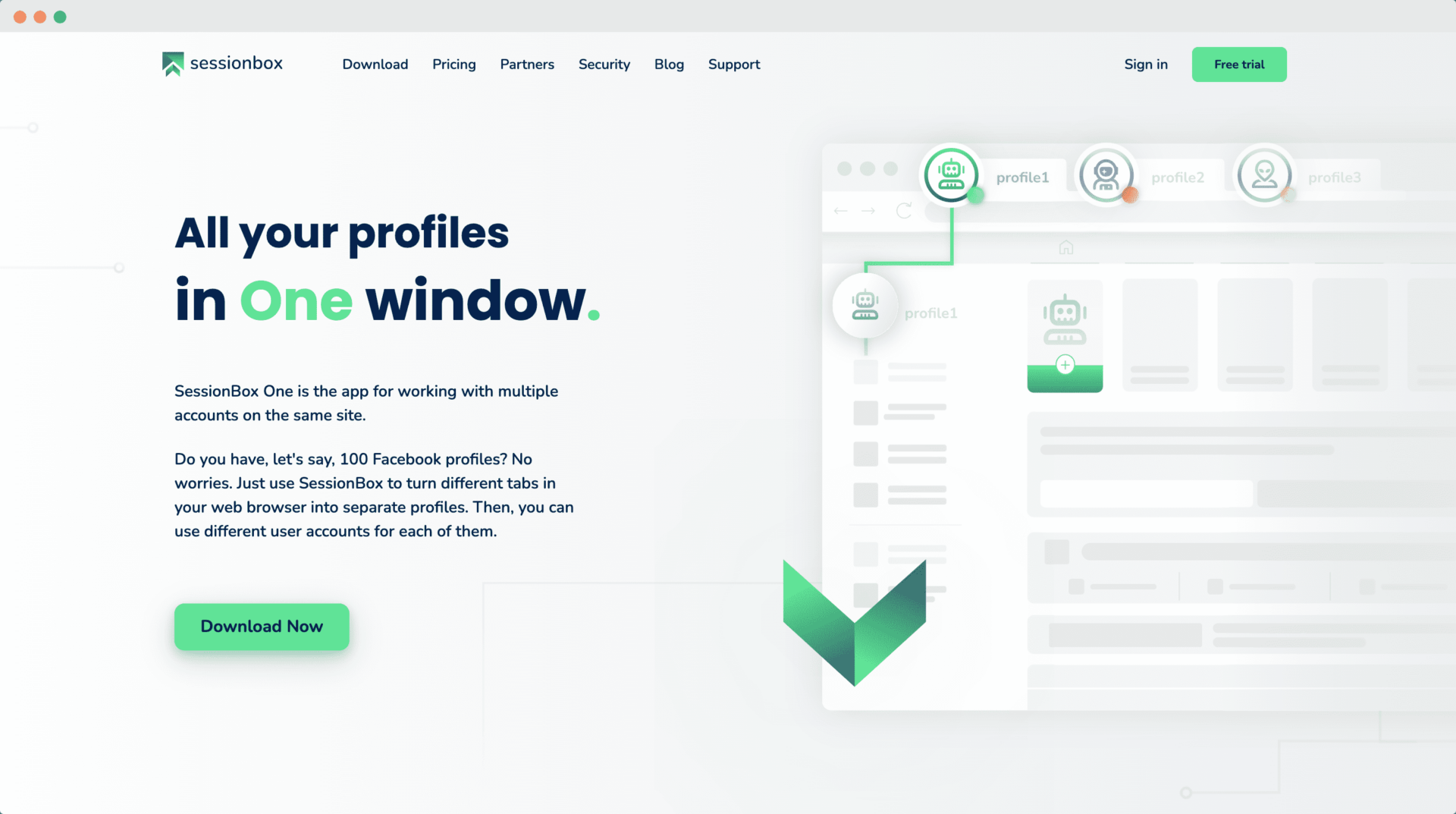 We met no problems setting up a new account on the website and getting a free trial. It could probably use a Google auth button for a quicker login.
Installation: Figuring Out What To Use
Originally, SessionBox was a Chrome Web Store extension that isolated your browser tabs. This explains the key feature of SessionBox – multi login to any website. Amazing idea, isn't it?
Thousands of users surfed websites with multiple accounts, nevermind the relatively low 3.5 star extension rating. However, before our tests we found the vendor team has recently created a new extension, SessionBox One.
SessionBox One is both a Chrome extension AND a desktop app, which is a separate antidetect browser. The team claims the new SessionBox Chrome extension is able to turn tabs in your regular browser into virtual browsing sessions. It's also able to run isolated profiles in their own new browser called Workstation.
To be honest, this scheme took us a while to process. How is this all connected? Let's check if it's really able to handle 100 profiles in Chrome as claimed on the main page.
We will test both extensions and the browser.
Session Box Legacy Extension
The old extension is quite outdated and a bit "old school". Still, we know old interface doesn't always mean the app is bad – as long as it's logical, intuitive and clear.
However, we met some problems from the start. There are "sessions" inside the extension, but all these are basically tabs inside one browser window. The tabs belonging to a session are color-coded. To our taste, this is a very ineffective system as color dots mix up with the website icon.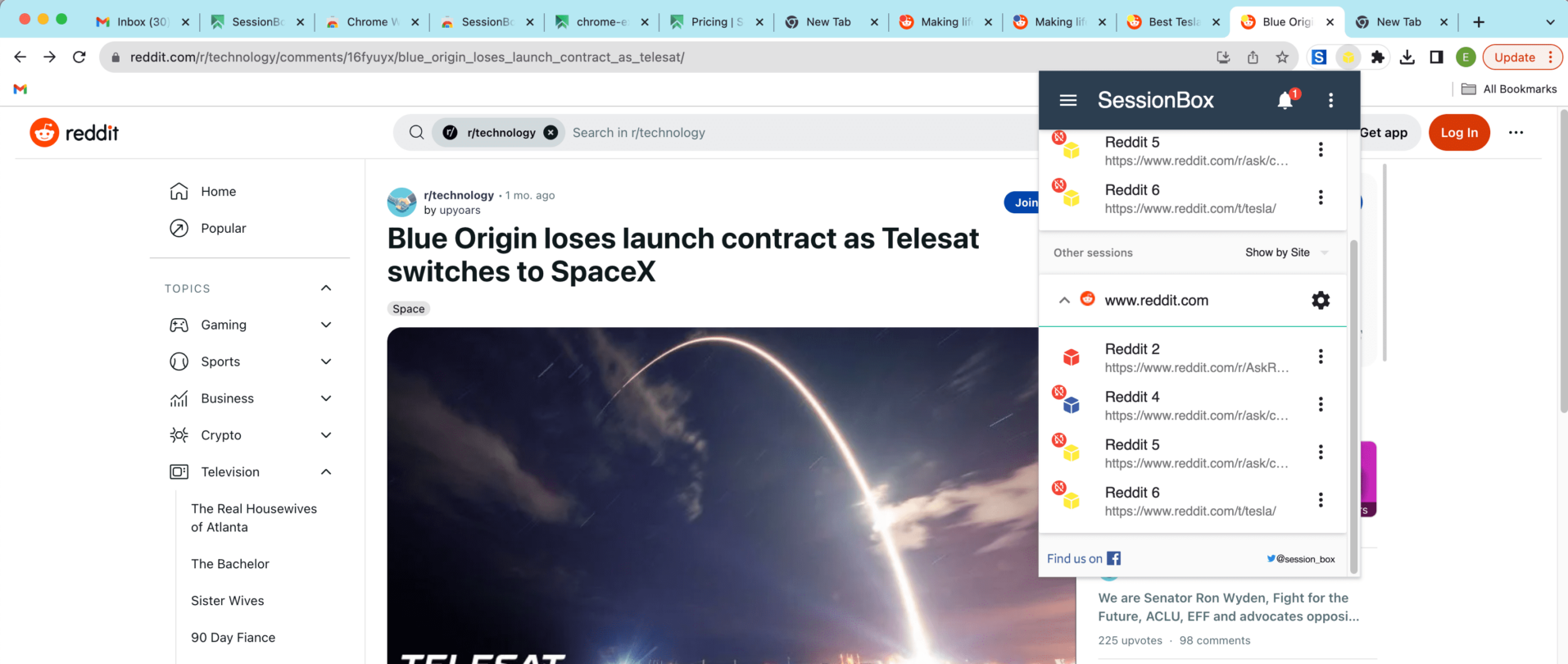 The legacy SessionBox extension feels outdated on the whole.

However, these are only interface nuances. In the end, the tool should be able to protect tabs from tracking. It's not too clear if it works with fingerprints or not.
As always, we ran basic fingerprint tests on Pixelscan.net and Iphey.com.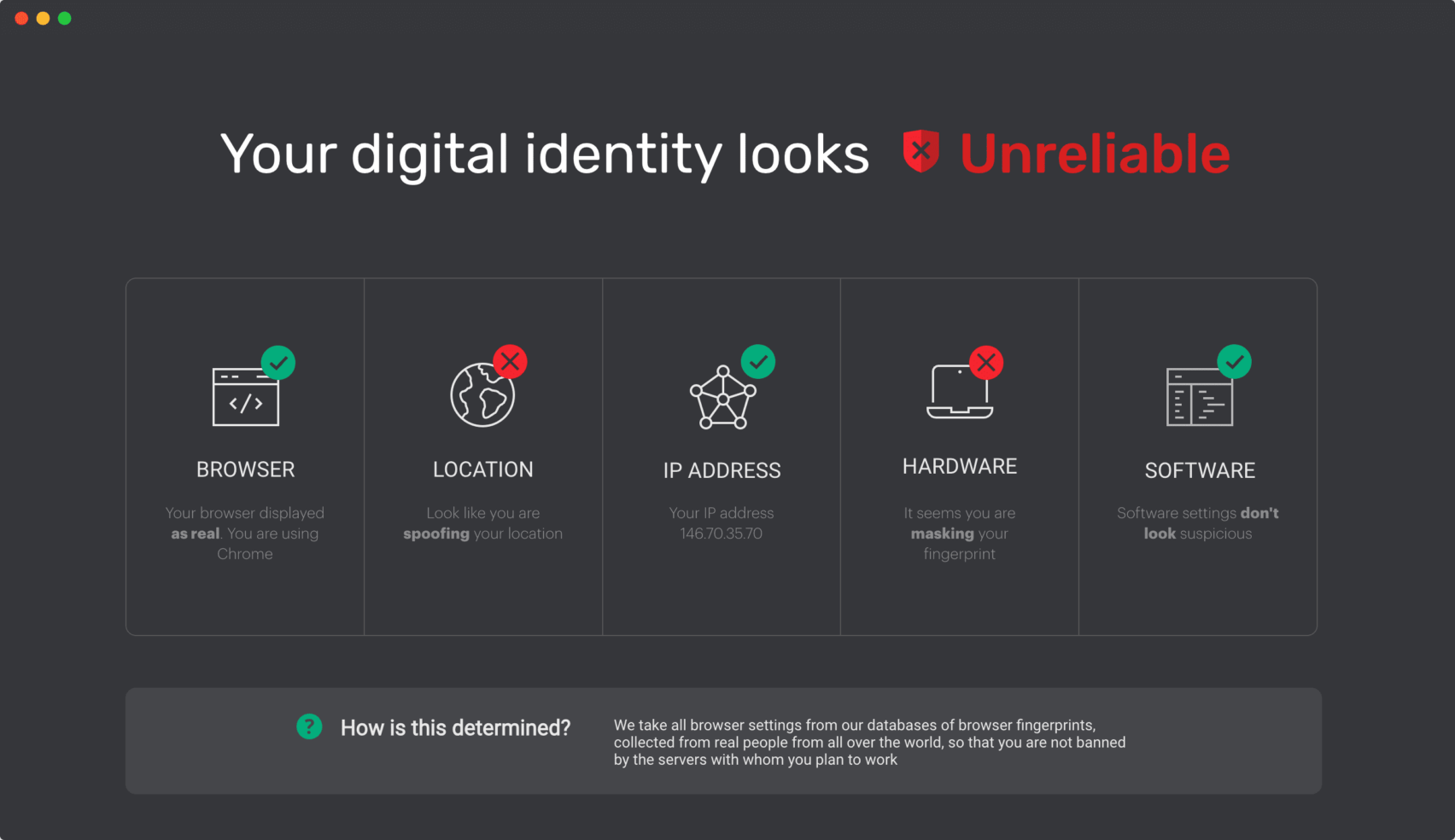 Let's move on and install the new SessionBox One extension.
New Session Box One Extension
The new extension looks a bit raw interface-wise, but it's still modern and way more clear than the previous one. The team claims they are transferring "from sessions to profiles".
As you will see a bit later, "profiles" work a bit different here that in any other antidetect browser.
Let's move forward and install the new one. It is a necessary step to download SessionBox desktop app to proceed. If these work together, we wonder how these are synchronized. As promised, we will test both – let's go for a SessionBox download.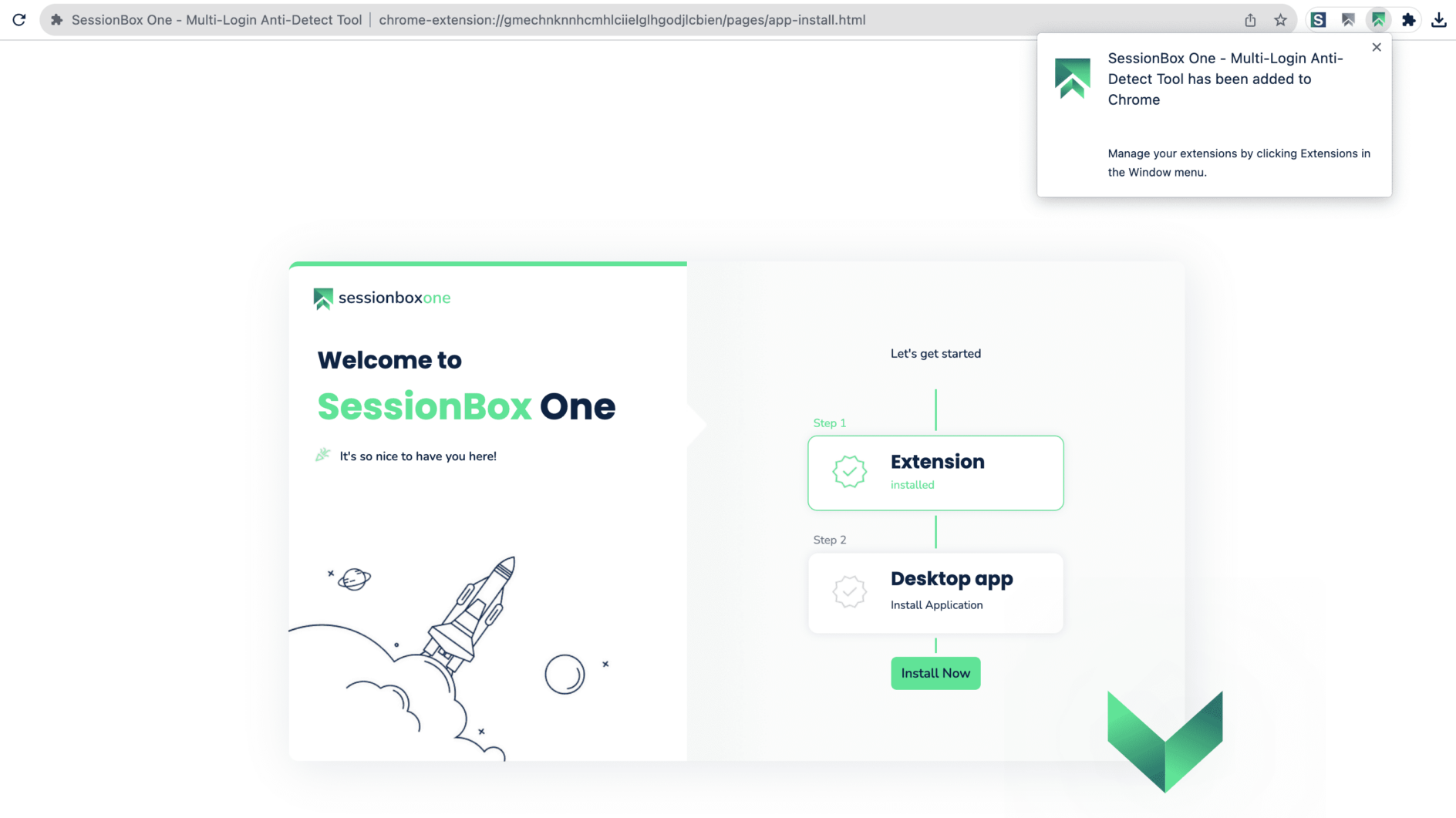 Profiles And/Or Tabs
The new SessionBox One extension looks way better, but it seems to have the same logic as the old one. You have Profiles and Groups now (seemingly for team access), but it's still tabs and color dots on icons.
This mechanism works the same in both the new extension and the Workstation browser. At the moment seems like it's just a matter of taste which to use.
This led us to one question: we could not tell the difference between a profile and a tab. If you create 30 profiles with Multiple Profile Creation tool, the app will run 30 random tabs from random profiles.
These are made with a click of a button, but it makes the tabs inoperable as there's simply too many. This might be the reason why the Pricing claims to offer an infinite amount of profiles.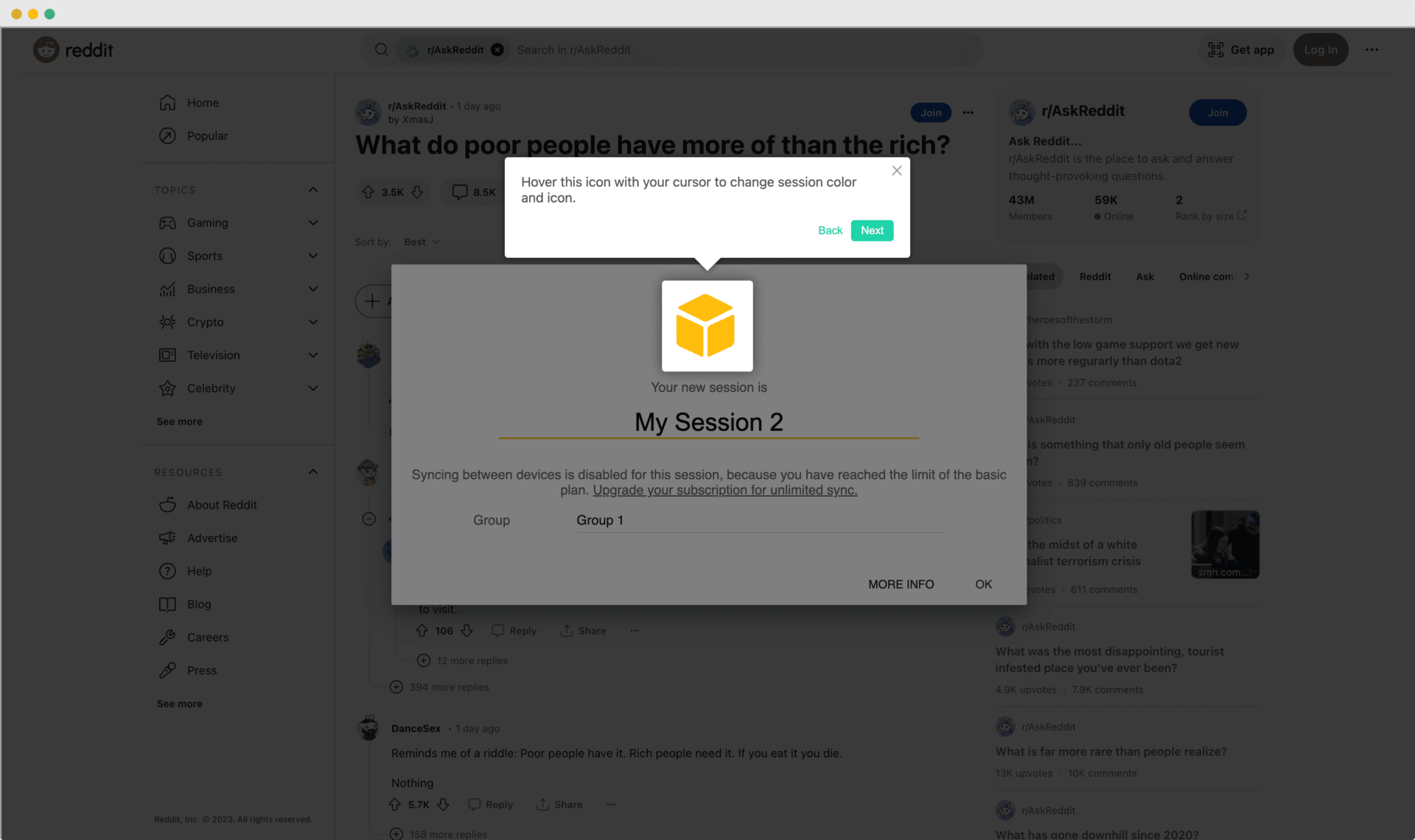 So, a profile (or session) does not equal a tab: it should contain some tabs inside. We were not able to grasp the final logic of how it works. This might be a sign the app is currently under development, which is not necessarily bad.
Session Syncing
Taking the work logic aside, there are other problems: the tabs do not continue the web sessions. That's one of the key features of browsers, especially for team work: they should sync, pause and continue sessions from the cloud.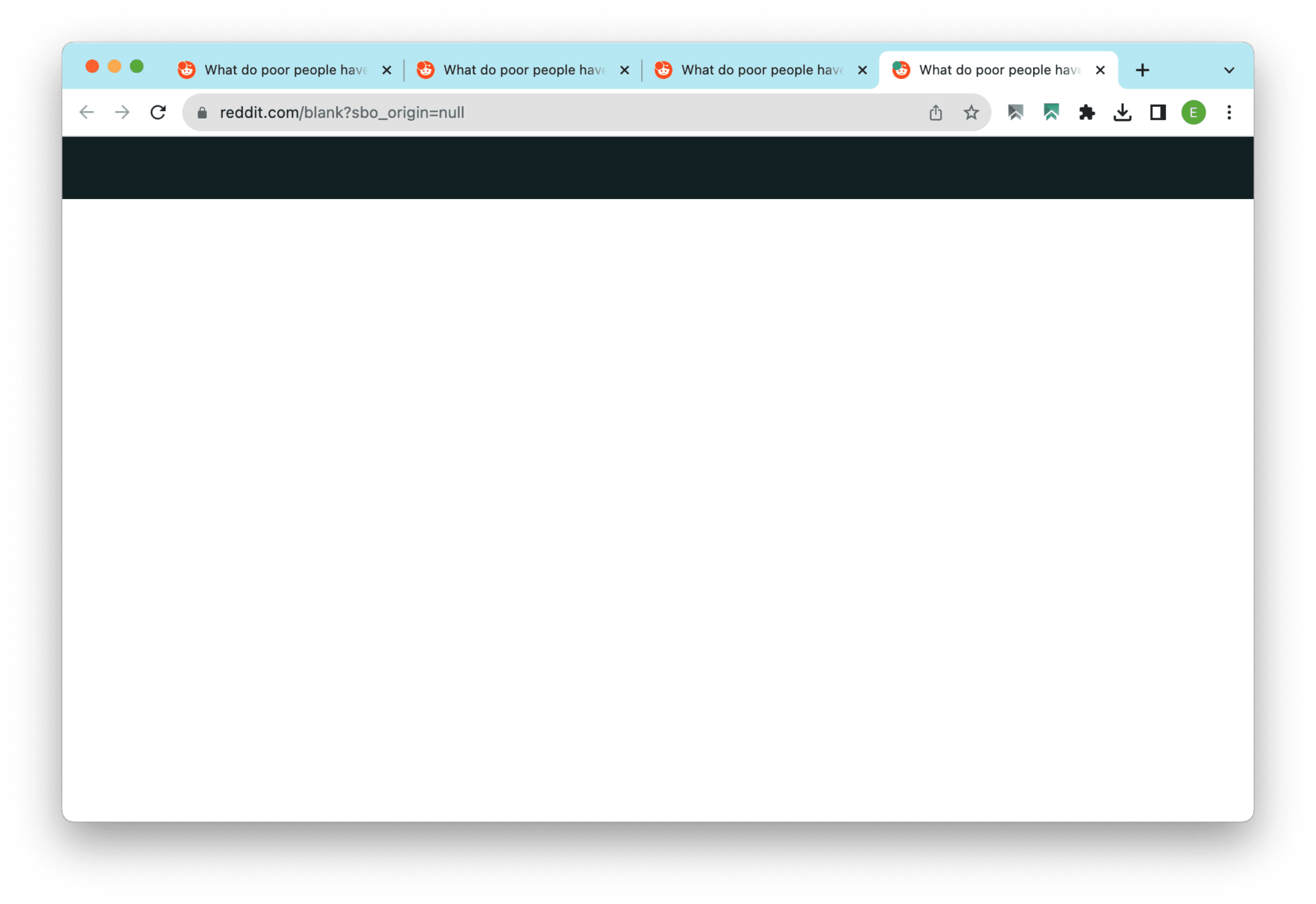 We noticed a problem mentioned in recent reviews of the Legacy extension, so we decided to investigate. We discovered in the official Discord chat that Google still needs to approve the new extension. This confirms our under-development theory.
We should note the team representative is mostly present on the chat and quickly responds to all questions.

Session Box One Workstation Browser
The SessionBox One extension is able to run profiles through their own browser called Workstation. It appears to be a browser of its own, but it's quite feature-limited (at least for now). Still, the team calls it Antidetect browser on the website.
However, the Workstation feels like an extension clothed in a Chromium browser skin.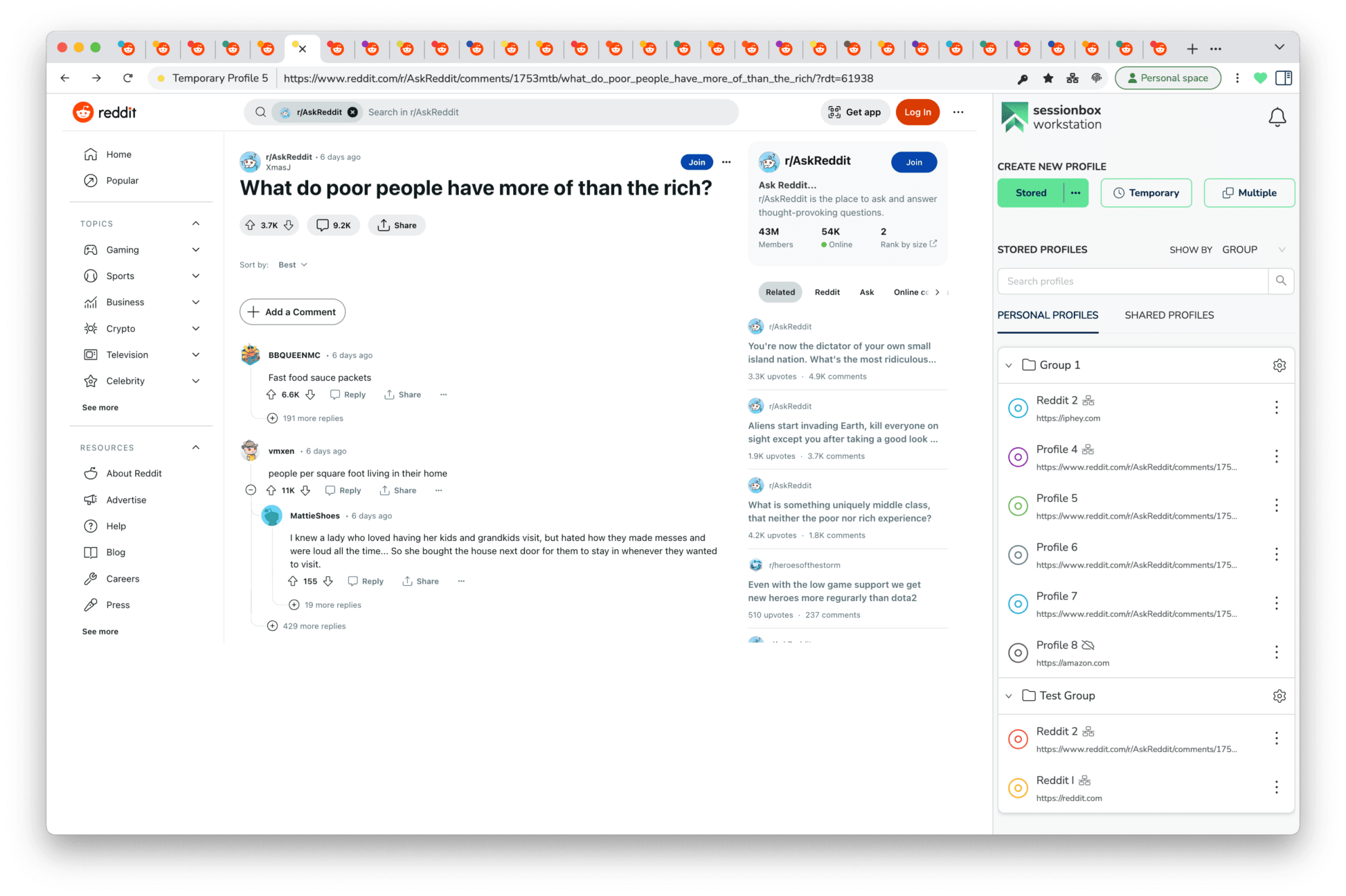 The Workstation seems to have modern privacy browser features: proxy auto-assign, API, automation, profile sharing, team options for Groups and so on. However, it still feels like a product under heavy development.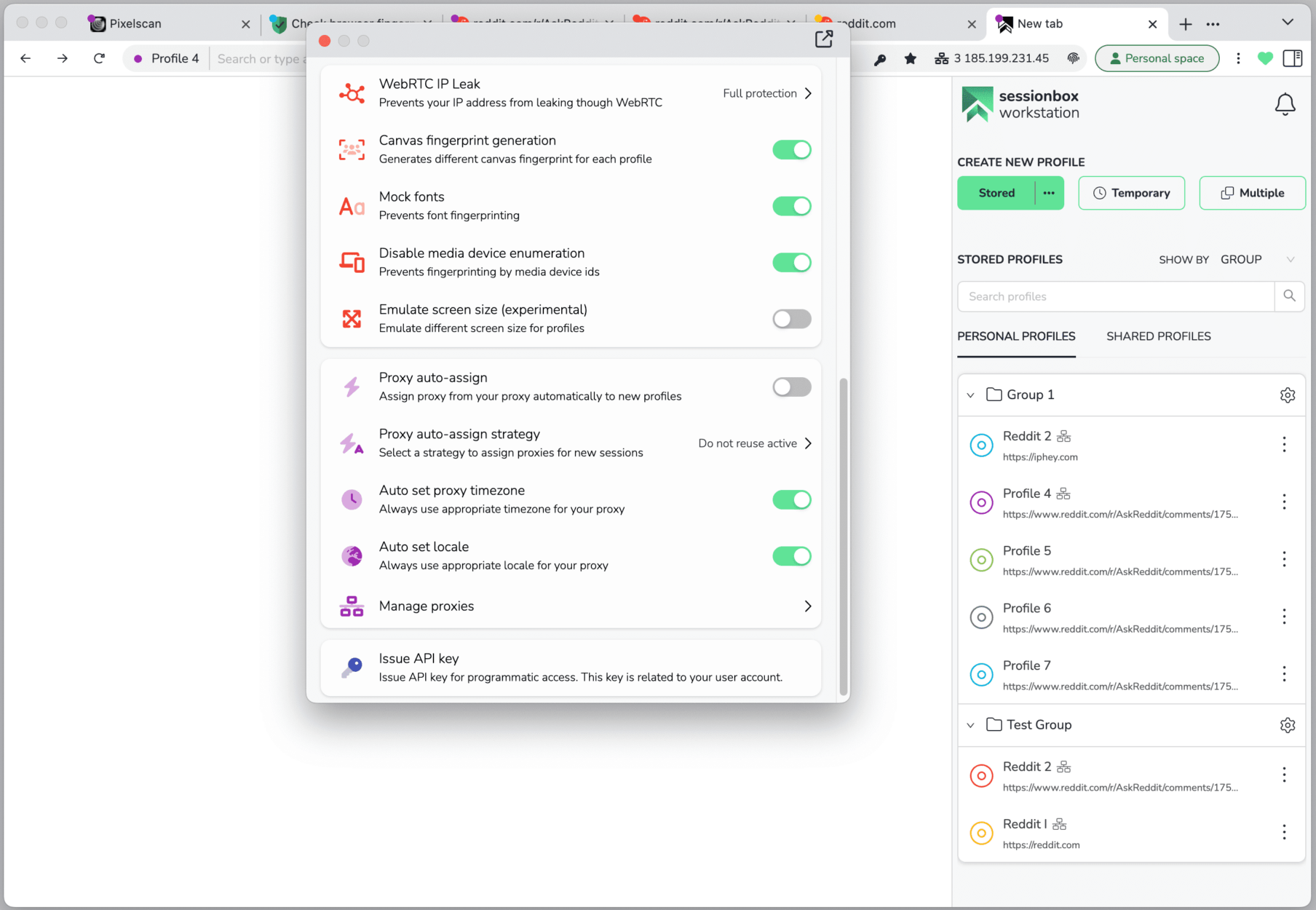 Let's see if the new extension and the browser pass the fingerprint checks.
Session Box Browser Compatibility and Passing Checkers
SessionBox One claims it's able (or will be able) to isolate a tab in your regular browser like Chrome or Brave. Again, that's a great idea, but it's still a bold claim as it requires outstanding expensive technology in a simple extension, Chrome Sessionbox.
We will try to pass Pixelscan.net and Iphey.com checkers in SessionBox One extension and the Workstation browser under default settings.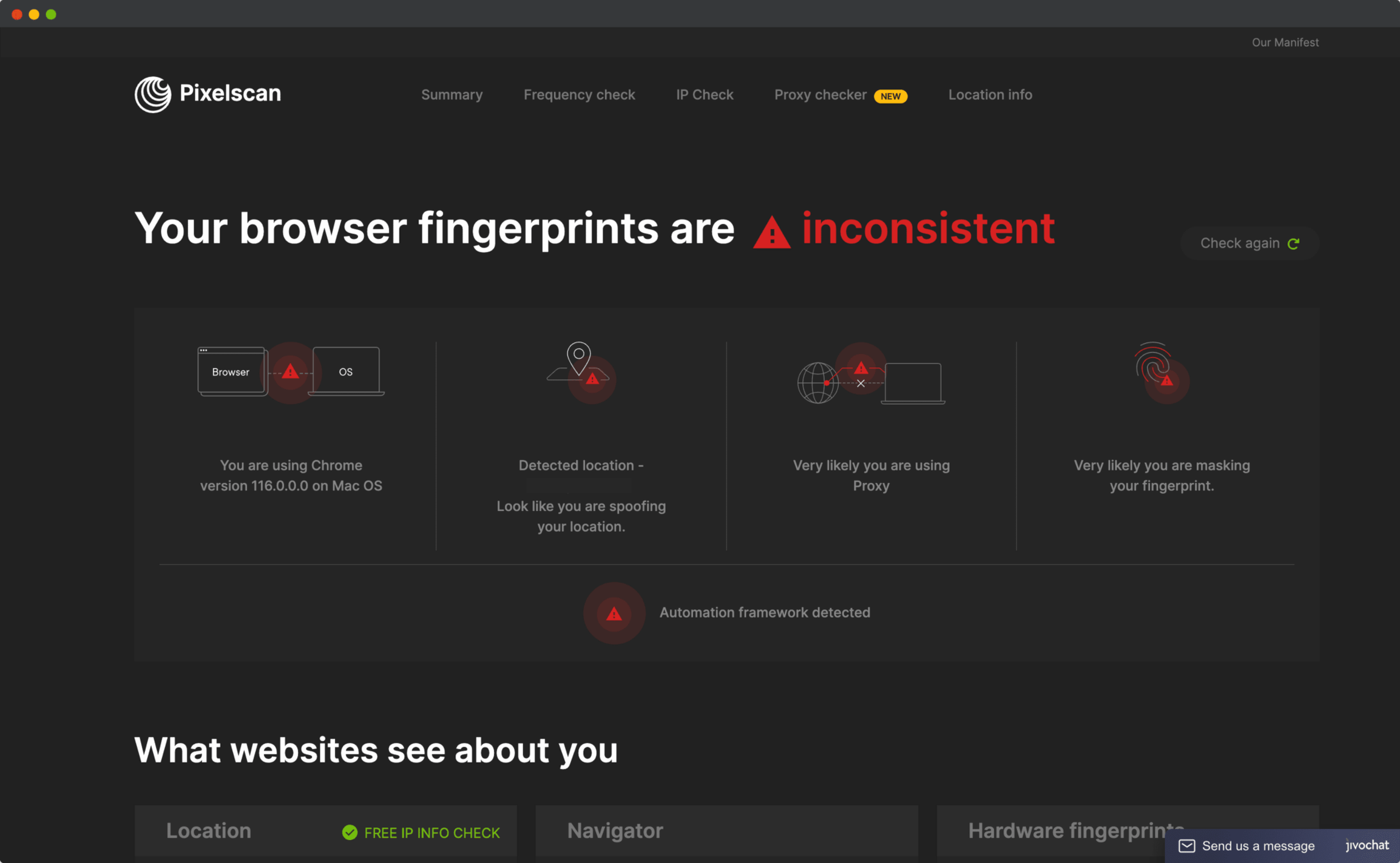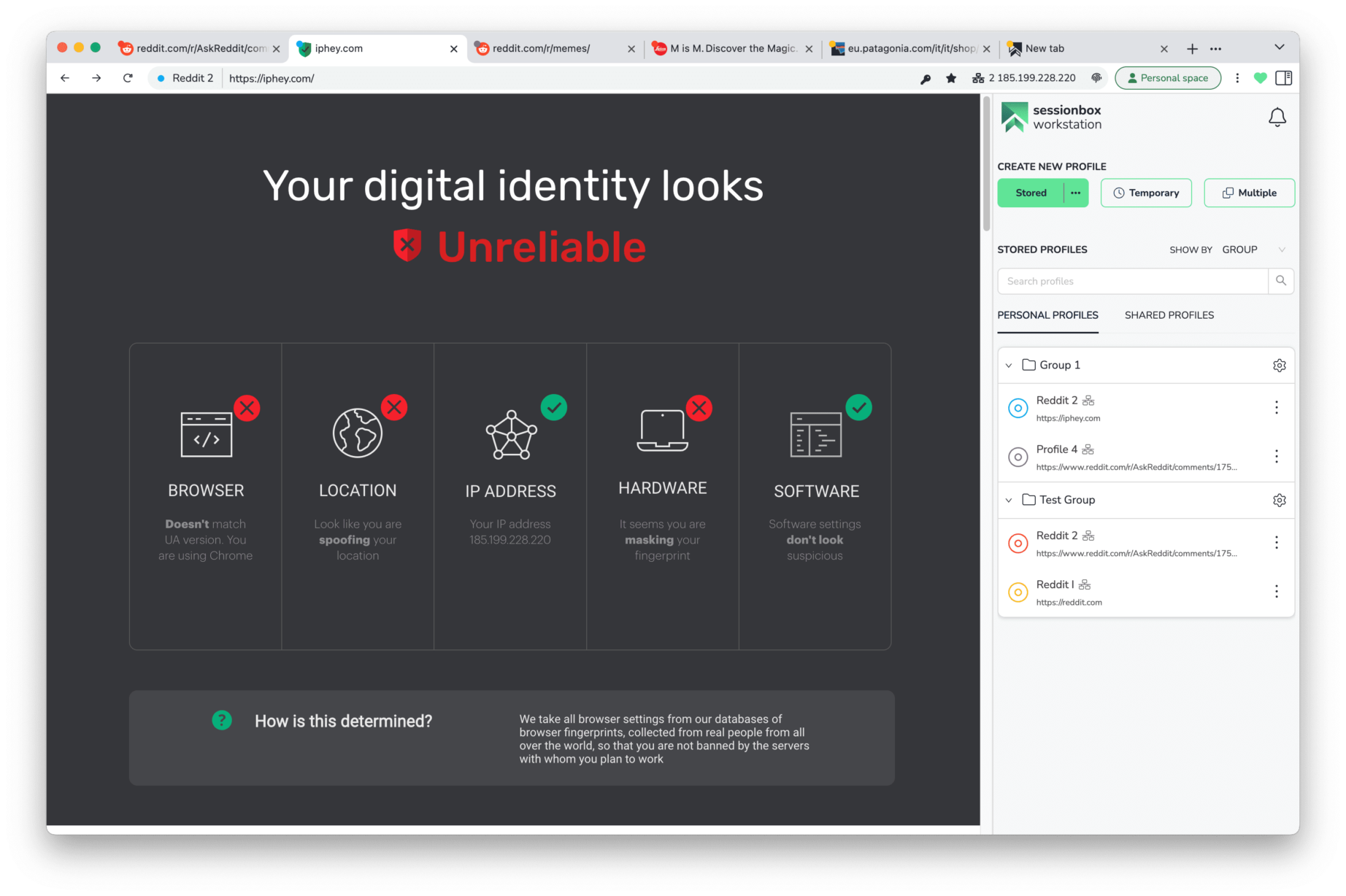 Both new tools failed the checkers both on the user agent and fingerprint side. We met some chaos on the user-agent parameter. The Iphey Hardware tab showed the browser gives an extremely old Chrome 114 user agent, while the original Chrome browser runs on 117.
The One extension provided us with a more modern Chrome 116 agent, but still did not manage to pass the checker. There is no option to choose the user-agent manually, like in more developed browsers.
Mobile Devices, Teamwork and Quick Recap
SessionBox extension and browser do not offer mobile or web versions for remote work. There are no choices for mobile fingerprints as well. We doubt it will be a good choice for mobile platform affiliates.
Team options are present in Groups and have the basic functionality like profile sharing. Taking into attention the problems with profile and tab logic, we doubt an agency with 5+ members will choose SessionBox as their daily driver for work. We will touch on the pricing for teams later on.
As a small conclusion, SessionBox One and Workstation are great idea-wise, but they don't work yet. They seem to create an independent tab, but it fails checkers on every parameter. It may sound harsh, but we take into attention the fact it all used to work well for people before. Hopefully, these problems are temporary and the team will fix them soon.
Download GoLogin for free and manage multiple accounts without bans!
GoLogin as great SessionBox alternative
Compared to the multi-tool set in SessionBox browser, GoLogin is a great example of how one tool just works for everything. It's fit for personal use. It's fit for a small entrepreneur. It's fit for a medium sized agency. It's fit for a massive web scraping or affiliate marketing team with 20+ members. It's the case when one size really fits all.
Just like an Apple product, GoLogin is able to work straight out from the box. The logic is simple: one window per profile. There is an Android app plus even a web app, but you can skip these. Or, you can only use these and forget the desktop. The proxies are already built in. It's all about your productivity and performance.
Let's look at GoLogin to compare it to SessionBox One tools, and at the end take a look at prices and rates.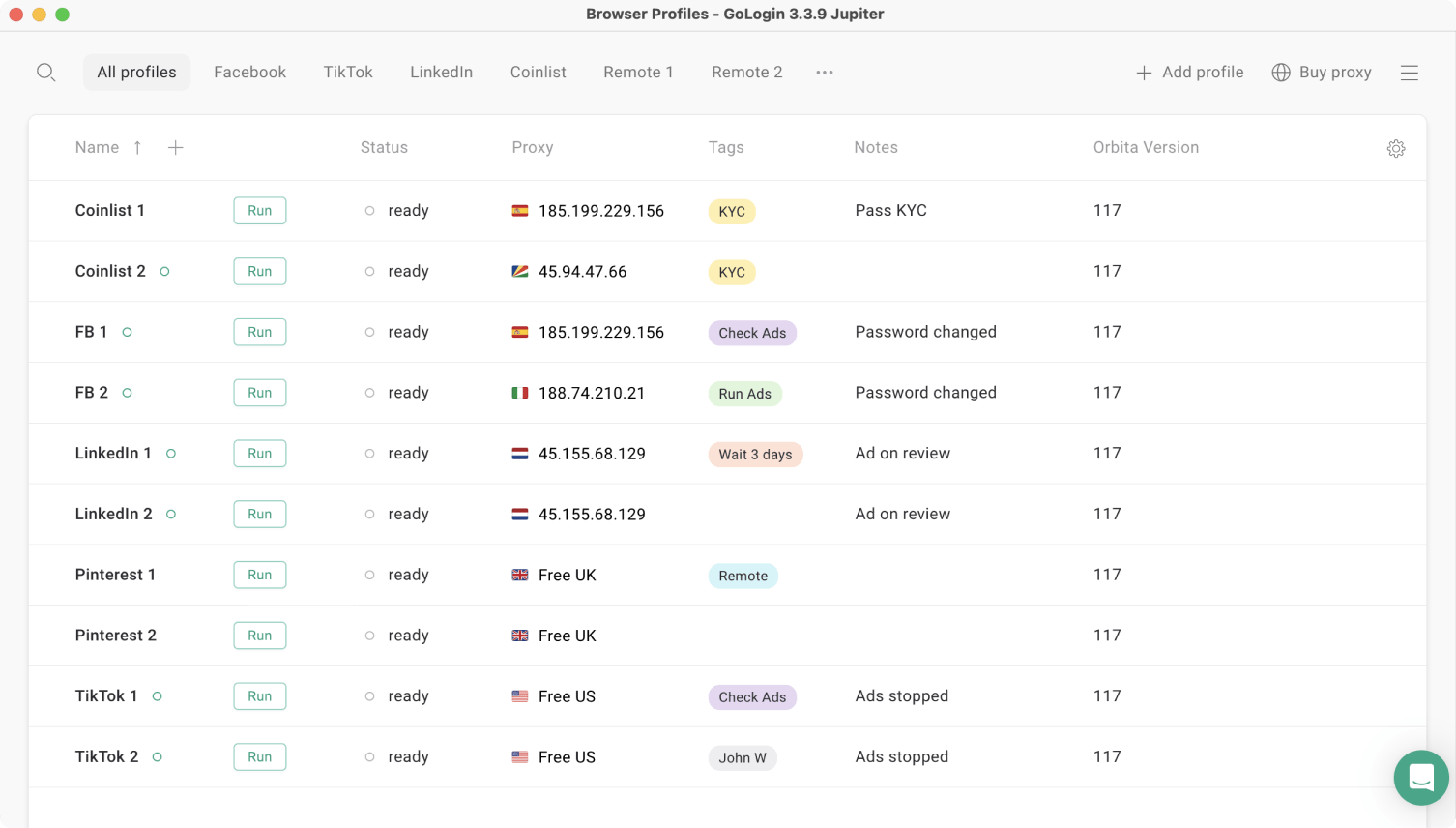 Download GoLogin for free and manage multiple accounts without bans!
Features and Comfort of Use
Unlike SessionBox One extension and browser, GoLogin has:
One browser tool for all use cases that's actually simple
Well-thought Profile table that's easy to navigate even with 100 Facebook profiles
Browser sessions that continue from where you left off
Stable work: 99,9% uptime over 2023
50 adjustable fingerprint parameters included in all plans
Free Forever plan with fingerprint protection
Free built-in proxies
Fair priced team plans that actually work for big teams
Mobile app and web version with cloud-based profile launching
24/7 support even for Forever Free users.
We skipped the user-friendliness and ease of work, because it's quite subjective. Tons of people used SessionBox for one reason: it's a light extension. We'll leave the ease parameter for you to evaluate.
Fingerprinting Work
Users name the long run stability and fingerprint consistency as main reasons for switching to GoLogin from alternatives, including Session Box. GoLogin provides top level fingerprint protection on all plans including Forever Free.
There's no need to pay extra for fingerprint settings or anything else. All you need is already in the price without the fine print. The default profile settings are already set up for best performance.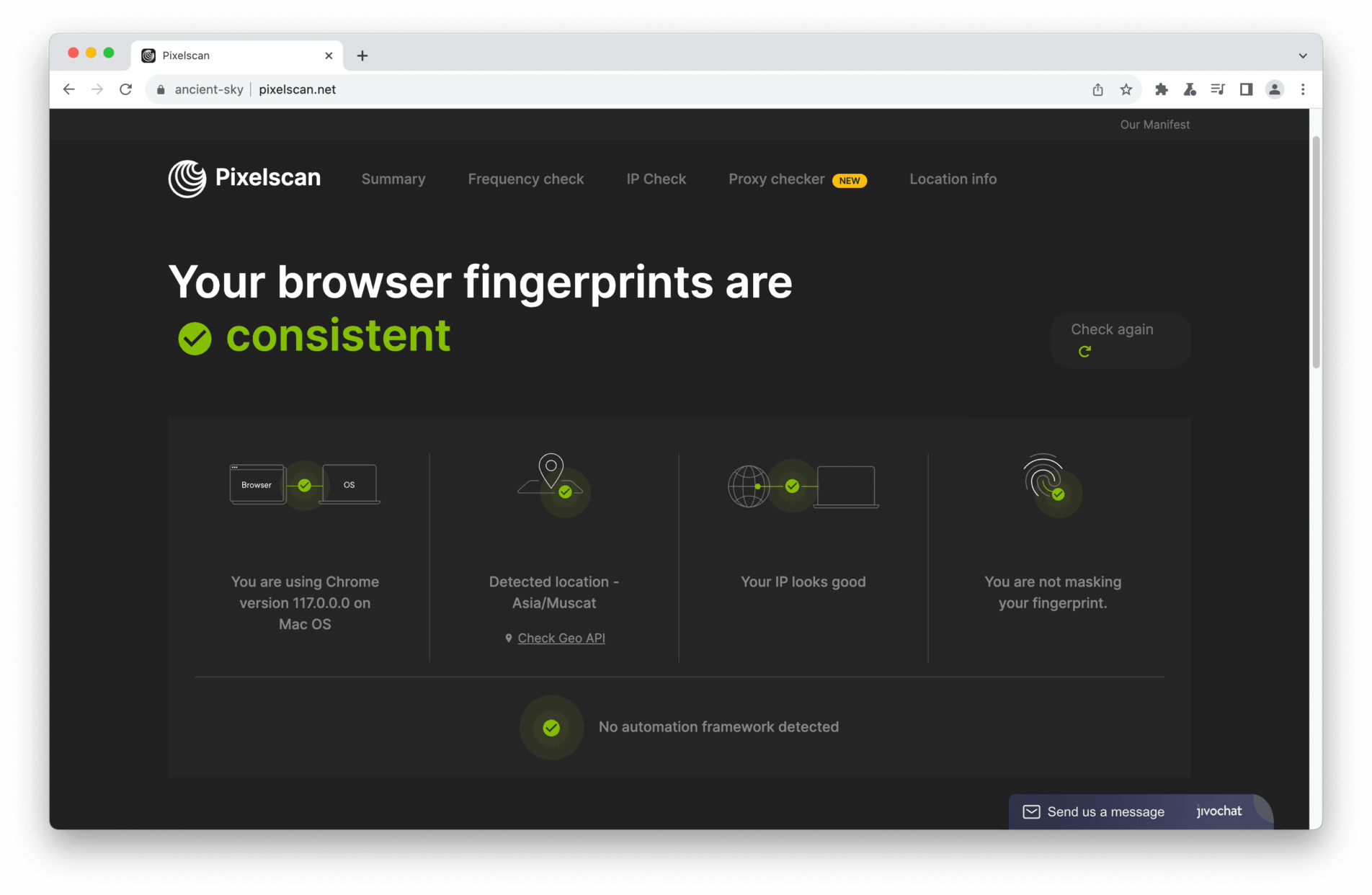 Download GoLogin for free and manage multiple accounts without bans!
Teamwork
GoLogin allows to share work with partners, giving custom roles and access rights for each teammate via Workspaces. It fits for teamwork well because everything is well organized for a big amount of profiles and team members.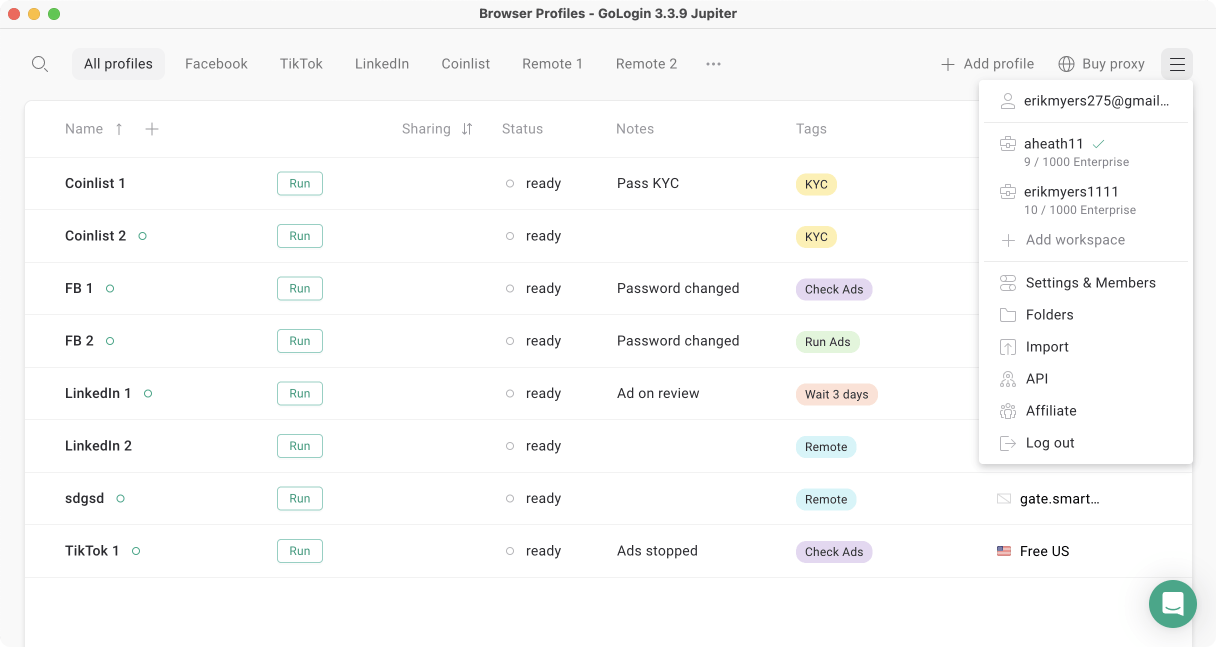 Profiles can be divided into Folders and assigned to separate managers right in the app. The number of device multi account sessions is unlimited on all plans. The team plans include a fair amount of team seats for the price.
Download GoLogin for free and manage multiple accounts without bans!
Mobile app and web version
GoLogin has a web version, which can be accessed from literally any device. You can launch and edit profiles without a computer: they will work on a safe cloud server. GoLogin is also available as an Android app.
For comparison, you can download Session Box One browser only on Mac and Windows desktops.
Support and Updates
The support team quickly responds to all user requests and tries to help in any situation. GoLogin managers conduct user campaigns to collect customer feedback and suggestions, making browser updates as relevant as possible.
Clients often praise GoLogin for the stable profile work in 24/7 mode without downtime. The uptime stability factor is often the reason why users move from alternatives to GoLogin.
Let's move on to the final part of the comparison: plans and pricing.
Download GoLogin for free and manage multiple accounts without bans!
Session Box vs GoLogin – Pricing
Free Plans and Trial Periods
SessionBox offers no free plan. There is a $8,99 Hobby plan, but it is extremely limited. The Hobby plan does not offer basic fingerprint protection, which raises questions about who would actually use it.
There's a week of trial period for paid plans, but it's also very feature limited.
GoLogin offers both: forever-free plan for 3 profiles + trial of paid features for 7 days with no restrictions when registering an account. The forever free plan has no limits on fingerprint protection and options.
Paid Plans: Personal Use
To stay objective on paid plans, we'll consider only a monthly payment option, but also mention annual discounts.
Note
: SessionBox login offers an infinite amount of profiles,
but basic features like fingerprint protection are considered options
. We did not fully grasp the catch here, except it seemed close to impossible to manage that amount of profiles in one window. We don't see a use case for such a tool with no fingerprinting.
Anyway, SessionBox's first paid plan (Professional) costs $59,99 per month. A similar GoLogin plan (Professional, 100 profiles) also costs $49 per month. Fingerprint protection is not even mentioned in GoLogin – it's a basic key feature.
Both SessionBox One and GoLogin offer annual payment discounts. GoLogin offers a generous 50% annual discount compared to 40% from Sessionbox. A year of Sessionbox's first plan will cost $419,88, while GoLogin will cost only $294.
GoLogin comes 1,4 times cheaper with all of the extra features we already described above. Adding to that list, GoLogin offers actual reliability.
Download GoLogin for free and manage multiple accounts without bans!
Top Tier Plans
SessionBox One's top plan (Teams) will cost you $99,99 per month. It has 5 team seats and basic functionality included. As well described above, we don't see how even a small team could actually use this tool even for 20+ profiles.
GoLogin's Business plan will cost the same, but offer 300 profiles + 10 team seats. GoLogin comes more fit for actual agency use with advanced team control, plus it's more cost effective.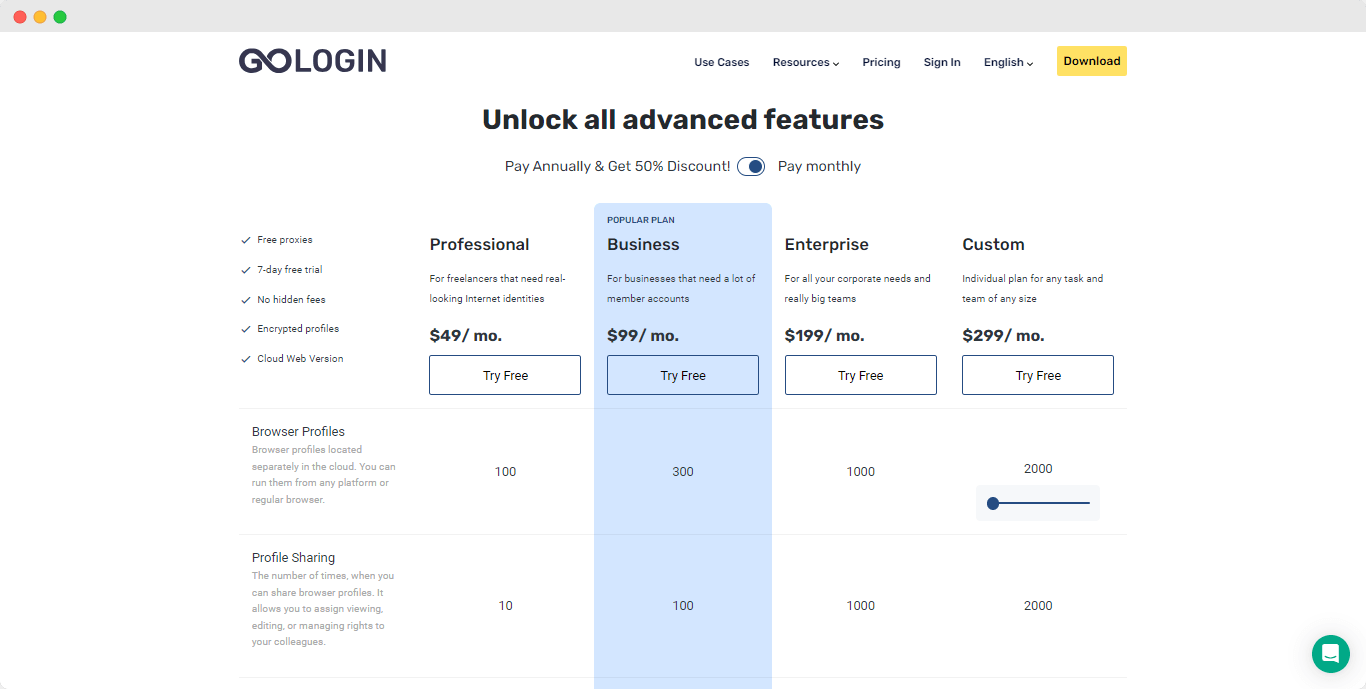 We were not able to compare Enterprise and Custom plans, as there is no pricing for that on Sessionbox One. We don't see this as problem because SessionBox is obviously not designed for large scale use.
On GoLogin Custom plan, a scenario with 5k profiles and 100 team seats for VAs will cost you $669 + 50% yearly discount on top = $334,5 a month. This is an extremely fair price for an app able to bring even a solopreneur 5000% ROI during the first year.
As a conclusion, GoLogin offers more features for the fair price on all tiers. Visit the Pricing pages yourself, test both browsers and make your own considerations.
Download GoLogin for free and manage multiple accounts without bans!
SessionBox vs GoLogin: Summary
As we already said earlier, SessionBox extension Chrome carries a great idea behind. Yet, at this moment it simply does not work as it should – such an extension is an extremely ambitious task. There are a lot of serious questions to SessionBox, and we raised some of these during our review.
As always, we recommend to make your own decision. Here are some questions to help you choose the best antidetect for your situation:
How many browser profiles do you need?
Do you need to share profiles with partners?
How much are you willing to pay for business software?
Does the browser have a good reputation? What do reviews and forums say about it?
Can you test the browser for free? If yes, which one suits you best?
To summarize the comparison, we have rounded up some pros and cons. Compare the browsers and count the costs on your own to find the best one.
| | | |
| --- | --- | --- |
| Comparison Criterium | Session Box One | GoLogin |
| Free plan | ❌ | ✅ |
| Free trial of paid features | ✅ | ✅ |
| Unlimited fingerprint use | ❌ | ✅ |
| Chrome extension | ✅ | ❌ |
| Beginner-friendly | ❌ | ✅ |
| Country of origin | 🇭🇺 | 🇺🇸 |
| Updates frequency | ✅ | ✅ |
| Suits well for teams | ❌ | ✅ |
| Passes checkers | ❌ | ✅ |
| Mobile app | ❌ | ✅ |
| Profile cloud launch | ❌ | ✅ |
| Free in-app proxies | ❌ | ✅ |
| Support quality | ✅ | ✅ |
If you are already using SessionBox (old, new or browser) – try GoLogin for a free test period. Evaluate how many accounts out of 10 survive in the first and the second browser. This is what most often reflects how expensive is the browser for your work.
SessionBox is pointed at a regular user who wants to just get the job done. Unfortunately, it does not do its main task, although it used to. If you're looking for an alternative or just starting out, we recommend to test GoLogin on a 7-day unlimited free trial. No credit card required.
FAQ
Can I use Sessionbox Firefox or Sessionbox Edge for multiple login?
No. At the moment Sessionbox is only available as a Chrome extension and a standalone browser. The alternative is Firefox multi-account containers, but these are more complicated to use for an actual business. There is some info about Sessionbox Firefox extension online, but it is outdated. Also, Sessionbox team claims the app is able to isolate Firefox and Edge tabs, but we were not able to prove that.
Can I use Sessionbox Opera for multiple accounts?
No, SessionBox does not support Opera. We do not recommend using Opera for privacy or business. This browser has its strong points, but it comes on a weaker side with its low privacy levels and trading your personal data to ad brokers.
Is SessionBox safe?
Based on the recent reviews about lost accounts and disability to save browser sessions, we doubt that SessionBox can be a safe business solution worth the investment at this stage. However, we should note the team is working on making Sessionbox a better tool. We recommend always checking with the community before investing resource into a business tool.
Download GoLogin for free and manage multiple accounts without bans!