Seeking advice on setting up multiple Discord accounts, you've likely come across their official guidelines. Indeed, on Discord you can manage up to 5 accounts.
However, juggling even five or fewer accounts can be challenging in the Discord app. For example, you cannot easily share your account with someone else or make notes related to this or that account.
In this guide, we will review different methods of dealing with multiple Discord accounts (+a promised most convenient one). Read on to choose the way that works best for you.
How to run multiple accounts right in Discord
Discord rules don't explicitly prohibit multiple accounts. You just need one email or phone number per Discord account.
Discord even has an Account Switcher feature. It allows users to switch up to 5 accounts on desktop devices. At the time of writing, you still have to log in and out of the Discord mobile app.
To access Discord's Account Switcher, click on your avatar image at the bottom left corner of your Discord app and select "Switch Accounts". That will instantly get you to the secondary account.
Ways to manage 5+ Discord accounts
Log in and out, again and again
This method of managing multiple Discord accounts is straightforward, but lacks convenience.
You have to manually enter your credentials each time and keep all login details at hand. What's more, you are likely to miss urgent messages and notifications from other accounts because you are only logged into one account at a time.
You can also perform Discord login in multiple browser windows. But now imagine searching for the right browser window among dozens of same-looking windows. Irritating, isn't it? Furthermore, each time you start a new session, you will have to log in.
Create multiple Chrome profiles for each Discord account
You can create several Google accounts and log into Discord from each one. But you have to remember what account is linked to what Discord profile, what its status is, and other details. It adds up to a lot of manual work if you manage multiple Discord accounts.
Use a browser and the Discord desktop app
Download and install the Discord app from the official website. Next, log into your account. Then, go to the Discord website and click "Open Discord in your browser." Choose a browser and log in to multiple accounts.
Using these two Discord versions, you can comfortably manage up to 10 Discord accounts.
Use Discord Canary and PTB
Another option to manage multiple Discord accounts is to install Discord Canary (Alpha version) or Discord PTB (Public Test Build or Beta) in addition to the main Discord app.
Visit the official Discord website to download these apps on your computer and access them through separate accounts. Remember that the testing version is designed to detect and fix bugs, so it may not be as stable and convenient as the production-ready version.
Using the main app + Discord versions for testing, you can switch between 15 accounts.
Clone apps on mobile devices
Android and iOS devices support app cloning. As the name suggests, such software allows you to have a copy of the Discord app. You can install several cloning apps to manage accounts. Even though different apps have different user interfaces, they have similar workflows.
You open the cloning app and add the app you want to clone (Discord). Next, you open the Discord app within the cloning app and can log in to your other 5 Discord accounts.
Here is how it's supposed to work for Android devices:
The disadvantages? Many cloning apps run in the background, consuming additional system resources and draining your battery faster. They may also have security issues. So, think twice before downloading such apps to avoid hacking.
Note that a lot of people face different issues and even bans of their accounts that used to work before cloning the app. We do not recommend this method: use it at your own risk.
Buy multiple physical devices
When you have many devices, you can combine different ways to manage multiple Discord accounts. For example, you can install various browsers and use different cloning apps at the same time.
This method though doesn't add convenience to the process and becomes less cost-effective as you add more accounts. Because 6 devices x $50 (the minimum for a working smartphone) = $300. That is more than the multi-accounting browser's cheapest annual plan of $294 for 100 accounts. Read on to learn about this method to organize your Discord accounts.
Use a multi-accounting browser
Basically, a multi-accounting browser functions like a regular browser. The difference is that managing multiple Discord accounts with such a browser is easy and convenient – you have all your accounts in one clean window. It is possible to manage 50, 500, or even 5000 accounts without headaches in a clear SMM panel that allows you to login straight from there.
To organize a smooth workflow with multiple accounts in a multi-accounting browser, you can:
Name each account
Group them into folders
Add tags and notes
Filter profiles by various variables
Share profiles with remote team members. You and your team members never log out of the accounts, so you don't have to deal with endless passwords, 2-factor authentications, and login tokens.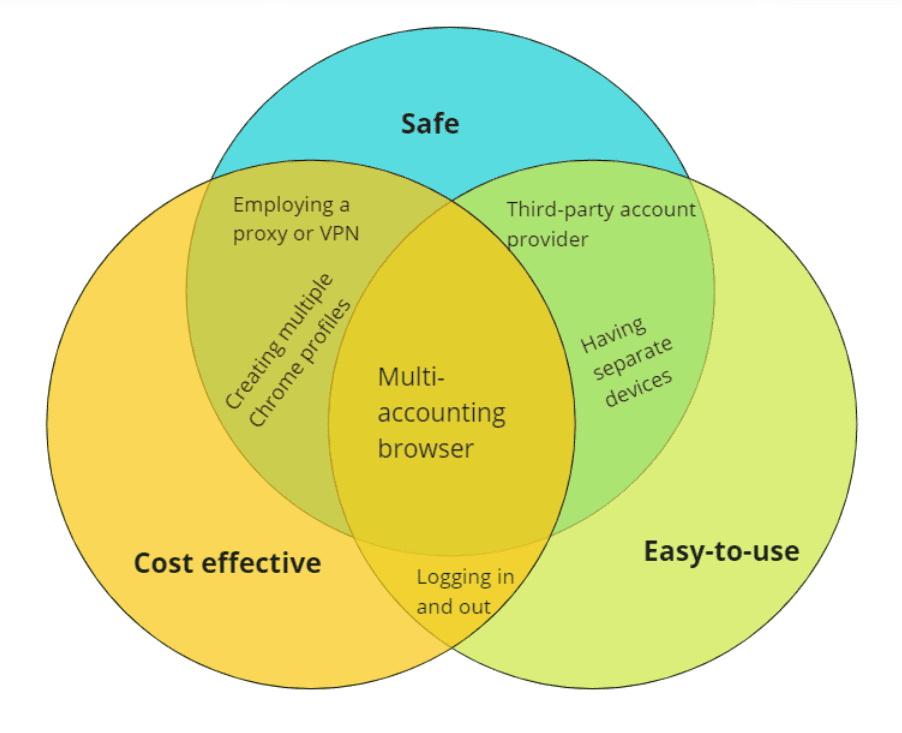 Aside from convenience, using a multi-accounting browser makes you completely private. Multi-accounting browsers create unique digital fingerprints for each account.
A digital fingerprint is an ID code that consists of all possible information about your location, operation system, installed plugins, time zone, and many other things related to your device.
Though Discord bans are rare, your accounts' privacy is still important if a work downtime may damage your work and business. To learn how multi-accounting browsers work, let's explore GoLogin.
How to run multiple Discord accounts with a multi-accounting browser
1. Download Windows, Linux, or Mac desktop apps from GoLogin website and register an account.
2. Start a free 7-day trial for more than 3 accounts. Once you are registered, you will be directed to a GoLogin app. If the free trial is not active yet, head to Settings and click Upgrade.
Note: For a trial period, you don't have to pay or add your credit card details.
3. Next let's go back to the main page (Table of Profiles) to set up profiles for your multiple accounts.
4. Click the plus button to create as many profiles as you need. They will not need any adjustment, except assigning a proxy to each one.

5. Name each profile. For example, use connected Discord usernames. I also put DC at the beginning of the name in case I need to add other social media accounts. To change the name, click on it once.
6. Assign a proxy for each account. When you hover over the proxy column for one of the accounts and click Add or Paste proxy, there will be a list of free proxies you can use for testing. Note, that they might be pretty slow for long-term or heavy media usage.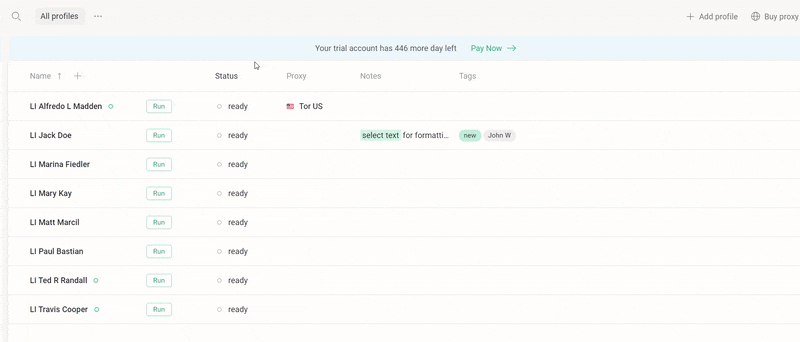 Note: the country of the profile (in profile settings) and of the proxy should be the same. Always choose the Based on IP option for your Geolocation. This way the system will match your Geo to the proxy IP automatically.
You can buy more reliable proxies one by one right in the GoLogin app. There are three proxy types.
Residential proxy simulates a regular desktop computer. It's the most popular option considering the balance between cost and safety.
Mobile proxy type is far harder to detect and more expensive, as it gives a mobile IP which is taken as more natural by social media.
Data center is cheaper than the previous 2 types, but less secure. These are used when your device already has a high trust level on social media platform.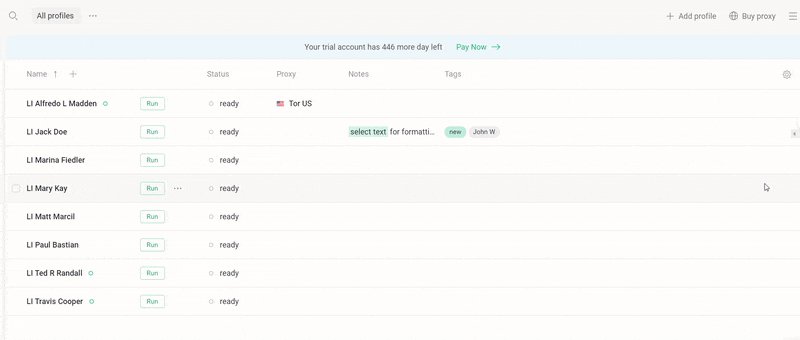 If you need multiple proxies at once, you can mass-paste the proxies from a third-party provider. Use our list of trusted proxy providers to choose: there are promo codes and deals inside!
Copy the proxies from a third party provider and click the Paste icon in the Proxy column. They will be automatically checked and added to your proxy list.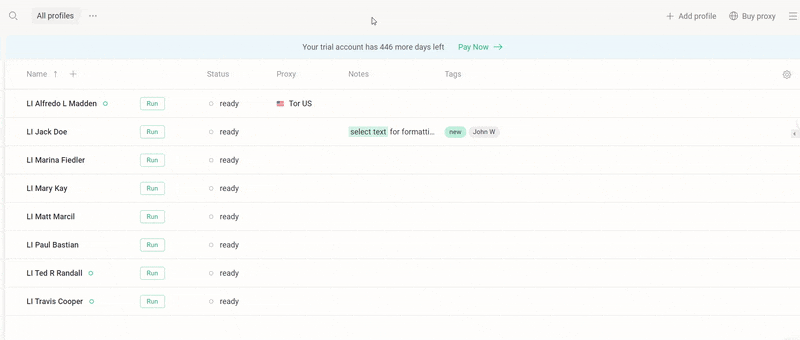 7. Do NOT change any other profile settings until you 100% know what you are doing. The settings are automatically pre-configured for your system and device. It makes you look normal (aka not suspicious) for social media systems.
Contact our support if you have any problems with a pre-configured profile.
8. Once you set up proxies, click Run to open a browser window.
9. Sign in to one of your multiple Discord accounts or create a new one.
Now, here's a killer thing. When you close this window and return tomorrow, you won't need to re-enter your credentials. They're saved just like in the Chrome browser. The session will continue from where you left. You can forget about passwords, 2FAs, tokens and codes.
10. Customize your SMM panel overview of multiple Discord accounts in GoLogin.
You can group your profiles by adding a Folder. Profiles and folders can be shared with your team members.

You can add or remove more fields on Profile Table and swap them around to see only what you want to see. This allows users to create a unified overview of what's going on with the accounts.
That's extremely comfortable for SMMs, target ad people, marketing agencies and everyone who needs to manage multiple social accounts.
Compared to other SMM panels and organizers like Airtable, GoLogin is far superior because it allows to have a clear account overview + to log in and out without passwords, 2FA codes and tokens.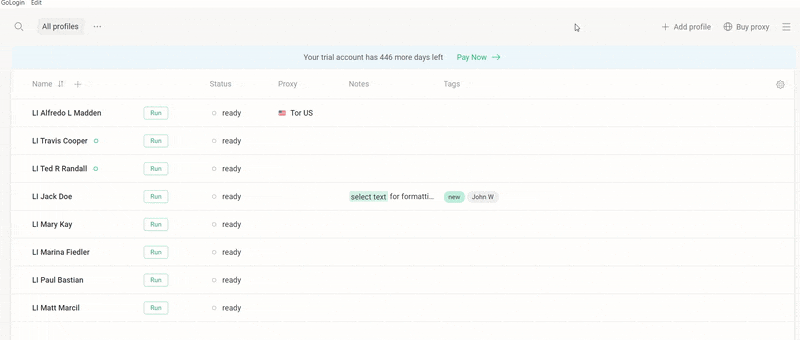 To share, edit, delete, and perform many other actions with one or several profiles, check the box to the left of your profile. At the top, you will see the panel with mass actions to choose from.

And here is how you can add tags to browser profiles. Click Add tag, type its name (for example, account status), and press Enter. Once the tag is created, choose its color. Later, you can filter profiles by tags.
Click on the tag to see all the profiles associated with it.
Wrapping up
For up to 5 personal accounts, the Discord app will be enough.
If you need just account switching for up to 10 accounts, you can go with some of the alternative ways.
In case you need to organize and share your multiple Discord accounts with a straightforward solution, it's worth giving GoLogin's multi-accounting browser a try. It is a great alternative to best SMM panels that also allows to quickly and safely login to all accounts without passwords.
Frequently asked questions about multiple Discord accounts
How many accounts can I have on Discord?
Discord allows you to have as many accounts as you want. For example, you can have accounts for personal and work use or multiple accounts for Steam and other gaming platforms.
Can people tell I have two Discord accounts?
No, Discord doesn't show other users that you switch between two or more accounts. You're less likely to arouse suspicion about having multiple accounts unless other users notice similar behavior patterns across your different accounts.
Can I make two Discord accounts with the same email?
No, you cannot. Discord only allows one account per email. This measure aims to prevent people from making multiple spam accounts.
Is running multiple Discord accounts legal?
Yes, Discord's rules do not specifically prohibit the use of multiple accounts. We recommend using GoLogin to save time on logging in and optimize your workflow with a clear work overview in one window. However, if you misuse any of the accounts and abuse Discord features, your account will get suspended.
---

Read more on the topic:
How To Run Multiple Accounts On Amazon: Pro Marketer's Tips
How To Run Multiple Accounts On Facebook: Step-by-Step Guide
Banned From Facebook For No Reason? Here's How To Avoid It
Shadowbanned On TikTok? This New Tool Helps Avoid It