In order to simplify communication with users and make their online experience as convenient as possible, all major browsers use cookies. In this article, we'll talk about the best solutions for Chrome to perform cookie import/export. We'll look at 5 cookie plugins for Chrome, as well as solutions for Firefox and Android.
What Are Cookies?
Most sites with username and password authentication have a "Remember me" feature. User credentials are stored in cookies. Cookies are stored in your browser profile. Their format varies depending on your browser. For example, cookies in browsers based on Chromium are stored in SQLite version 3 format.
Cookies are small data files that are stored by a Web server (like your internet connection provider) on the hard drive of your computer. The way they work is that the first time you access a website with a cookie, the website or the server (that's your connection to the internet) puts a cookie on your computer's hard drive. Every time you make a request to the server, the server reads that cookie. In this way the web server can tell that you have been there before and you'll be able to log in as usual and not have to provide your password. This is the same for many other websites, they store a cookie on your hard drive and they read it when you visit the site next time.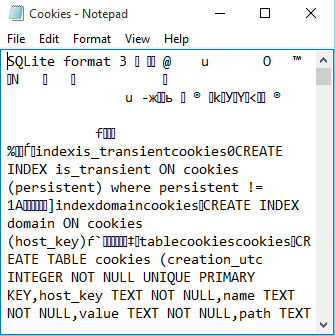 Credentials are stored in the browser until you delete certain cookies, clear all cookies, or until a cookie expires, as set by the site's webmaster. In WordPress, for example, they become invalid after two weeks of storage.
In technical terms, cookies are pieces of data sent from the web server to the browser. This data allows to identify the user and to remember his settings on the site.
This is data in a special format that is used to:
Collecting statistics about users;
User authentication;
Tracking the status of the user's access session;
Storing the user's personal preferences and settings.
How to detect if a website has cookies?
The first thing to do is to get a list of all the cookies that are on our computer. This is a very basic method and can be done in three ways:
Right click on any link;
Open an address bar;
Press Control or Command (Apple or Windows Key) and type "About: Cookies"
What Types of Cookies There Are
is one of the biggest retailers in the world and arguably the most advanced public website from a security perspective. And not only does it allow people to sell and buy commodities, but it also has highly valuable data on goods. Lots of businesses find it tempting to scrape some data from the platform. It provides one with the most relevant information on products, which helps to speed up a marketing campaign. Nevertheless, web scraping basically violates Amazon's terms of service and may get you banned just in a second once they find out you a crawler or scraper.
Cookie information is stored on the user's computer. And information about the session is stored on the servers of the sites. That is, passwords can be stored within one session, and when the session ends, this data is deleted.
Example:
You come to the movie theater, where you are given a ticket (analog of a cookie) and the movie session starts. You can leave early (closing your browser by yourself), or you can stay until the end. But the session will end sooner or later when the movie ends. The used ticket (cookie) stays in your pocket (computer), but you will not be allowed to the next session with it.
There are 6 types of cookies:
Cookie type
Explanation
First-Party Cookies
First-party cookies are kept on a domain that a user has directly visited.
These cookies are used by web-masters to gather statistical information and improve website functioning, such as keeping track of user preferences for language.
First-party cookies are always on. This is so that they can carry out important website functions.
Third-Party Cookies
Third-party files are collected by websites that the user has not directly visited. For example, a user visits a site that contains a third-party advertising cookie. These cookies are used by third parties for tracking, advertising and retargeting purposes.
Currently, third-party cookies are already blocked by default in Safari and Firefox web browsers. Meanwhile, Chrome exports cookies normally.
Session Cookies
Non-permanent cookies, commonly referred to as session cookies, act as the memory of a website. They keep track of user visits only as long as the browser is open. They stop working as soon as the session ends. With session cookies, the publisher's site can track user behavior across multiple pages during a single session.
For example, without session cookies, items in an online store's shopping cart would be deleted each time the user refreshed the page or went through the checkout process.
Persistent Cookies
Persistent or persistent cookies often have an expiration date that is set by the webmaster. They store data that users enter. For example, language preferences, settings, login information, and so on.
These cookies are sometimes called tracking cookies. This is because they constantly track user activity on the site. In the Chrome Developer Tools menu, persistent cookies contain an expiration date.
Secure Cookies
The only website that will have secure cookies is one that uses the HTTPS protocol. This guarantees a secure connection and guards against cookie theft.
Zombie Cookies
Evercookies, supercookies and zombie cookies are all fictional cookies. They are small pieces of code that are usually stored as an image, local shared object or HTML5 web storage. Even after the original cookies have been destroyed, they reappear, which is what gave the name "zombie cookies".
Why Do You Need Cookie Import and Export?
A cookie normally comprises the site name and a user-specific ID that is unique to each user. Websites can remember you and your preferences and adjust the page content for you depending on this information by retrieving it through cookies when you visit them again.
By importing cookies, you can work comfortably with familiar sites. So that the site recognizes you not as a stranger, but as a returning visitor, and shows its content according to your user preferences.
Often importing cookies is necessary when you buy social media accounts from a seller. To avoid getting banned immediately after logging into your account, you need to import cookies.
Top 5 Best Tools for Cookie Import/Export in Browsers
Listed below are extensions explaining how to import cookies from chrome.
1. EditThisCookie
Chrome cookie import/export can be quickly. Add, modify, delete, and block cookies. It also allows you to block cookies from a single site. By changing a few variables, you can customize how EditThisCookie works exactly the way you want it to. For example, the page can automatically reload after you make changes. EditThis Cookie is a free extension. You can also include additional context menus or use development tools.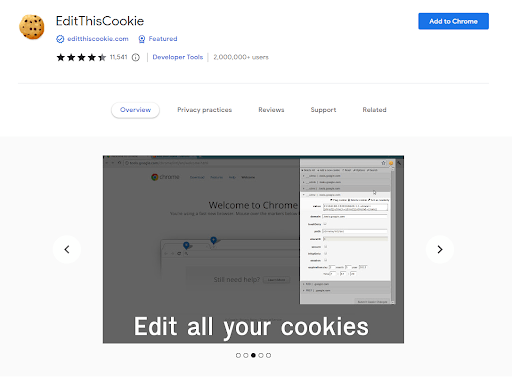 Disadvantages: EditThisCookie could seem a little intimidating to those of you who are unfamiliar with cookie editors. Although it doesn't always appear to load properly, there is reportedly a help option to direct you. It could be a little challenging to get going as a result.
2. Swap My cookies
This cookie plugin can be a great solution if you are looking for cookie import/export in Google Chrome. Swap My Cookies acts as a session manager for your cookies. You can log in to any site using different accounts. You can also quickly switch between accounts or profiles. Swap My Cookies is a handy program that you can use on one computer. It is also used if you need many different accounts for the same provider.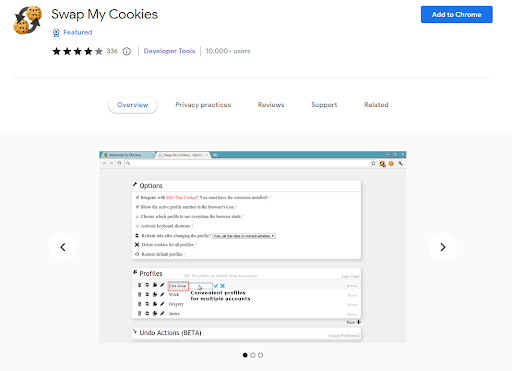 To get started in Swap My Cookies, all you have to do is create several individual profiles with unique login details. You will then be able to log in to these profiles in a couple of clicks. Each profile has completely different login details.
These profiles can be renamed so that you can remember which one is whose. You can reset, sort, and duplicate them as needed. If you want, you can create keyboard shortcuts for each profile to make it easier to switch between them.
But the nice thing about Swap My Cookies is that it also allows you to integrate EditThisCookie. This means that you can not only replace cookies, but also make significant changes to them.
Disadvantages: Users complain that the extension "no longer works. Just delete all cookies on the profile switch. This was a 5 star plugin. Stopped working after a recent chrome export cookies update." Maybe developers will fix it, but it sounds scary, doesn't it?
3. Cookie Editor
Cookie Editor could be the right choice for you if you're searching for a tool that is strong and feature-rich but also a little simpler to use than some of the options on our list. You can also use it as a cookie importer for Firefox as well as for Android.
The functions of Cookie Editor include adding new cookies, removing existing cookies, and altering existing cookies. Your cookies may also be exported to and imported from files, as well as backed up and restored
But the structure of Cookie Editor is what makes it so appealing. The UI is simple to use and takes little time to get used to. There are also many other features, like news about upcoming releases and others.
Disadvantages: The advanced features are only available with the purchase of a subscription. These are:
Ability to create your own custom cookie sets;
Password protected Encrypted Storage;
Chrome Export cookies to a file;
Import from a file;
Backup and Restore.
4. Cookie-Editor
Cookie-Editor is a great alternative if you are only looking for a basic cookie editor. Cookie import/export is fast and easy. Modify your cookies without additional features.
With Cookie-Editor, you can quickly create, update and delete cookies from the page you are currently viewing. You can also easily delete all cookies from the same page. The search bar helps you quickly find what you are looking for. There is an option "Сookies import / export" to text.
If you need a simple cookie editing plugin, all these features make Cookie-Editor easy to use.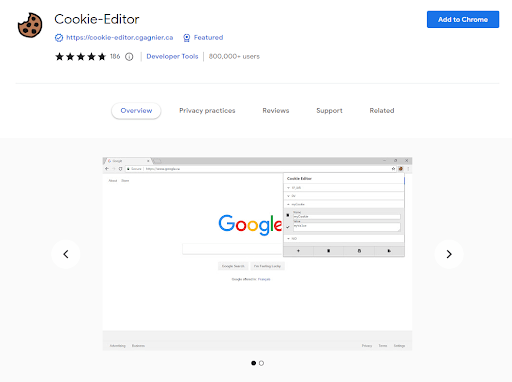 Disadvantages: Users complain that it occasionally fails to work. After using it for some time, it shows an "unknown error". Only seems to list cookies of the site you are on and all in a chopped up list format. There is no search function for existing stored cookies. Search by keyword, date, etc. does not seem available.
5. Export History / Bookmarks to JSON / CSV / XLS
With this Chrome extension you will learn cookie import/export from Chrome. All of your browsing data, including history, cookies, and bookmarks can be easily converted from cookies netscape format to CSV, JSON, XLS, or XLSX file:
1. Save the bookmarks, history, and even cookies from Chrome as JSON files.
2. To download the JSON files containing your history or cookies, click the "Chrome History.json" or "Chrome Bookmarks.json" buttons.
3. On the online JSON to XLS/CSV converter screen, choose the checkbox.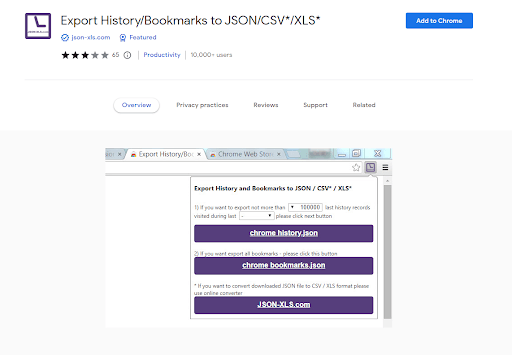 How to Use Cookie Import/Export in Antidetect Browsers
Functionality that often requires cookies:
Functionality that often requires cookies:
Site authorization. For example, an online store may check whether you are a registered user and allow you to shop more easily. It can also be used in the context of advertising.
Online purchases. For example, it is possible to check whether a user has made a payment and process payment authorization only when it is necessary.
Personalization. It is possible to personalize your browsing on the basis of your preferences stored in cookies, such as the language of your choice and the layout of a page.
Polls and voting. To prevent "cheating", cookies are often used to store the relevant information.
Individual display settings. Some sites allow you to customize the display blocks, design, etc. All this information is stored in the browser cookies.
For statistics. The goal of a tracker is to use cookie's to count how many people are going to each page so you can be sure you don't repeat yourself, and you can easily check if a specific page already exists, and thus it's not something you can easily cheat on. It's an important part of online statistics and it's also the reason for using cookies.
For advertising purposes. You probably noticed that if you have previously searched for something in a popular Internet search engine, then later you will be shown on a variety of sites "themed" advertising.
Ban on the site. To restrict access to the site, in some cases, cookies are used.
As you can see, the purpose of cookies is very different. If you regularly need to save cookies, selectively delete as well as add your own cookies, the best solution would be to use an anti-detect browser. You need to set cookies once in your profile and then simply log in with a single click. An antidetect browser profile is a virtual browser with its own unique set of fingerprints and cookies. You can put a proxy of any country and make each profile completely unique. Being in one anti detect browser, the profiles do not overlap with each other in any way.
One of the best offers on the market is GoLogin. It has proven itself since 2019 and offers favorable rates for a large number of profiles. So the cost of 100 profiles for a month is only $49, when competitors have a price of up to $100 for the same number of profiles. Gologin offers simple functionality to import cookies in JSON and Netscape formats.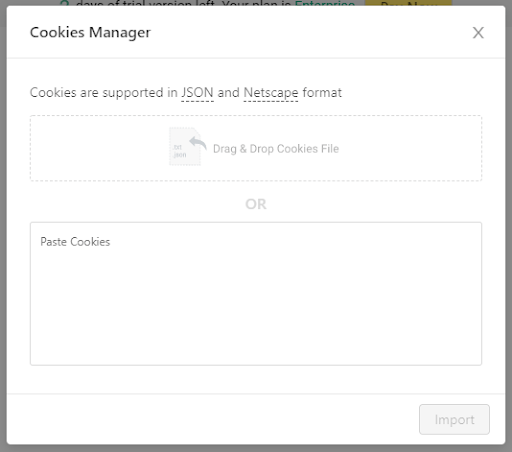 One of the best offers on the market is GoLogin. It has proven itself since 2019 and offers favorable rates for a large number of profiles. So the cost of 100 profiles for a month is only $49, when competitors have a price of up to $100 for the same number of profiles. Gologin offers simple functionality to import cookies in JSON and Netscape formats.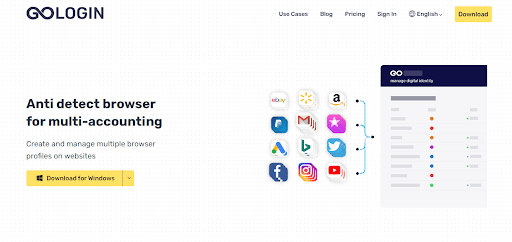 Conclusion
We've covered just 5 tools for cookie import/export. These are not all free solutions. However, users often note some problems in their work. If you use an anti-detect browser you will always be answered by the support service. The developers regularly fix problems in their work. In addition, the use of anti-detect provides anonymity, and thus increases your security.