Fed up with constantly toggling between multiple Google accounts and occasionally making mistakes by using the wrong one?
A lot of professionals face the same problem. Digital marketing specialists, social media managers, content creators, and entrepreneurs, to name a few.
We are here to share more convenient ways to manage your social profiles. Read on to choose the right method for you.
Can I Have Multiple Google Accounts?
Google doesn't document any rules against multiple accounts, so having multiple Google accounts for work and personal use cases is not against their Terms of Service. Google even allows you to verify several accounts with the same phone number, but having a unique phone number for each account is safer.
In some cases, when Google deems certain activities as abusive, the platform may disable your accounts if accessed from a single device. Google is able to trace and ban all your accounts because (like other websites) it tracks your digital identities.
Reference: Digital identity is a unique set of digital fingerprints you leave on websites when surfing the net. Examples of such digital characteristics are IP, device model, operating system, installed plugins, fonts, and time zone.
Managing Multiple Google Accounts Right In The Google App
Managing your Google profiles is the same on any browser or device. There are only two steps:
Login to one of your profiles via browser, Gmail, Google Drive, or any other Google service.
Click your account picture in the top-right corner of the page and sign in to your secondary account.


Even though this way of running multiple Google accounts is straightforward, it brings numerous challenges:
Creating and managing unique passwords for each profile.
Sharing information.
Having to deal with security breaches.
Switching between profiles is time-consuming and confusing.
Performing actions related to sharing, creating files, or sending emails from the wrong accounts.
Sharing Google accounts with team members and clients.
How To Manage Multiple Google Accounts More Efficiently
We've listed more efficient methods for managing multiple Google accounts, starting from the least convenient and secure to the most.
Create Multiple Chrome Profiles
The idea is to create one Chrome profile for one Google account. First of all, make sure you're signed into your current Chrome profile with only one account. Click on your profile icon at the top-right of any Google app, sign out of your secondary accounts, and then click on the Remove button.
Then in the Other profiles section click Add. Next, set up browser profiles for each Google account.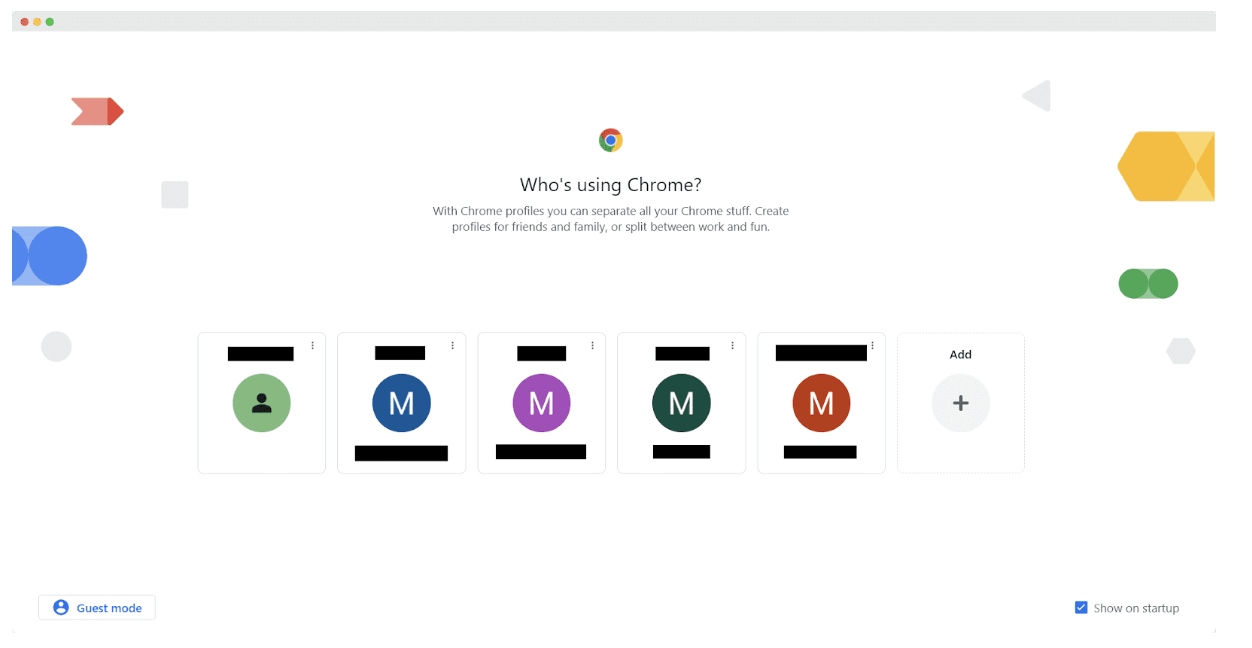 You can add a profile picture to each browser profile to distinguish multiple Google accounts. The disadvantage of managing your profiles this way is that you can't filter, name, group, and easily share them.
Apart from this, you can employ a proxy or VPN for each browser profile to get more privacy. However, you will have to switch separate IPs every time you use one of your Google accounts.
Leverage Account Management Tools
If you need more convenient management of your multiple Google accounts, consider using special third-party tools, such as Shift.
Shift is a desktop app that allows you to manage multiple app profiles (not only Google) and switch between them from one window. You can install and apply your favorite Chrome extensions to all your app and email accounts. The platform also has a feature that helps you find emails, files, and contacts through a single search.
To add a Google account, click the "plus sign" on the left taskbar and select "Add account."
Even though Shift is a good management tool, it doesn't protect your privacy. Another disadvantage is its price: the paid plan for more than 2 accounts and users costs $149 per user per year (you can only pay annually). The subscription includes unlimited social accounts.
This is way costlier than any multi-accounting browser. For example, GoLogin plans start at $294 per year for 100 (!) safe social profiles. Read on to learn more about multi-accounting browsers.
Use A Multi-Accounting Browser
A multi-accounting browser operates like a Chrome browser but creates a distinct digital fingerprint for each account (all digital characteristics are different), thus protecting your digital identity. In other words, Google will consider all your accounts separate users.
Another difference from standard browsers is that you have all your 50, 500, or 5000 accounts in one clean window. Besides, you set up a proxy per Google account once and don't need to change IPs each time.
This solution allows you to organize a smooth workflow with multiple Google accounts. For example, you can:
Name each account
Group them into folders
Add tags and notes
Filter profiles by various variables
Share profiles with remote team members. There are no endless passwords, 2FA, and login tokens for you and your team members because you don't log out of the accounts.
To learn how multi-accounting browsers work, let's explore GoLogin.
How to Manage Multiple Google Accounts With A Multi-Accounting Browser
1. Download GoLogin and complete a quick registration.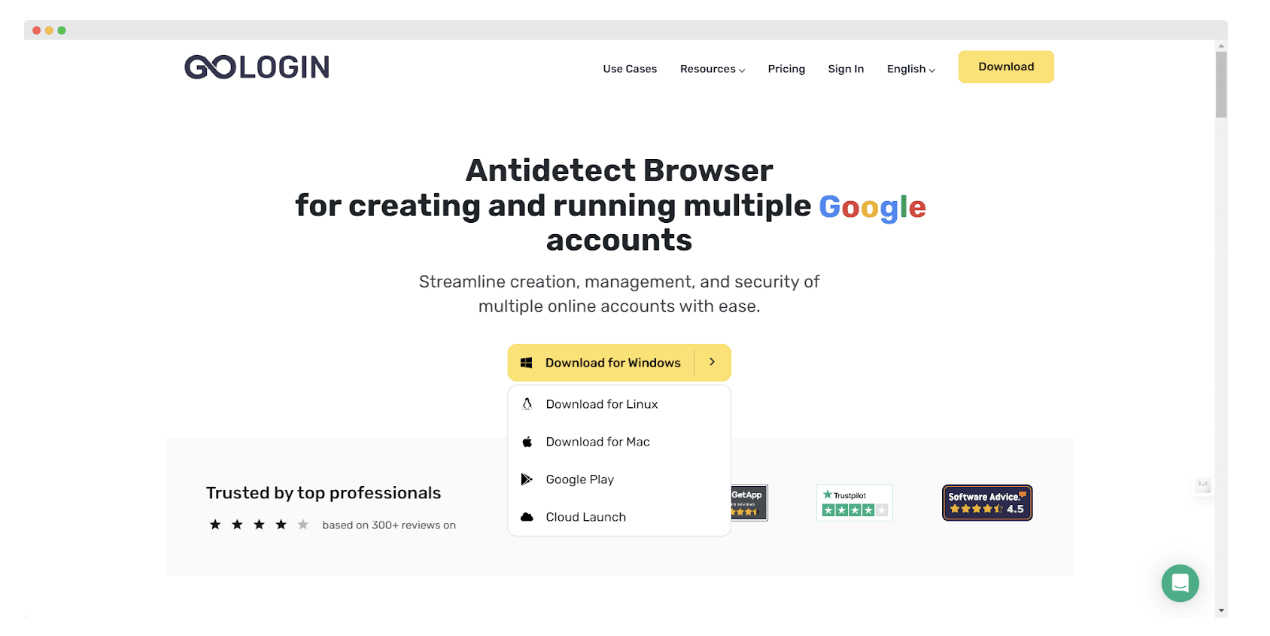 Upon registration, you will automatically receive a 7-day free trial. Open Settings → Billing to choose a plan that fits your needs.
Download GoLogin for free and manage multiple accounts without bans!

After the trial period, you have the option to switch to the free plan with three browser profiles.
Next, go back to the main page (Table of Profiles) to configure profiles for your multiple Google accounts.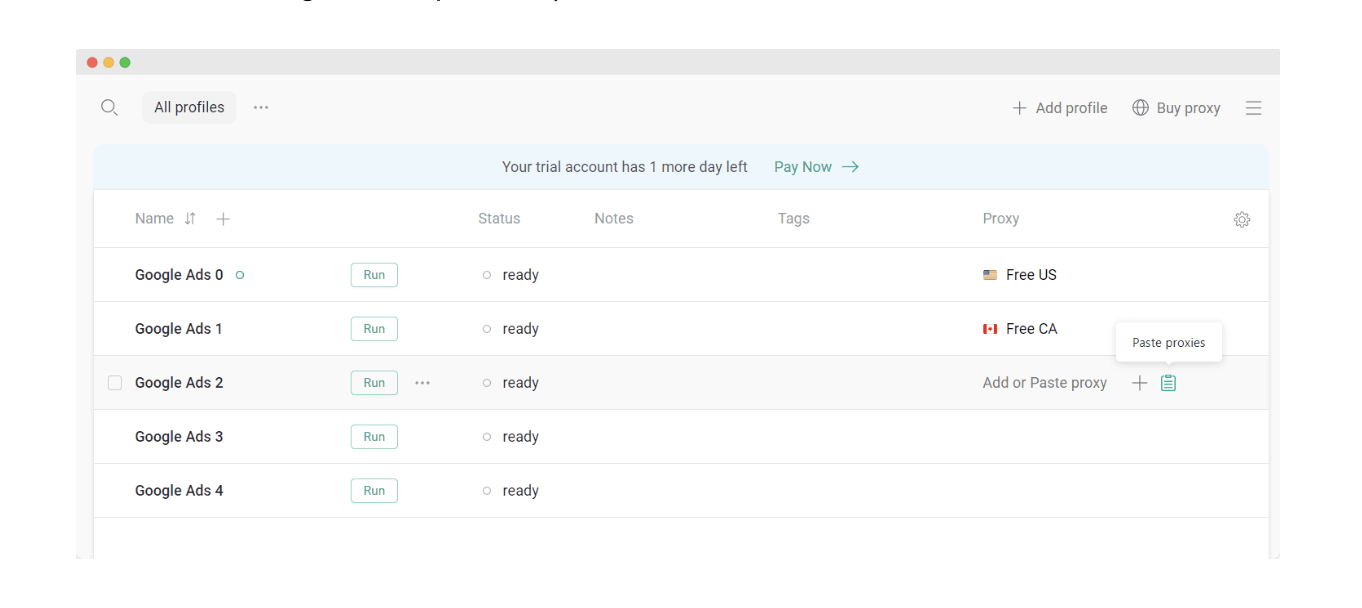 2. Assign a proxy for each account to get more privacy. Though a proxy alone doesn't fully protect your digital identity, it is an essential ingredient of a multi-accounting browser.
For each account, hover over the proxy column and click Add or Paste proxy to see a list of free proxies you can use for testing. Keep in mind that they might not be suitable for heavy media or long-term use.
How to buy reliable proxies?
In the GoLogin app, you can purchase proxies one by one. Here is how to choose what proxy type you need.
Residential proxy simulates a regular desktop computer. In terms of cost and safety, it's the most popular option. You can start from there.
Mobile proxy type is far harder to detect, as it gives a mobile IP which is taken as more natural by websites. It is more expensive though.
Data center proxy is cheaper than the previous two types but less secure. You can use these proxies when your device already has a high trust level on a website.

Get multiple proxies at once by mass-pasting them from a third-party provider. Use our list of trusted proxy providers to choose from: there are promo codes and deals inside!
Download GoLogin for free and manage multiple accounts without bans!
Copy proxies from a third-party provider website and click the Paste icon in the Proxy column. The proxy will be verified and added to your list automatically.
Contact our support team through Live Chat on the website or right from the app for assistance if you're in trouble with a pre-configured profile.
4. Once you have set up proxies, click Run to open a browser window.
Every profile is an isolated browser session. Google won't be able to see it's you controlling all of these profiles thanks to separate digital fingerprints.
Sign in to one of your Google profiles or create a new one.
5. Customize your GoLogin experience (especially relevant for 3+ Google profiles):
To change the profile name, click on it once.

Group your profiles into folders. Profiles and folders can be shared with your clients and colleagues.

Add or remove more fields from the Profile Table and swap them around.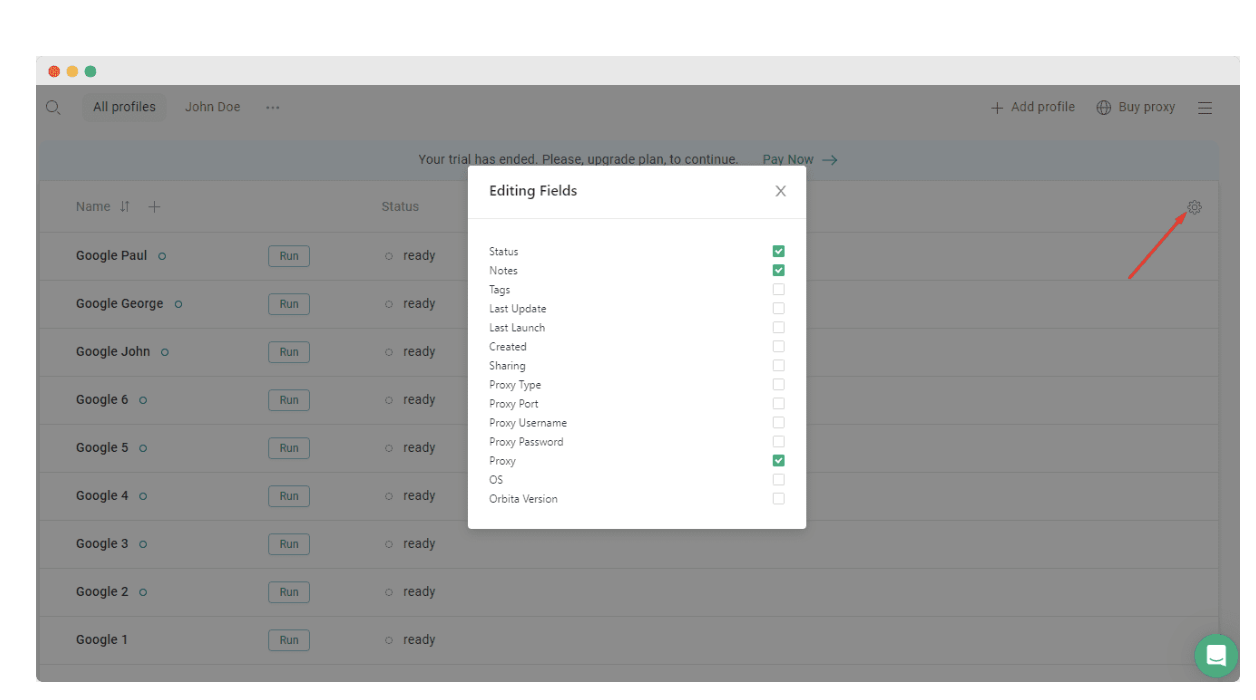 To mass manage profiles, check the box to the left of a profile, then use the mass action panel at the top to share, edit, delete, or perform other tasks.

Add tags to filter your profiles.
Download GoLogin for free and manage multiple accounts without bans!
Wrapping Up
Managing multiple Google accounts via the official apps is not that hard, but we can't say it is convenient due to the issues that come with it (confusion, data sharing, managing passwords). Imagine switching between 100 accounts. Overwhelming, isn't it? In other words, consider this method only when you have several profiles to manage.
Compared to alternatives, GoLogin is the most cost-effective and safe way to manage multiple Google accounts, so it is worth a try.
Frequently Asked Questions About Multiple Google Accounts
Can I Have Multiple Google Accounts?
There is no limit to how many accounts a person can have. Google may ask for your phone number to verify your identity when creating multiple accounts.
Can I Have Two Google Accounts With One Phone Number?
Yes, you can create multiple profiles with one phone number. Google has a limit on how many accounts you can verify with one phone number, so the service will let you know if you reach it.
How Do I Sign In To A Different Google Account?
1. Sign in to Google.
2. Tap on your profile image or initial on the top right.
3. Choose Add account.
4. Sign in to the account you want to use.
Can I Have Two Google Accounts On One Phone?
Yes, you can easily log in to and manage multiple Google accounts on your Android or iOS smartphone.
Download GoLogin for free and manage multiple accounts without bans!