Today, as part of our series of comparisons, we will look at a curious case of a multiple account browser created specifically for the Russian market – Indigo Browser.
Indigo was created by Raphael Gabitov, a Russian businessman. It seems to be a copy of Multilogin with a separate placement for the Russian market. Read on to know exactly how it all works: we'll show multiple clear evidences for that.
But why make a copy of something, and what is different? Is Indigo browser any good for modern multiple account business? In this article, we'll take a closer look at Indigo, look at the features and rates, and compare it to GoLogin.
TLDR: skip to the end for a quick table with all the main points of comparison.
Disclaimer: Indigo Browser doesn't have an English version of the website. Only the app itself is translated. Please bear with the Russian screenshots and our translations.
What is Indigo Browser? Features and usage nuances
We're curious to test Indigo for several reasons. First of all, we'll try to track Indigo's obvious connections to Multilogin, which obviously has a different spot on the market. Secondly, we will test Indigo's fingerprinting abilities and features to see if it's worth the same money as Multilogin. Let's dive in!
First impressions
As we mentioned, Indigo website does not have an English version. This kind of says it all already, but we'll move on for the sake of objectivity. The main website page gives us the dates of recent fingerprint and app updates.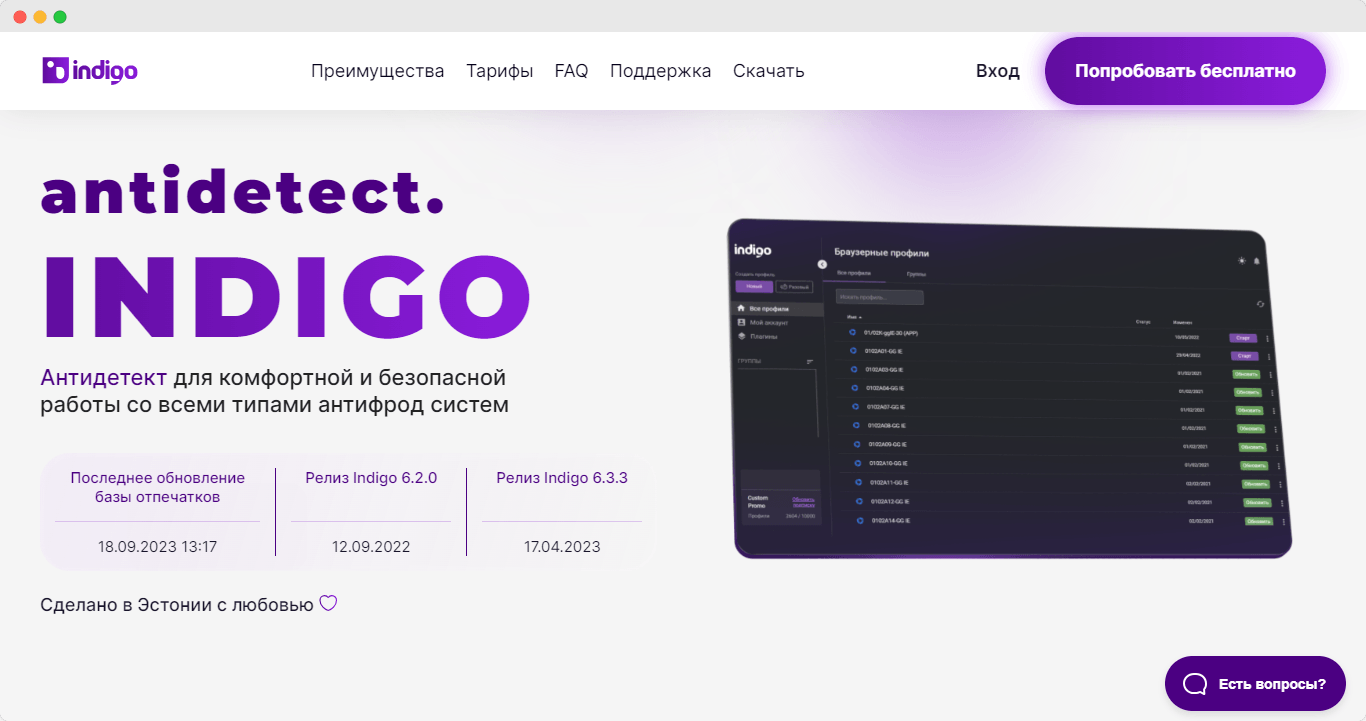 Highlighting these updates is a power move for the experienced privacy browser users. A quality browser needs to issue nonstop updates to stay safe. However, take a look at the dates: the last app update was issued almost half a year ago. We'll check with the updates frequency later on.
The website also claims Indigo is made with love in Estonia – accidentally it's the same place as Multilogin. This also makes us wonder about Indigo's curious backgrounds. Let's move on and register an account.
Registering
Registering is more complicated than with most other browsers, especially if you request a 7-day trial. You will need to:
register accounts both on the website AND in the Indigo app
fill out a form with some personal data
follow a community Telegram chat
connect your personal Telegram account to Indigo system through a personal bot command.
As we see, there is no KYC check like that one in Multilogin. This gives us a small hint on why Indigo was created in the first place: earning more in the markets not available with a strict KYC policy.
There's also no 2FA system for account safety. Indigo constantly reminds you to set up a strong password and write it down. This is not necessarily bad, but 2FA absence still leaves you prone to account theft.
First launch
During the first run, things seem to be not bad with Indigo. The browser looks quite clean and has a good English version. The interface does not cause rejection at first glance.
There are no tooltips or tutorial steps for new users, but still Indigo is more intuitive and clear than other browsers like AdsPower or Dolphin Anty. There is a docs section with detailed use instructions in Russian.
On the whole, we found Indigo's interface to be pretty good. However, it turned out simplicity means a serious compromise with functionality. We'll show you how later on.
Comfort of use
Creating a profile in Indigo seems easy, except adding the proxy. Most of the critical fingerprint settings have an auto mode and explainer tooltips about what these are. The proxy work kind of kills it, though: all you can do is manually add your proxy to each profile during creation, one by one.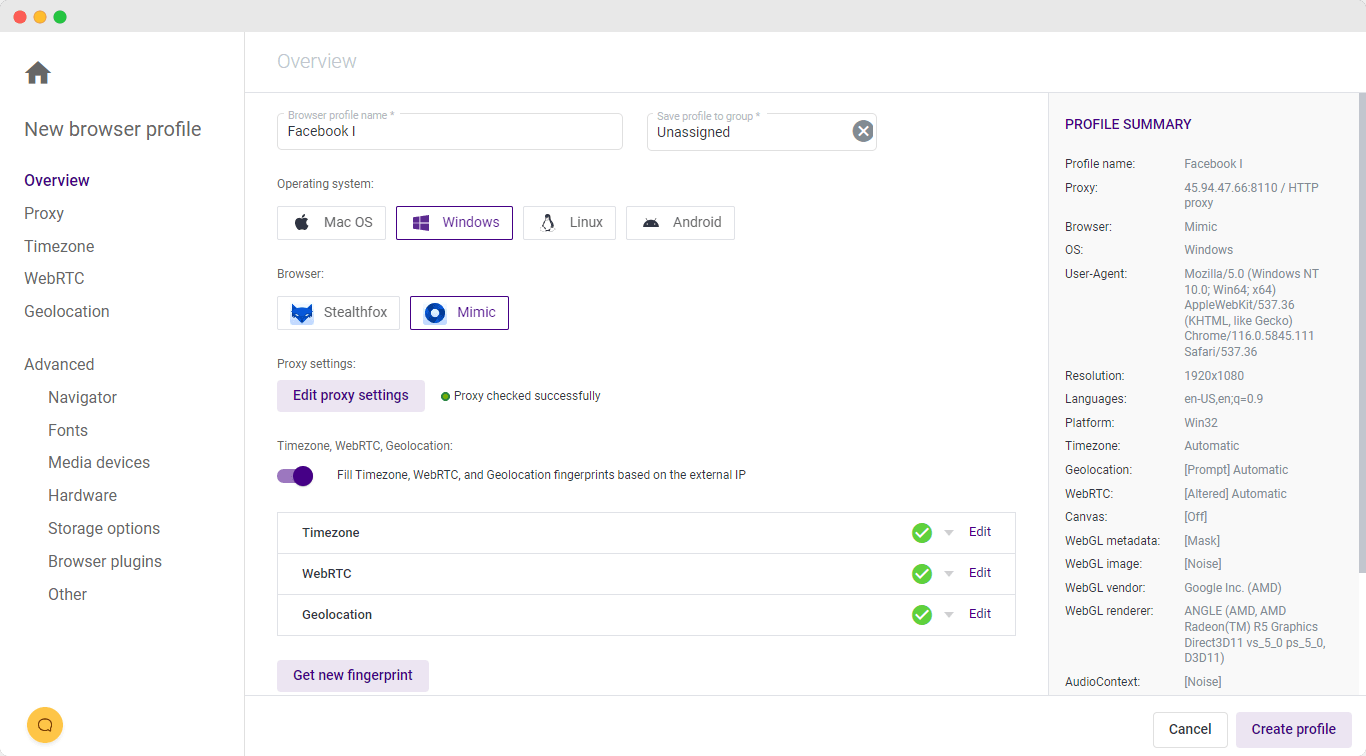 Manual work is a bummer even for a humble 6 profiles. There is no separate Proxy manager or at least mass proxy insertion. Indigo offers proxy integration with a few services like Bright Data and GeoSurf: these links, however, lead to the Multilogin website.
Still, the manual proxy work is a routine too heavy if you run 10+ profiles.
There is a Quick Profile creation button, but it's not what we expected. This button creates a single-use disposable profile for one session that will auto-delete after you're done. This might look OK for someone's personal anonymity reasons, but we don't see if it's any better than a regular new profile.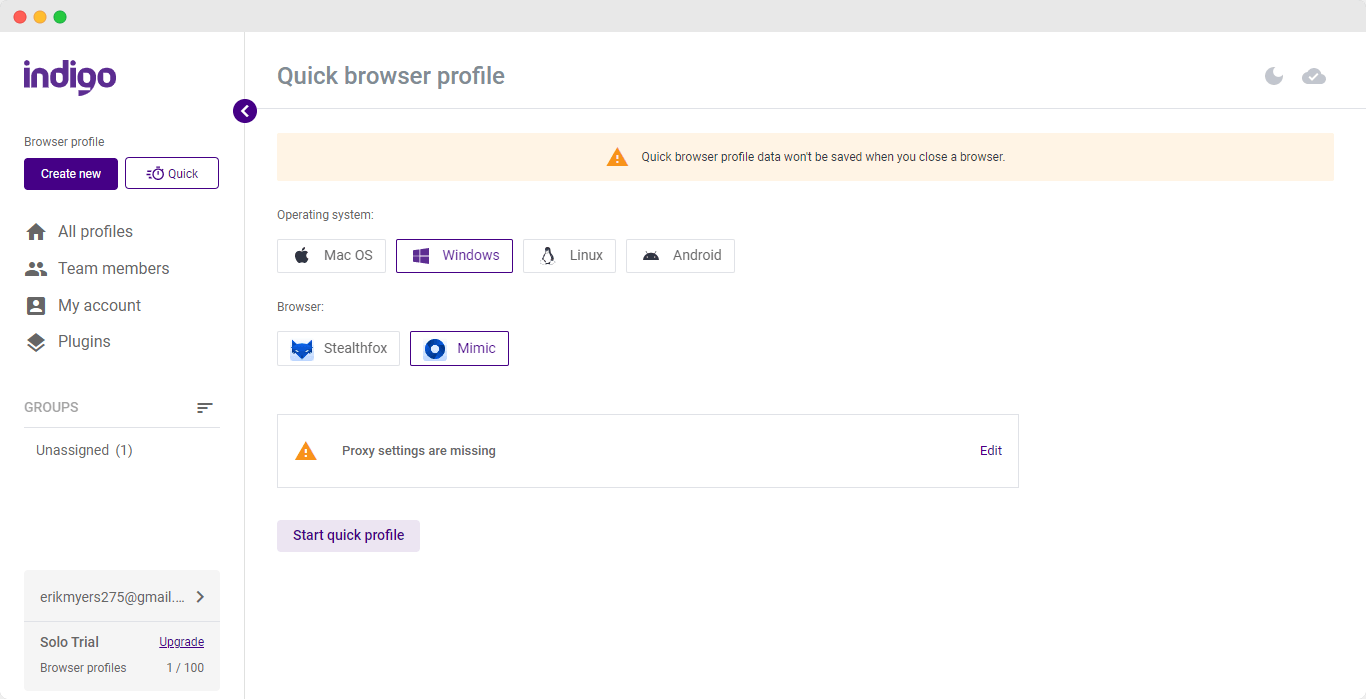 We also noticed a complete lack of mass actions. They're available only on the top-tier plan for €399. Mass launch, bookmarks and extensions, cloning and other key actions are not present in trial mode as well.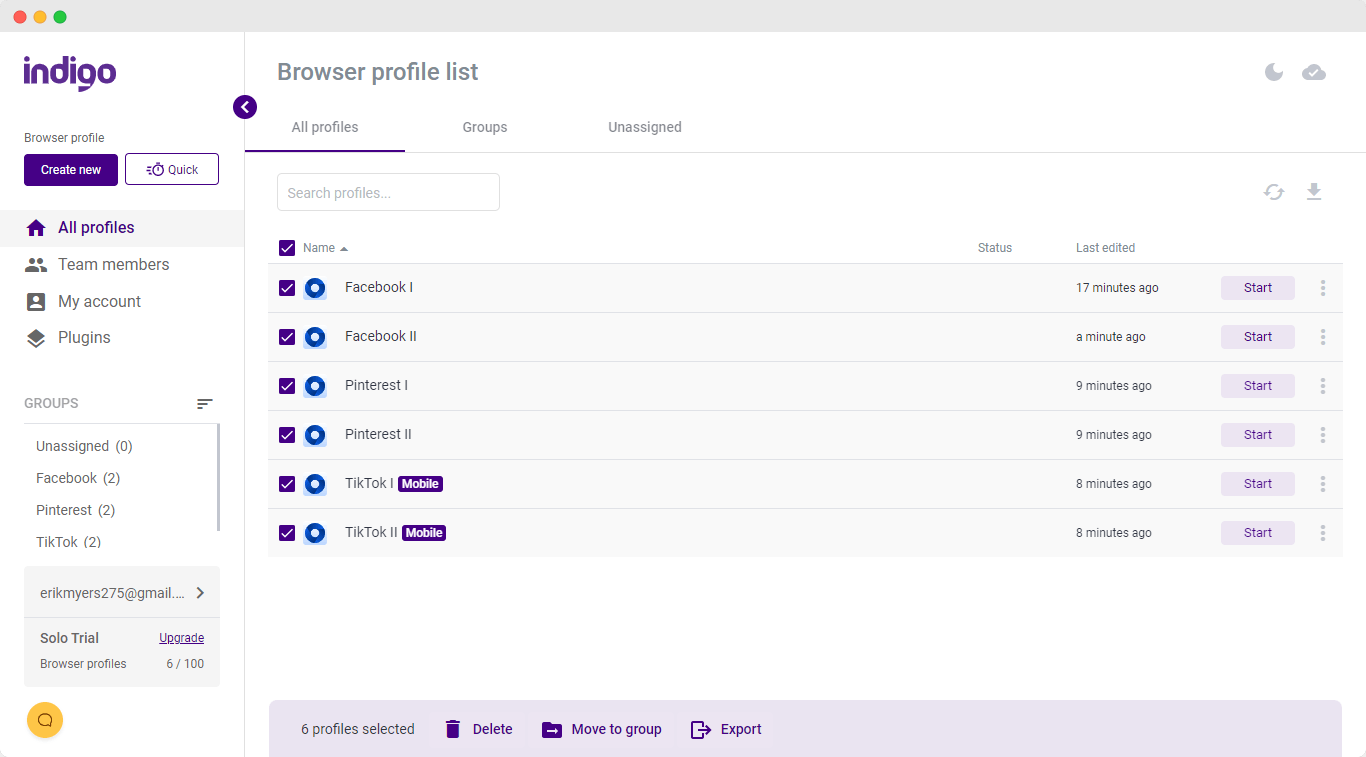 The profile table looks promising and clean at first, but it is terribly limited. Profile table cannot be customized, and by default you can't see your proxy, give a tag or see when you last visited the account. There are Notes and Proxy inside a small side settings bar, which still seemed quite obsolete to us.
Launching the profiles
In general, profiles in Indigo browser start and stop slower than in competitors. Launching 6 profiles took 45 seconds, which is about 20% slower than most alternatives on the same machine. The bad performance is not likely to become better if you need to launch 30-40 profiles.
To warm up a profile, you can either import your pre-made JSON cookies or run a Cookie robot. It will launch the profile and crawl around your list of pages.
Another strange nuance – Indigo does not minimize to tray when you close it. If you accidentally closed the main browser window with profiles running, it will close all your sessions. A simple tray icon helps to secure the user's work and save a lot of time on accidental stops.
All in all, we don't see how Indigo is actually able to compete with modern alternatives. First and second paid plans miss the basic features for traffic arbitrage and affiliate marketing. This cuts off a lot of smaller scale users, which might be done on purpose. A lot of basic routine actions need to be done manually.
Mobile devices and fingerprints
Unlike GoLogin, Indigo does not offer mobile or web versions for remote work. In 2023, many browsers already offer mobile apps. GoLogin even has a web version with cloud-based profile launch that could be used from literally any device.
Indigo offers mobile fingerprints, which may be critical if you work with Instagram or TikTok. However, all of our Android profiles failed to pass fingerprint checkers with default settings.
Support and updates
On the main website page the Indigo team points out their latest update was issued 5 months ago. Official Release notes also have some outdated information. However, Indigo team does make updates more often, posting these on Telegram only.
The browser updates automatically, and the browser cores auto-update to the newest ones. That means there's no multi core function leaving choice for the advanced users.
Tech support was very quick to respond to our questions in English on the Indigo app. We didn't meet any technical problems during our test (except very slow launch on Windows), so we can't say how quickly actual problems are solved.
At the time of the test, Indigo app is only available in Russian and English. The website, docs and community are only in Russian.
As part of our review, Indigo profiles successfully passed the Pixelscan and Iphey fingerprint checkers, except Android ones that failed the checks.
There is a curious option to change Indigo's internal setup for a specific business goal, for example Facebook or Snapchat. We were not able to prove what it does and if it actually works – that would require a long term test.
The lack of a free plan and extreme prices hint that Indigo is pointed at pro affiliates and big teams only.
Indigo is quite different from GoLogin in terms of overall functionality, interface and price. Unlike Indigo, GoLogin offers much more powerful functionality for far less money without the fine print.
GoLogin will suit well for personal anonymity, solo business use and professional teams of any size. It has fair and affordable prices plus more advanced features from the box.
Let's compare Indigo Browser to GoLogin, and at the end take a look at prices and rates.
Features and comfort of use
At first glance both Indigo and GoLogin have a clean interface that is friendly to new users. However, GoLogin is way more comfortable to use, both for newbies and professionals. Here, simple controls are connected to advanced settings and features.
Unlike Indigo, GoLogin has:
A forever-free plan with 3 profiles
Proxy manager
Advanced fingerprint settings for professional use
Built-in free proxies right in the browser
Mobile app and web version with cloud-based profile launching
Two-factor authentication (2FA) for extra account safety
Ability to run the browser on previous versions of Chrome kernel
Customizable Profile table
Tags
API access on all plans
Here's an example of the major differences between the two browsers: GoLogin allows you to customize the Profile table. You can only see what you need to see (e.g., only your proxy and tags) and not be distracted by anything else. Simple, yet powerful.
Thanks to this simple overview feature GoLogin is often used as a control panel for marketing agencies. If you run 50 social accounts, having a clear overview of what's going on with them is critical. GoLogin also allows to share work with partners, giving custom roles and access rights for each teammate via Workspaces.
Profiles can be divided into folders and assigned to separate managers, who will never have to enter passwords from their accounts again. The number of proxies, tags and notes on profiles is unlimited.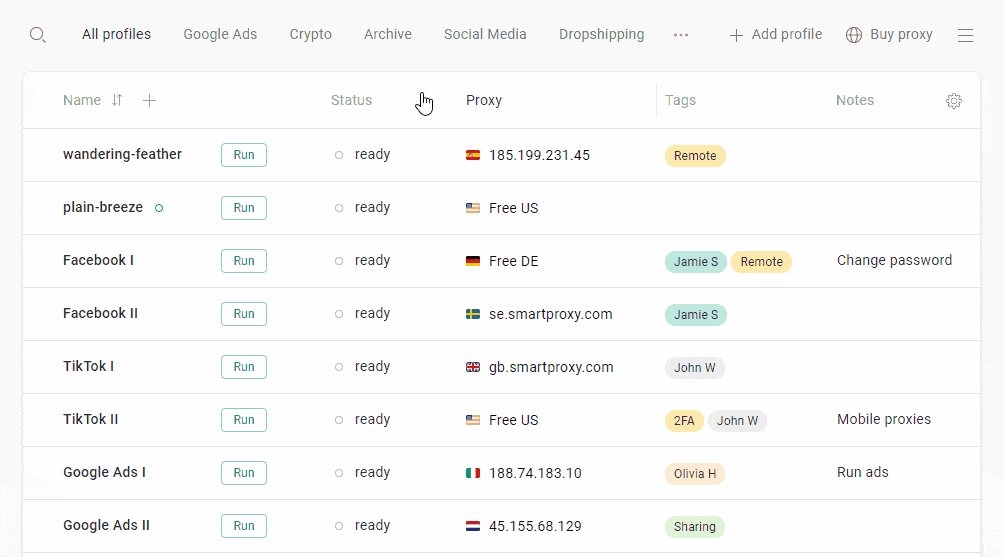 Mobile app and web version
GoLogin has a web version, which can be accessed from literally any device. You can launch and edit profiles without a computer: they will work on a safe cloud server. GoLogin is also available as an Android app.
For comparison, Indigo browser can be downloaded only for Mac, Windows and Linux.
Support quality
The support team quickly responds to all user requests and tries to help in any situation. GoLogin managers conduct user campaigns to collect customer feedback and suggestions, making browser updates as relevant as possible.
In their feedback GoLogin users ofter say their problems were solved by chatting with the team or through browser updates.
Updates frequency
The GoLogin team updates the browser several times a month. Updates include everything needed to keep user data safe and take user needs into account. Updates are automatic: you just need to click "Update" and restart the browser.
Clients often praise GoLogin for the stable profile work in 24/7 mode without downtime. The uptime stability factor is often the reason why users move from alternatives to GoLogin.
Let's move on to the final part of the comparison: plans and pricing.
Indigo Browser vs GoLogin – Pricing
Free plans and trial periods
An important point for a large number of users: Indigo browser offers a trial period only. There's no free plan on Indigo. The trial allows to use 100 profiles with some limits (no mass actions and API access). We already mentioned you will need to jump through some registration hoops to start the trial period.
GoLogin offers both: forever-free plan for 3 profiles + trial of paid features for 7 days with no restrictions when registering an account.
Paid plans
Here's a key rule for business software of any scale: a work tool must pay for itself, and it must pay well. Price is by far the most important consideration when choosing a business browser, especially at the team level.
Let's take a look at the rates and prices of Indigo and GoLogin. We'll calculate the costs keeping in mind different scenarios and scales of work. For extra objectivity, we'll consider a monthly payment option, but we'll also mention annual discounts.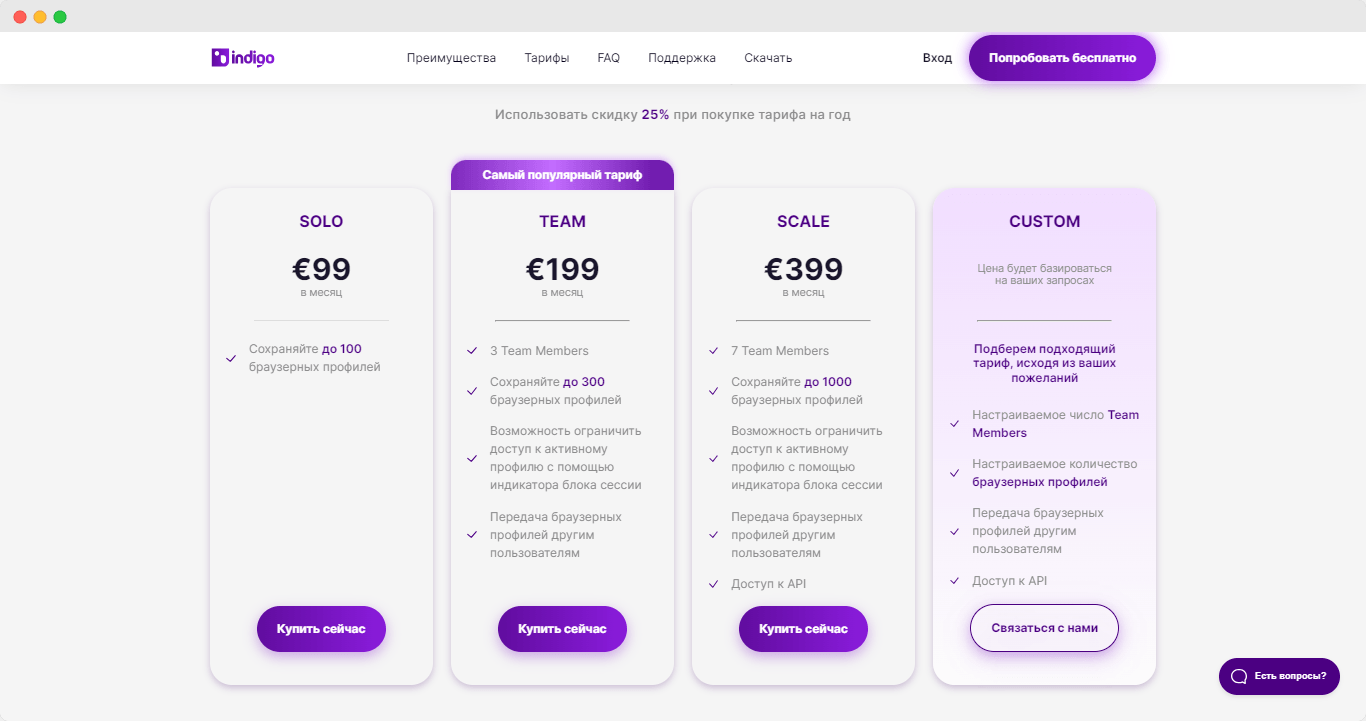 Personal use
Indigo's first paid plan (Solo, 100 profiles) costs €99 per month. A similar GoLogin plan (Professional, 100 profiles) costs $49 per month – more than half the price. GoLogin includes the API access, mass actions, profile sharing and many other features from the box, with no fine print.
Both Indigo and GoLogin offer a yearly payment discount. GoLogin offers a generous 50% annual discount compared to only 25% from Indigo. So, a year of Indigo's first plan will cost €891, while GoLogin will cost only $294. GoLogin comes 3 times cheaper for a better set of features.
Team plans
Indigo's team plans (Team and Scale for 300 and 1000 profiles) will cost you €199 and €399 per month. We believe Indigo sets the sky-high prices intentionally – to cut off a part of smaller users and solo players.
GoLogin comes way more cost effective, including more seats and options into fair price packages. Business and Enterprise (300 and 1,000 profiles) will cost you only $99 and $199 a month. GoLogin ends up costing more than twice cheaper again, without the annual discount.
Indigo offers API, automation and mass profile actions only at a top-tier Scale plan for a crazy €399/month. On the contrary, GoLogin offers all these already included in the first Professional plan and all others.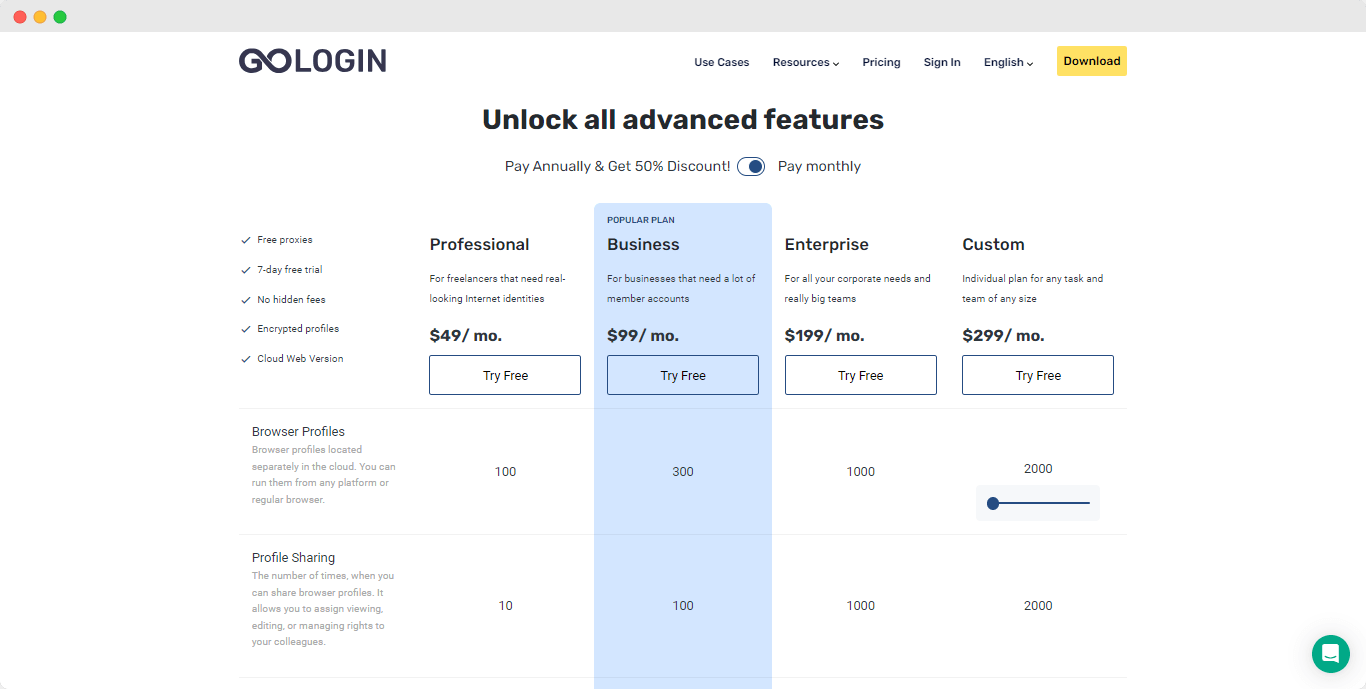 GoLogin's prices also include 10 and 20 team seats respectively, unlike the 3 and 7 partner seats in Indigo's team plans.
We could not compare the top-tier Custom plans. Unlike GoLogin, Indigo does not offer pricing for bigger needs. Looking at its general price range, we don't think running a larger team on Indigo will make commercial sense.
In the end, GoLogin offers more features for the fair price. Visit the Pricing pages yourself, test both browsers during 7-day trials and make your own considerations.
If you are already using Indigo – try GoLogin for a free test period. Simply count how many accounts out of 10 survive in the first and the second browser. This is what most often reflects how expensive is the browser for your work.
Indigo Browser vs GoLogin: Summary
We did not come to a conclusion about why someone would even consider Indigo over others. It costs same as Multilogin and 3x more expensive than GoLogin. The reason is probably the absence of Multilogin's strict KYC check. Still, it does not seem a valid point for us. We believe the pricing level for Indigo is extreme, considering the limited features it provides for the money.
So, we leave you to make your own decision. Here are some questions to help you choose the best antidetect for your situation:
How many browser profiles do you need?
Do you need to share profiles with partners?
How much are you willing to pay for a program to work?
Does the browser have a good reputation? What do reviews and forums say about it?
Can you test the browser for free? If yes, which one suits you best?
To summarize the comparison, we have rounded up some pros and cons. Compare the browsers and count the costs on your own to find the best one.
| | | |
| --- | --- | --- |
| Comparison Criterium | Indigo Browser | GoLogin |
| Free plan | ❌ | ✅ |
| Free trial period | ✅ | ✅ |
| Features set | ❌ | ✅ |
| Comfort of use | ❌ | ✅ |
| Beginner-friendly | ✅ | ✅ |
| Country of origin | ❓ | 🇺🇸 |
| Updates frequency | ✅ | ✅ |
| Affordable paid plans | ❌ | ✅ |
| Mobile app | ❌ | ✅ |
| Profile cloud launch | ❌ | ✅ |
| Free in-app proxies | ❌ | ✅ |
| Support quality | ✅ | ✅ |