Let's face the facts: best antidetect browsers are here because the Internet is not really a safe place to be. Back in the 1990s, the only thing users were able to do with mobile phones was make calls or text. Turning the phone off kept you completely off the grid. Your other basic actions, like shopping or visiting movies, were anonymous. Technology has made incredible progress we all enjoy today. But it's becoming harder to stay anonymous: using the internet even for the most basic reasons, you are tracked every single minute.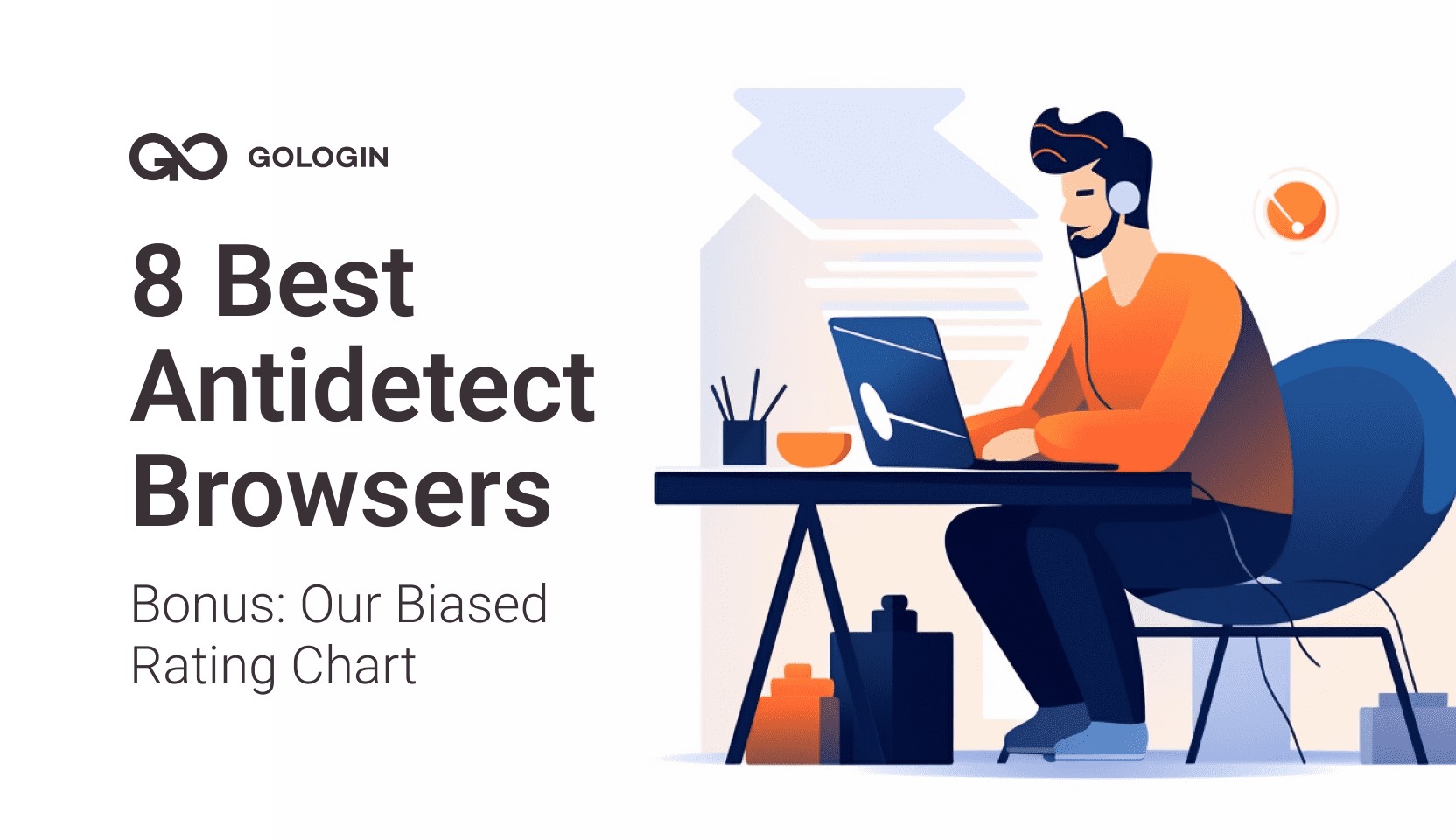 Why do I need an antidetect browser?
Antidetect (or multiaccounting) browsers are a universal tool to stay completely anonymous on the Internet. This brilliant technology spoofs your original browser fingerprint, replacing it with a new authentic one under a unique IP address. Even advanced websites like Facebook or Amazon treat them like real people. We've recently explained how this tech works in our blog post.
The ability of easy and stable account management opens unlimited opportunities for online marketers and businesses. When you begin earning online, personal data and anonymity issues become critical. Some modern online businesses (like arbitrage or scraping) simply can't function without this technology. Here's a quick list of best antidetect browsers' commercial use cases:
Social media multiaccounting
Advertisement agencies
Affiliate partnerships (or traffic arbitrage)
Dropshipping
E-commerce
Web scraping
Betting and gambling
Crypto lotteries and airdrops
We have recently made a roundup of modern commercial uses of antidetect technology: read more in this post. Already earning in some of these areas, or interested to explore and begin? Follow us through our Q&A to practical steps.
How to choose one that fits me?
This task may seem bigger than it is: there are around 30 antidetect browsers on the market, which is quite a lot. Don't be confused, though: most of them are very different.
So, if you ask the right questions straight away, it all quickly comes down to two or three options. Here are four simple, but important points for you to run through when making a decision:
Think of your primary needs first. How many accounts do you need? To scale in affiliate or ad spheres, you might need hundreds. However, many users like dropshippers and web scrapers just need several accounts working properly 24/7. A free option or a trial period may also be handy (if you're just exploring), but it will be inevitably limited in some way.
Consider the reviews. What do people say about it? You're not buying a car here, but still – take some time to read what others write on Trustpilot, Reddit or simply via Google search. Go for a trusted one.It is important to remember that people are more likely to leave a negative review when something isn't working. Even a good product can have an unfairly high number of bad reviews.
Evaluate your budget. How much do you want to spend? Pricing plans for different browsers may vary more than you think, especially if you're going for a long run. Consider your monthly and yearly finance and compare how much you can save, for example, choosing a yearly plan instead of one or two months.Be careful: impulsive spending too much on online work tools may ultimately make your work pointless financially. However, you need to be wise enough – don't just go for the cheapest option out there.
Consider possible teamwork. Do you want to share work with teammates? If yes, optimized teamwork is critical. Also, if you wish to work from different devices, keep an eye on various OS support options: they're not universal. The big list narrows even quicker if you want to use a mobile app or launch your browser in a cloud.
Here are some extra key features that might be important for you in later work:
API integration
Selenium/Puppeteer/no-code automation for routine tasks
Cookie import/export
Free proxies / good proxy deals
Cloud data storage and profile sync for cooperation
Overall user friendliness and UI/UX quality
Good English community and support (some browsers come from China or Russia)
8 Best Antidetect Browsers in 2023
– Market leader for a reason.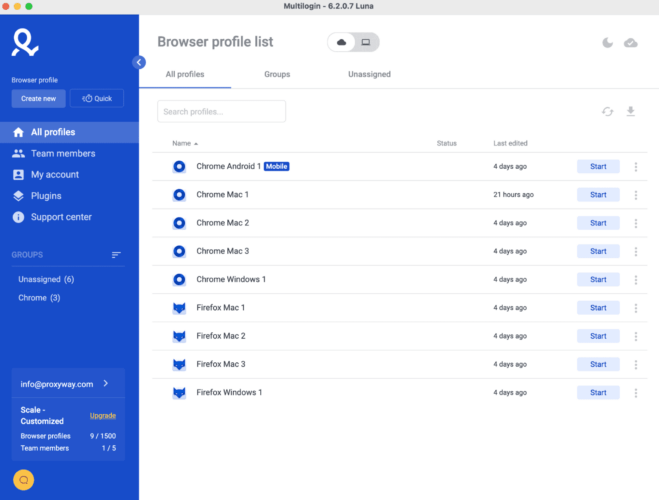 Multilogin is the current top option on the global market – at least, if you don't mind the price. Great functionality and reliability, trusted reputation, speed, customer support, friendly interface – it's all there. It will particularly fit teams and agencies who want to manage multiple accounts: team members management options are great (permissions, profile sync, etc).
Browser fingerprints can be completely customized, giving you full control over your work. There is also a fast one-click profile generation feature. Support service quality is quite high, which is proved by multiple specific mentions in user reviews.
Multilogin won't fit beginners, single players or enthusiasts, considering you can't try it out for free. Yet there are good reasons for it to be on top in 2023. It might seem expensive, but its reliability might save you considerable money simply causing you no problems on a long run.
Pros:
best quality overall
reliability (based on long time user reviews)
trusted reputation
great support
sophisticated teamwork options
Cons:
most expensive
no free plan or trial
OS: Windows, MacOS, Linux
Price: from €99/month (100 profiles) to €399 (1,000 profiles)
Free plan/trial: no
– Affordable and trusted Multilogin alternative.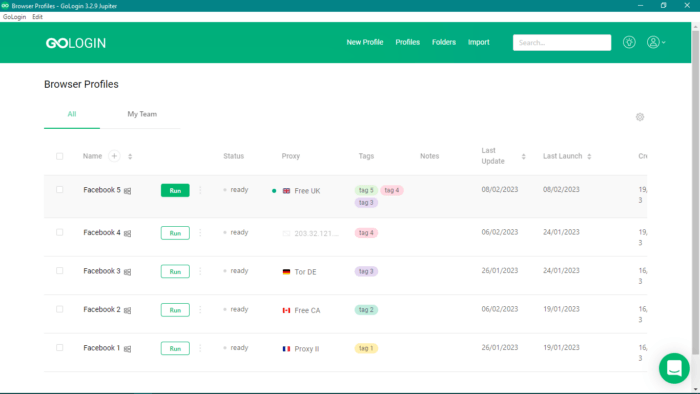 GoLogin offers more or less the same functionality and stable work as Multilogin for use in any work sphere. All of the necessary key features are there, but way more budget-friendly. There are good options for managing multiple accounts, teamwork (via Folders) and easy import/export for profiles, proxies and cookies. All of your favourite Chrome extensions are there as well.
User interface is very light and friendly: this seemingly basic feature makes GoLogin stand out from other detail-heavy browsers. Client support is known to be a bit slower than Multilogin's, but the team is constantly working to improve clients' experience and add fresh features.  can also be not as great. Users also mark browser launching speed a bit slow, yet overall it stays quite enough for any personal or business needs.
The first commercial plan ($49/month, with 50% discount if you pay annually) includes 100 browser profiles. That is more than enough to begin your journey into the professional multiaccounting world.
There's also a forever-free plan with three profiles. It will fit those who want to try out and explore best antidetect browsers technology. Just start your browser, create profiles with just one click and explore. Free proxies included.
Pros:
good quality overall
simple and easy design
fair pricing
free built-in proxies
web version + mobile app
Cons:
support may be slow
slower than Multilogin
Operating Systems: Windows, macOS, Android, cloud web version
Price: from $24/month (100 profiles) to $149/month (2000 profiles / scaled to unlimited amount)
Free plan/trial: free plan with three profiles, 7-day trial of paid plans
– Killer no-code automation for social media.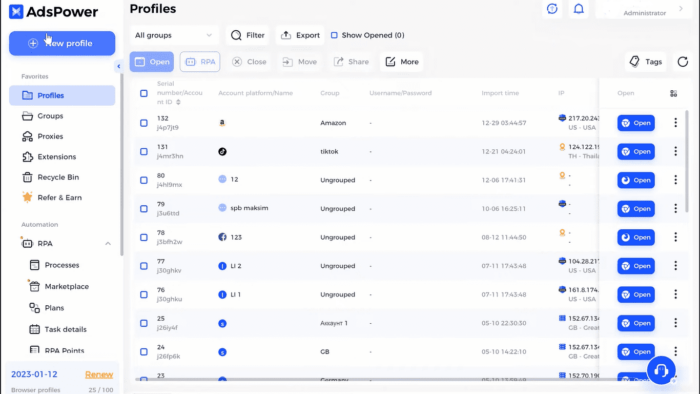 Originating from China, AdsPower has been recently localized into English, and it was done quite well. Its strong points are social media accounts and e-commerce management – hence the name. AdsPower's robot action recorder enables users to quicken routine tasks and warm up social accounts quite efficiently. It is specifically marked in many user reviews.
No-code automation is a no-doubt killer feature, which, however, can be a real problem for a beginner due to its airplane interface with tons of switches. There also are great features for teamwork, like multi-level permissions and data sync. In our opinion, AdsPower has maybe the least user-friendly interface of all.
There are a great deal of buttons and switches rushing at you straight on. Experienced users often value "full control" that it gives, but it may be harder to catch up for beginners or people with less  background. We also found AdsPower's fingerprint consistency reputation to be quite unclear, which might be critical for some users.
Flexible Custom pricing plan is another great feature here. It allows users and teams to not overpay for unused profiles and seats. This might fit users who know exactly what they need. However, the website pricing calculator looks a bit shady to us, as your plan might come out more expensive than planned. Pros:
great for social media
strong no-code automation
affordable starter plan
enhanced teamwork features
Cons:
overloaded interface (our subjective opinion)
no custom browser fingerprint generation
unclear pricing for pro users
OS: Windows, MacOS
Price: from $9/month
Free plan/trial: free plan with 2 profiles, free trial of paid plans
– Made by and for Russian arbitrators.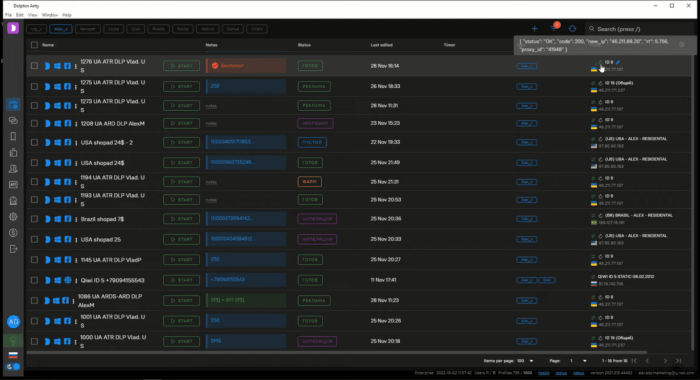 Dolphin Anty is oriented on ads and social media like Facebook, with curious features and perks for these. For example, on each profile you'll find a working timer, which comes in handy for account farmers. There are separate extra tools for Facebook and (potentially) TikTok automation, which should quicken up the work with ads.
The overall UI level is a bit overloaded, yet found to be fast and intuitive by their audience. One-click profile creation, tags, timers and filters also make the work more convenient. Overall there is good functionality, but to some extent it's neutralized by shady fingerprint consistency reputation.
Dolphin is made specifically for the Russian market, which makes a certain impact on community. There is English speaking support and well-done localization. We noticed Dolphin to be quite heavily marketed, which might be a good sign of an aspiring work team behind it. However, a big part of the user community around it is Russian speaking, which for some might be a serious drawback.
Pros:
an intuitive multi accounting tool
user-friendly interface
extra social media control tools
good for both team and single players
good free plan
Cons:
browser and community are mainly Russian-oriented
heavy interface
weak fingerprint consistency reputation
OS: Windows, MacOS
Price: from $71/month to $239/month for Enterprise plan
Free plan/trial: free plan with 10 profiles / 4-day trial of paid plans
– Infinite amount of local profiles in any paid plan.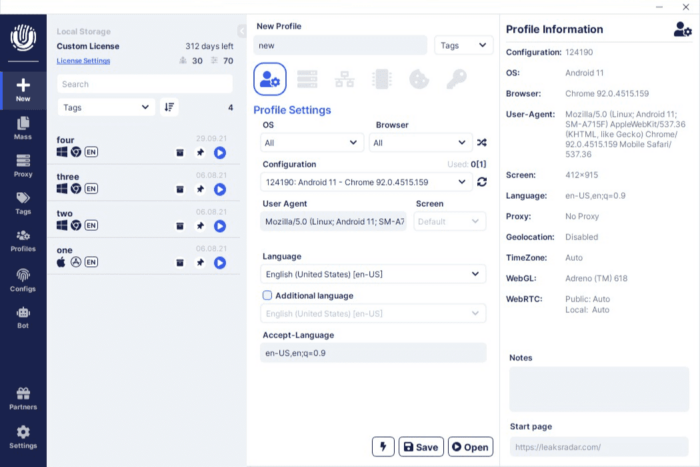 Undetectable is another well-done tool for multi accounting. The pricing is relatively fair, and all the modern features for stable work are there. The key feature – infinite amount of local browser profiles – comes incredibly convenient for advertising managers. They often have to control giant heaps of accounts for targeting or affiliate campaigns.
Automated account warmup is another great bonus for the money. Undetectable promises stable multi accounting work when it comes to extreme amounts of new accounts – which, frankly, is a very loud and hard-to-check statement. Still, we know that Undetectable has its trusting users, so we can't prove if that bombshell's true or not.
We also couldn't find enough trusted reviews on long-time fingerprint consistency. Paid plans include a good amount of cloud-synced accounts for marketing and agency team work, as well as affordable team seats on Custom plan. There is also a free plan for basic app evaluation.
Pros:
infinite local profiles in all paid plans
great teamwork options for flexible price
bulk account creation
automatic account warmup
Cons:
questionable stability and speed under tons of auto created accounts
unknown fingerprint consistency
OS: Windows, MacOS
Price: from $49/month to $199/month for Custom plan
Free plan/trial: free plan with 5 profiles
– Human type-in imitation.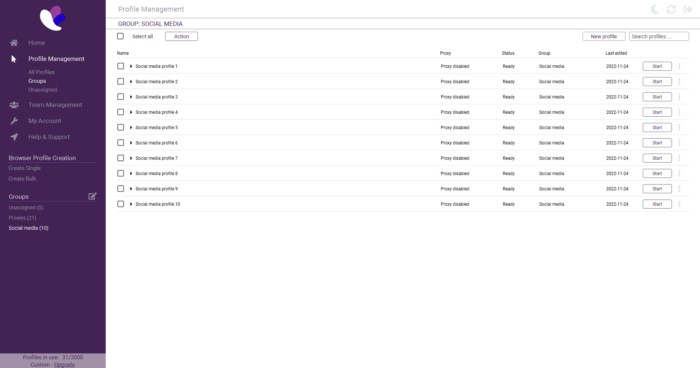 A relatively new middle-price tool based on Chromium engine, like many other competitors. Incogniton's human type imitation comes extremely helpful when you need to fill hundreds of type-in fields. This feature might be a game changer if you're a social agency or ad manager. Hours and hours of routine work can be naturally automated with no extra suspicion.
On the downside, while scrolling through online reviews you might stumble upon Incogniton's shady reputation with detection problems. We cannot prove that right or wrong. We also noticed another curious (if not strange) nuance on Incogniton's website. You have to buy your free plan through a cart.
One might skip it like a harmless eccentric perk, but look closer now: there's a fine print on the Pricing page. It says VAT is not included in the price, meaning these prices are not final. This is at least a bit weird, if not disrespectful. We believe paying users would like to see exactly what they're going to spend.
Incogniton offers a free plan with ten profiles, which is more than enough for single users. Incogniton also comes quite affordable and convenient for a small team. Paid plans offer everything necessary: automation, bulk profile creation and so on. Pros:
simple interface
generous free plan for enthusiasts and single players
affordable team plans
human type field imitation
Cons:
browser fingerprint consistency may be weaker than competitors'
website is more complicated than competitors'
VAT not included in prices
OS: Windows, MacOS
Price: from $29,99/month + VAT to $149,99/month (500 profiles)
Free plan/trial: free plan with 10 profiles
– An ambitious Russian contender.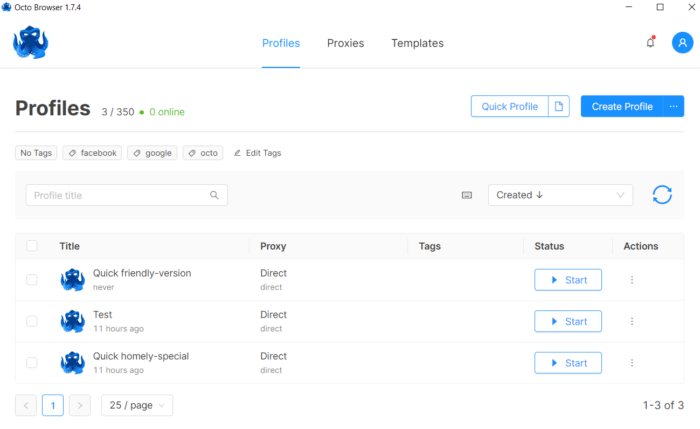 Octo Browser is another relatively new tool with competitive functionality and all popular features. The dev team boldly claim they have solved every tech problem antidetect browsers have had – which to us sounds ambitious, to say the least. Octo Browser has a light interface and up-to-date functionality that seems to have no major flaws.
The lot of modern features like teamwork, automation, fingerprint customizing, cookie and proxy management are there as well. Some good extras are present, like profile templates and mass proxy upload. The website initially opens in Russian (which made us suppose various things), so you will have to find the ENG switch first.
We should note that everything is well translated. Support and FAQ are also there, still the community stays Russian only. Users claim Octo "works fast with no serious flaws", but we also couldn't pass by a fair amount of repetitive positive reviews during quite a short amount of time, which is at least strange.
Still, Octo Browser is definitely worth checking out as a new competitive product on the market. A downside for the new contender is the absence of a free plan, you'd have to pay just to try it out. We suppose the team won't mind giving you a trial if you're interested, but they don't state it anywhere. On paid plans, offered packages are quite impressive, but only if you have the budget for unverified products.
Pros:
good functionality overall
fresh light interface
good browser fingerprinting stability
Cons:
Russian speaking community
questionable review reputation
expensive for bigger business
no free plan
OS: Windows, MacOS
Price: from €29/month to €429/month
Free plan/trial: no
– Small, but very comfortable workspace for a small agency.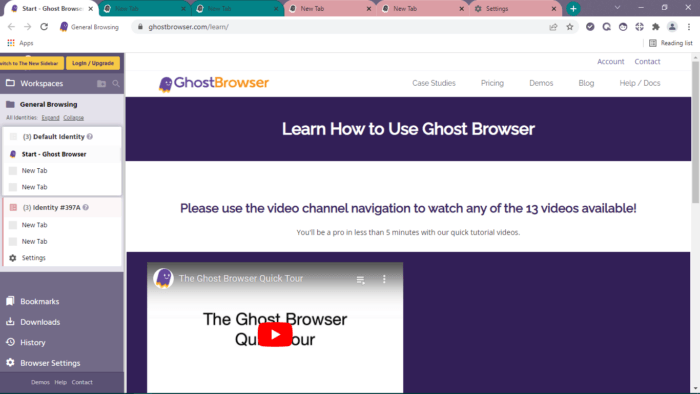 A curious Chromium-based alternative, Ghost Browser takes a whole different approach. It is first intended for comfortable everyday multiaccounting – especially if you don't have giant business plans. Ghost is a kind of ready-made workspace with a lovely interface including folders, bookmarks, extensions and everything needed for regular  multiaccounting work.
There is a killer feature: it does not launch a new browser window when you create a new profile (they call it "identity" here). Unlike every other of the best antidetect browsers, there's simply a new tab with its own cookies and proxies. This makes Ghost Browser more stable and easy to use than others. Tabs can be grouped and color coded – a seemingly basic, but so much needed feature.
Ghost is very intuitive and natural, great for basic social work when you simply need to daily check on several accounts, not create hundreds of them. It won't fit if you have ambitious business plans. There is a forever-free plan, as well as a great FAQ section to answer even the most basic questions.
Pros:
ingenuous approach to a simple multi accounting tool
more stable than others
a workspace rather than a browser
great interface and functionality for a small business
good documentation-style help section
Cons:
no teamwork
won't fit larger business
unknown fingerprint consistency
OS: Windows, MacOS Price: from $25/month to $46/month Free plan/trial: free plan with 4 identities
Bonus: Our Biased Rating of 2023 Best Antidetect Browsers
Before we move on to our rating chart, here are two little disclaimers from us: we think there is no "best" software – and yes, we are biased. Try to find what fits you better. We fairly assume you will use our review for your own further analysis and wise choice.
Each of the browsing environments listed here has its strong and weak points, as well as a trusting fan base built over time – all fair respect to competitors. We're sharing our honest opinion, based on long time market experience and verified user reviews.
Some criteria, like User interface and Passing checkers, are a summary of several evaluation points – so the chart stays easy to read.  Products are rated from 0 to 2 points – poor, average or good mark. If the parameter is a simple yes/no, it's either one point or zero points.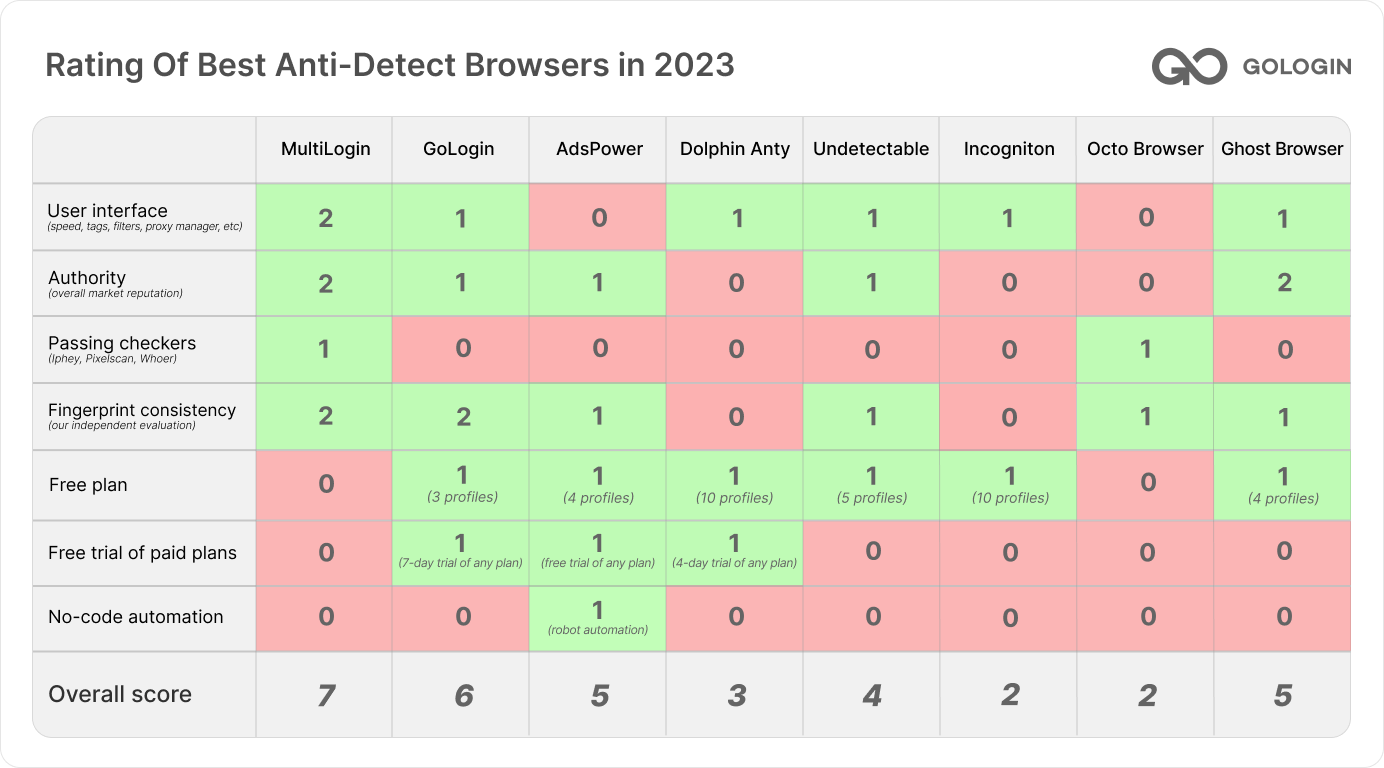 Conclusion: Earn More Using Best Antidetect Browsers
Whatever you do to earn online, here's one simple fact for you: you can earn more using an antidetect browser. Go for a trusted one and you won't fail. Your hobby may become a stable passive income bonus for you, and with some passion added – fortunes can be earned.
FAQ
How do antidetect browsers work?
Antidetect browsers work by modifying browser fingerprints, concealing your true identity and making it difficult for websites to track you. Modern antidetect software is able to provide total anonymity, which is quite a challenging task under sophisticated user tracking methods from giants like Meta.
What is the best anti fingerprint browser?
There is no "best" anti-fingerprint browser: the answer is, it's subjective. The best browser choice depends on individual preferences and needs, budget, work goals, etc. Choose wisely: some of them are fit for one work area only, like affiliate marketing.
What is the best alternative to Multilogin?
Internet users often claim GoLogin as the "affordable Multilogin alternative". It offers all the similar features for less budget.
Is there a free alternative to GoLogin?
In fact, there are dozens of them. These tools mostly come from China, Vietnam, or Russia and claim to provide similar functionalities for free. It's your choice to trust your data to a free unknown origin tool with zero or dark reputation.
What is AdsPower mainly used for?
AdsPower is mainly used for managing and optimizing online advertising campaigns. It has great features for social routine automations, which make a lot of difference for pro Facebook Ads affiliates. AdsPower's automation is quite hard to learn for a newcomer, still the browser keeps its fair share of users.
What is Dolphin anty browser mainly used for?
Dolphin Anty Browser is primarily used for paid traffic affiliate marketing (also called traffic arbitrage) and other social media ads work.
What is the best alternative to Dolphin browser?
Dolphin is quite a narrow niche product: it's built around a close Russian-speaking webmaster community, by and for its members. These professionals commonly use a set of various browsers, including Multilogin, GoLogin, Octo Browser, Incogniton, and others. These might be considered alternatives to Dolphin.
What is Incogniton mainly used for?
Incogniton is mainly used by small and medium teams for social media work, affiliate marketing, and ad management.
Is Octo Browser worth paying for?
Whether Octo Browser is worth paying for depends on individual needs and preferences. Octo Browser offers typical antidetect browser features with a good UI, which may be valuable to some users. We can't provide any solid information about long-time reliability and performance.
Is Ghost Browser safe?
Yes, Ghost Browser is generally considered safe. It provides multi-session browsing capabilities, profile isolation, and secure data storage. Users claim GhostBrowser is a great small tool for everyday multi-accounting work. We have not heard of any major leaks or data loss incidents around Ghost Browser.
---
References:
Amin Azad B. et al. Taming The Shape Shifter: Detecting Anti-fingerprinting Browsers //Proceedings of the 17th Conference on Detection of Intrusions and Malware & Vulnerability Assessment (DIMVA). – 2020.
Laperdrix P., Rudametkin W., Baudry B. Beauty and the beast</a >: Diverting modern web browsers to build unique browser fingerprints //2016 IEEE Symposium on Security and Privacy (SP). – IEEE, 2016. – С. 878-894.
Eckersley P. How unique is your web browser?</a > //Privacy Enhancing Technologies: 10th International Symposium, PETS 2010, Berlin, Germany, July 21-23, 2010. Proceedings 10. – Springer Berlin Heidelberg, 2010. – С. 1-18.