Today in our series of comparisons we will look at yet another Russian-origin contender: Undetectable Browser. This tool is by far the most curious and complicated to review, compared to other tools in the field. It's clearly pointed at a very specific tech-savvy audience and has many quirky nuances.
What is different, does it work and is it worth the money for business? We took a closer look at Undetectable Browser features, counted the costs and compared it to GoLogin.
TLDR: skip to the end for a quick table with all the main points of comparison.
Undetectable Browser: Installation and first impressions
Website
Searching for the Undetectable browser website, make sure you add "browser" to your search request. Otherwise you will scroll through heaps of AI tools, HIV awareness guides and random TV series, but not the browser website.
The Undetectable browser page looks fresh, but gives an impression of a tool for a specific audience.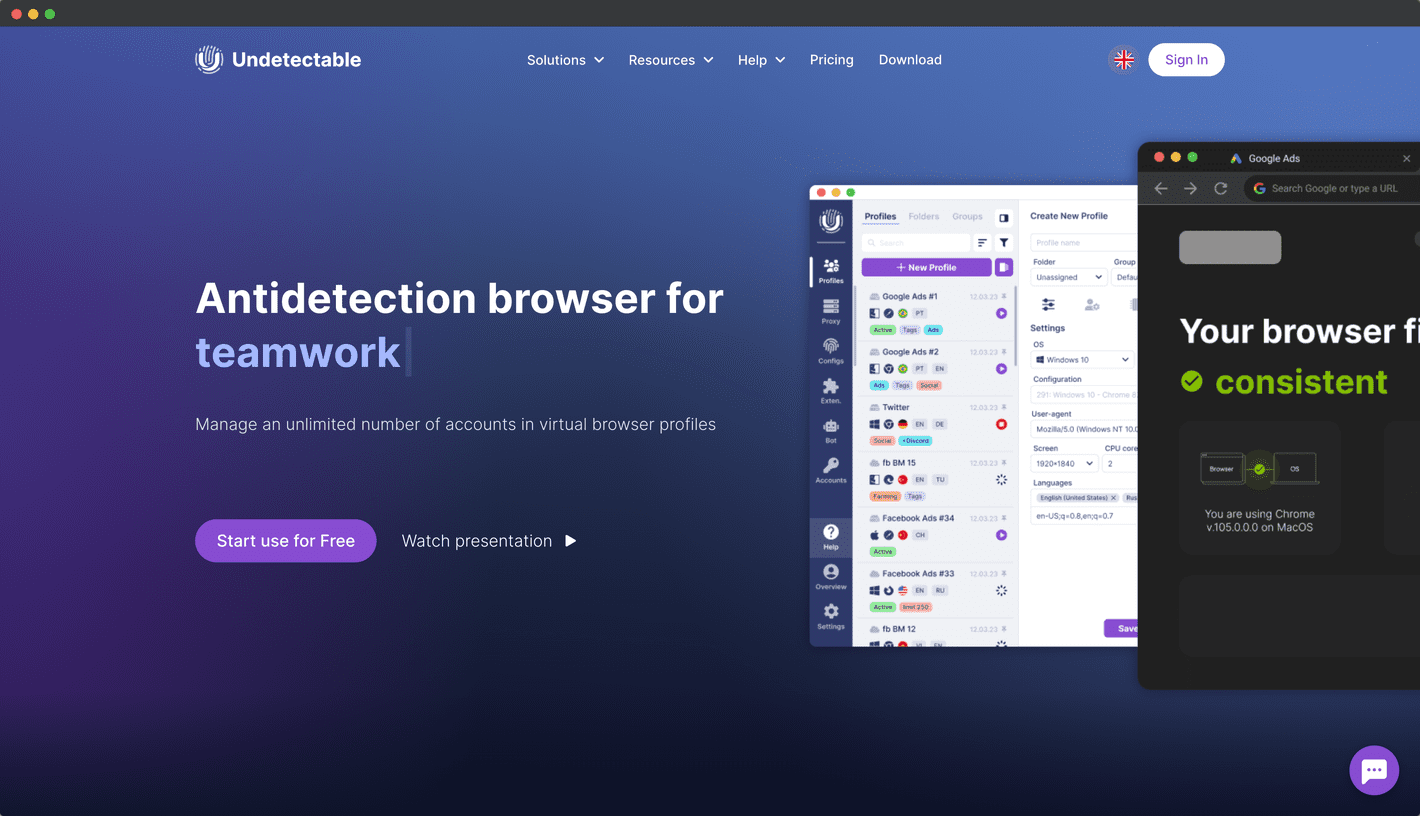 Referring to a famous fingerprint checker tool is a clever move towards those pro users. However, it will say absolutely nothing to a new user. That means Undetectable browser immediately sets a high entrance bar, which will not be lowered later on.
Let's move on to download the app and register an account.
Registering
We met no problems setting up a new account on a free plan, except probably missing Google auth button for a quicker login. The app is available for Windows and Mac, even including a legacy version for Windows 7/8.
After registering on the website, you can continue to a cloud dashboard. It is connected to your app's teamwork controls, but there's no profile work as in GoLogin.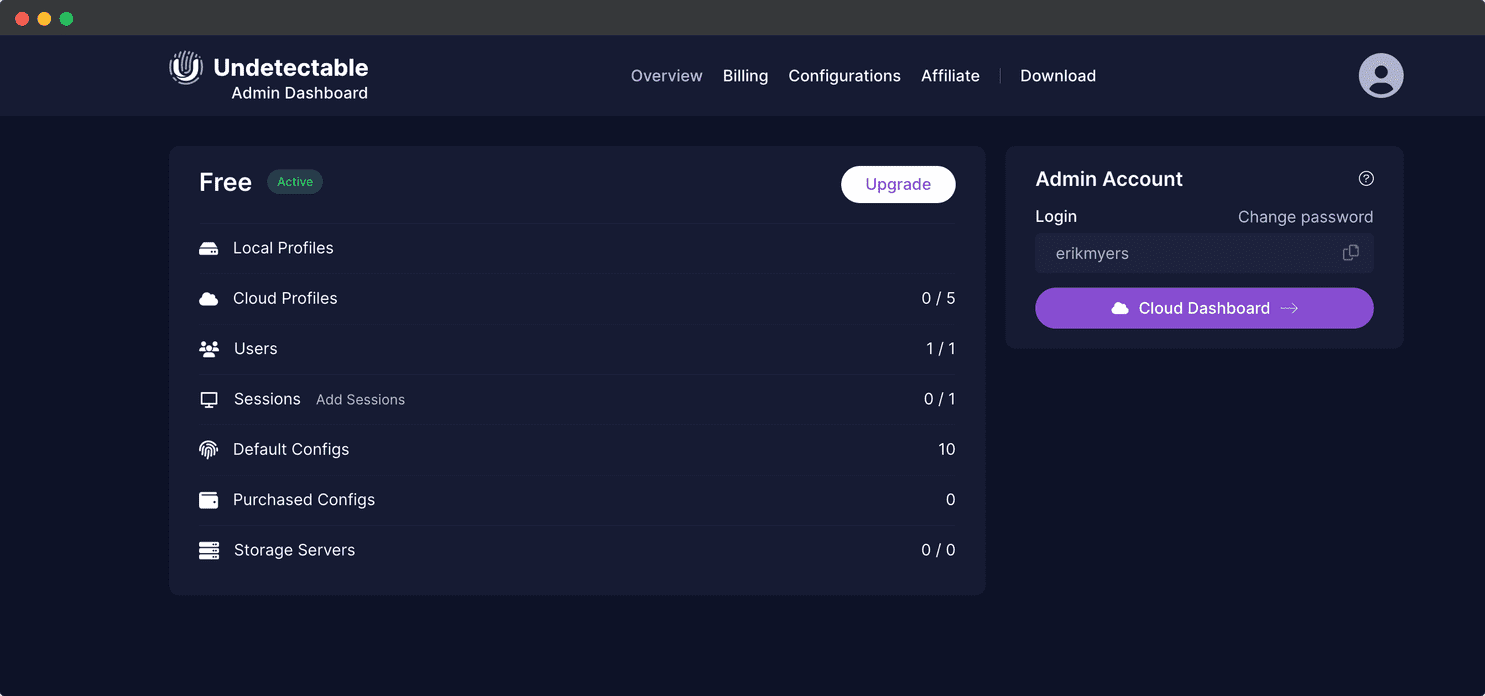 We haven't noticed a 2FA system for account safety. In 2023 simple safety measures like 2FA for corporate software should already be basic.
First launch and UI nuances
The app was not able to run from the box on a 2023 Mac M2. We had to find a guide and manually add it to system exceptions. Fortunately, this worked and we were able to continue.
During the first session, there are no tooltips or tutorial steps for new users. Frankly speaking, Undetectable browser is not made for them in the first place.
Overall, we found the interface quite specific and quirky. It certainly will take time to get used to, especially if you have used other common alternatives before.
Undetectable app is a small fixed-size window packed with tiny buttons that does not maximize to a full screen mode.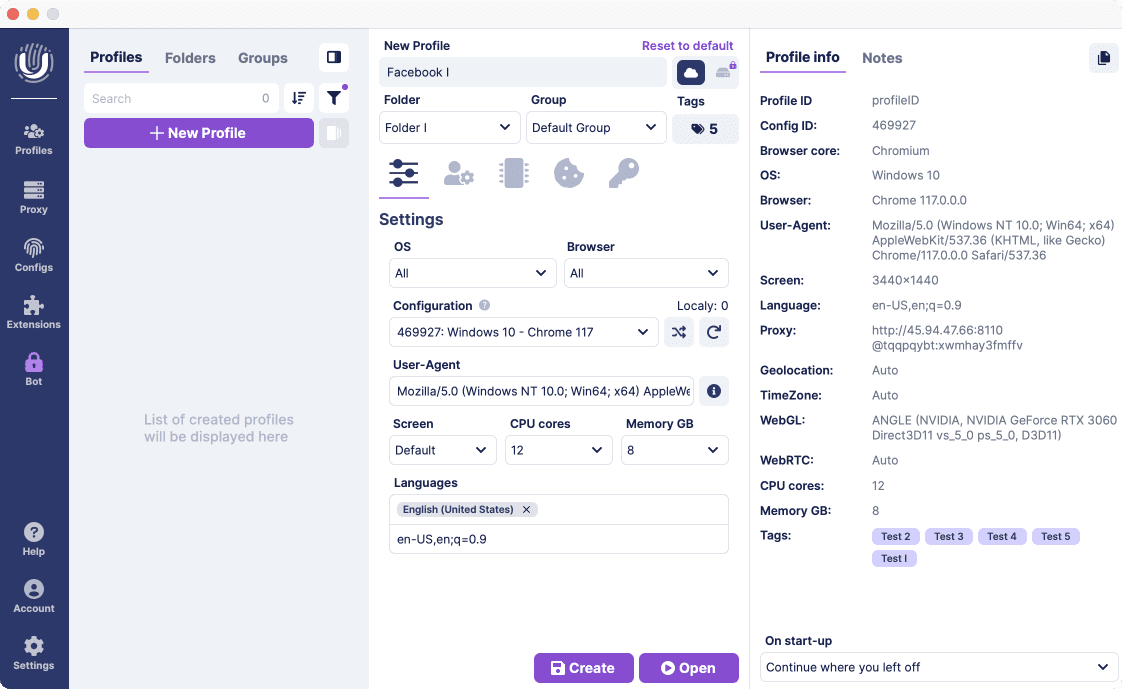 That led us to the second UI nuance: multiple window work. Every button on the left panel (Profiles, Configs, Proxies, Settings) opens up a new window. For some reason the main Profile table and Profile manager with mass actions are two separate window spaces.
That's not a con, but the UI scheme alone took us some time to get used to.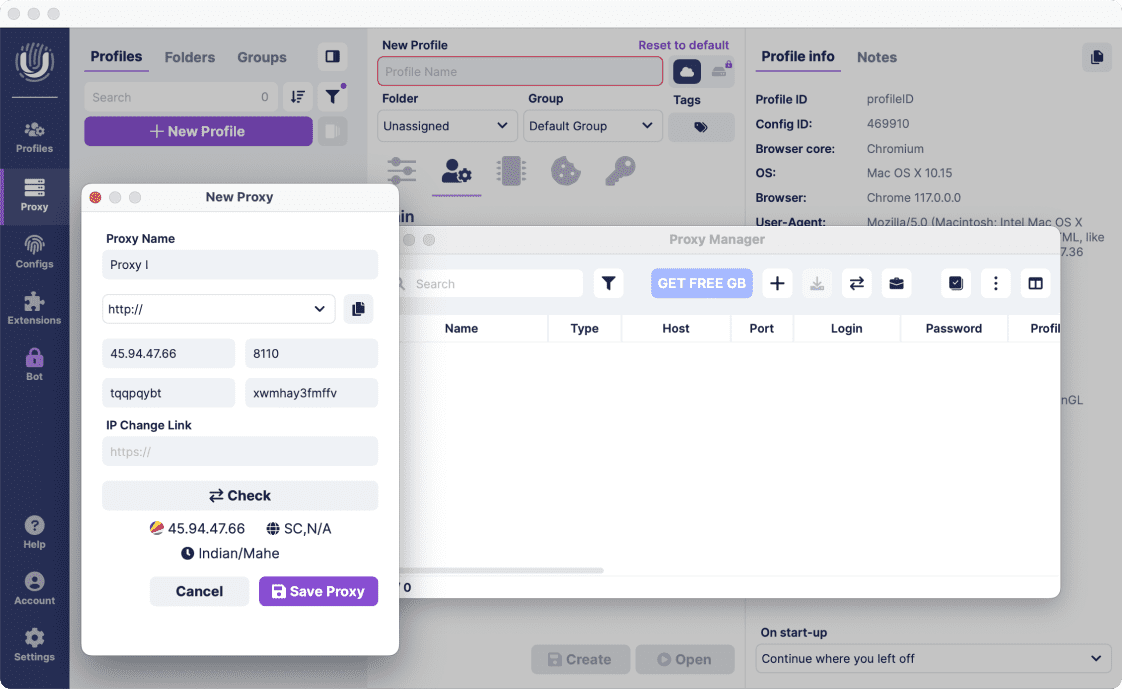 Comfort of use: get ready to dive under the hood
Most people use cars to get from one place to another. Some people own expensive cars to demonstrate their status. And some people are car enthusiasts: they work on their engines in their garage and modify everything on their own. That seems to be the exact case with Undetectable browser, and we'll show how.
Creating a profile seems straightforward, until you get to the fingerprint settings. Here the fingerprints are called Configs, and they took us the most time and even support requests to figure out. Fingerprinting work is where Undetectable browser differs the most from alternatives.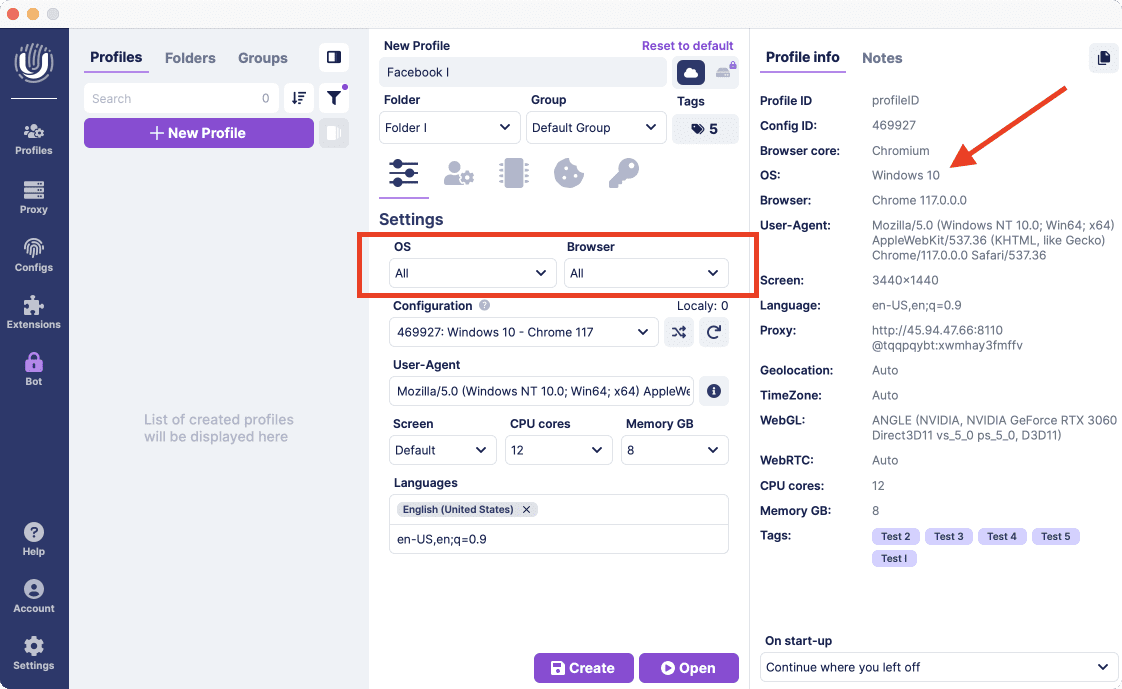 Creating New Profile: Configs Explained
Undetectable browser includes a limited amount of real device fingerprints (called Configs) into all their packages, free or paid. To create a profile, you need to choose the profile OS, browser core and Config from the list. You can also adjust CPU cores, screen resolution and RAM amount here.
We stumbled on which Config to choose and how to better combine it with the offered manual options, and decided to request support.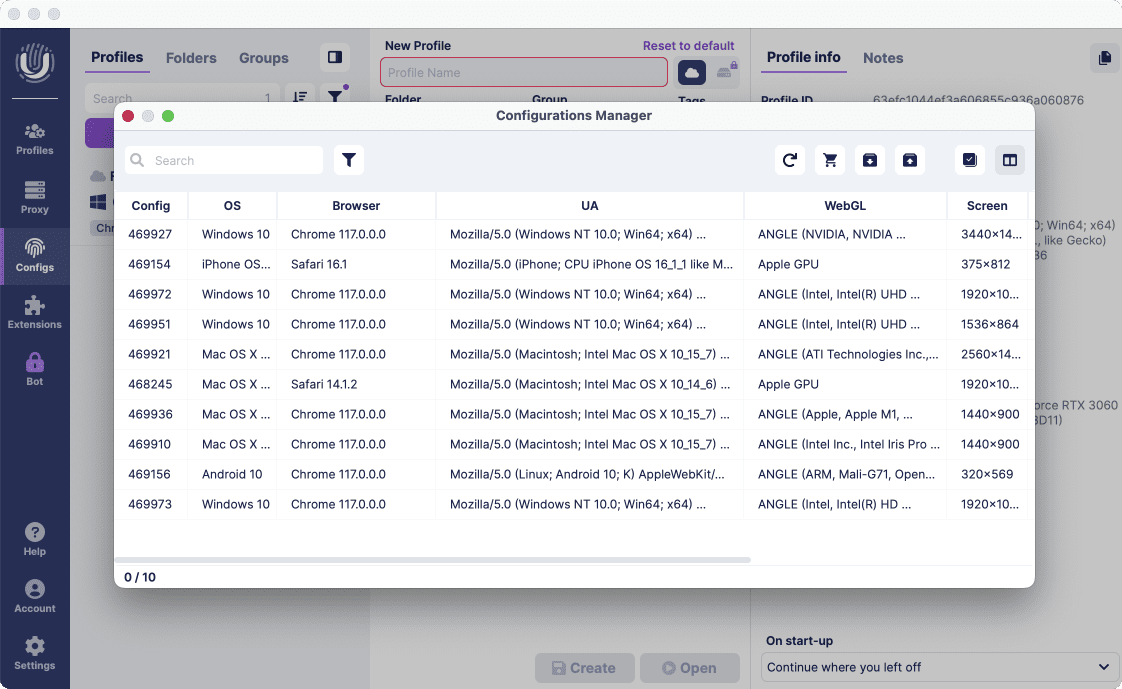 The support explained that each Config can be used in multiple browser profiles and it will not cause detection problems. All that needs to be done is changing the offered settings and get to work.
That's a very strong claim for a completely alternative privacy technology. Modern websites have very strong detection measures for unique profiles and their normality.
Fingerprint Problems
Things only get more interesting: Undetectable team offers users to buy the real fingerprints for $2,50 each from their database. That's a questionable thing already, as the pricing plans for Undetectable are not cheap at all.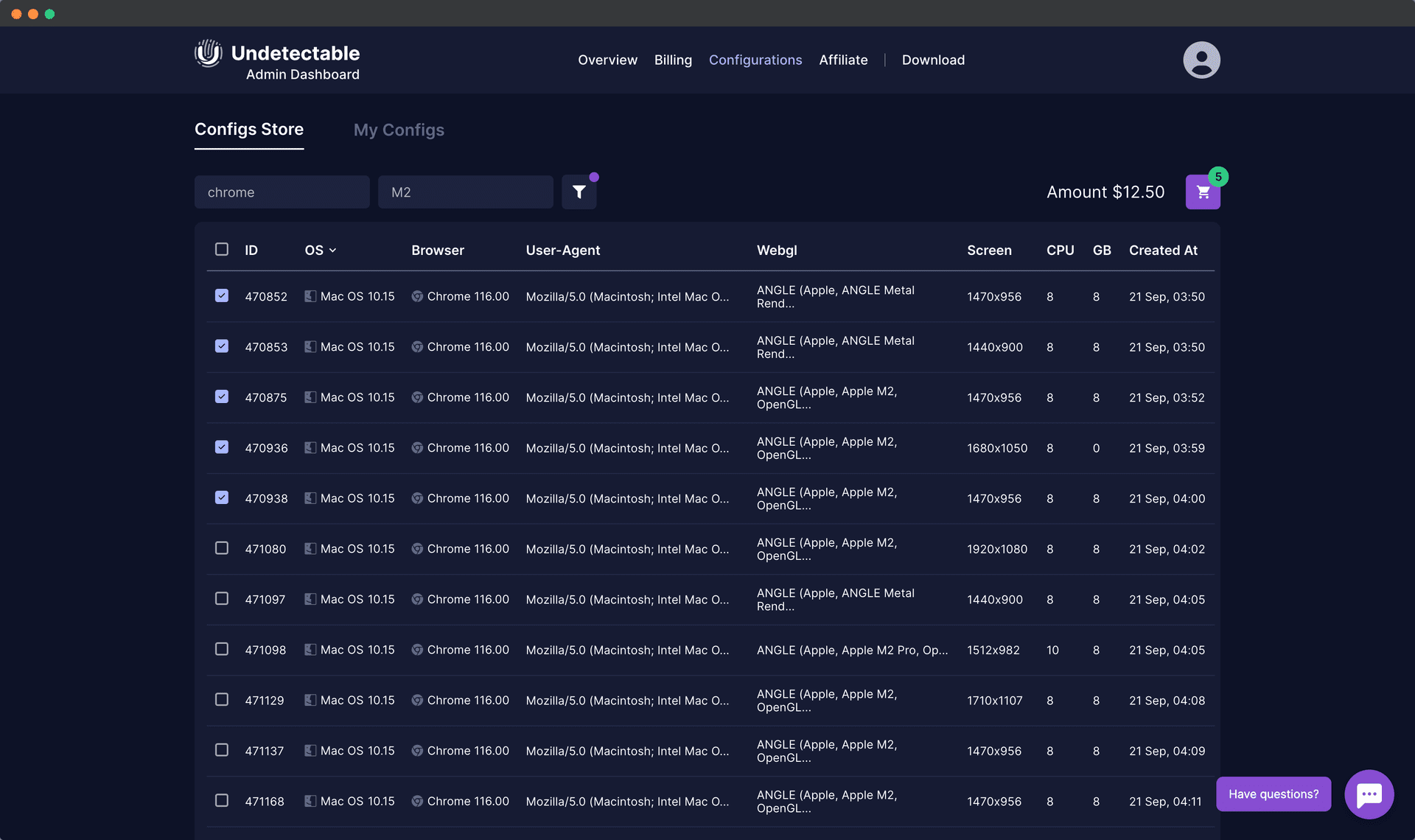 However, the pricing is not a problem compared to this: the user is actually supposed to know how to choose a needed Config from 350,000 available. The Undetectable browser team claims all of these are real. We scrolled and searched a bit for curiosity reasons, and found some interesting ones:
All the MacOS user agent fingerprints have the same MacOS 10.15 version (dated 2019). How many Macs are out there with such an old MacOS?
We stumbled upon Mac device setups with MacOS v10.15 (2019) and fresh core units – M2, M2 Pro and M2 Max (2023). It just doesn't fit.
Even if that works, naturally we only have more questions on how to push through all of these nuances.
Fortunately, most of the other fingerprint settings like WebRTC and Geo have an Auto mode, which is great for a new user. Proxies can be mass imported, but only on paid plans. All of the other key options (cookie management and warmup, account import/export) are present.
Local and Cloud profile storage
Undetectable offers a unique option: local profile launching and storage. The amount of local profiles is unlimited on any paid plan – that's why you need to buy the fingerprints. These profiles run extremely fast, but they're limited to use on one device, which kills the teamwork.
You can even store and launch the profiles on your own private server – again, just like working on your project car in your garage.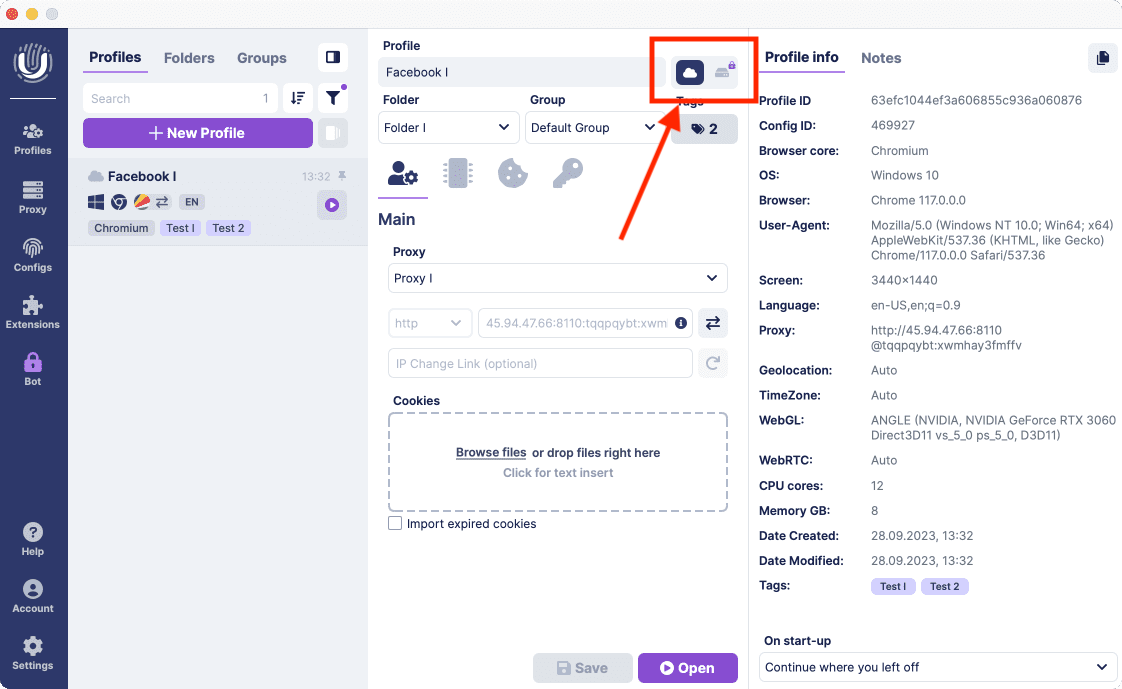 Local storage seems like a great move for a big solo marketer – if he's able to actually run 300 profiles using only 25 fingerprints with adjustments. Buying 20 more fingerprints will already cost $50 on top: we'll get back to the costs later on.
In the end, Local and Cloud storage options are very curious combined in one app. Still, this is yet another stumbling block for a new user. Even for experienced affiliates and webmasters, these options carry a shady commercial value that is impossible to check.
The local storage figures might look good on paper, but there's no guarantee it will be cost- and time efficient for real work. Let's try check all of these claims and finally run the profiles.
Running the Profiles
On the free plan Undetectable browser offered us 3 possible configs for our MacOS + Chromium based setup. Taking into attention all the described config questions, we decided to test them all. The cloud-synced profile launch and stop speed proved to be adequate in both single and mass modes.
One of the MacOS + Chrome configs passed our Iphey and Pixelscan checks, and the other one failed.
All the other configs worked relatively well with passing checkers. We were able to get through with iOS, Windows from Mac and Safari browser setups.
However, a longer test showed these results are quite unstable. Setups that worked fine one day ago failed to continue, and vice versa – those that failed suddenly worked.
This raises the same question again: if we have to choose or even buy browser fingerprints, what are the criteria to choose the right ones?
Mobile devices and fingerprints
Unlike GoLogin, Undetectable browser does not offer mobile or web versions for remote work. GoLogin even has a web version with cloud-based profile launch that could be used from literally any device. Undetectable browser offers a web dash, but it's not meant for actual work.
Undetectable browser supports both Android and iOS mobile fingerprints. This might be a good choice for mobile platform affiliates.
Teamwork
Undetectable browser allows to create Groups with custom roles and separate access for each team member. All of that needs to be managed via the cloud dash. However, we have an impression Undetectable browser wasn't made for teams in the first place. Here's why:
The amount of "sessions" – i.e. how many devices can log into one account – is limited, and buying more is very expensive
The cloud-synced profiles necessary for teamwork are limited and also come very expensive compared to any other browser.
Infinite local profiles can't be shared or synced with team members.
Nothing else needs to be said here. If you hire more people to do more work, it needs to be cost effective.
Support and updates
Undetectable browser app updates automatically – we were lucky to meet a big Synchronizer update during our tests. It turned out the synchronizer won't be available on Mac, so we were not able to see it in action.
The support seam was immediate to respond to all of our questions in English on the website. We haven't met any technical problems, except failed initial startup. Still, we had to request support three times to get the work basics.
To make a small conclusion, Undetectable browser feels like a product for tech enthusiasts. It made an impression of a tool that's under heavy development right now, which might actually be a good sign. As of today, it's an extremely heavy browser to get used to and learn without good tech experience.
Compared to the infinite adjustments world of Undetectable browser, GoLogin is a great example of how everything can be customized, yet clear and straightforward in one pack. From the point of overall user-friendliness, these two are a bit like Linux and MacOS. These are both good, they're just for different needs and types of people.
Just like any Apple product, GoLogin is able to work straight out from the box. It won't take hours to read manuals, no initial setups needed. Even the proxies are already there.
GoLogin will suit well for small business use, mid-sized agencies and large enterprise teams thanks to fair and balanced pricing. Great UI and fingerprint customization options don't become an obstacle to productivity and performance.
Let's compare Undetectable browser to GoLogin, and at the end take a look at prices and rates.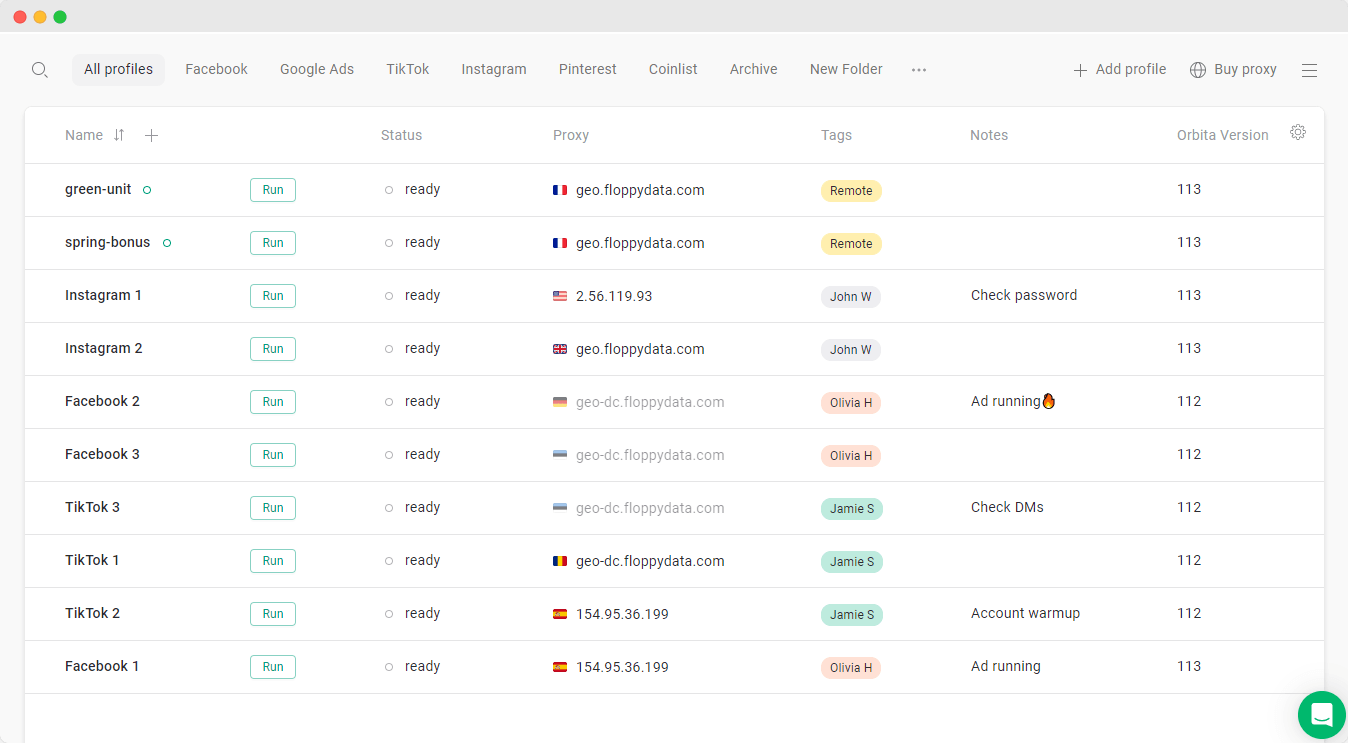 Features and comfort of use
Unlike Undetectable browser, GoLogin has:
A large database of real fingerprints available on all plans for free
50 adjustable fingerprint parameters for advanced use
Unlimited amount of device sessions in one account
Affordable and clear pricing plans with no hidden catch
Fair team plans with enough cloud-synced profiles and team seats included
Free built-in proxies right in the browser
One-click profile creation
Customizable Profile table
Mobile app and web version with cloud-based profile launching
Two-factor authentication (2FA) – extra layer of account safety
We skipped the overall user-friendliness and ease of work, because it's quite subjective. There might be new users that are tech-savvy and find Undetectable browser easier to work with. We'll leave this point for you to decide.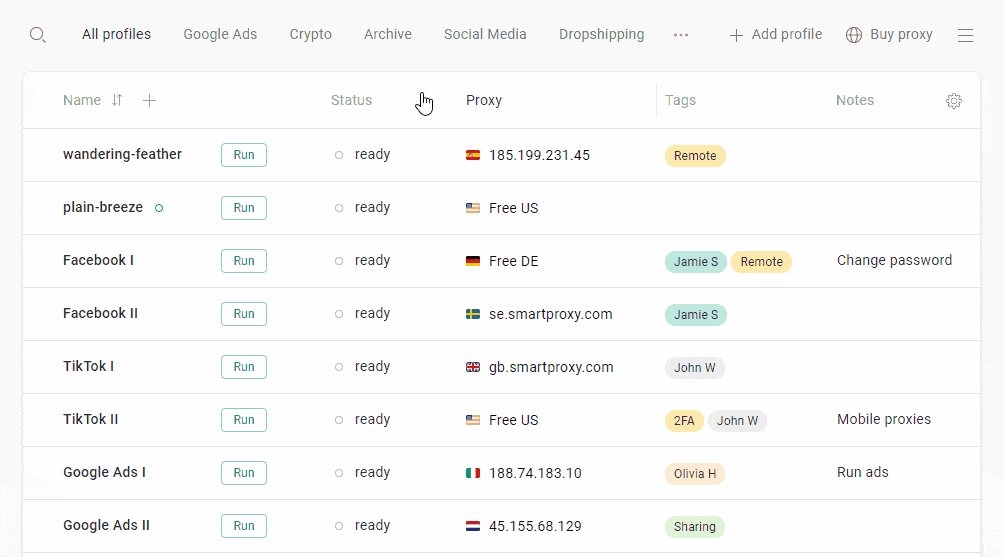 Fingerprinting work
GoLogin is known to have a good reputation for strong and stable fingerprint work. Users name the long run stability and fingerprint consistency as main reasons for switching to GoLogin from alternatives.
There's no need to pay extra for more settings, fingerprints or some other mods. Everything needed is already included in the price without the fine print. The default profile settings are already set up for best performance.
Teamwork
GoLogin allows to share work with partners, giving custom roles and access rights for each teammate via Workspaces. All of the profiles are cloud-synced and can be shared with team members.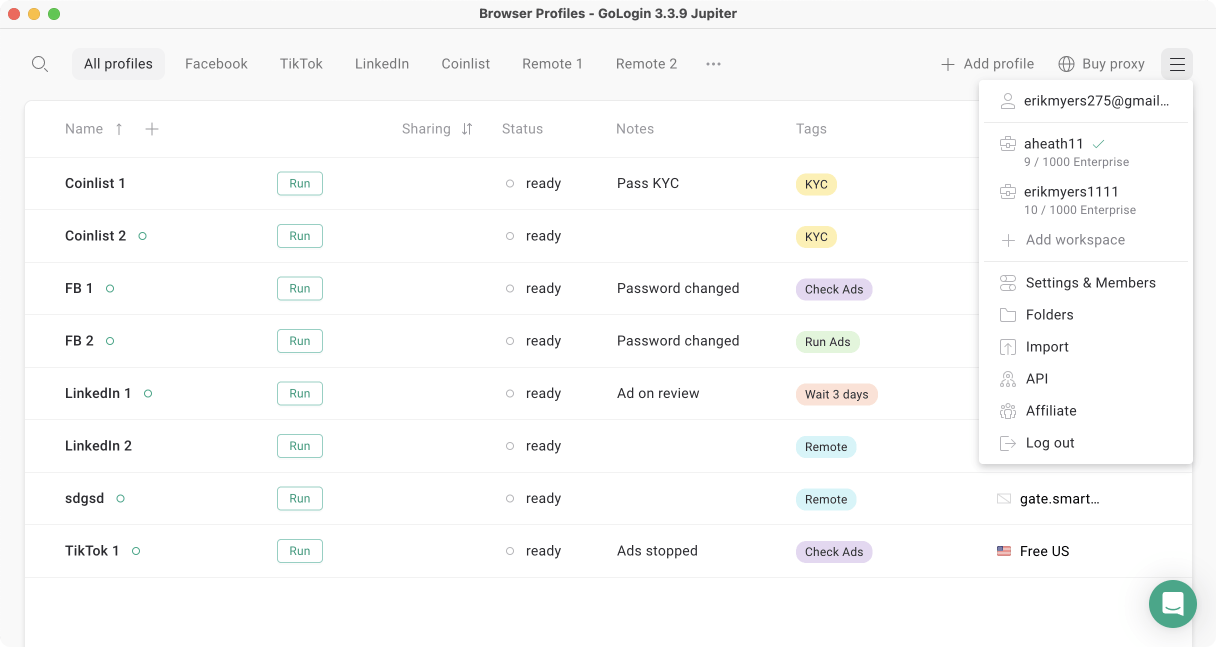 Profiles can be divided into Folders and assigned to separate managers right in the app. The number of device multi account sessions is unlimited on all plans. The team plans include a fair amount of team seats for the price.
Mobile app and web version
GoLogin has a web version, which can be accessed from literally any device. You can launch and edit profiles without a computer: they will work on a safe cloud server. GoLogin is also available as an Android app.
For comparison, Undetectable browser can be downloaded only for Mac and Windows.
Support quality
The support team quickly responds to all user requests and tries to help in any situation. GoLogin managers conduct user campaigns to collect customer feedback and suggestions, making browser updates as relevant as possible.
In their feedback GoLogin users ofter say their problems were solved by chatting with the team or through browser updates.
Updates frequency
The GoLogin team updates the browser several times a month. Updates include everything needed to keep user data safe and take user needs into account. Updates are automatic: you just need to click "Update" and restart the browser.
Clients often praise GoLogin for the stable profile work in 24/7 mode without downtime. The uptime stability factor is often the reason why users move from alternatives to GoLogin.
Let's move on to the final part of the comparison: plans and pricing.
Undetectable Browser vs GoLogin – Pricing
Free plans and trial periods
Undetectable browser offers a free plan with 5 profiles and limited features. There's no trial period for paid plan features like in GoLogin.
GoLogin offers both: forever-free plan for 3 profiles + trial of paid features for 7 days with no restrictions when registering an account.
Disclaimer: all of Undetectable plans include infinite Local storage profiles and limited/paid fingerprints. We will only mention cloud-synced profiles in the comparison. We advise you to make your own calculations with your use case in mind.
Paid plans: Personal use
For paid plans, we'll count the costs with different scenarios and scales of work in mind. To stay objective, we'll consider only a monthly payment option, but also mention annual discounts.
Undetectable's first paid plan (Base, 50 profiles) costs $49 per month. A similar GoLogin plan (Professional, 100 profiles) also costs $49 per month – twice more profiles for the money.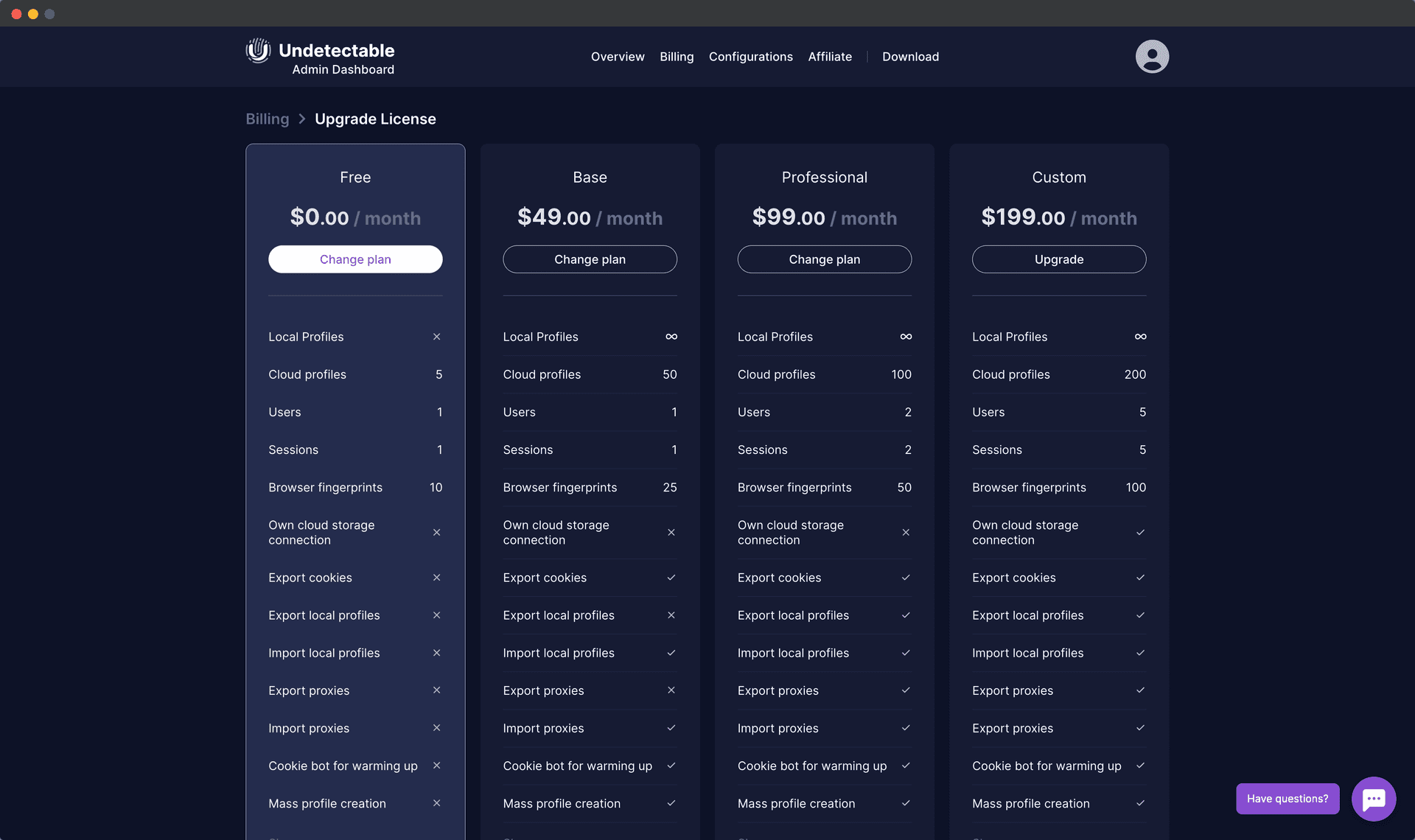 Both Undetectable browser and GoLogin offer annual payment discount. GoLogin offers a generous 50% annual discount compared to only 20% from Undetectable. So, a year of Undetectable's first plan will cost $470, while GoLogin will cost only $294.
GoLogin comes 1,6 times cheaper with twice more profiles, no fingerprint limitations and more features in the box.
Undetectable tries to be more flexible offering extra team seats for $20/seat. However, even 1-2 extra team seats make the end price kind of pointless compared to what GoLogin's team plans offer from the box.
Top tier plans
Undetectable browser's top plans (Professional and Custom with 100 and 200 up to 10k profiles) will cost you $99 and $199 per month. They offer an extremely small amount of shared profiles and team seats from the box. For example, the $99 Professional plan has only 2 team seats included. 
GoLogin's Business and Enterprise plans will cost the same, but offer 300 and 1000 profiles + 10 and 20 team seats. To compare, if you need 3 more seats on Undetectable, you'll need to pay $45/month extra. This makes the team plans completely obsolete.
GoLogin comes more balanced, fair and cost effective. No need to pay extra on any stage. Its plans are straightforward, with more seats and options already in the packages.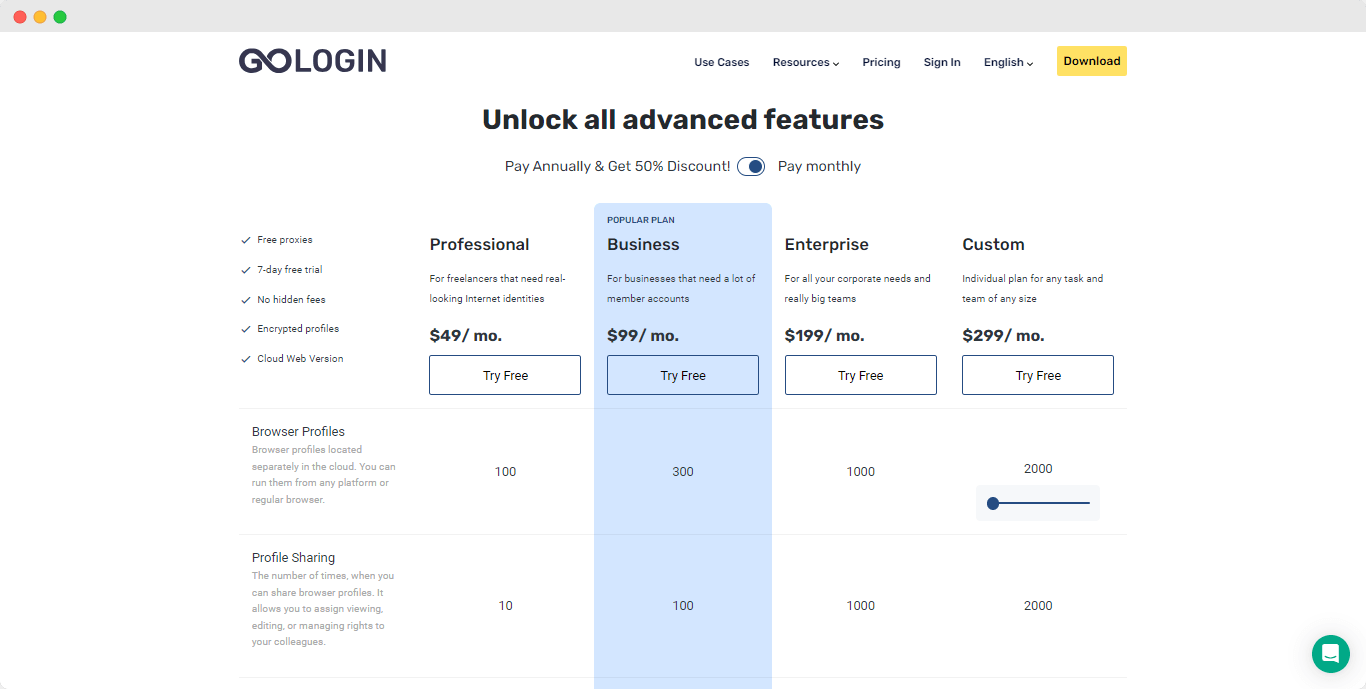 Let's compare the 5,000 profiles scenario for the Custom plan. A month of 5k profiles and 20 seats on Undetectable browser will cost $849. GoLogin offers 5k profiles and 100 seats for $669 + 50% yearly discount on top instead of only 20% from Undetectable.
As a conclusion, GoLogin offers more features for the fair price. Visit the Pricing pages yourself, test both browsers and make your own considerations.
Undetectable Browser vs GoLogin: Summary
We have lots of questions and mixed feelings left after this review. Obviously, Undetectable browser needs a long term test on a paid subscription. Their claims are big, but we also saw a lot of serious questions during our short review.
So, we leave you to make your own decision. Here are some questions to help you choose the best antidetect for your situation:
How many browser profiles do you need?
Do you need to share profiles with partners?
How much are you willing to pay for business software?
Does the browser have a good reputation? What do reviews and forums say about it?
Can you test the browser for free? If yes, which one suits you best?
To summarize the comparison, we have rounded up some pros and cons. Compare the browsers and count the costs on your own to find the best one.
| | | |
| --- | --- | --- |
| Comparison Criterium | Undetectable Browser | GoLogin |
| Free plan | ✅ | ✅ |
| Free trial of paid features | ❌ | ✅ |
| Unlimited fingerprint use | ❌ | ✅ |
| Profile local storage | ✅ | ❌ |
| Beginner-friendly | ❌ | ✅ |
| Country of origin | 🇷🇺 | 🇺🇸 |
| Updates frequency | ✅ | ✅ |
| Affordable paid plans | ❌ | ✅ |
| Suits well for teams | ❌ | ✅ |
| Mobile app | ❌ | ✅ |
| Profile cloud launch | ❌ | ✅ |
| Free in-app proxies | ❌ | ✅ |
| Support quality | ✅ | ✅ |
If you are already using Undetectable browser – try GoLogin for a free test period. Evaluate how many accounts out of 10 survive in the first and the second browser. This is what most often reflects how expensive is the browser for your work.
Undetectable browser is clearly pointed at enthusiasts who want to know and control what's going on under the hood. If you're one of these people – this might be your thing. However, for people that just need the job done, there are more universal apps like GoLogin.