Being shadow banned on TikTok in a personal account might be unpleasant. But when you are losing engagement on your commercial accounts, or (even worse) clients' accounts – now that might be really stressful.
Worse than that: you won't even be notified about the shadowban, and it's hard to track the reason of the drastic drop.
In this piece, you will get to know measures that might unshadowban you. Additionally, you will learn ways to avoid your content suppression long-term and scale your business safely.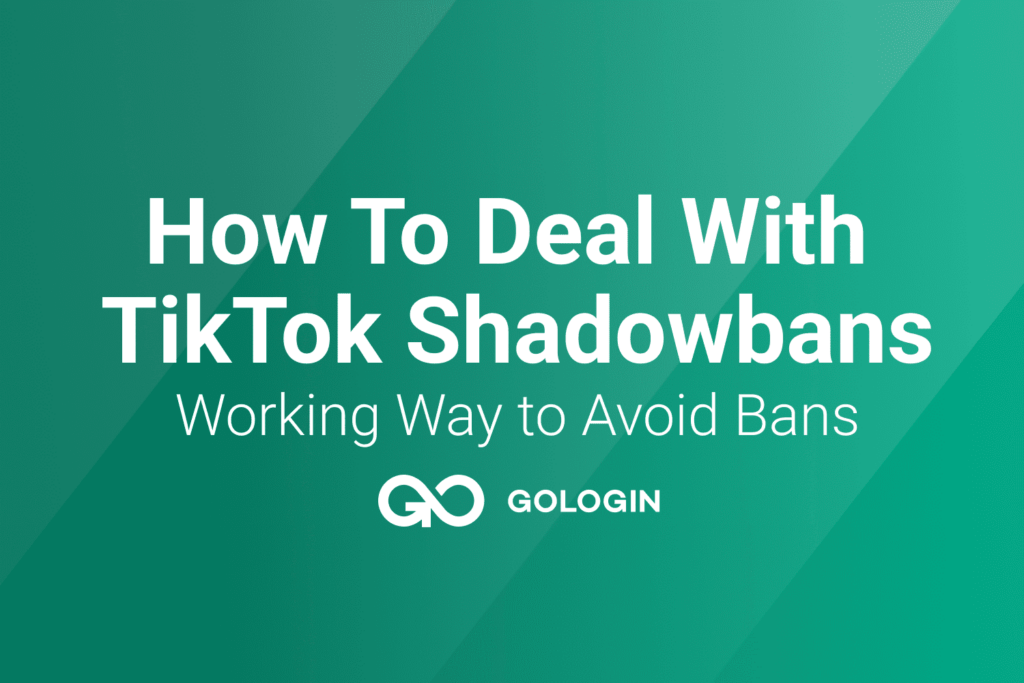 How to Lift a TikTok Shadowban
The drop in views might not be because of a TikTok shadow ban. There might be an increase in competition, changes in the TikTok algorithm, or many other reasons that you can influence. So, first of all, continue posting and wait a few days.
If nothing seems to shift, your videos are «under review» or «processing» for longer than usual, and your videos do not appear in the «For you» section, it is time to act.
1. Review Your Content
Look for videos, quotes, and captions that might be suspicious for the TikTok algorithm. Here are the most probable reasons:
Incorporating copyrighted audio into your videos.
Adding hashtags forbidden globally or locally. To avoid the problem with hashtags ー check them out in search. In case they have 0 views or don't exist ー they are banned. Banned hashtags might look really innocent at first glimpse.
Videos reposted from another account.
Sharing personally identifiable information.
Tip: Recheck notifications ー you might have missed a violation notice.
2. Clear Your Fingerprints
Change your IP and avoid the IP you were shadow banned on. Use mobile proxies to tackle this: social media platform engines give them less suspicion.
Use another device to log in to your shadow banned TikTok account.
In case you will decide to quit your shadow banned account and create a new one ー do the device and IP update too.
Tip: try logging in your account via a multi accounting browser like GoLogin.
3. Keep Posting and Waiting
Since shadowban does not have clear regulations (hence the name), the duration of your timeout is also unclear. Users shadow banned on TikTok share that the period may take from 2 weeks to several months.
We recommend waiting a few days or weeks and then cautiously posting original, high-quality content that follows TikTok's community guidelines, terms and standards. Keep away from posting inappropriate content and double check what you think is totally appropriate.
Once you start posting you can also engage your friends with a good following. Invite them to like, comment and save your videos. It will help rebuild your reputation on the platform.
4. Contact TikTok support
Some users have claimed that this strategy may not be effective in the case of a TikTok account ban. Still, you can explain the situation and try to clarify it to TikTok support. It's important to approach them politely as it can increase your chances of success.
Ways to reach TikTok employees:
1) Mention them on different social media.
2) Send emails daily. Here are some of the addresses:
[email protected]
[email protected]
[email protected]
[email protected]
[email protected]
[email protected]
[email protected]
3) Request help via forms:
https://www.tiktok.com/legal/report/feedback
https://support.tiktok.com/en/safety-hc/report-a-problem
https://support.tiktok.com/en/log-in-troubleshoot/log-in/still-need-help
If none of the above helps, create a new account and leave the account shadow banned on TikTok as a backup.
Reasons for the TikTok shadowban
Multiple TikTok accounts on one device
TikTok allows you to log into 3 TikTok accounts at the same time. Technically you can log out of these 3 and create even more accounts. Some users managed to have 2-5 accounts without being shadow banned on TikTok for years.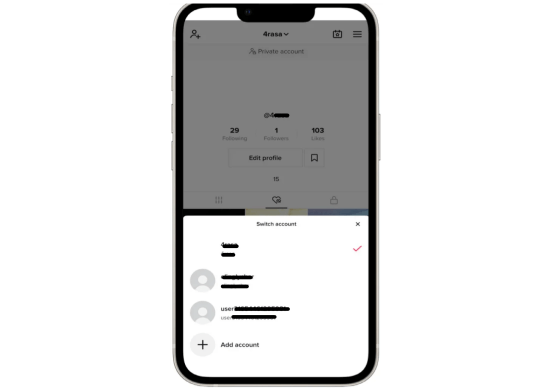 Nevertheless, you don't want to take risks with your commercial TikTok accounts. Users with several accounts are likely to be indicated as business users. This can lead to deprioritization of your content, ultimately prompting you to purchase ads.
Aside from that problem, frequent switching between accounts might be flagged as dubious activity, causing (again) the TikTok shadowban of one of your accounts – or all of them.
Tip: leverage multi-accounting browsers like GoLogin to keep your business on the safe side. Read on to know how.
Spammy user behavior
You probably want speedy growth for your business accounts. However, activities like posting 15-20 videos per day, bulk-following other users, and mass commenting are likely to be considered spammy behavior. Especially for fresh accounts.
Additionally, TikTok might view traffic from other sources as bots. So sharing your videos on other social media platforms may have the opposite effect of what you planned and also be considered spamming behavior.
Also, remember the obvious: things like hate speech, violence and adult content are not welcome on TikTok app. Be cautious with using copyrighted music as well: it can also be the reason of temporary content or account suspension.
Fake engagement
Liking or commenting on your business page's content on other social media platforms can boost engagement.
Сonversely, if you engage with your multiple TikTok accounts, the platform might interpret these actions as attempts to artificially grow your account.
So avoid following, viewing, liking and commenting, and even searching your other profiles.
Posting the same content
You might want to revive old successful videos so new audiences will be able to check them out. You may also decide to re-upload a video with improved audio and video quality. Or you reposted a funny video related to your niche.
TikTok will treat it as fake news – copyright infringement will lead you straight to drop in engagements.
Ways to avoid being shadowbanned on TikTok in the long run
Multi-Accounting Browser (the easiest and safest option)
TikTok uses IP, cookie, device, and browser fingerprint tracking to identify multiple TikTok accounts. TikTok is able to see you're controlling several accounts even after you uninstall and reinstall the app.
A multi-accounting browser is a web browser that guards a user's online identity and activity by substituting their IP address, device model, browser type, and other identity-revealing digital fingerprints.
You will find such a browser especially helpful:
If you got shadowbanned and need a new account ASAP
If you are located in a country under sanctions or blocked by TikTok
If you want to safely perform multi-accounting in TikTok (>2 accounts) on one device.
Multi-accounting browsers function just like regular ones, such as Chrome and Firefox. Their key distinction is allowing users to generate multiple browser profiles. Unlike Chrome profiles, these will be seen by TikTok as separate TikTok users, with distinct identifiers each.
So, TikTok treats each profile as a different user who accesses the social media platform from an individual country and device.
For example, GoLogin multi-accounting browser works as follows:
1. Set up a separate web browser profile for each TikTok account.

2. Each new browser profile has automatic user identifiers that are ready to go. You can change the settings in Details if you need to. The identifiers of each profile do not overlap, so TikTok won't ban your accounts.
Important! Keep to GoLogin's recommended profile parameters if you aren't technically savvy. Looking normal on the web isn't easy: changing just one random identifier may give you away. All profile characteristics must be unique and logically coherent with one another.
3. Click «Run» to open a new browser window and sign in to one of your existing TikTok accounts or create a new one. Launch multiple profiles to log in multiple accounts: a new browser window will open for each. Each one is a new internet identity.
In each profile, you can have a unique set of your favourite Chrome extensions, bookmarks, etc. They will be there when you return to the profile.
Sign up for GoLogin and test it. You can use 3 browser profiles on the forever free plan.
Download GoLogin browser and keep your TikTok videos appearing in the «For You» section.
Multiple Devices
This option is as effective as multi-accounting browsers in avoiding the TikTok account ban. It is a cost-effective solution, unless you need more than 5 accounts (=5 devices). Here is a little math:
6 devices x $50 (the minimum for a working smartphone) = $300 > 12 x $24 = $288 per year of GoLogin's cheapest plan with up to 100 browser profiles.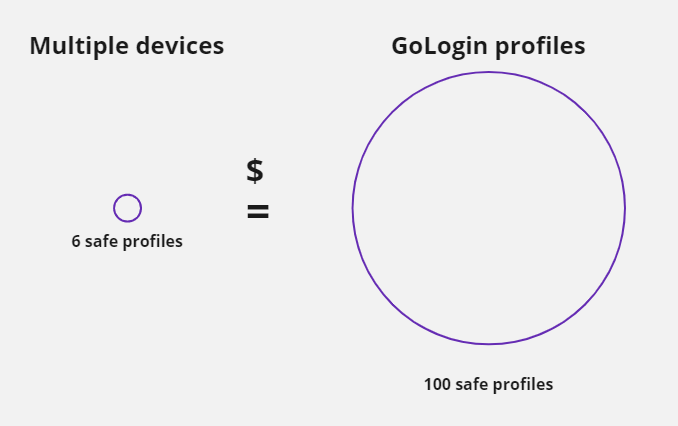 GoLogin's professional subscription allows you to scale at the same price, which is not that easy at all with devices. Buying 100 devices at $50 each will cost you $5000!
VPN: The Hard Way
Here's how to safely create and use multiple accounts on one device using a VPN:
Log out of all your TikTok accounts.
Turn off TikTok access to your location data.
Clean cash.
Insert a foreign SIM card.
Switch to the IP of the corresponding country via VPN or Proxy.
Create a new TikTok account.
Always use the same IP and SIM card for the new account.
Important: use trusted quality VPNs only. If the random free VPN crashes during your session, TikTok will mark you with bot behavior, and that will be even harder to deal with.
That's a working scheme, but it's even more inconvenient for multi-accounting on TikTok than buying several devices. Moreover, this way doesn't ensure complete safety – corporate giants like TikTok are not that simple to deal with.
Wrap Up
If you are an active business user of >2 accounts, you are at risk of being shadowbanned on TikTok.
Typical shadowban reasons for TikTok business users: spammy behavior, fake engagement, copycat content, and running several accounts on one device.
Multi-accounting browser is the easiest and safest way to avoid TikTok shadowbans using numerous accounts.
Download GoLogin to forget bans on your social media!
---
Reference source:
Zeng J., Abidin C., Schäfer M. S. Research perspectives on TikTok & its legacy apps| research perspectives on TikTok and its legacy apps—introduction //International Journal of Communication. – 2021. – Т. 15. – С. 12.
Rauchberg J. S. # Shadowbanned: Queer, Trans, and Disabled creator responses to algorithmic oppression on TikTok //LGBTQ Digital Cultures. – Routledge, 2022. – С. 196-209.
Myers West S. Censored, suspended, shadowbanned: User interpretations of content moderation on social media platforms //New Media & Society. – 2018. – Т. 20. – №. 11. – С. 4366-4383.
Savolainen L. The shadow banning controversy: perceived governance and algorithmic folklore //Media, Culture & Society. – 2022. – Т. 44. – №. 6. – С. 1091-1109.
Le Merrer E., Morgan B., Trédan G. Setting the record straighter on shadow banning //IEEE INFOCOM 2021-IEEE Conference on Computer Communications. – IEEE, 2021. – С. 1-10.