People use multiple Twitter accounts for purposes, such as running clients' accounts, testing marketing strategies, content creating for different niches, or participating in crypto airdrop programs.
However, running multiple profiles isn't as easy as it seems at first glance. You can have only 10 accounts not duplicating each other content and engagement. Aside from that, if one of your profiles violates the platform's policies, Twitter may permanently ban the rest of connected accounts.
But what if you need more than 10 profiles? Is it possible? And is there a safe and convenient way to manage multiple accounts without getting overwhelmed? Read on to learn how to avoid the existing limitations and manage multiple Twitter accounts conveniently.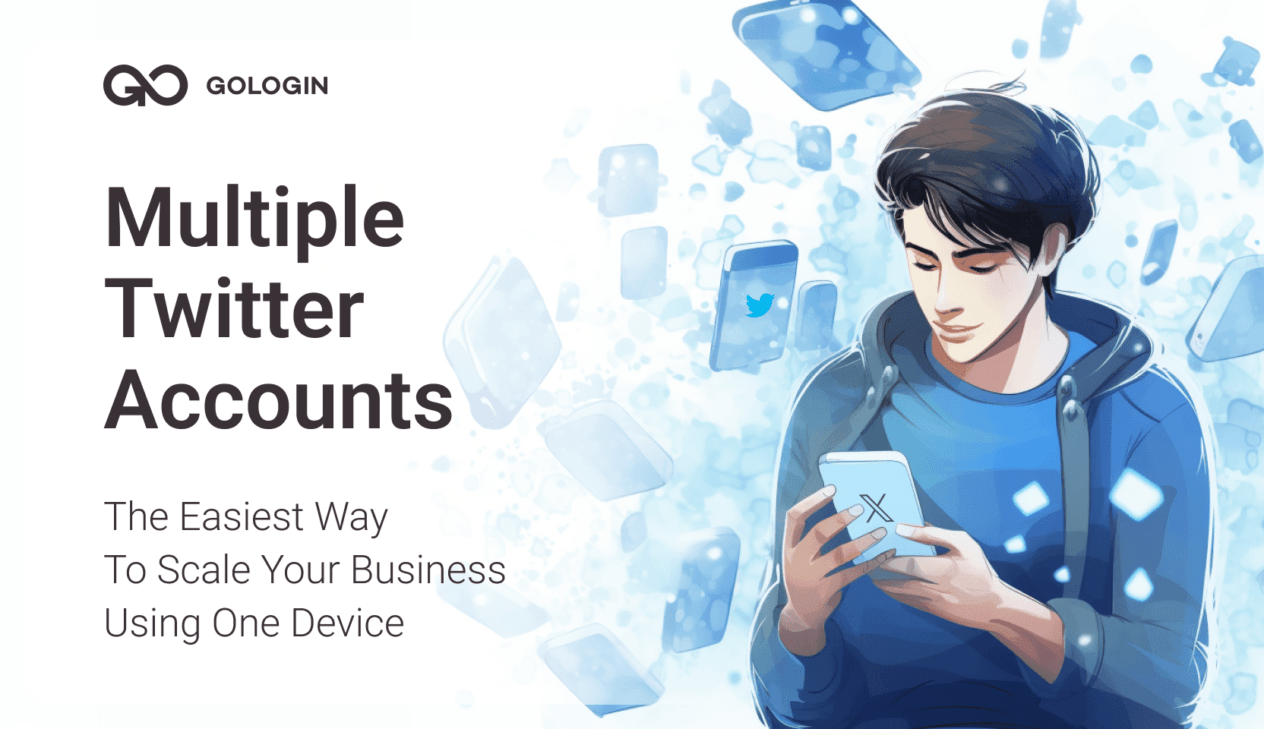 Who Needs Multiple Twitter Accounts?
Here are typical use cases, when Twitter users benefit from multiple profiles.
Businesses that create product-, audience-, location- and language-specific Twitter profiles.
Social media managers who work in marketing agencies and manage clients' accounts. The platform allows users to run multiple Twitter accounts on behalf of a third party. For example, you have 10 clients and each has 3-5 profiles.
Crypto enthusiasts who participate in airdrop programs.
Entrepreneurs who want to test their ideas.
Content creators who build audiences in different niches.
Can I Have Multiple Twitter Accounts?
Yes. On Twitter, each user has a right to create up to 10 accounts for non-duplicative purposes. It means that the accounts should not have nearly identical or redundant content, messages, or engagement.
You need a unique email address for each profile, but you can use the same phone number to verify your multiple Twitter accounts.
You can't use Twitter multiple accounts to interact with the same users, post the same tweets, etc. This is considered a violation of the platform's rules. Check the screenshot below to learn other reasons why your Twitter profiles can be banned.
If one or several of your accounts violate the social network rules and Twitter detects associated accounts, they will ask you to choose one account to keep. The remaining accounts will be permanently suspended.
What Are Digital Fingerprints
Twitter can also prohibit you from creating accounts in the future. It is possible because social media platforms (and Twitter is no exception) track users based on their digital fingerprints. If you've been banned from the platform and attempt to create a new account, the platform will detect your activity by your digital ID and suspend the new account as well.
A digital fingerprint is your unique online user ID that contains information about your IP, location, installed plugins, time zone, operation system, and many other parameters related to your device. Read on to know more about how GoLogin works with this technology.
How to manage multiple Twitter accounts right in the app
If you need just 10 social media accounts for non-duplicative purposes, it might be sufficient to use the Twitter app. So let's start by exploring the Twitter account switcher feature.
Switching between accounts via the desktop app and website
Here is a quick guide on how you log in to more than one Twitter account via the desktop and mobile websites and the Windows app.
Click on your profile icon in the top left of the screen.
Choose the More icon (looks like 3 circles) or the plus icon.
Add an existing account.
To switch between multiple Twitter accounts, click your profile icon and then tap the smaller profile icon next to the more icon.
Switching via the iOS Twitter mobile app
Tap the navigation burger menu icon.
Tap the More icon (3 circles).
Create an account or log in to an existing Twitter profile.
Once you've added all your secondary profiles, you can toggle between them. Tap the profile icon and tap the icon of the profile you want to use next to the icon with 3 circles. The navigation menu icon will return you back.
Switching Twitter accounts via the Android app
In the top menu, tap on your profile icon or a navigation burger menu icon.
Go to the header and tap on the down arrow icon.
Create an account or log in to an existing Twitter profile.
Once you've added all your multiple Twitter accounts, you can switch between them. Tap the downward-facing arrow in the header.
More convenient ways to manage multiple Twitter accounts
Juggling between multiple accounts via the official app and website might be convenient until you need more than 10 profiles.
Theoretically, you can use multiple emails and phone numbers to create 50, 100, or 5000 accounts.
However, Twitter has spam filters, so they will understand that all these profiles belong to one person and mark them as suspicious or ban them immediately.
Now let's dive into more safe and convenient methods for managing multiple Twitter accounts. I listed them from the least to the most safe and most convenient.
Use different browsers with VPN or proxy
This method adds an extra layer of protection from bans, however doesn't provide much convenience compared to the Twitter app.
To use the method, Install and launch two or more web browsers (e.g., Chrome, Edge, Firefox, Opera, Safari) of your choice. Before logging into each Twitter account, change your IP with the help of a VPN or proxy. Then, open the Twitter website in all browsers and complete the login process in them.
Switching between various browsers has downsides. For example, you are limited by the number of installed web browsers on your computer. You will also have to remember which browser is linked to each account and switch different IPs each time you use a different account.
This method is fine if you just need up to 10 safer accounts and are ready for manual managing.
Leverage social media management tools
In case you need better organization and convenient management of your Twitter profiles, you can consider special third-party tools, such as SocialChamp.
The app allows you to schedule your tweets, find hashtags, communicate with all target audiences, and track analytics for multiple Twitter accounts from a single dashboard. Though SocialChamp doesn't offer safety features to protect your digital identity.
You can still be suspended on Twitter for accidentally breaking the platform's rules or engaging in spammy behavior. If one of your Twitter posts is flagged as spam by the algorhithm, your other accounts are in danger.
The number of accounts you can run depends on the plan you choose, and the prices are pretty high: the Business plan with 6 users and 40 social accounts costs $89/mo if paid annually.
In comparison, with a multi-accounting browser, you can manage 300 profiles with 10 users for $49/mo if paid annually. We will explore the method below.
Buy separate devices for each Twitter account
Each device has a unique fingerprint, so this method is the safest by far. You can also install the official app and various browsers on your device, but is it that convenient? Unfortunately, it isn't.
We also can't say this method is cost-effective. Let's say you need to manage 6 Twitter accounts with maximum protection from possible suspension or bans. You have to buy 6 devices, each worth at least $50 (this is the minimum price for a working smartphone; a laptop is several times more expensive).
6 devices x $50 = $300, which is more than the multi-accounting browser's cheapest annual plan of $294 for 100 accounts. Read on to learn about this method of managing multiple Twitter accounts.
Use a multi-accounting browser
A multi-accounting browser creates a distinct digital fingerprint for each account (all digital characteristics are different), thus protecting you from bans.
In other words, Twitter will consider all your accounts separate users. If one of them is banned for violating the platform's rules, all other accounts are still alive.
Besides, if you use multiple accounts for duplicative purposes, Twitter won't be able to detect you.
Multi-accounting browsers function like regular browsers. The difference is that you can gather all of your protected accounts to one control panel. You set up a proxy once and don't need to switch IPs each time.
This solution also allows you to organize a smooth workflow with multiple Twitter accounts. For example, you can:
Name each account
Group them into folders
Add tags and notes
Filter profiles by various criteria
Share profiles with remote team members. There are no endless passwords, 2FA, and login tokens for you and your team members because you don't log out of the accounts.
To learn how multi-accounting browsers work, let's explore GoLogin as an example. Compared to other privacy tools, GoLogin does not hide or mask your online identity: it gives you a new, real digital fingerprint that's completely authentic.
How Does GoLogin work?
First of all, GoLogin is not just another privacy or "hardened" browser. It's not a version of the famous Tor browser as well. Instead of hiding or masking your original online identity (or browser fingerprint), GoLogin gives you a new real one. 
This is acquired through a sophisticated browser fingerprinting engine. Visually, GoLogin is a control panel that runs normal Chrome windows that are completely isolated. Each of these profiles is seen as a new, real online user, separated from other profiles.
That's how you become able to run hundreds of social media profiles from one app. They will not be linked to each other, allowing you to safely post to multiple accounts in minutes.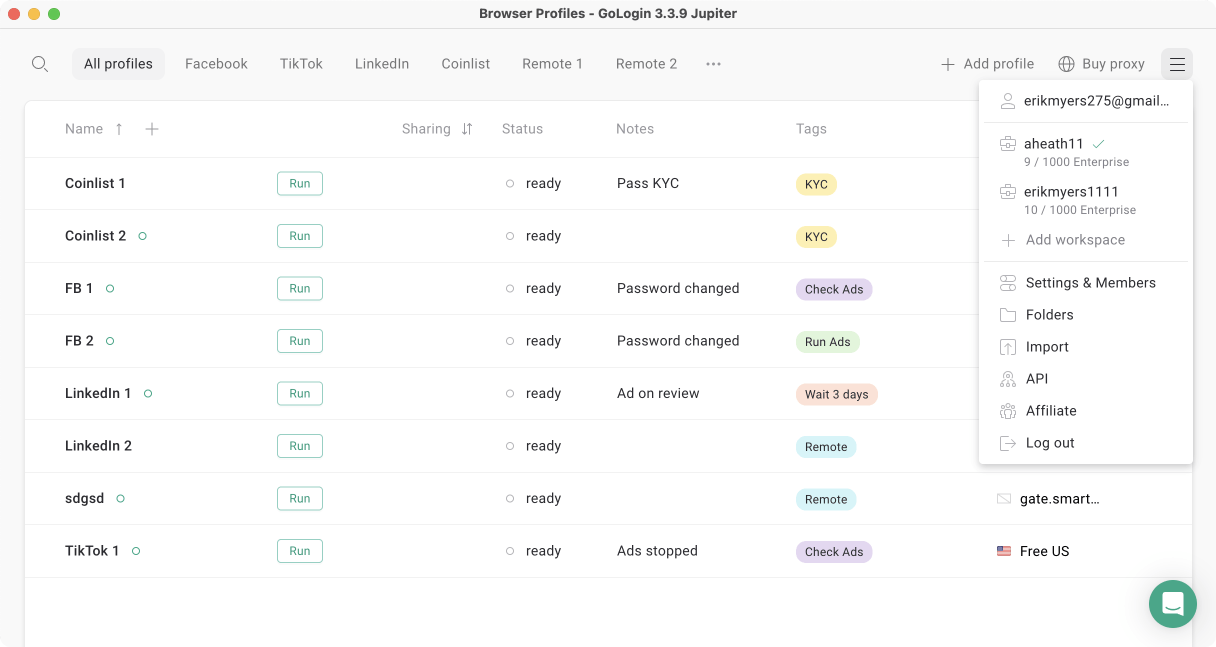 Here's a quick guide on how to work with GoLogin.
How to manage multiple Twitter accounts with a multi-accounting browser
1. Download GoLogin and register a free personal account.
Upon registration, you will automatically receive a 7-day free trial of all paid features. To subscribe, go to Settings – Billing and choose a plan that fits your needs. You can also switch to the forever-free plan with three profiles after the trial ends.
Next, go back to the main page (Table of Profiles). It will already have 5 default profiles for your multiple Twitter accounts. Let's set them up.

2. Assign a proxy for each account to keep profiles separate. Choose a free proxy, buy proxy from GoLogin (top right corner of the app) or from a third party provider.
Though a proxy alone doesn't fully protect your digital identity, it is an essential ingredient of a multi-accounting browser.
Important note: proxies are vital for the profiles to stay separate. Choose and buy proxies from trusted sources: we have a list of trusted providers in our Catalogue.
Explainer: What Proxy Type Do I Need?
Residential proxy simulates a regular desktop computer. In terms of cost and safety, it's the most popular option. You can start from there.
Mobile proxy type is far harder to detect, as it gives a mobile IP which is taken as more natural by websites. It is more expensive though.
Data center proxy is cheaper than the previous two types but less secure. You can use these proxies when your device already has a high trust level on a website.

3. Click on the Run button at your profiles to set up multiple Twitter accounts in new windows. Every profile is an isolated browser session.
Twitter won't be able to see it's you controlling all of these profiles thanks to proxies and separate unique digital fingerprints.
Sign in to one of your Twitter profiles or create a new one. Your Twitter login information is saved, just like when using Chrome, so you don't have to log in again for future sessions. 
Pro Tip: keep away from free proxies you find at random websites. They often collect your data and tend to lose connection when you least expect it.
4. Create as many browsing profiles as you need to run multiple accounts on Twitter.
For example, if you want to run 3 Twitter accounts, create a separate profile for each. This way you can enjoy a safe browsing experience without fearing of being banned ever again.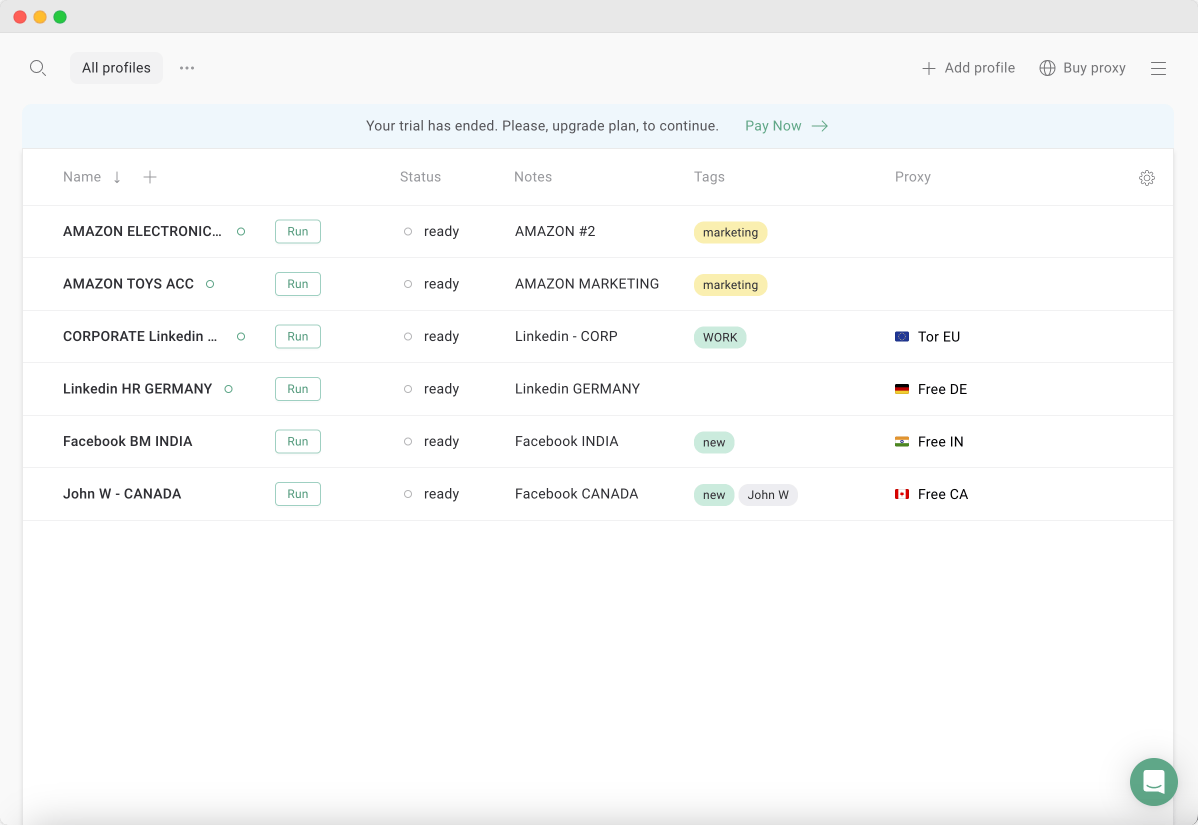 Pro Tip: keep to default profile settings until you are certain about what you are doing. GoLogin automatically pre-configures settings for your system and device. It makes your multiple Twitter accounts look normal (aka not suspicious) to Twiter algorithms. If you implement any incorrect changes in the settings, Twitter will be able to detect you.
Having trouble with a pre-configured profile? Contact our support team through the Live Chat at website on in-app for assistance.
5. Customize your GoLogin experience (especially relevant for 3+ Twitter profiles):
To change the profile name, click on it once.
Group your profiles into folders. Profiles and folders can be shared with your clients and colleagues.
Add or remove more fields from the Profile Table and swap them around.
To mass manage profiles, check the box to the left of a profile, then use the mass action panel at the top to share, edit, delete, or perform other tasks.
Add tags to filter your profiles.

Wrapping up
The official Twitter app is enough for a maximum of 10 accounts for non-duplicative purposes. Remember that you may lose all your accounts and get permanent suspension if one of your Twitter accounts seriously violates the platform's rules.
If all your accounts are important to you, choose one of the alternative ways described.
If you are looking a no-brainer professional way to organize and protect multiple Twitter accounts, give GoLogin multi-accounting browser a try.
Frequently asked questions about multiple Twitter accounts
Can I run two Twitter accounts one email?
No, you cannot use the same email for multiple accounts. But some tricks work with Gmail emails. Add + and a number from 1 to 10 before the @ sign when creating a new account. You can also add periods in random places before the @ sign.
Let's say your email is [email protected]. You can turn it into [email protected], [email protected], etc. Gmail will ignore the periods and pluses and forward messages to your normal email.
How to make a second Twitter account?
Go to your Twitter profile and click on your icon at the upper left corner of the screen. When you open the menu, you'll see the Add an existing account option. Sign in to your secondary account and switch between your Twitter profiles seamlessly.
Can you get suspended for having multiple Twitter accounts?
No, you can't get suspended for just having more than one profile since Twitter allows you to have up to 10 accounts. You will get suspended if you violate the platform's rules.
What to do if I get a Twitter account suspension?
Log in to your account first. Then follow the instructions if you see prompts that ask you to provide your phone number or verify your email address. If you can't unsuspend your account with these steps, file an appeal.
How long do Twitter bans last?
It depends on the type of suspension and the specific violations. On average, Twitter bans last up to 7 days. The shortest time is 12 hours for minor violations of Twitter policies. You may receive a permanent ban if you get involved in a serious violation of the platform's rules.
---
References: