Are you tired of fighting with bans on each account and platform?
Popular social media management software helps you with post scheduling, analytics, accounts and posts organization. However, they typically cannot help with social media platform limits. It means if a social network allows for only 5 accounts, you can manage only 5 accounts in any chosen tool.
We are here to share alternative solutions to keep you away from bans. Some of these methods will even protect you without losing the great usability of regular social apps.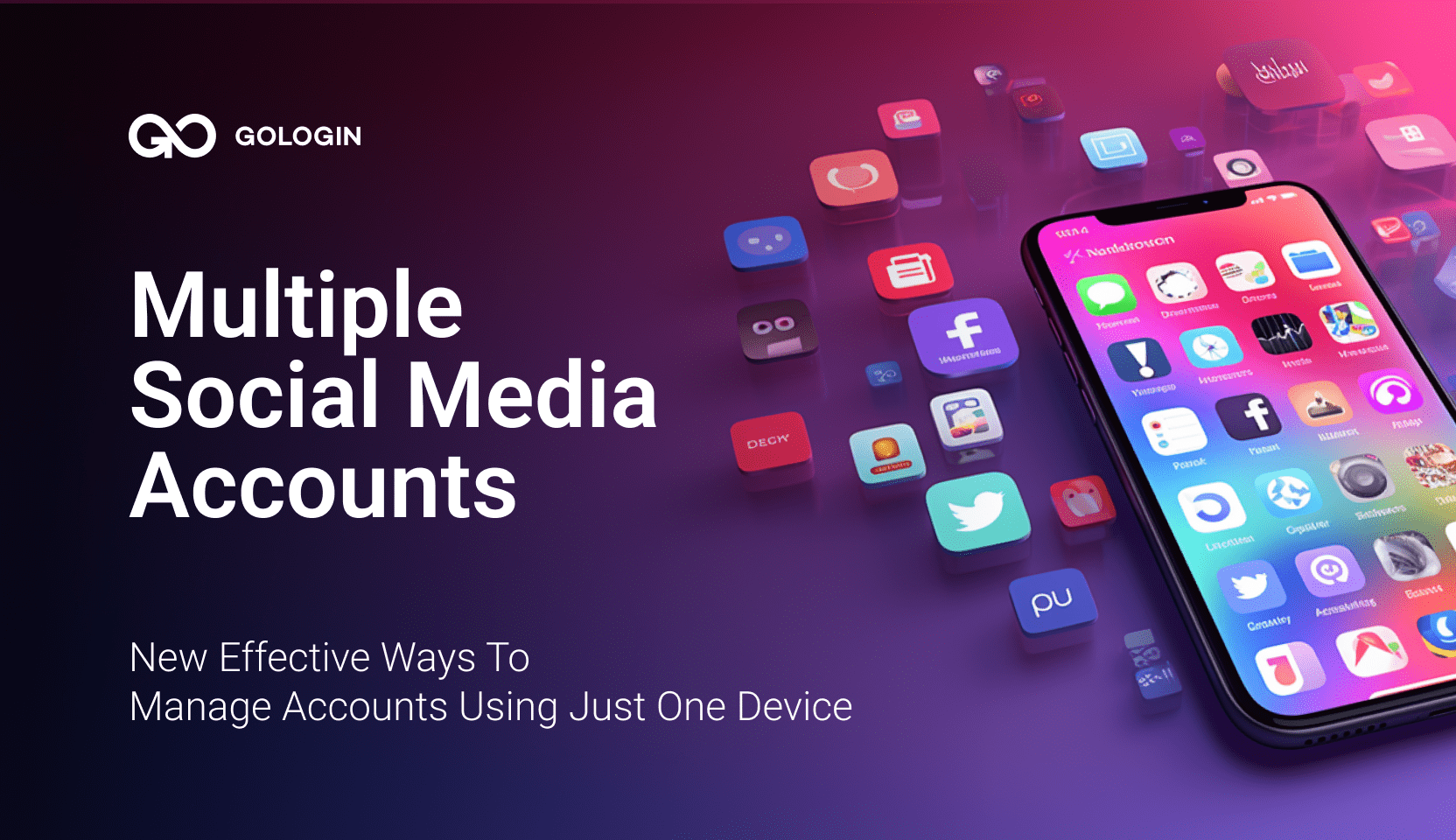 What Social Media Management Tools Fail At?
There is a use case for each account management tool. However, if you manage dozens or even hundreds of accounts, you likely face the following issues.
Social platform limits
If a social platform has a limit on the number of accounts, you cannot extend the limit with social media posting tools. You are still left with the hassle of logging in and out and occasional suspensions.
For example, here is what Buffer tells about limitations in their support article about multiple Instagram accounts:
It adds even more difficulty if you share the profiles with your team:
Adapting to regular social platforms' algorithms and policy updates
21.8% of 88 social media experts struggle with the ever-changing trends and algorithms of each social media platform. It is a top 2 out of 7 challenges.
Often such changes entail a threat to your multiple accounts. Common social media tools don't provide enough protection in this regard.
Account restrictions
Social media management platforms usually enforce restrictions associated with having multiple social media accounts.
Here is an example from MeetEdgar. Twitter suspended profiles for identical content and activities from multiple accounts. MeetEdgar has nothing to do but help users follow the rules even if it limits their opportunities.
Bans, blocks and suspensions
Using some SMM tools may result in account suspension. They may be treated as attempts to circumvent the rules. For example, automating engagement.
Source: Later
Limited number of platforms supported
For example, Hootsuite supports Facebook, Twitter, YouTube, Instagram, LinkedIn, TikTok, and Pinterest. If you want to handle accounts from other social platforms like Reddit or Google Ads, you'll either require alternative tools or manage the accounts individually through a web browser.
That is a necessity if you need to widen your target audience.
When Do You Need To Manage Multiple Social Media Accounts Safely?
It doesn't always make sense to change something in your social media management routine. But here are the main situations when you should think about protecting your accounts.
Your social media marketing accounts are crucial assets for your business or your clients.
You share your accounts with several people who frequently log in from different locations. Social media platforms typically consider such activity suspicious.
You use social platforms that:

allow only one user account per device
ban accounts accidentally. Social media use automated systems to control how their policies and Terms of use are followed.
suspend associated accounts if one of your accounts violates the platform's rules (or is banned accidentally).
Here's a quick rundown of the current rules and the actual situation when it comes to managing social media accounts on popular social media platforms. For more in-depth information, check out the linked blog posts that cover each platform's safety guidelines.
Social media
Multiple accounts rules
Platform bans

Facebook

Only one personal account is allowed.

Bans all accounts associated with your main account.

Facebook Ads

2 Business Manager accounts are allowed per Facebook user account.

Bans ad accounts if you frequently log in from another device and location.

TikTok

Allows up to 3 accounts. 

Shadowban for multiple accounts.

Instagram

Allows up to 5 accounts.

Bans all accounts associated with your main account.

LinkedIn

Only one personal account is allowed.

Bans all accounts associated with your main account.

Twitter

Allows up to 10 accounts not duplicating each other's content and engagement.





If you need more you will have to log in and out each time.

Bans multiple accounts with identical activity (interact with the same users, post the same tweets, etc.)

Allow to keep one account when others are suspended for this reason.

Reddit

Multiple accounts are officially allowed.

Redditors are frequently banned either by mistake or due to multiple reports from users with differing opinions.

Reddit suspends multiple accounts if one of the profiles violates the platform's rules.
Choose A Tool To Manage Multiple Social Media Accounts Safely
Check the working methods for managing social media accounts for clients or your own business securely.
Rotating IP With VPN or Proxy
Tracking your IP address is the basic way multiple social media accounts are identified by a social platform. People use VPNs and proxies to somehow protect their accounts because the tools work as an intermediary between you and a social media platform. It means they don't see your real location and IP.
But the thing is that social websites see more than just IP addresses. IP is only one characteristic of your digital identity (consisting of digital fingerprints).
Digital fingerprints are fingerprints you leave when browsing the web. They include your device model, operating system, installed plugins, fonts, canvas, platform, user-agent, WebRTC, etc.
You can check what your digital fingerprints are tracked by websites with the Cover Your Tracks tool.
Using Burner Phones
Employing multiple devices for your social media account game is the best way to manage multiple social media accounts if you need 100% privacy and up to 5 accounts. If you need more it turns out not really cost-effective compared to a multi-accounting browser that provides about 90% security and privacy.
The minimum price for a working mobile device is 50$ (we aren't even talking about laptops). 6 devices x $50 = $300. This solution will take a long time to make your marketing efforts financially viable. It is more than GoLogin's (multi-accounting browser) cheapest annual plan of $294 for 100 accounts.
Multi-accounting Browser
Multi-accounting Browser is a browser that allows you to have separate digital identities (see above) for each social media account. The tool generates a unique and not suspicious digital fingerprint for each browser profile. When you log in to multiple accounts, it appears as if different social media users are accessing the platform.
It means you can safely have as many accounts as you need while having almost no problems with suspensions. I said "almost" because one of your accounts can still be suspended for violating other platforms' rules. However, with a multi-accounting browser, the rest of the accounts will remain safe.
The multi-accounting browser looks like the Chrome browser you are used to. Several of these browsers (like GoLogin) have a minimalistic beginner-friendly interface for managing social media accounts for business.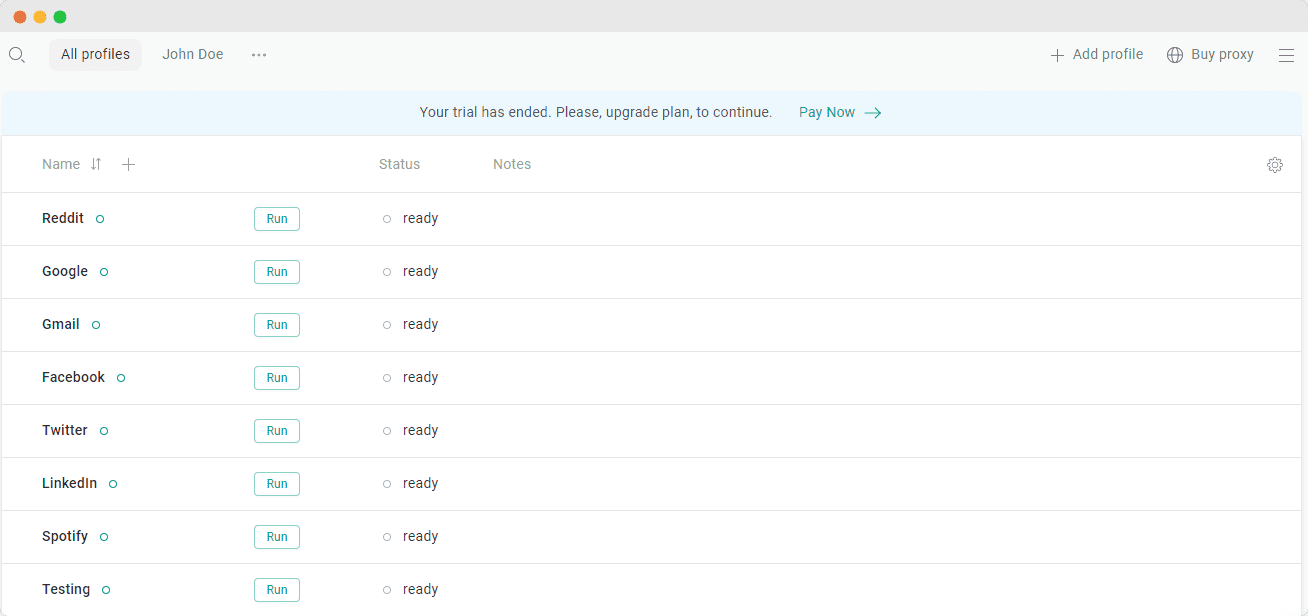 Besides safety, multi-accounting browsers have basic SMM tool features you can access for free if you need up to 3 profiles to manage. For example, you can safely share your social media profiles with someone else without sharing passwords. With a multi-accounting browser, you can even share a group of profiles at once.
If you don't need advanced SMM features, multi-accounting browser is far more cost-effective compared to the app to manage multiple social media accounts like Hootsuite or Sprout Social.
| | | |
| --- | --- | --- |
| | Hootsuite (social media management tool) | GoLogin (multi-accounting browser) |
| Users | 1 | 10 |
| Social media accounts | 10 | 100 |
| Pricing | $99/mo | $24/mo |
Check out the tutorial below that shows how to use a multi-accounting browser using the GoLogin example.
Using Popular SMM Software In Multi-accounting Browser
If you need some specific social media management features in your workflow, while having robust accounts security, you can:
Run browser profile via multi-accounting browser.
Log in to your SMM tool of choice.
Log in to one of your social media accounts via the tool. For the best safety, you need to keep your accounts from the same platform in separate browser profiles. It means that in one browser profile, you can have (for example) 1 Facebook account, 1 Twitter account, and 1 LinkedIn account.
The downside here is that it might be a little complicated ー you cannot apply the necessary features to multiple accounts from the same platform at once. For example, you need to open a separate browser profile to schedule posts for each account and you won't have a unified inbox.
How To Use A Multi-Accounting Browser
1. Download GoLogin and register an account. No credit card is required, just enter your email address and password.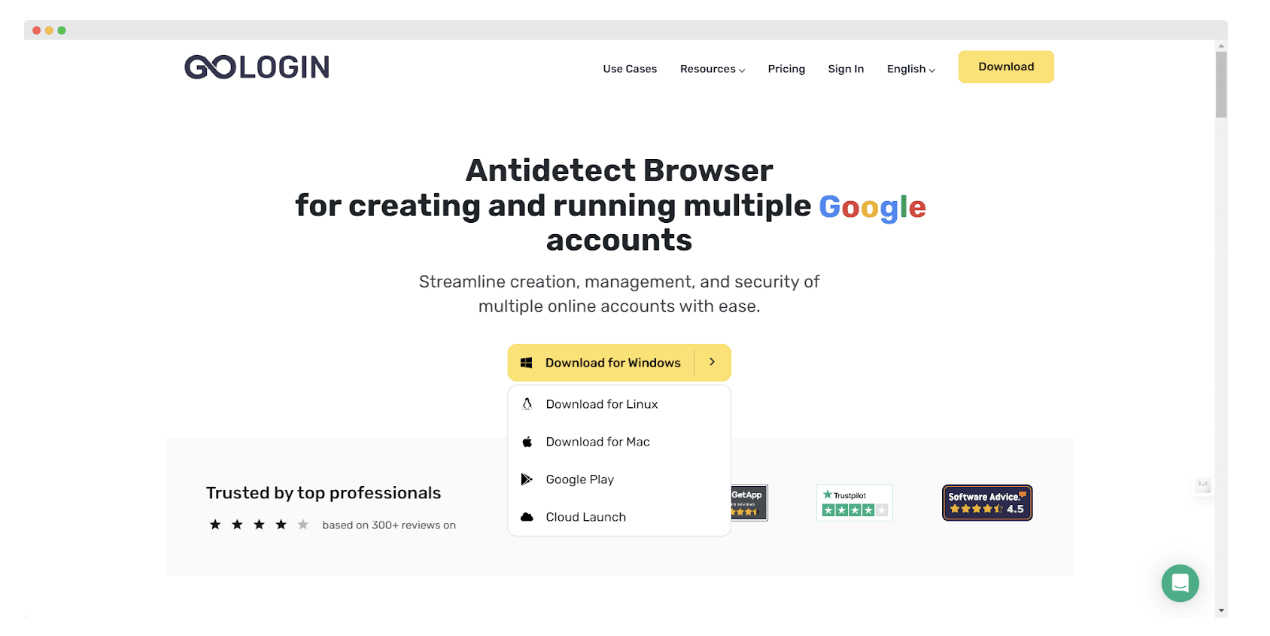 Upon registration, you will automatically receive a 7-day free trial. When it ends, you can either buy a subscription or switch to a forever-free plan with three profiles.
Next, let's go back to the main page (Table of Profiles) and configure multiple browser profiles.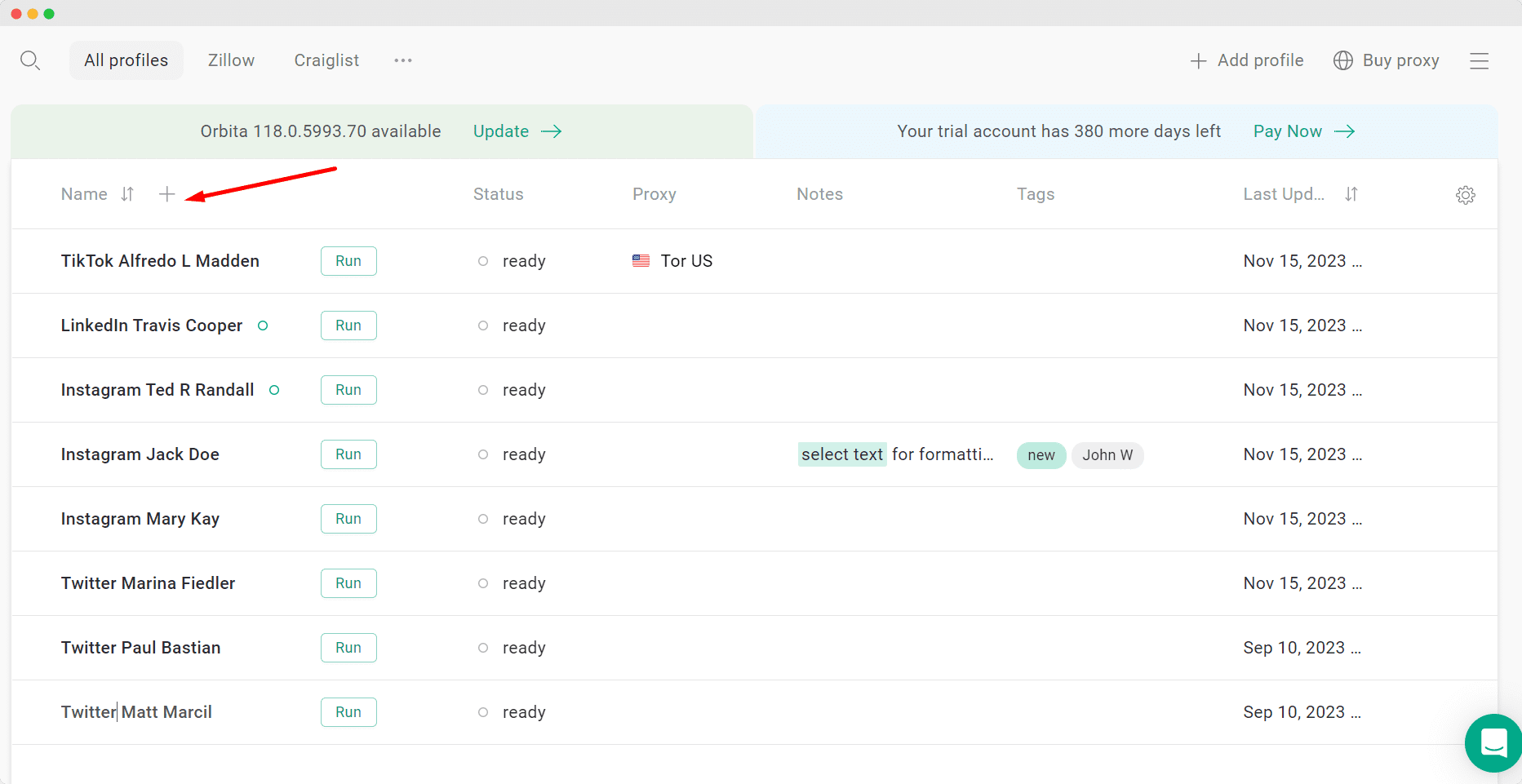 2. Assign a proxy for each account to keep them separate. Although a proxy alone doesn't fully protect your digital identity, is the key to ensuring your anonymity when using a multi-accounting browser.
Begin by selecting one of the free proxies from the drop-down menu. Ensure that you pick separate proxies for each browser profile.

Buying Reliable Proxies
Free proxies are a great place to start. However, they hamper performance in the long term and do not fit for heavy media use.
GoLogin app allows you to buy reliable proxies one by one.  There are three proxy types.
Residential proxy simulates a regular desktop computer. In terms of cost and safety, it's the most popular option. You can start from there.
Mobile proxy type is far harder to detect, as it gives a mobile IP, which is taken as more natural by websites. It is more expensive though.
Data center proxy is cheaper than the previous two types but less secure. You can use these proxies when your device already has a high trust level on Google. It means you have used the account for a long time and have a positive usage history (no spam or suspensions).

If you need multiple proxies at once, you can mass-paste the proxies from a third-party provider. Use our list of trusted proxy providers to choose: there are promo codes and deals inside!
Once you've bought proxies, copy them and click the Paste icon in the Proxy column. The proxy will be verified and added to your list automatically.

Pro Tip: the country selected in the profile settings should always match the proxy IP country. Our system automatically matches your Geo setting with the proxy IP by default.
Contact our support team through Live Chat on the website or right from the app for assistance if you have any questions about how GoLogin works.
3. After setting up all proxies, click Run to open a browser. Each profile provides an isolated browser session with distinct digital characteristics, enabling you to securely manage multiple accounts on any social media channels.
Sign in to one of your accounts on this or that platform. Your login information is saved, so you can save time not logging in again for future sessions.
4. Customize your GoLogin experience (especially relevant for 3+ Gmail profiles):
To change the profile name, click on it once.
Group your profiles into folders. Profiles and folders can be shared with your clients and colleagues.
Add or remove more fields from the Profile Table and swap them around.
To mass manage profiles, check the box to the left of a profile, then use the mass action panel at the top to share, edit, delete, or perform other tasks.
Add tags to filter your profiles.
Wrapping Up: What Method is For You
Social media management tools aren't the only answer to managing multiple social media accounts.
If you work with platforms with strict rules related to multiple social accounts, you should care about your accounts' safety. And SMM software is typically limited in its protecting features or does not have them at all. They aren't always cost-effective. For instance, you just need basic features for your profiles.
If you need at least some account safety and are just starting out, rotate IPs for each of your profiles. If you need extreme safety, buy multiple devices for each social media account.
In case you need something in the middle while not compromising on account management from one window, consider testing a multi-accounting browser like GoLogin. This will be a perfect tool for a good social media strategy.
Frequently Asked Questions On Managing Social Media Accounts
What Are Ways To Manage Multiple Social Media Accounts For Free?
GoLogin (multi-accounting browser)
Creating multiple Chrome profiles with using proxies
Later (allows to schedule content on social media)
How Do I Manage 100 Instagram Accounts?
Using a multi-accounting browser like GoLogin is the safest and most cost-effective way to manage hundreds and thousands of Instagram accounts. With this method, you have a separate digital fingerprint for each Instagram account that allows you to look as distinct users.
Is It Illegal To Have Multiple Social Media Accounts?
No, it isn't. Some social media platforms restrict the number of accounts a user can have from one device and IP. Though website rules don't equal laws. You have the right to protect and grow your business as long as it adheres to ethical and legal standards.
How To Manage Multiple Social Media Accounts For Business?
Adapt content to each platform's specifics.
Invest more time in 1-2 social media that are most effective for your business.
Continuously repurpose content that you have and leverage user-generated content.
Take care of your account safety with a multi-accounting browser.