In this part of our social media series we'll touch on advice and insights from a pro Facebook marketer. Read on if you find your Facebook Ad account disabled.
In 2022 Meta tightened their Ads rules. Based on Insider research, Facebook advertisers experienced more bans, longer reviews of up to 2 weeks, and problems accessing the appeal process. Even professional users with Ad budgets close to six figures reported they had difficulties in getting help from personal agents.
So don't worry – you're not alone. Facebook's Ads policies and Terms of Services can be complex and difficult to navigate, and sometimes automated systems make mistakes. And if you are a small Facebook business just starting out with Facebook Ads, it might be even more challenging to get proper support for your first disapproved ad.
Article insights (such as this one), independent consultants, and communities might be the only source of help.
Read on to know: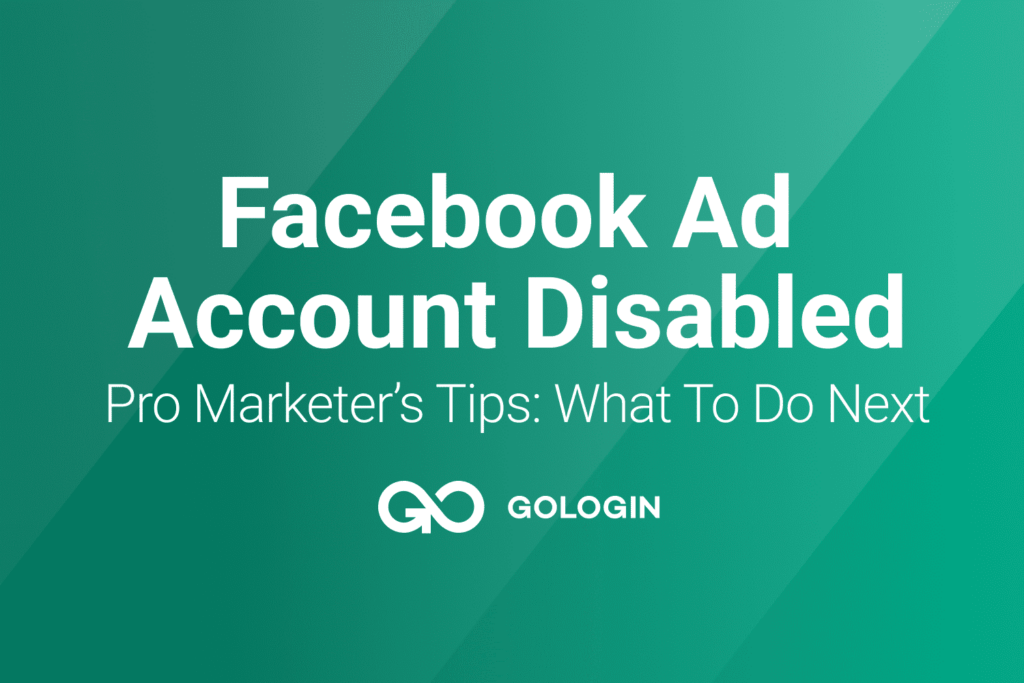 How to fix the Facebook Ad account disabled
1. If you are new to Facebook advertising, you can Request a review around 3 times in Account quality.
Head to Account quality → see the «What you can do» area → click Request review → complete the verification procedure → explain why you should be unbanned → wait about 48 hours for a decision → get the decision by email and follow explanations→ (if applicable) request a review again. There will be no impact on your current platform situation.
In addition, you can contact support via various help forms. It gives you the chance to know a bit more about the ban's reason than just general reasons such as «unusual activity» or «Circumventing systems». However, be ready to hear silence from them as their support inbox is probably too heavy all the time.
Check ways to contact Facebook support via forms here in the «How to unban your user account» section.
2. If you already spent thousands on Ads and have a positive reputation on the platform, first of all, chat with a Meta Support Pro. You will likely know the ban's reason, and get assistance faster. The number of reviews you can request will remain the same.
Here is how to locate the chat.
Head to Meta Business Help Center and scroll down.
Select an issue.
Click «Contact support».
And finally, here you are. Describe your problem and attach a screenshot of your Account quality and other relevant screenshots.
Ilya Uglyanitsa, User Acquisition Manager at ForYou, shares: «In case you are sure you violate no rules from Advertising policies or Community standards, mention it in your first message and proceed with convincing them until you get help. Otherwise, they will direct you back to reading policies. But, of course, be polite (!), explain the situation in detail, write in plain English, and attach screenshots».
Tip: the agent will be more helpful if you share your assumptions about why your Facebook Ad account is disabled.
If the review process takes longer than two days, open a new chat. Submitting multiple requests for the same issue might expedite resolution.
3. In rare cases, Meta will assign you a personal representative so you can reach them directly for help with Ads account-related issues.
At the moment, advertisers are not able to request a personal account manager. If additional account management resources are deemed necessary for your account, the Meta team will contact you directly.
What to do in case of a ban final decision
Your Ads account can be disabled forever if:
you do not resolve your case in 30 days.
you request a review and they reply that it is a final decision. Sadly, it can happen even to innocent users.
Again, try to understand the ban reason to avoid it in the future. Keep away from using your friends accounts from your device where the ban took place: your IP might be blacklisted (depending on ban reasons) which might affect the other ad account trust level. Read on to know how to address the IP matter.
Creating another Ads account inside a Business Manager likely leads to a new ban. We recommend removing the current BM and moving all your assets to a new BM. To ensure that the old and new BMs are not connected, remove yourself from the old one. Using the same credit card in a fresh account will also likely result in an Ad account ban.
You can create only 2 BMs per user account. If you already have 2 Business Managers you will need to open a new personal account to proceed with your Ads. However, it is risky to have multiple Facebook accounts on 1 device.
So for safety, you can create everything from scratch with a secure browser such as GoLogin.
Facebook remembers all the bans associated with your user profile. They track your IP and hardware. By creating a profile in GoLogin, you can safeguard your digital fingerprints and eliminate the risk of being banned due to a negative reputation. This will enable you to create a new account without concerns.
Scenarios that lead to Facebook Ad account disabled
Note: this list of scenarios isn't final. Mind the Advertising policies and be ready to face other ban reasons or system mistakes.
Let's examine the reasons for Ad account restrictions in more detail: here's a list of activities Facebook considers suspicious.
Log in from another device or location
Facebook treats such activity as online fraud. It may be the sole reason for your Ad account ban.
Here is the solution if you have regular business trips, traveling, or need to switch devices frequently. Use a safe browser (e.g. GoLogin) that will always have the same digital identifiers no matter the browser, device, IP, or location you are logging into your Ad account from.
Download GoLogin browser now and ensure your Facebook Ad account safety!
Launching Ads with a fresh account
When you create a new user account and move to Ads Manager right away, Facebook will consider it suspicious activity. Spend several days imitating the behavior of a typical Facebook user.
The same applies to the Ads account. You need to warm it up too. The big Ads budget in the new account looks suspicious. Start with spending $5 per day during the first few days, and then gradually increase the budget up to 50% weekly.
Note: you need to warm up each new Ads account. The rule does not apply only to the first Ad account.
Granting access to shady accounts
If someone on your team has any problems with Facebook or even restrictions ー you are at risk of having a Facebook Ad account disabled.
By utilizing secure browsers, you can eliminate the need for extensive due diligence work while ensuring your account's health and safety. For instance, GoLogin allows you to have several reliable Facebook accounts used for running Ads.
Your team members won't need personal accounts to access your Business Manager and Ads Manager. You won't need to provide your team with logs to manage these accounts: simply share GoLogin profile access with them, and they will continue your work sessions.
It is possible because in GoLogin you can create several browser profiles with distinct digital fingerprints such as IP address, device model, and browser type. Each time your team accesses a profile, they will have the same digital identity. It means there is no risk of a ban for this user account or Ads account.
Payment issues
Several late payments
Your card doesn't have sufficient funds to cover your bill. So make sure you top-up your card on time and have a prepaid card for further billing.
Adding debit cards used on banned accounts.
Adding a new debit card after launching an Ads campaign.
Using the same debit card on different Ads accounts. You need a unique card for each Ads account.
Securing against Ad account bans
We recommend NOT waiting for a ban and creating backup user accounts if:
Your business heavily relies on Facebook Ads.
You have a product or service that is at risk of being banned, e.g. underwear.
To make it possible and without a Facebook Ad account being disabled ー use a multi-accounting browser.
A multi-accounting browser is a browser that protects a user's online identity and activity by substituting the user's IP address, device model, browser type, and other identity-revealing digital fingerprints.
Multi-accounting browsers work just like regular ones, such as Chrome and Firefox. They enable users to create various browser profiles. Websites will perceive these profiles as distinct users with unique identifiers for each account. As a result, Facebook will view each profile as an individual user accessing the platform from a specific location and hardware.
Here is how the multi-accounting browser works:
1. Set up a separate browser profile for each Facebook user account. Just click the default Name to change it.
2. Each browser profile has its own unique identifiers, which can be adjusted in the Details section. Since identifiers don't overlap between profiles, your Facebook accounts won't be banned.
Important! We advise against manually adjusting browser settings unless you have a good understanding of the technical aspects. It is difficult to "blend in" on the web. All your profile details need to be unique and logically coherent with one another.
3. Click «Run» to open the browser and sign in to one of your existing TikTok accounts or create a new one. This is your new online ID.
Within each profile, you have the ability to create a personalized set of Chrome extensions, bookmarks, and more, which will be saved and accessible when you relaunch the profile.
Try out GoLogin for free with 3 browser profiles on the web or desktop app.
Disclaimer: Meta's advertising standards aren't related to public law and their automated systems often make mistakes. Using GoLogin to run several Facebook Ad accounts is not against US/EU laws. So, multi-accounting done right and in an ethical way is an absolutely viable option to ensure business page safety and avoid downtime.
Recap
Try not only to recover your account but also to understand the ban's reason. So you will learn what to avoid in the next Ads campaigns.
To get your account back: contact live chat or an assigned representative if available, if not ー request a review and contact the support team via Help Center forms.
Common scenarios when Facebook disables your Ad account: several Ads restrictions, a landing page content or domain reputation, unusual activity, and payment issues.
Use a safe multi-accounting browser to create a new account without a subsequent ban and set up backup accounts to avoid downtime in your sales.
Download GoLogin and avoid Facebook Ad account downtime!
FAQ
1. How do I get unbanned from Facebook ads?
If your Facebook ad account is banned, you can appeal the decision. Go to the "Account Quality" page while logged into the account associated with the ban. Expect the appeal to bring no success: it's the most common scenario as it's done by a robot.
Click on "Go to Account Quality" and then "Request Review." Fill out the form explaining why you believe the decision was incorrect. Facebook will review your request and respond accordingly. If that's unsuccessful, try reach out to the human support using our guide.
2. How do I fix a disabled Facebook ad account 2023?
If your Facebook ad account gets disabled in 2023, you can follow these steps to attempt recovery:
  Go to Facebook's "Account Quality" page.
  Click on "Go to Account Quality".
  Click on "Request Review".
  In the form that appears, provide a detailed explanation of your ad activity and why you believe the disabling was a mistake.
The process might take a few days as Facebook will review your request. Don't expect much as most accounts are disabled by automatic systems. Try reaching out for human support using methods described in the article.
3. Is there a chance to recover a disabled Facebook account?
Yes, there is a chance to recover a disabled Facebook account. You'll need to submit an appeal through Facebook's "Help Center". Provide as much information as possible to support your appeal. The outcome will depend on the reason for the disabling and the result of Facebook's review of your appeal.
4. How long does a Facebook ad account restriction last?
Yes. The duration of a Facebook ad account restriction, however, can vary. It depends on the severity of the policy violation. Some restrictions are temporary and may last just a few days or weeks. In more severe cases, you can get your account permanently down.
In case of a final decision it's faster to just create a new account. Our best advice on that would be avoiding restrictions with GoLogin: it's way easier to prevent a ban than dealing with its consequences.
---
Reference:
Read more on the topic:
How To Run Multiple Accounts On Facebook: Step-by-Step Guide
Banned From Facebook For No Reason? Here's How To Avoid It
Shadowbanned On TikTok? This New Tool Helps Avoid It