In this article we'll explain why people need a cookie editor and list some good ones that are worth considering. We will mainly cover Chrome extensions, but also touch on some mobile versions.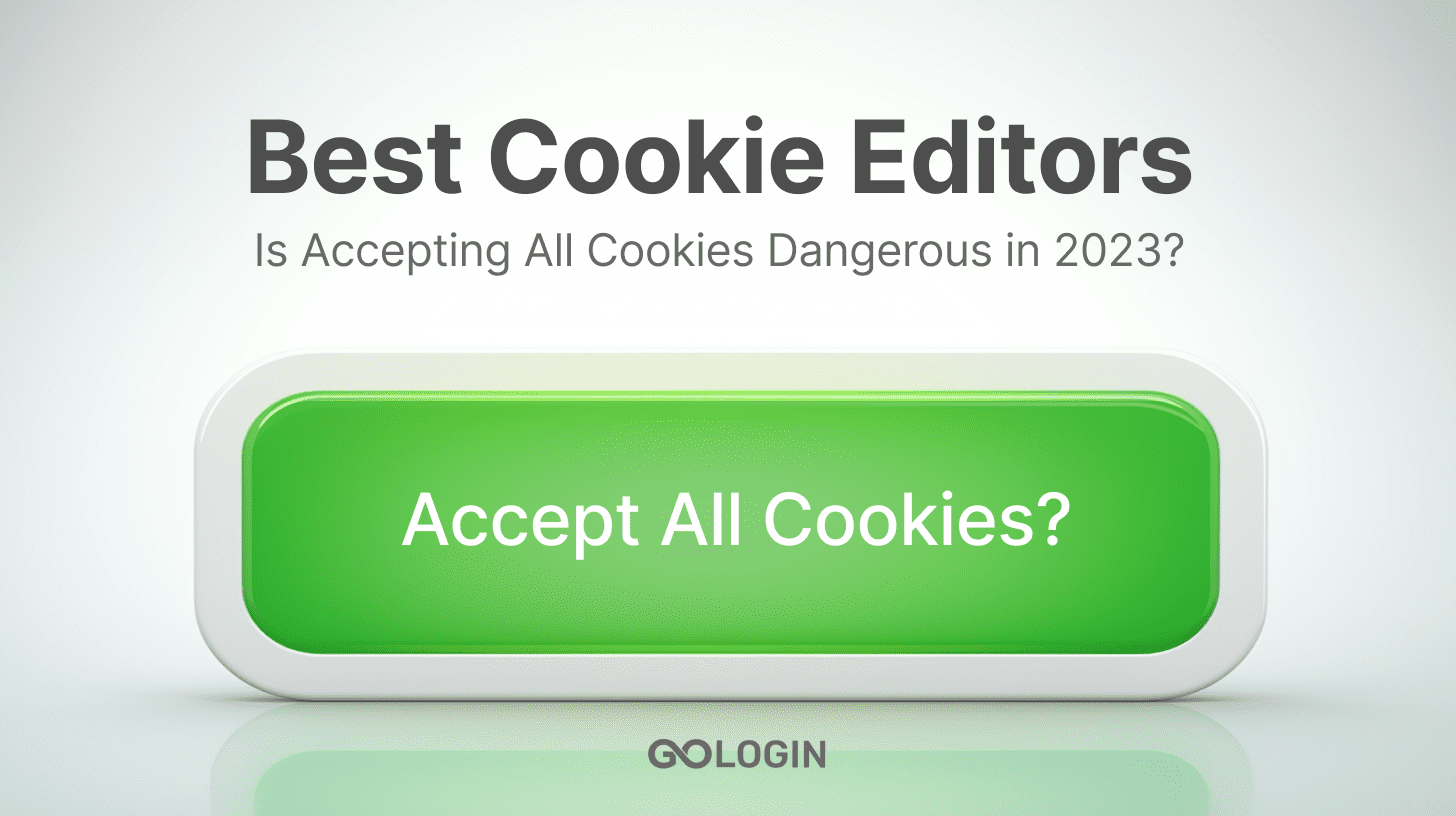 Cookie Editor Basics: Why Edit Cookies?
Cookies are small text files that websites store on your device to get information about what you do online. This massively enhances user experience. For example, you can continue watching the video from where you left. However, cookies also raise concerns about data privacy.
Most Internet users might need a cookie editor extension to regain control over their online privacy. Some editors serve for more specific goals like web development.
In general, cookie editor extensions enable users to manage and modify cookies generated by websites. This can serve several purposes, such as:
personal data privacy control
GDPR compliance
app developing, testing and debugging
learning and common awareness about what websites see about you.
The choice of the best tool depends heavily on your specific needs, so think about it first. The tool that fits developers will probably be hard to understand for a regular user.
Let's dive in the tool reviews!
We're starting with our personal favorite. This open source Cookie Editor is quite simple, fast and straightforward to use. It's available for all the browsers you might think of. Cristophe's Cookie Editor is also available as Android and iOS app.
This makes it a great swiss knife both for regular privacy use and testing or development. Note that no other extension will offer so many platforms and browsers. Christophe's Cookie Editor is well maintained and updated, which is also a serious choice factor for privacy-connected tools.
It is optimized to create, edit and delete cookies in three clicks maximum. There's mass delete button as well. This means its author has put some work into actually making it comfortable and effective for people. We have tested it, and indeed the interface is good and fast enough even with the advanced options.
This editor will work only for the page you are visiting: it won't deal with all your browser cookies at once. Import and export of cookies and advanced level options are also available, as well as a search bar on top.
If you're a curious web browser enthusiast or app testing professional, that is probably your choice – if you're not using it already.
This tool is provided by Hotcleaner.com – a company that's been present in this market for a long time. This is quite obvious when you visit their website (it's pretty old) or one of the apps they offer.
Hotcleaner also offers several privacy tools for Google Chrome, Edge and Firefox, as well as a webcam test and history eraser. All these apps are maintained, despite the website looking quite outdated.
Hotcleaner's cookie editor is unique because it opens a tab to control all cookies on your device. Most other editors manage only those from the tab you're on right now. There's a handy button to mass select all these cookies on your device and manage or delete them. This makes it a full-on cookie manager with powerful capabilities.
This cookie editor has an old, but simple to use interface. Everything is well organized. There's quick action buttons on top, including the most important one – the button to mass delete cookies from web pages. All the needed settings are there from the start for advanced management. For this reason it might be overwhelming for new users, especially if they don't know what they're looking at.
As a conclusion, Hotcleaner's app will be great for advanced and complete cookie management on your device, if you don't mind the outdated look.
If you don't know exactly what you need and simply search Google for the best cookie editor, this is the one you will probably end up with. EditThisCookie has the best rating and by far the biggest number of users on the Chrome Web Store.
It also claims it is the first cookie editor on Chrome Web Store ever. It's really been there for a while, which is a good sign to us.
We, however, noticed some problems with it, despite the best rating and number of users. EditThisCookie is open source, but it hasn't been updated since 2020, which should be a critical alert if you actually care about your privacy.
Looking for privacy software, always check its update frequency as neglected extensions may actually contain absolutely anything.
EditThisCookie has some clearly negative reviews about phishing and hacked personal accounts, which also strikes a light. Our best guess is that it's widely used for Roblox account stealing with a simple cookie swap scheme that's spread around TikTok (which is obvious from the reviews).
Some people blame the cookie extension for that, despite it being just a tool. At GoLogin, we do not encourage any malicious activities or personal data invasion.
Getting back to the features and comfort of use, Edit This Cookie is a good enough tool that has all the standard cookie operations. It just works: you can easily create, edit and delete cookies. Apart from a simple and intuitive interface with a good set of options, it's able to make cookies read-only and it's quite well organized overall.
So, there's a reason for it to be that popular – it does the job.
4. SwapMyCookies – the next level cookie editor that ceased to work
A very curious cookie editor extension that's supposed to switch browser cookie profiles to run multiple user accounts. Unfortunately, it does not work. If you install and try using it, it will just delete all your cookies: better have your passwords and 2FA methods ready.
For some reason, SwapMyCookies still has a "Featured" badge on the Web Store. Always check with the reviews before downloading and installing apps and extensions!
Running multiple accounts without privacy software is getting harder, and the main reason to it is browser fingerprinting. This is an advanced tracking technology that, we believe, will replace cookies in the next several years.
Interested in running multiple social media accounts from one computer? Read on to see the working way in the end.
Swoosh Editor is designed by developers and for developers, this open source tool is not just a cookie editor – it unites Local Storage, Session Storage and Cookie in one place. There's not only create, edit and delete: Swoosh Specialist has powerful features for advanced developing and testing web pages, combined with modern intuitive UI.
Users also praise it for being able to edit big JSON tables (there's a dedicated Playground for advanced Local Storage edits) and advanced options to handle bug reports and manually manage cookies.
Swoosh will be a total overkill for people that just need their cookies managed, but it's a great tool for devs and testers. It also has a Featured badge by Chrome Web Store. We find it ideal for developing and testing web apps. The amount of reviews is criminally low for a tool that's been around for a considerable time.
With all the irony of it, when you look for "cookie editor" or "cookie" in Chrome Web Store, one of the top results is an automatic cookie accept tool. It will simply auto-accept all cookies when you visit a website.
This proves our point about personal data safety: people don't care about their data privacy until their accounts are hacked. This is just how human psychology works, and there's little to be done with it.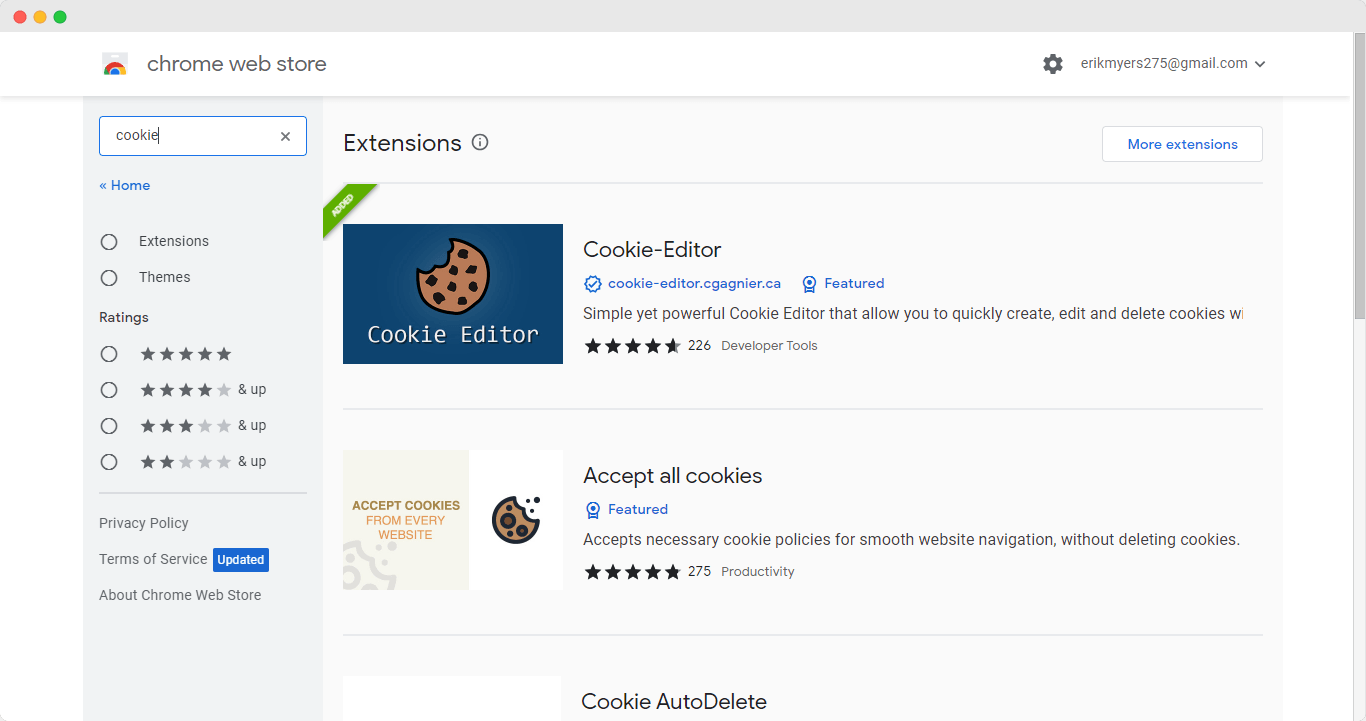 Cookie accepter also has better rating than all editors: it's the only tool with full 5 stars out there.
We understand people just want to surf the web with no stumbles. For the majority of Internet users, accepting cookies is just another weird computer thing that wastes precious time.
Here's a pro safety tip from GoLogin: if you care about your online safety, don't just share your personal data with automatic cookie accept. Being careless with your data online can be extremely dangerous and lead to personal data loss and your accounts getting hacked with no chance to get them back.
Be responsible about what you share online and protect your valuable information. We'll give you some tips on that.
Pro Tip on Personal Data Privacy
If you run an online business, operate sensitive information or simply manage your finances via a bank website, we strongly recommend you to take care of your personal privacy. Take steps to protect your online presence with a trusted privacy browser like GoLogin.
GoLogin's data safety engine is able to protect your personal data even from the most advanced commercial web trackers – even those implemented by Facebook or Google. If you plan to use it for multiple accounts, it has advanced options for quickly importing and editing cookies.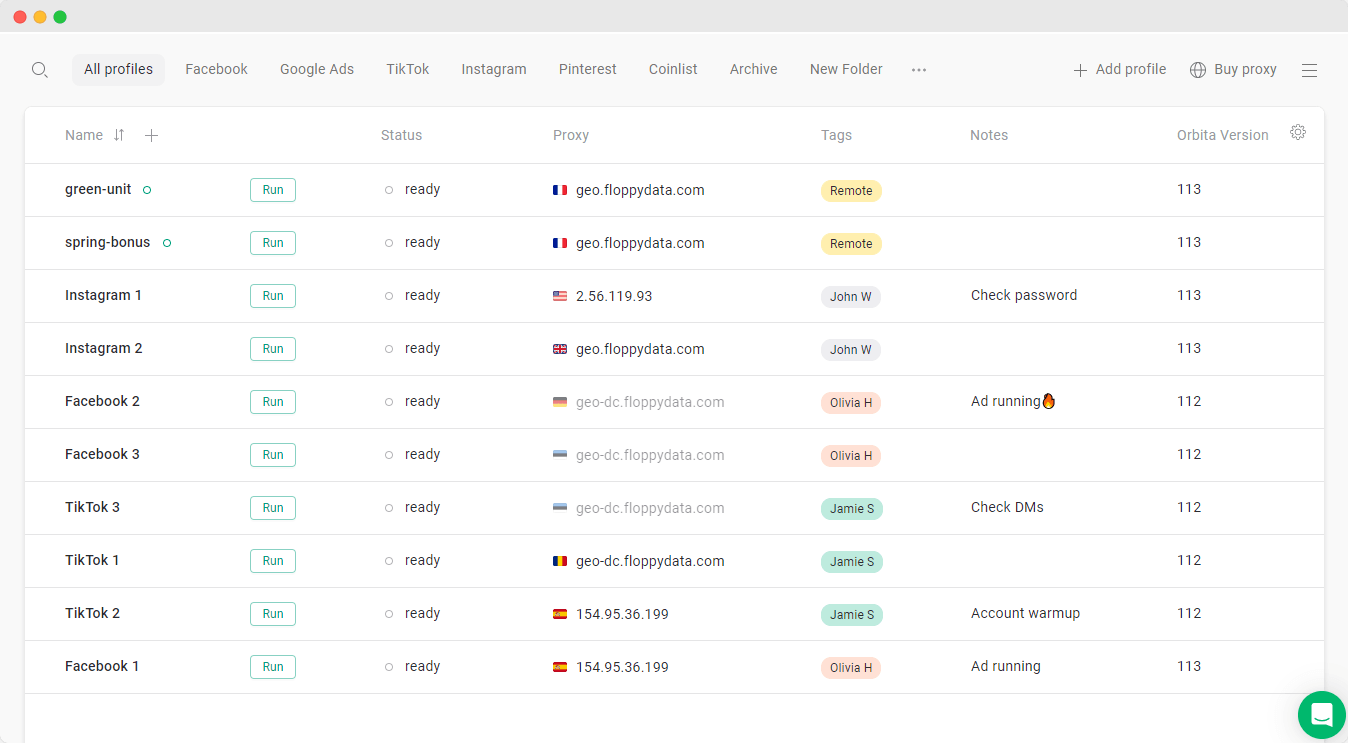 Main screen of GoLogin browser that's set up to run multiple social media accounts from one device. Notice the profiles are named after multiple social media platforms.
Want to see what data websites see about you online right now? Use your regular browser and visit this IP checker service. If you try visiting this page using GoLogin, it will share nothing of your data, providing total anonymity.
---
References:
Cahn A. et al. An empirical study of web cookies //Proceedings of the 25th international conference on world wide web. – 2016. – С. 891-901. Source
A. Barth. RFC 6265: HTTP State Management System, April 2011. Source
The Cookie Collective. How We Classify Cookies, 2013. http://cookiepedia.co.uk/classify-cookies.
Italo Dacosta, Saurabh Chakradeo, Mustaque Ahamad, and Patrick Traynor. One-time Cookies: Preventing Session Hijacking Attacks with Stateless Authentication Tokens. ACM Transactions on Internet Technology, 12(1):1:1–1:24, July 2012. Source
Steven Englehardt, Dillon Reisman, Christian Eubank, Peter Zimmerman, Jonathan Mayer, Arvind Narayanan, and Edward W Felten. Cookies that give you away: The surveillance implications of web tracking. In Proceedings of the 24th International Conference on World Wide Web, pages 289–299. International World Wide Web Conferences Steering Committee, 2015. Source
JISC Legal Information. EU Cookie Directive – Directive 2009/136/EC, April 2010.
J. Mayer and J. Mitchell. Third-Party Web Tracking: Policy and Technology. In In Proceedings of the IEEE Symposium on Security and Privacy, San Francisco, CA, May 2012. Source
Mozilla. Betterprivacy, May 2014.
Andrew F. Tappenden and James Miller. Cookies: A Deployment Study and the Testing Implications. ACM Transactions on the Web, 3(3):9:1–9:49, July 2009. Source
Chuan Yue, Mengjun Xie, and Haining Wang. An Automatic HTTP Cookie Management System. Computer Networks, 54(13):2182–2198, September 2010. Source