With Our Secure Browser You Can:
Make money in Affiliate & Crowd Marketing
Safely manage multiple social media / ad accounts
Create and manage multiple trading accounts for dropshipping/ecommerce on Amazon, Ebay, Shopify, Etsy, Alibaba
Perform Web Scraping on even the most protected platforms like Cloudflare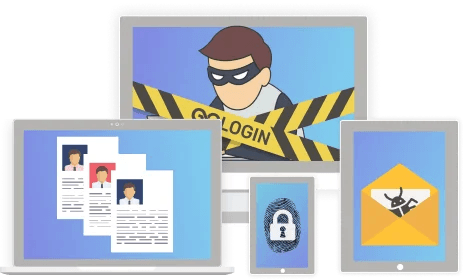 What Is The Most Secure Browser?
Let's face it: on the Internet, your every step is tracked. Corporations collect your data and actions on social media to sell it to anyone interested. This brings big players like Meta, Google and Amazon hundreds of billions a year on ads alone.
Governments and hackers collect your data as well. Along with your IP and cookies, there's a ton of other information you leave behind – your digital fingerprint. It can't be easily managed with, as modern websites are well-protected against anonymity – but it is possible, and there are tools to do that.
So, what is the most secure web browser? It needs to manage your fingerprint to protect your personal data from tracking and keep you completely anonymous. A good secure web browser can stand against even the most sophisticated trackers like Facebook and Google.
Secure web browsing is possible only with true anonymity.
Surfing Anonymously with Secure Web Browser
The best secure web browser allows you to use all the perks of your regular browser – plus protecting your identity and information. Even the most advanced websites won't have access to your data. You can configure different profiles and run each one separately – they won't overlap.
So, this isn't merely a safe browser. Websites see it like regular Chrome: this makes it stand out from other privacy tools. Even using the famous Tor browser, you will be identified as a Tor user – only bringing extra attention to whatever you're doing. To avoid that, we developed the best secure web browser – GoLogin.
Affiliate Marketing
A large number of profiles makes affiliate marketing more profitable and effective at any level.  Farming and multi-accounting has never been so easy – yet it can be done only in a secure web browser. You can work with a team: share account data, proxies and delegate tasks to assistants without the risk of data leakage.
Crowd Marketing
Forums and blogs are especially strict about suspicious user activity. Your IP can get on a blacklist, banning you on the entire network instead of one forum. It's good to protect your profiles by separating them in a safe browser – so they do not overlap with each other in any way.
Social Media Marketing (SMM)
GoLogin allows you to enhance SMM agency work by creating and managing an unlimited number of profiles in the cloud at the same time. It can be done in a high security web browser. Each team member gets their own access rights. Employees do not need NDAs, since they don't receive customer account data. Unique digital fingerprints saves you from verifications and bans after using different devices.
E-commerce
For safe work on e-commerce platforms work with several separate accounts.This will allow you to create multiple trading accounts and avoid losing sales on Amazon, Ebay, Alibaba or Shopify. Sell ​​and make money with GoLogin!
Dropshipping
One store is good, but two are better! After all, this way you can double your income. And our best secure browser will help make sure that both stores will not be banned. Use the deepest digital fingerprint settings to insure your stores against the banhammer of ecommerce platforms. Don't lose your sales!
Gambling & Betting
Bookmakers do not allow you to earn and block your accounts? Create a different Internet identity and they won't understand that this is the same person. Nobody has the right to take your fork! You can earn as much as it is not profitable for the platforms.
Web Scraping
Save physical and virtual resources when using different browser profiles.With the best anonymous browser GoLogin you will get management tools and development algorithms. Yes, you can use virtual machines for this – but it is inconvenient and expensive. Thanks to GoLogin, you can automate data collection, so don't afraid of being blacklisted.
Developers Self-Check
Secure web browser GoLogin allows you to check your site. Gather information about traffic and the work of web filters. It's a unique opportunity to run Selenium tests in live environment. Rate your site through the eyes of its visitors.
Other Platforms
Wherever you need to be fully anonymous and have more than 1 account, secure browser GoLogin will help you: online games, polling services, advertisements websites, etc. Surf the web anonymously!
What is Orbita Browser?
To ensure anonymous surfing with GoLogin, we needed the most secure browser. Tor, Chrome, Firefox and of course Microsoft Edge did not fit for these purposes for various reasons. We made the only right decision to create our own soft. This is how the Orbita appeared.
Orbita is a suitable browser for Tor Network. It protects your anonymity and allows you to surf the web anonymously. The interface is specially made as familiar as Chrome. We chose Chrome because it is the most popular and is used by most users. But we changed its stuffing so that sites will not be able to track your identity.