Let's face the facts: managing multiple accounts with tools like AdsPower browser, GoLogin or any other tool for multiple accounts is becoming critical for managing online presence for a business. At GoLogin, we believe the need for safe multi accounting browsers will grow fast.
In this Honest Comparison, we will give an AdsPower review as it is one of the top contenders in this space. This Chinese-origin browser has gained popularity for innovative automation features and very flexible pricing.
But is AdsPower worth investing the money for work in 2023? Let's take a closer look and compare it to GoLogin!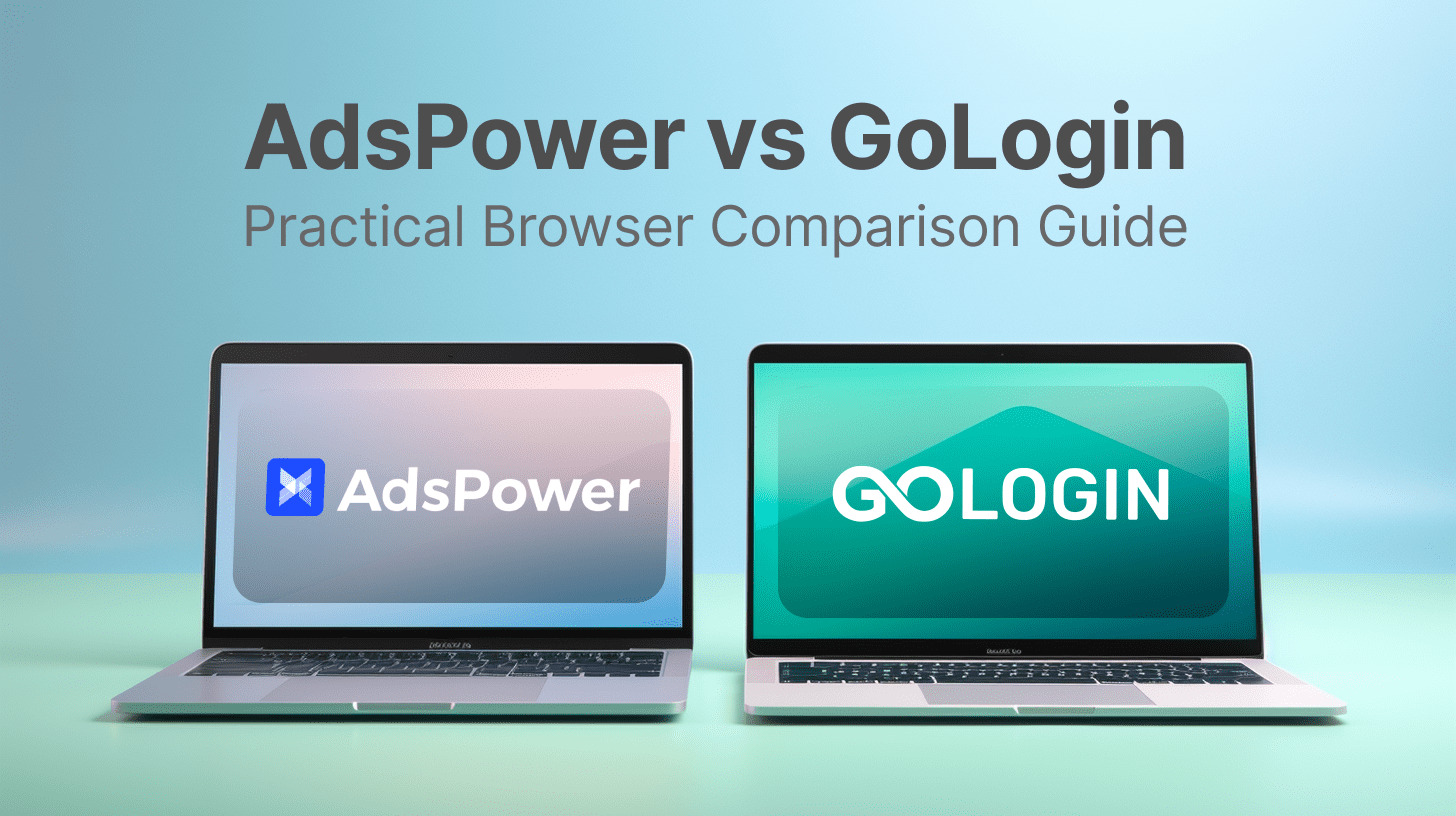 AdsPower Browser Features
The strongest feature of AdsPower browser is its no-code RPA, or Robotic Process Automation. Simply said, it's able to record your actions (clicks, scrolls, typing, etc) and then repeat these to speed up the routines of social media. AdsPower claims you don't need code skills to use it.
No-code automation is a killer feature for account farmers, crypto enthusiasts and basically anyone who wants to save their precious time on repeated social media actions. However, we need to mention that automation itself is not a unique or new feature. At this moment most of AdsPower API alternatives offer some sort of automation. AdsPower's no-code thing made it stand out a couple years ago, but in the end it's not much easier to deal with than Adspower Selenium or Puppeteer that require actual code skills.
See also: 8 Best Antidetect Browsers of 2023: How to Choose One
Another standout thing to try and download AdsPower browser that caught our attention is the support of iOS mobile device digital fingerprints. This can be a key thing for people working with mobile ad platforms like Tiktok or Pinterest. Some ad engines still treat iPhone operating system users differently than others, and that may be a serious factor for some marketers.
One last moment we could not skip about AdsPower is the browser core version mechanism. When you want to launch an older version of Chrome (for example, Chrome 110), it makes Adspower download these for later use. No matter how effective this system is, the very fact that the mechanism of Adspower download for PC is not automatic and needs to be watched reminded us of the good old 2000's again.
AdsPower Browser Comfort of Use
Let's be honest: the interface and overall comfort of use might be AdsPower browser's weakest side. Even for those familiar with managing multiple accounts in privacy browsers or other project management software, AdsPower is quite overloaded and feels extremely outdated. It's not easy to learn how to use AdsPower.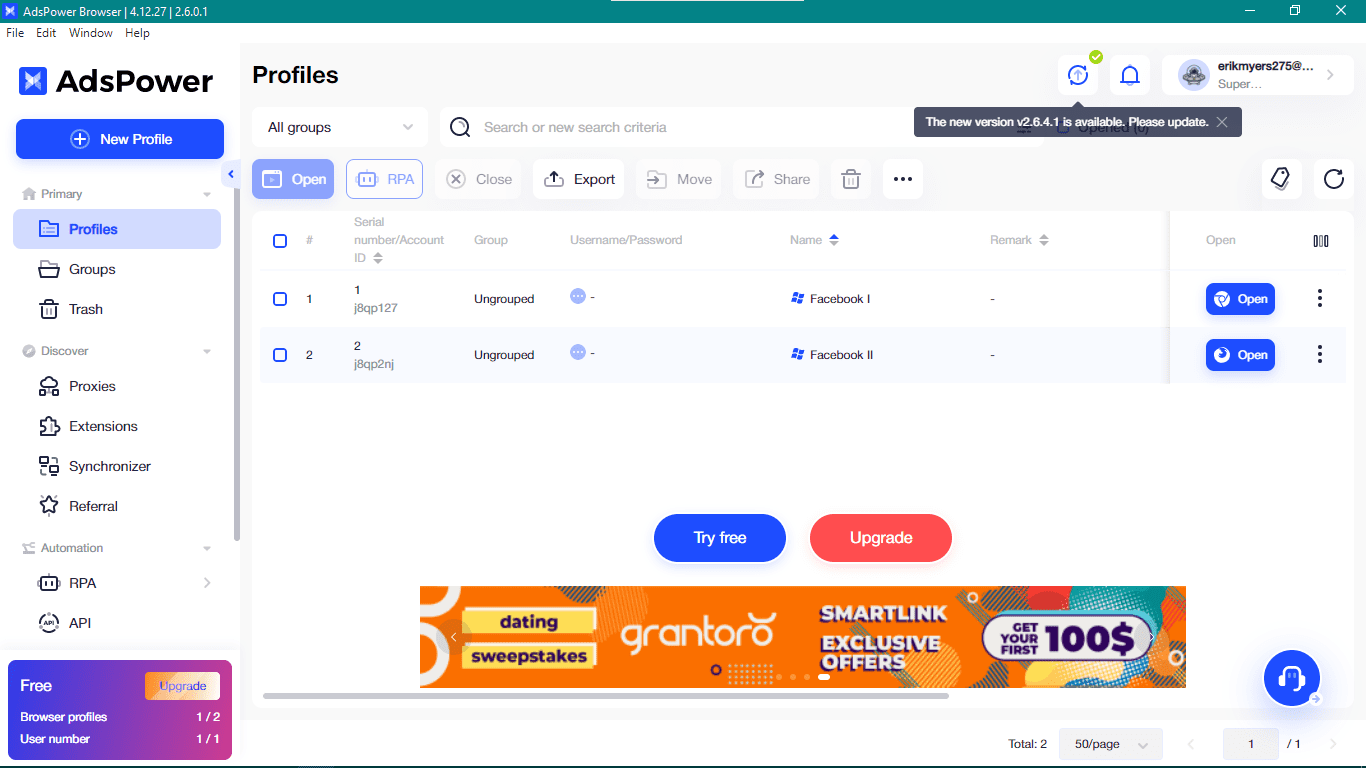 You'll have to cope with a giant ad banner in the forever-free version.
This makes Ads Power browser a tool for more experienced players. You need to be quite tech savvy to understand what is AdsPower strong side. It's quite hard for a total newbie to grasp what's going on here, nevermind working on multiple projects. Competitors have complicated options as well, but Adspower login drops them all out on the user straight away on the main screen. This can be a bit overwhelming for a non-techy person.
The simplest actions like creating a profile or adding/switching a proxy take multiple clicks and blocking pop-up windows. AdsPower's proxy integration UI is quite time blocking, which is very far from 2023 standards. We, however, know that some people – especially crypto enthusiasts – actually prefer AdsPower vs Multilogin or anti detect browser to others because of the "pro level" interface and sophisticated manual settings. We'll leave this controversy for you to decide.
AdsPower Browser Updates Frequency
The current Chromium browser version available for download AdsPower is 112, but it's been around for a few months. If this raises no questions, here's a simple explanation: privacy browsers like AdsPower and GoLogin need to update as frequently as possible. They need to always catch up with official Chromium versions, and here's why.
Ignoring this rule will result in websites detecting users as working through browser fingerprinting software. Updates are a critical part of how the user data stays safe. So, looking for a good privacy browser for work, here's a simple rule: look at how often it updates.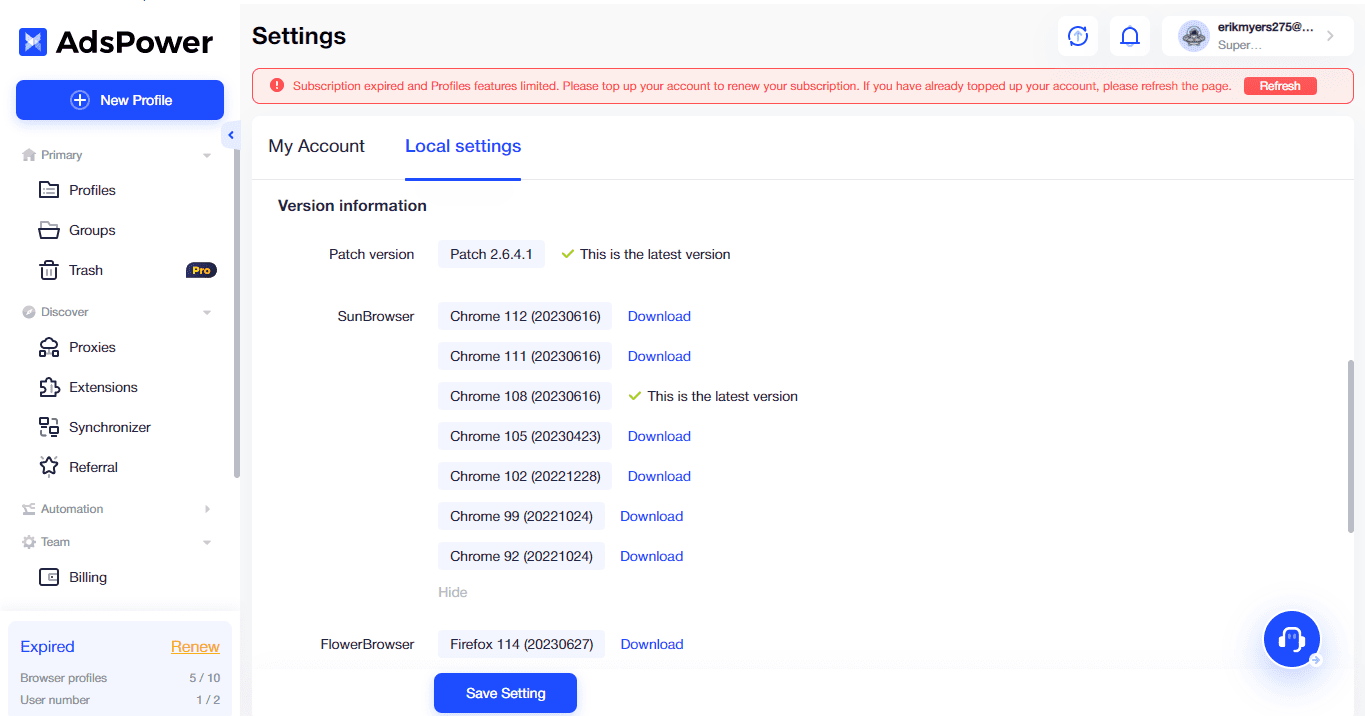 Browser core versions do not auto-match in Ads Power: the user will have to download each of these.
AdsPower Browser Support Quality
When it comes to customer support, Ads Power has established a reputation for responsiveness and effectiveness. The multi-language support and interface language translations may not be perfect, as AdsPower is Chinese-origin. Still, users claim the customer service to be relatively good, helpful and responsive.
We have found only Windows and Mac versions, there's no Adspower Linux support.
AdsPower Price
AdsPower follows a standard subscription model, offering a forever-free plan and a free trial of paid features. AdsPower browser download will be a cheaper choice for individuals or small businesses, with very flexible options on the Base plan.
However, AdsPower turns to a far more expensive side for a mid-sized or enterprise project team. For example, the Pro plan with 300 profiles and 10 team seats will cost $184 a month, with only a 20% discount for yearly payment – twice more expensive than GoLogin's Business plan with the same options.
Let's move on and take a brief look at GoLogin, and then make a short recap in the end.
Compared to other multiple accounts browsers on the market, GoLogin can be compared to a swiss knife. It simply works, whatever you do. It works well for any type of social account work. It works well for individuals or businesses of any size.
Let's take a quick tour of what GoLogin vs AdsPower offers.
GoLogin Features and Comfort of Use
GoLogin's strong feature is a smooth and intuitive user experience. Its well-designed, clear minimalist interface allows for managing multiple profiles with ease. Lots of things can be done with just one click to save time – for example, new profile creation or mass proxy import.
GoLogin has all the needed functionality for advanced multiple accounts management. However, a new user won't be likely to mess the settings up by accident. Most of the critical settings are automatic, meaning that non-technical users are able to freely use it as well.
The ability to customize user agents and geo-locations from a centralized dashboard further enhances the overall user experience, providing greater flexibility and control. GoLogin is often used as a professional marketing agency database: it allows to easily organize work flow for a big team that values project planning.
All in all, it's a good project management tool: you can delegate tasks and project schedules to team members with no extra hassle.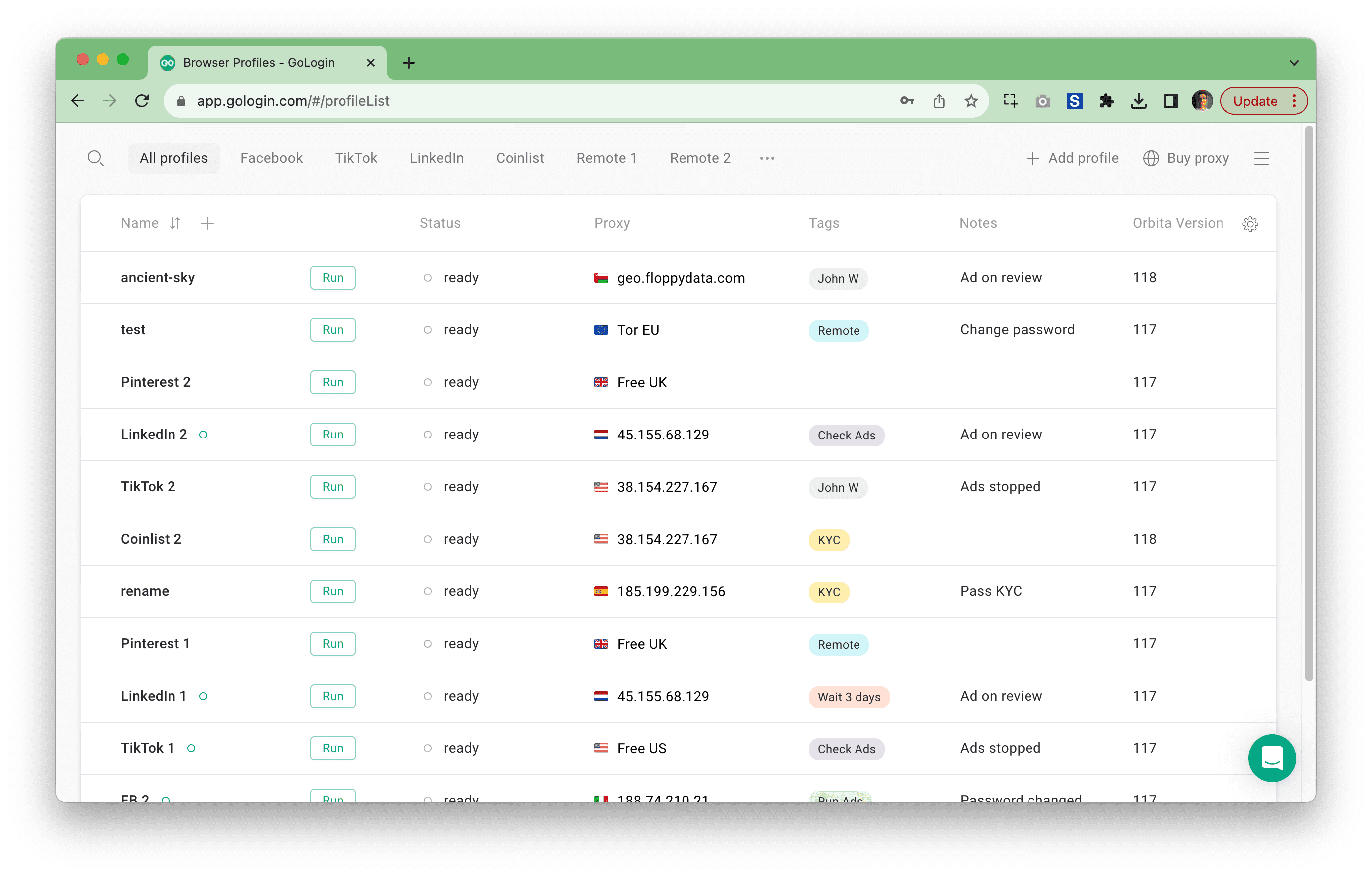 Download GoLogin now and try it out yourself – with 7-day trial of paid features!
GoLogin Support Quality
GoLogin prioritizes top-notch customer support. There is a responsive customer support team that promptly addresses user queries and ensures a smooth experience for its users. GoLogin team often collects feedback from the users and considers their experience for the future updates and new features.
GoLogin Updates Frequency
GoLogin team updates the app very frequently, doing everything necessary to keep the user data safe and avoid account detections. The updates install automatically, with no extra actions needed from the user. Clients praise the app for being stable 24/7 with no crashes or other problems, and often name this factor as the reason for switching to GoLogin from alternatives.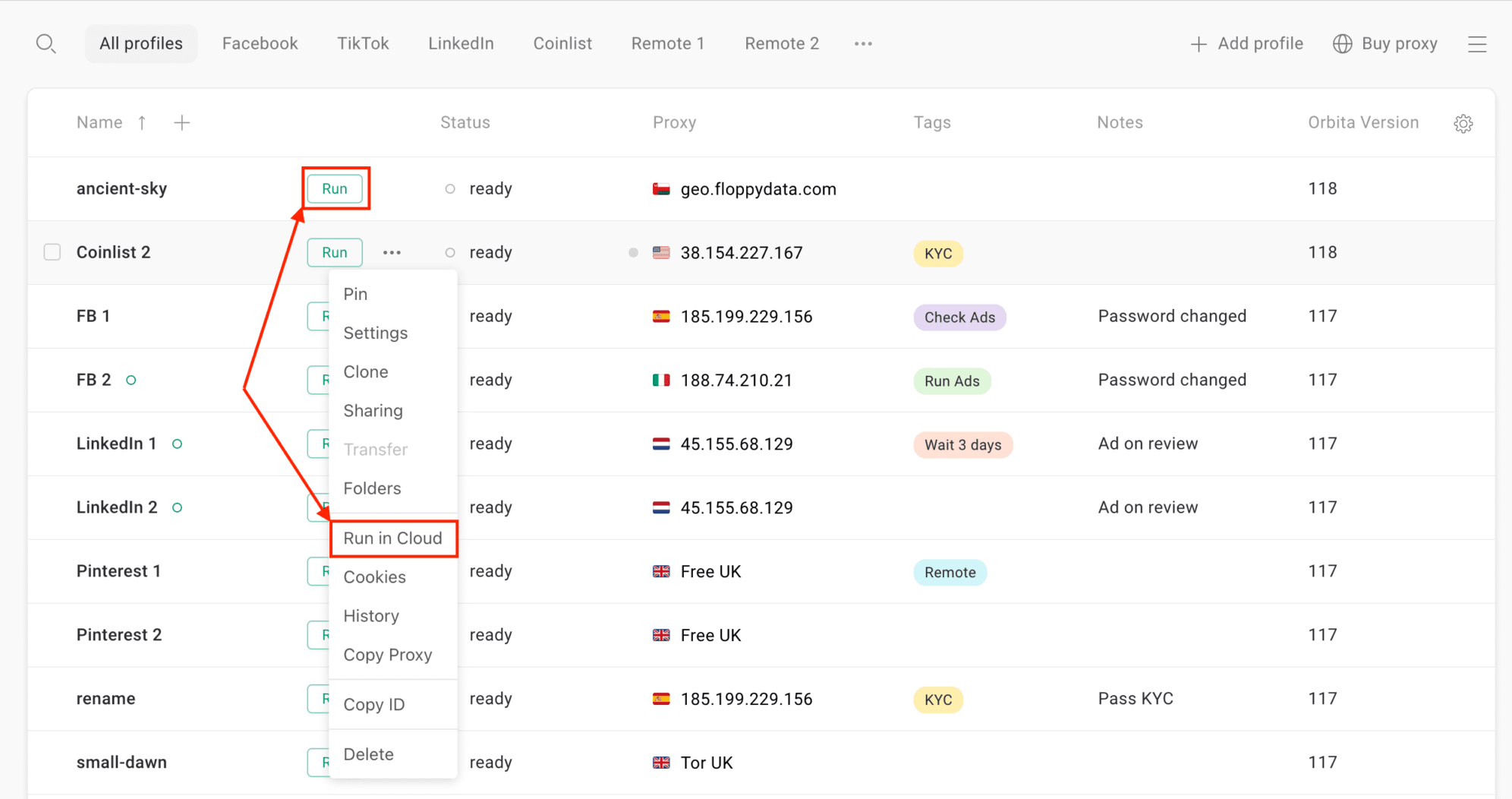 GoLogin Pricing
GoLogin follows a standard subscription model, offering a forever-free plan and a free trial of paid features. Compared to AdsPower, the first paid plan (Professional) seems to be a more expensive option. However, it pays off well with a 50% discount for yearly subscription.
GoLogin gets to be even more cost-effective when it comes to teams or bigger scale work. For example, GoLogin's Enterprise plan with 1000 profiles and 20 team seats will cost $199 (monthly payment), compared to a whopping $392/month for the same options with AdsPower global browser. Again, that's twice cheaper.
The difference is even bigger if you use GoLogin's 50% discount for a yearly subscription – AdsPower gives only a 20% discount.
AdsPower vs GoLogin: Recap
Good business people count their money, evaluate risks and double check what they invest in. Comparing simpler things like shoes is more a matter of taste. It's way different when you consider work tools for business: a whole lot needs to be evaluated.
That's exactly what we advise you to do. Here's a brief plan for you how to choose a browser that fits your needs:
Think of your needs and goals:

How many browser profiles do you need to run?
Will you need to share these profiles with anyone?
Will you need to share account access with your partners?

Evaluate how much you're ready to spend on this work tool.
Study the review platforms, forums and communities for tool reputation.
Test several browsers: apply for free trials and see what works best for you.
For a conclusion, we made a short recap chart for you to make a fair comparison.
| | | |
| --- | --- | --- |
| Comparison Criterium | AdsPower | GoLogin |
| Reliability | ✅ | ✅ |
| Features set | ✅ | ✅ |
| Comfort of use | ❌ | ✅ |
| Beginner-friendly | ❌ | ✅ |
| Support quality | ✅ | ✅ |
| Quick profile creation | ❌ | ✅ |
| Country of origin | 🇨🇳 | 🇺🇸 |
| Frequent updates | ❌ | ✅ |
| Free plan / Free trial | ✅ | ✅ |
| Free in-app proxies | ❌ | ✅ |
| iOS fingerprint | ✅ | ❌ |
| Mobile app | ❌ | ✅ |
| No-code automation | ✅ | ❌ |
GoLogin as AdsPower Alternative
GoLogin browser has several advantages over the AdsPower browser. First, GoLogin has a more user-friendly interface that makes it easier to navigate and manage your profile. It also offers a higher level of security with advanced features such as fingerprint protection to prevent snooping.
GoLogin is also known for its high speed and performance, allowing for a much more efficient online experience. In addition, the company offers a wider selection of proxy providers, giving users more flexibility and control over their online presence.
Finally, GoLogin provides excellent customer support, which allows for quick resolution of problems and issues that arise.
Download GoLogin and see all the difference yourself with a 7-day trial!
FAQ
Can I download Adspower Android?
No. GoLogin browser is the only one offering Android app.
Is there an Adspower crack for free use?
We don't think so. We also recommend to keep away from using cracked apps you can meet online. They often contain malware and are able to collect your data.
Is there an Adspower coupon for discount?
We have not seen any promo codes, but you can certainly search the internet or ask the support team if there are any promo events coming.
Is Adspower register account free?
Yes, you can create an Adspower account and use it on a free plan with certain limitations.