Here's a visual rundown of 6 things we improved lately for your safe and productive browsing experience in GoLogin.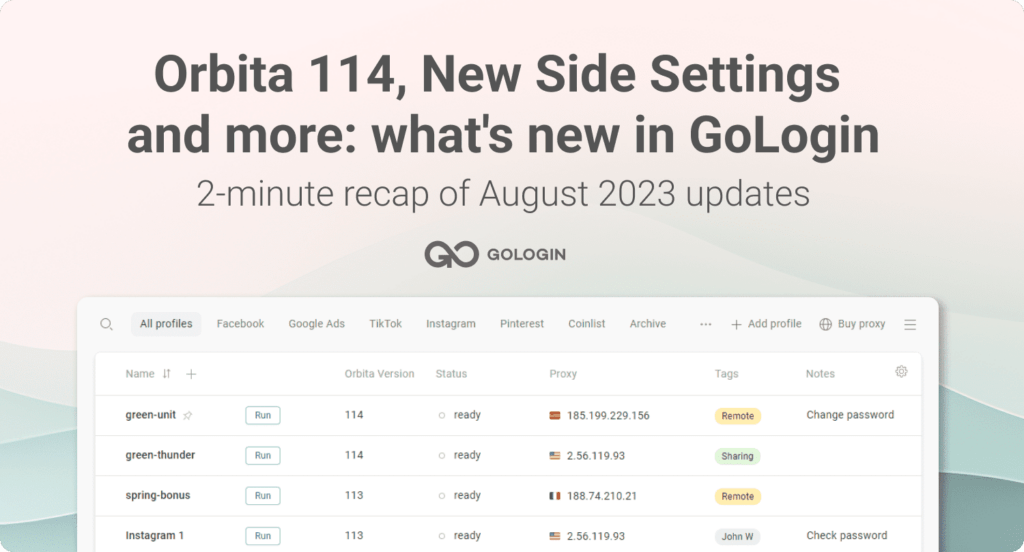 1. Improve your browsing safety with the new Orbita 114 browser core
Here's how browser core updates help your safe browsing. New versions of Orbita browser core allow your multiple browser profiles to stay protected from tracking.
That's because the browser core needs to stay as close as possible to regular Google Chrome versions, which requires constant updates. Thanks to these, your browser profiles stay secure and protected from website tracking.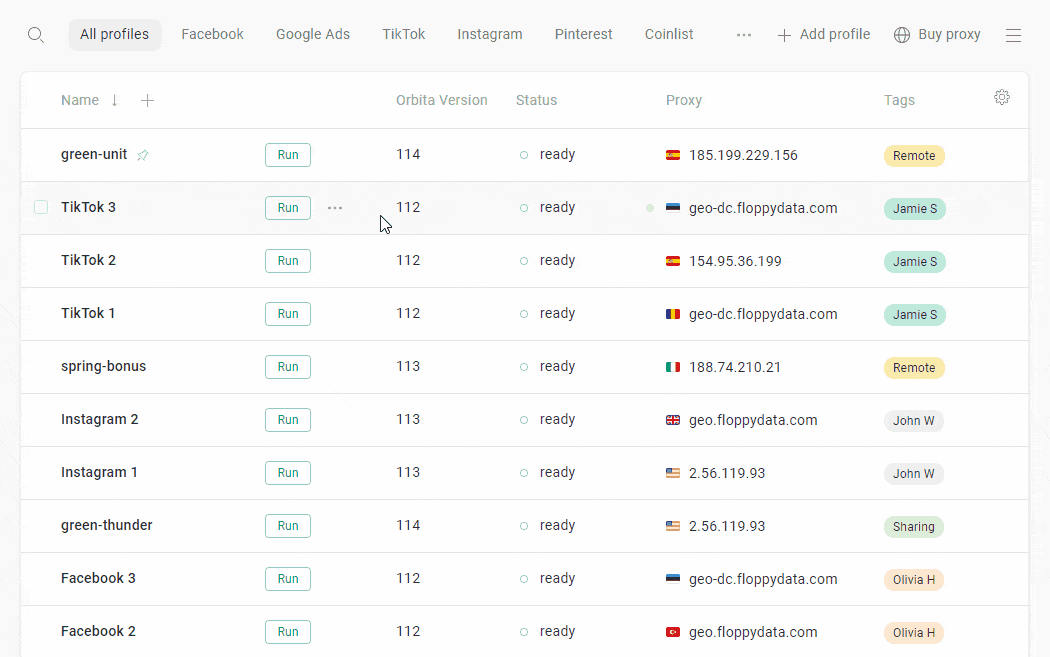 Pro Tip: for better safety and performance, check if your old GoLogin profiles use the latest browser core version. Click "Update" in the profile menu to switch to the latest Orbita version.
2. Save your time managing Bookmarks and Extensions in Side Settings
Add and edit Bookmarks faster than before: now they're available in the Side Settings panel. This allows you to save time by literally making less clicks during work.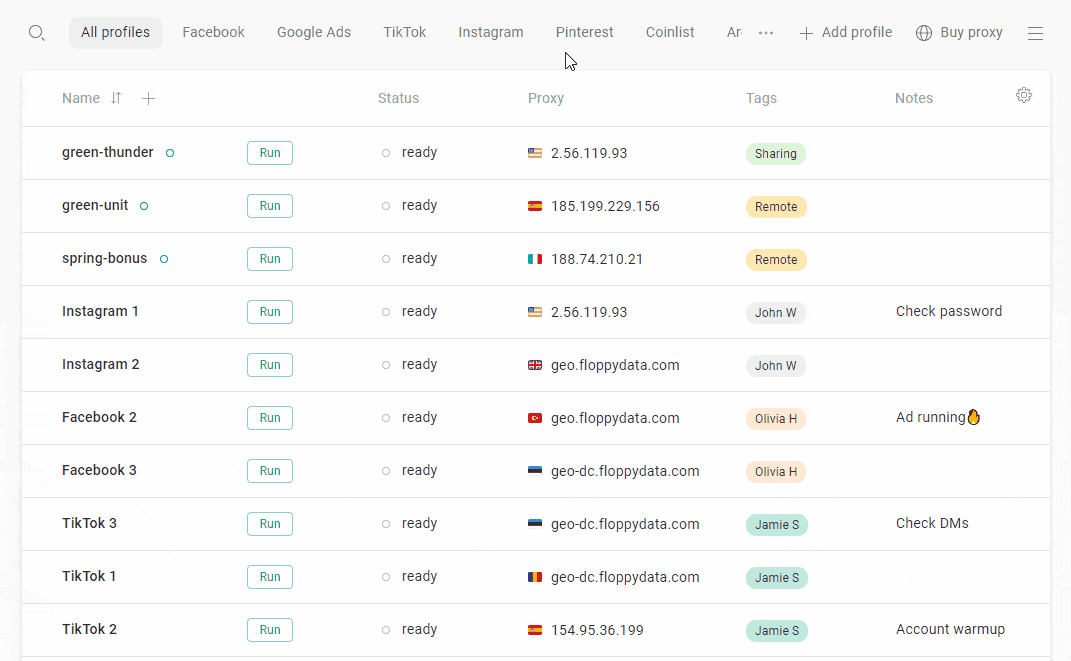 Just paste all your links into the field: they will auto-wrap into the needed form.
Same with Bookmarks, you can also add and edit Extensions way faster than before using the Side settings panel – making less clicks than through regular profile settings.
You can search for existing Extensions or add a custom one. Flag an extension, and it will be automatically added to all new profiles.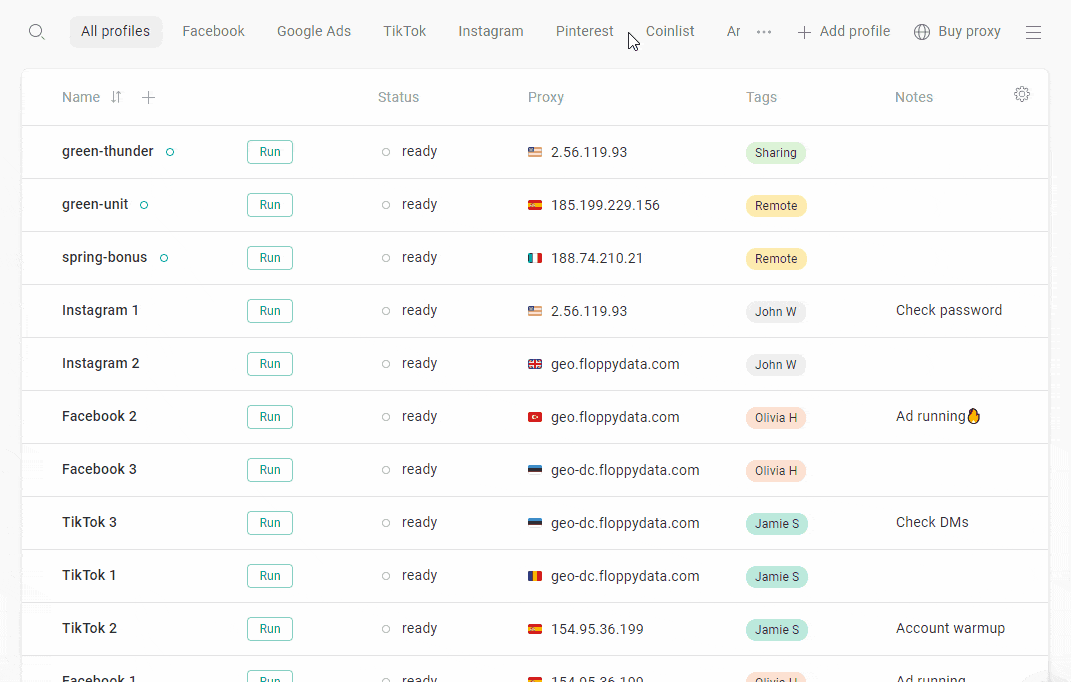 3. Transfer profiles from Dolphin Anty with only a couple clicks
Moving from Dolphin Anty? No manual work needed! Just let GoLogin do all the transfer work for you, and focus on other tasks instead.
Install and launch GoLogin, and it will offer you to automatically transfer your profiles from Dolphin.
The profile transfer can also be started in GoLogin Settings – Overview. Note: you will need your Dolphin API key to perform the automatic transfer. If you don't know what that is, have a look at this guide we made for you.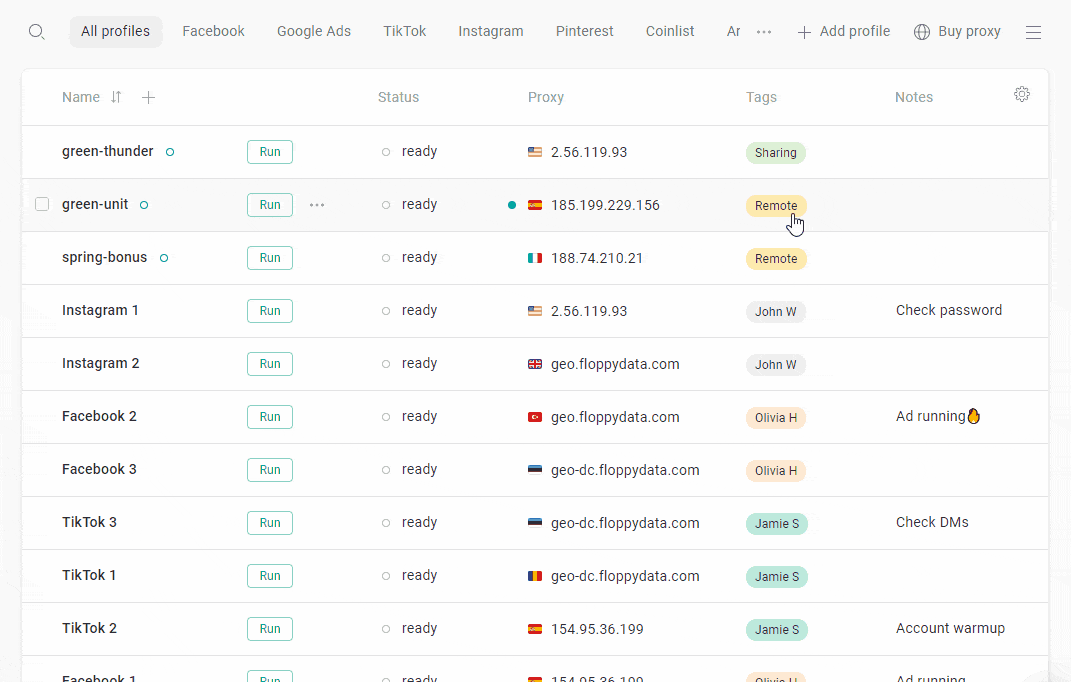 4. Pay for subscription faster with Google Pay and Apple Pay
Use your favorite payment methods to manage subscription easier: we added Google Pay and Apple Pay for your convenience.
If Google/Apple Pay button is inactive, check if you have a working payment method in your Google or Apple account.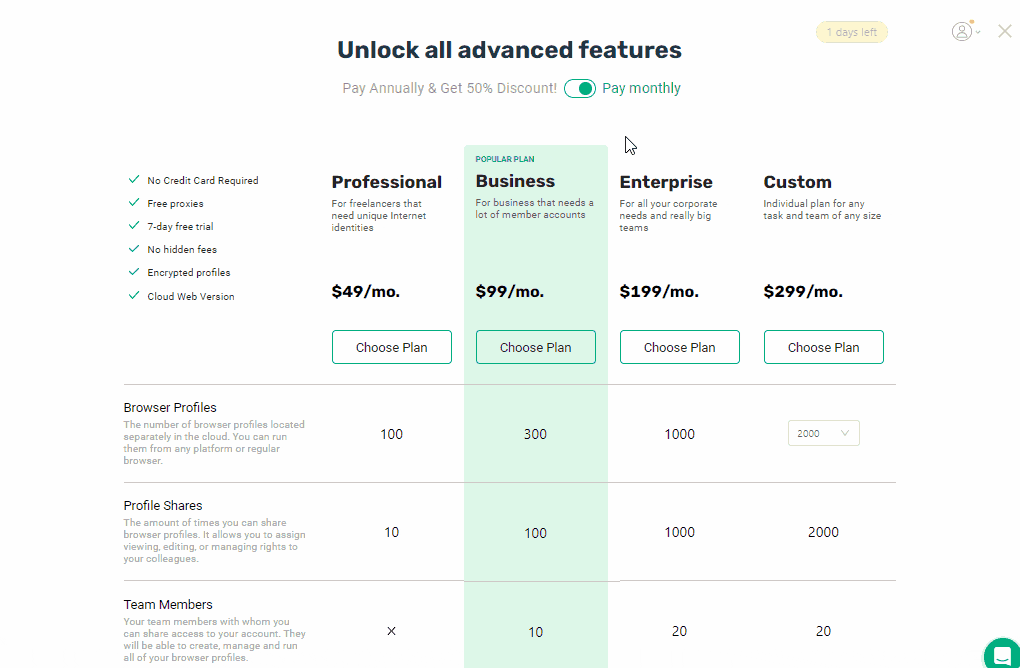 Keep an eye on our next updates: the long-awaited Metamask payment option will be out soon!
5. More advanced fingerprint setup with new CPU Threads options
Enhance your fingerprinting work with more options in CPU Threads when adjusting advanced profile parameters.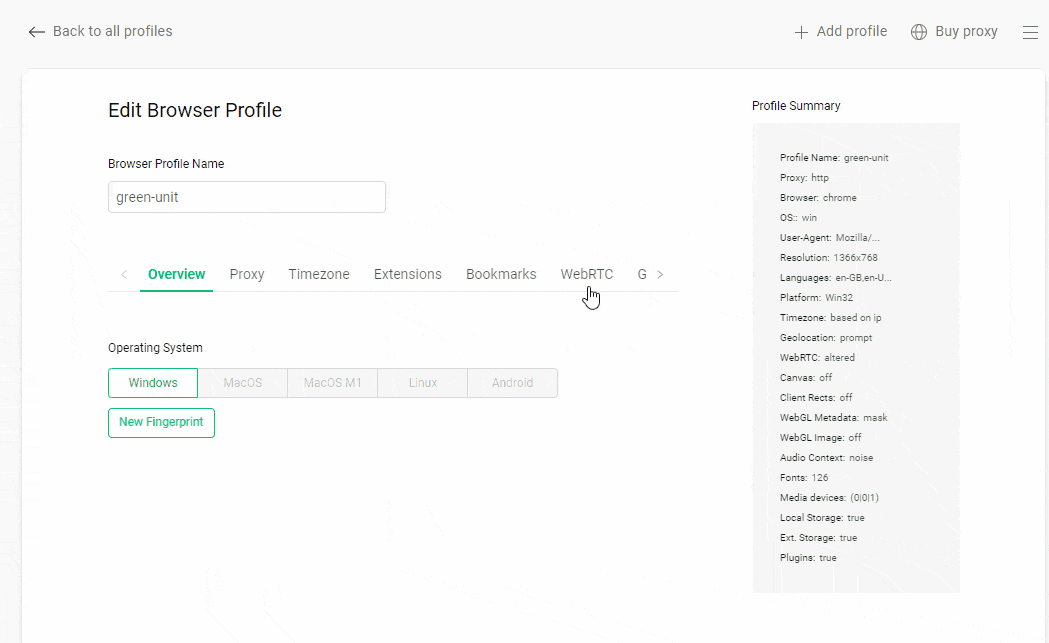 6. Stay focused with Automatic Language option for all new profiles
Spend less time on profile settings: the Language parameter is now automatic for all new profiles.
We added a "Based on IP" setting in Default Profile Settings – Language. This means the profile language will change automatically when you add or change proxies, so it can't be messed up by mistake.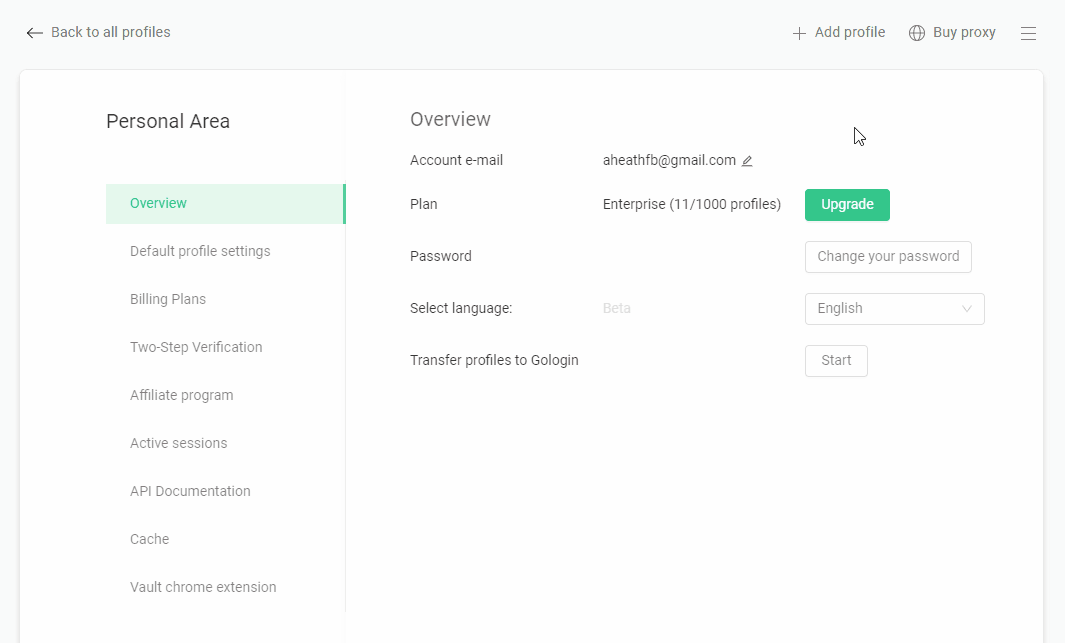 Download GoLogin and enjoy managing multiple social accounts without bans!
⚡Limited Time Offer: get 1 month of GoLogin subscription for free!
Using GoLogin for daily work?
Share how you use GoLogin on a 15-minute research call with us, and 1 month of subscription (worth $99) is yours! Book a call with our manager using this link.