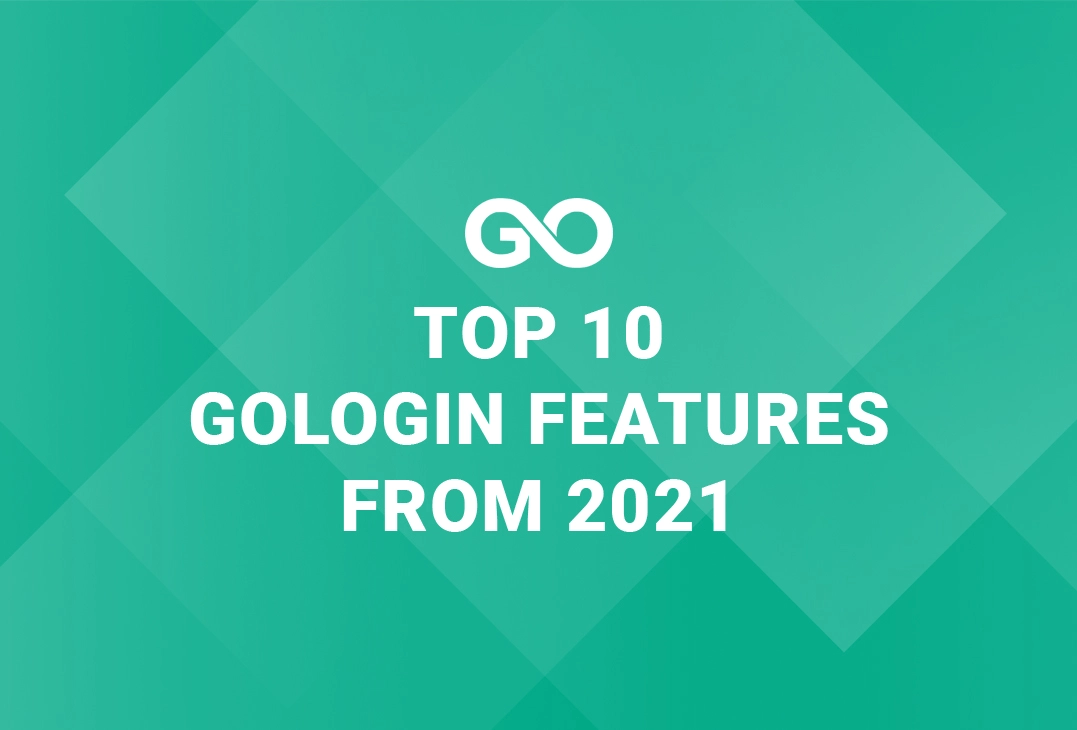 In 2021, we released 34 GoLogin updates, and added 73 new features. It is really a lot, and you might have missed some useful features. Therefore, we have prepared for you the TOP 10 coolest GoLogin features released this year. And at the end of the article, you will find an announcement of the most anticipated features of 2022. Go!
Quick settings
Working with any service should be fast and efficient. To make it easier for you to edit your fingerprints, we've added Quick Settings that appear when you click on a profile. According to statistics, users change these parameters more often than others.
Proxy Insertion
Proxy providers most often provide data in the domain:port:login:password format. Previously, it was inconvenient to enter proxies manually, so we added the Insert proxy button. It appears in the proxy settings when you select HTTP or SOCKS.
Exporting cookies and other profile settings
This feature allows you to export all profile settings to a document. It has infinite use cases, and it is difficult for us to single out the main ones, but we will try. Exporting cookies will help you farm accounts while exporting all parameters allows you to locally save all digital prints or transfer them to another person. You can export data by selecting the required profiles in the checkbox and clicking Export.
Profile Transfer
You could share your profile until 2021, but now you can fully transfer ownership of a profile from one account to another. If you transfer ownership of the profile to another user, then he can do whatever he wants with it. To transfer a profile, you need to click on the three dots next to the profile, select Sharing, enter the recipient's account mail and select the Owner role.
Pin Profiles
With the advent of the Pin Profiles function, there is no longer a need to search for frequently used profiles. They are always at the top of the list. You can pin the TOP-5 main profiles (by the way, this feature takes 5th place in our top).
Android fingerprint support
Some sites trust smartphone users more than desktop. The Android simulation function allows you to create a smartphone user digital identity. Select Android from the Overview menu when creating a profile and try it.
The world is switching to mobile, and we need to adapt to these conditions. Creating the Android app was another important step for us in this direction. At the moment, our app is in beta, but it is already in demand.
Saving and restoring sessions
Session saving is something that everyone has been used to for a long time. We have added saving of sessions to our Orbita browser and improved this feature. When working with a large number of accounts, you often have to take not one but two or more steps back. So we went further, and now you can restore any of the last five sessions.
Multiple Start Pages
Most users open the same sites in each profile, depending on their use case. To save them from this routine, we added the ability to add Multiple start pages. To do this, go to the Advanced section and add the required sites separated by commas.
Profiles Import
Yes, Profiles import is not as popular as Export, but they also have many use cases. It allows you to load all the profile settings from a document. For example, you can use it to bulk change proxies or other profile parameters. So far, no one has come up with anything more convenient than Google Docs!
Proxy Manager
Proxies can be used with multiple profiles. But you don't have to manually enter them multiple times or insert them using the cool Insert Proxy feature! With the help of the Proxy Manager, you can choose a proxy from the existing ones.
TOP 10 GoLogin features from 2022
This part has yet to be written, but we have already started! Moreover, we are confident that the future rating will be better. Here are just some of the features that are currently being developed by our team:
bulk extensions installation
redesign of team members
new interface
human type emulation
cookie robot
bulk cookie import.
Of course, we will not reveal all the cards, but we have something to please users in 2022. GoLogin team wishes you a Happy New Year and Merry Christmas. We are happy to make it more convenient and easier for you to make money on the Internet. Therefore, we wish you a profit and, of course, fewer bans!