Many times Facebook Ads don't get approved. Well, this is such a derailment to your Facebook marketing campaign, but then, it's not such a big deal. The real heat is felt when your Facebook Ad account is disabled. Nothing sends shivers down the spines of Facebook advertisers like the "Your Facebook Ad Account has been DISABLED" alert.
Unlike Ads being rejected, your Ads account being disabled means your entire campaign could go down the drain. Well, that's a big scare, but then, that's not the end of everything. The truth of the matter is that you can still reactivate your disabled Facebook Ads account. In this article, find out 10 reasons why Facebook disables Ad accounts, how to get the Ad account ban lifted, and importantly, how you can remain on the safe side.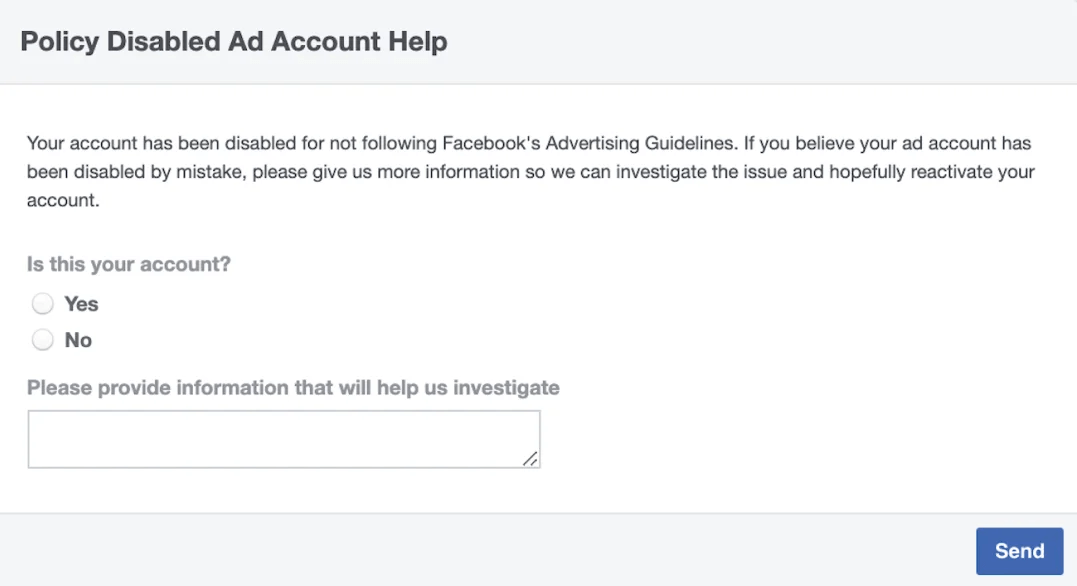 Disapproved Ads vs. Disabled Ads Account
To start, it's crucial to find out the difference between disapproved ads vs. disabled ad accounts, two of the biggest scares when managing Facebook ads.Many advertisers confuse these two concepts.
disapproved ads vs. disabled ad accounts
two of the biggest scares when managing Facebook ads.Many advertisers confuse these two concepts.
Why Can't You Access Your Advertising Account?
Another vital thing to be aware of is the real reason why you lost access to your Facebook Ads account. For the record, advertisers might lose access to their ads account because of two reasons.
(a) Your Personal Account is Blocked
The first reason could be that your personal Facebook account is blocked. Once your personal account is blocked, you lose access to the ads account. But that doesn't mean your ads will be paused. Facebook will still run all your ads and deduct the spend. Anyone else with access to Business Manager will still be able to log in and optimize ads. But for the user whose personal account is blocked, there's no way to access the ads account.

(b) The Ads Account is Disabled
The other reason you might not be able to access your ads account is that the ads account itself is disabled. This is the most common scenario.
What Happens When Your Facebook Ads Account is Disabled?
When the ads account is banned, all the ads are frozen. That means your entire marketing campaign is put on hold until you resolve the problem. Your company or the brands you are running campaigns for will no longer be driving any leads or sales from Facebook for an indefinite period
Why is Facebook Ad Account Disabled?
Now, onto the main business, why do Facebook ads accounts get disabled?
Many advertisers claim that they got banned from Facebook for no reason, but this rarely happens. Facebook disables ads for one reason or another. In this segment, let's find out why Facebook accounts are flagged down.
Well, there are a dozen reasons plus why Facebook bans ads accounts. It could be about the Ad itself, the Ad account, or the Ad's landing page. Let's dive deeper to find out more about why Facebook bans ad accounts.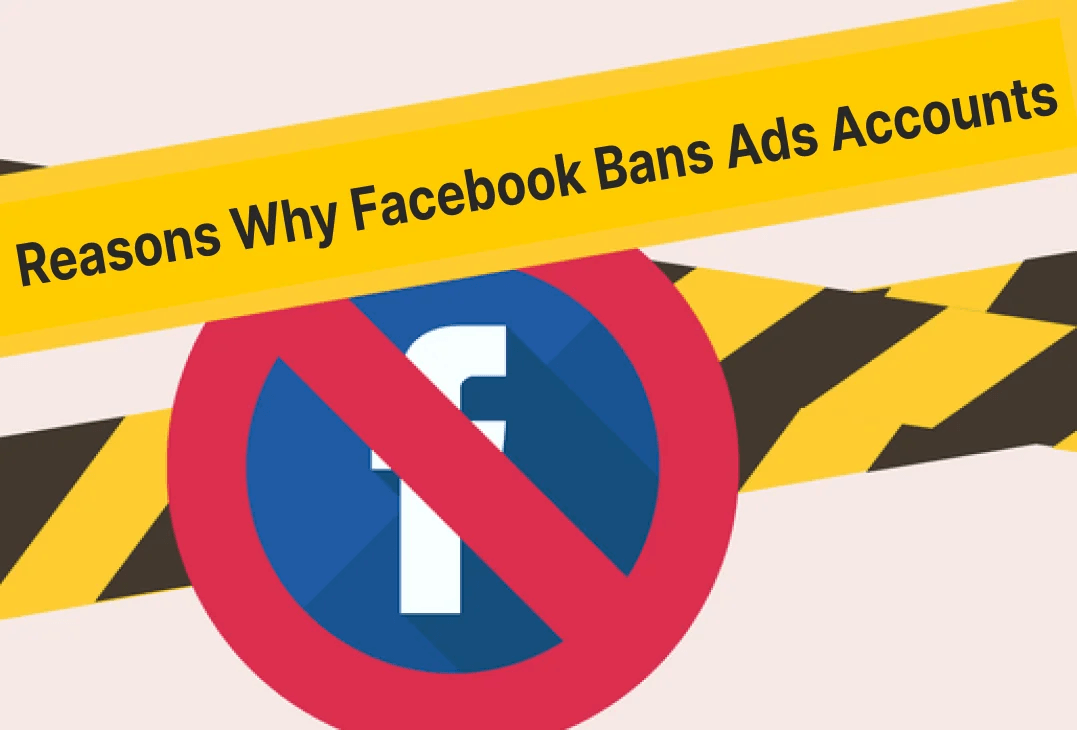 1. Ads That Go Against Facebook Terms of Service
Many marketers get their ad accounts banned because of infringing Facebook's Terms of Service. Even the slightest violation of the Terms of Service will force the company to disable your ads account.
Make sure all the ads you serve meet the company's Terms of Service. For the record, Facebook shuns all content that promotes vices such as sex, violence, and gambling. These are three areas where many bans result from. Other ads against Facebook Terms of Service that will have your account limited include dating ads from unapproved dating vendors or advertisements that promise to help people make money through dubious means.
Go through the Facebook Terms of Service if you want to have a smooth advertising experience on this platform.
2. Ads that Violate Facebook's Advertising Policies
Besides Facebook's Terms of Service, the company has ad policies that have to be adhered to strictly for all ads served on the platform.
Below is a list of the common advertising violations that result in ad account bans.
(i) Personal attributes – Avoid having any content that refers to personal attributes. These include terms such as 'are you,' 'do you,' and the rest. Other personal attributes that should be avoided include terms that depict race, religion, beliefs, age, sexual orientation, etc.
(ii) Facebook brand usage – Ads that contain the brand name of Facebook should not represent the company's brand in any way that makes Facebook the prominent feature in the creative piece. Notably, the brand name of Facebook should start with capital 'F.'
(iii) The 20% rule – According to Facebook's advertising policies, image-based ads should have less than 20% text. Violating this policy might have your ads account blocked, especially if the violation is repeated multiple times.
(iv) Restricted keywords and categories – Facebook uses AI to screen sensitive keywords that revolve around sensitive topics, for example, mortgages, fat loss, anti-aging, and so on. Make sure your ads don't have these restricted keywords. While these keywords will only have your ads disapproved, remember, too much violation of the policy might have your ads account blocked.
(v) Before-and-after images – Don't serve ads that have images that have unlikely results, or 'before-and-after' images.
(vi) Poor content quality – Facebook might ban your ads account if you serve ads that have poor quality. All the images and text should be of high quality. Besides, the text should have proper grammar and punctuation. Importantly, avoid using capital letters too frequently.
The above are some of the common Facebook ad policies that advertisers violate. While violating any of them doesn't mean that your ads account will be blocked immediately, making the same mistake severally will trigger a disablement.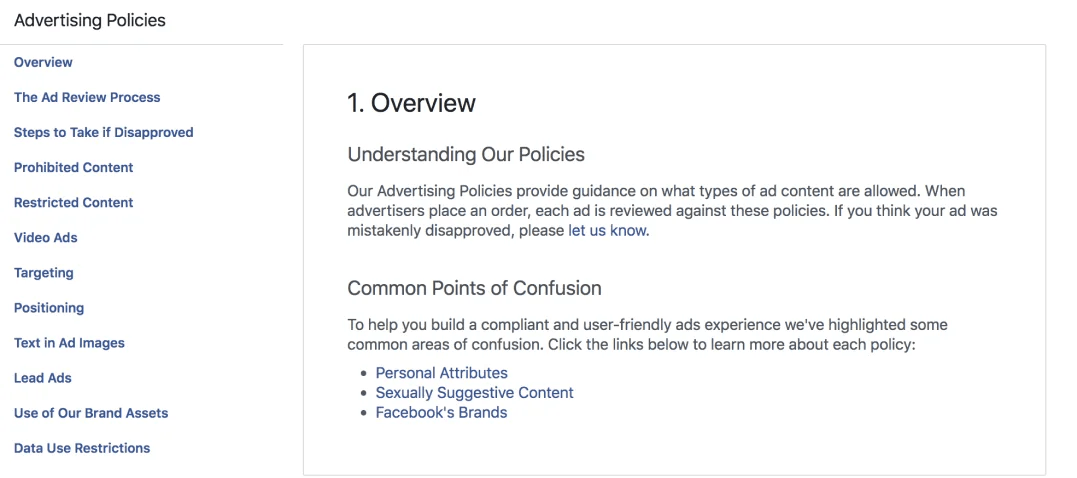 3. Ads that Attract Negative User Feedback
Another reason why Facebook disables ad accounts is because of negative user feedback. There are cases where your ads may comply with the company's ad policies, but they receive a lot of negative feedback from consumers, or Facebook itself.
Recently, Facebook rolled out Relevance Scores, a feature that allows users to close ads and rate the relevance of ads. A lower score is something you should be wary of. A negative score doesn't reduce engagement only; it will have your ads account closed. Just to note, it's not all about your Relevance Score; receiving a lot of negative feedback can trigger doom.
To protect your ads account from negative feedback, make sure to avoid advertisements that lack relevance. Ads that attract negative feedback have click baits and exaggerated information. They also contain unsubstantiated claims, lack clear intentions, and have misleading or irrelevant images.
To avoid having your ads account closed because of negative feedback, make sure to check for negative feedback and pause such ads before it gets worse.
4. Large Volumes of Disapproved Ads
Ads are first checked before being approved. In many cases, the ads account ban results from having too many ads disapproved. Definitely, with many ads disapproved, the company assumes that you have not read the Terms of Use of the platform, or the ads policies, so Facebook is left with no option but to limit your ads account.
To be on the safe side, make sure to read the ads policies and Terms of Use in detail. Importantly, avoid launching large volumes of ads. Go slow on ads to ensure that no large batches of ads are disapproved. Besides having large disapproved ads, having a long history of disapproved ads raises red flags. It's advisable to delete all disapproved ads.
5. Spending Exorbitantly
Facebook, as a business, is out there to make money, but then, the company has a limit to how you can grow your ad campaign. This is to limit the chances of advertisers spamming Facebook users.
Many marketers make the mistake of spending exorbitantly. This is one of the reasons that many ad accounts are banned. While you may have the budget, it's essential to scale your spending slowly instead of splashing money at once. Experts recommend scaling up your budget daily by less than 15% until the ad account is seasoned enough not to raise the red flags that you are spamming users.
6. Logging in from Different IP Addresses
Facebook, just like other websites, tends to associate logging in from different devices with online fraud. This is something that many advertisers are not aware of. Logging in using different devices is considered unusual activity and can be the sole reason your ads account is disabled. Your account won't be disabled immediately, but you can expect Facebook to act if the trend continues.
The best way to stay safe here is by logging in from a single device. If this is not possible, especially during business trips or when you are away from your office, log in using your mobile device.
7. Not Limiting Access to your Ads Account
Facebook keeps track of all personal accounts, fan pages, and ad accounts to detect any association. If a user has been banned from Facebook and is associated with your ad account, you risk losing the fan page or ad account altogether.
That said, you should be strict with all users associated with your account. If Facebook banned them for other reasons, they could spell doom to your account.
8. Using the Same Payment Method for Multiple Ad Accounts
Another reason that could get your Facebook ad account blocked is using the same payment method for multiple accounts. When Facebook bans an ads account, they also ban the particular payment source. That means, if you are using the same payment method for an account that has been banned, you also risk having that account banned.
As a smart advertiser, create a Facebook Business Manager account that allows you to add multiple accounts with different payment methods. This way, even if one of your accounts is banned, you can still use other payment sources without any worries.
9. Landing Pages with Unclear Intentions
Facebook will also block your ad accounts if your landing pages have unclear intentions. An appropriate landing page should show users what exactly they are getting when they opt in. The offer information should be specified. The landing page should also have business information such as the business name and logo, contact details, address, resources, and a disclaimer.
10. Inconsistent Payment Issues
The last reason most ad accounts are disabled is because of inconsistent payment issues. Facebook flags down accounts that have late payments as this implies the account is unreliable. To avoid ad account closure because of inconsistent payment issues, make sure to pay all pending bills on time.
What to Do If Your Facebook Ad Account Is Disabled
Now that you know the common reasons that lead to Facebook ad account closure, the big question is, how do you get the Facebook ban lifted?
Whether it's your fault or not, getting back a disabled ads account is not a walk in the park. But that doesn't mean it is the end of you and Facebook marketing. You will, however, have to go through a rather tiresome appeal process. In this section, find out how you can restore a disabled ads account.

1. Appeal By Requesting a Review
One of the ways of having the Facebook ad account ban lifted is by requesting a review. There are chances that your account was closed by mistake, but this happens rarely. If you think this is the case, you might want to ask for the account to be reviewed. Do this only when you are sure that it was flagged down by mistake.
To request a review, navigate to the 'Request Review' tab, upload the form ID, and then send your review request. After asking for a review, keep checking your Facebook Help Center Support inbox for any feedback.
After the ad account review is complete, your account will be either reinstated or banned permanently. When appealing, make sure to be polite. First, thank the team for taking their time to review the ban. Then, write a summary of what happened without beating about the bush.
2. Use the Live Chat Support Feature
Another fix for a disabled Facebook ads account is contacting a Facebook representative via live chat support. To contact a support agent via live chat, navigate to the Facebook Business Help Page, where you will get two options; "Find answers or contact support." Click on 'Get Started' and then navigate to Ads or Policy and Security. At the bottom of the page, you will see the options of "Need more help? Contact Support." Click on "Chat with an Agent," fill out the information requested, and you will be redirected to a live chat agent.
This method is the best because you are speaking with a human specialist, not a bot. They will explain if any infringements might have led to the ban and what to do in the future. If your account was flagged down by mistake, the turnaround of lifting the ban would also be faster. When talking to the representative, be honest, descriptive, and appreciative.
3. Consult a Facebook Account Executive
If the above methods are not working, you can seek the services of a Facebook account executive. For starters, these are Facebook employees who offer free expert advice, consultations, and recommendations on anything regarding Facebook advertising and ad optimization.
A Facebook marketing expert will come in handy in troubleshooting your ad account block. But then, not all advertisers can access this service. First, check whether you are eligible for the service, then book an appointment. For the record, you can't apply to have an account representative; Facebook has its criteria of assigning account representatives.
How Long Will It Take to Recover a Disabled Ads Account?
After filing for a review or appeal, be patient. Don't try to contact the Facebook team multiple times. Some reviews and appeals might take just 24 hours, but in some cases, it can go up to five days, or even more before you get feedback – be it a complete ban or a reinstatement.
What If Facebook Rejects The Appeals and Reviews?
The above are the most potent methods of recovering a Facebook ads account. Just to clear the air, they don't guarantee that you will get back your ads account. That takes us to the next question? What do you do if your account is permanently disabled?
Well, there is nothing much you can do once Facebook declines to restore your Facebook ads account. But there are a few tips that can help you continue running your ad campaigns.
The most viable option is registering a new business account. If you aren't allowed to create a new Business Manager, you can use the account of a family, friend, or colleague. But then, this is not something you should be doing whenever an account is disabled. Make sure to follow all the Facebook guidelines related to advertising to avoid any further inconveniences.
Besides opening new accounts, consider using other channels that are less restrictive. A good option here is native advertising which has proven to be just as effective as Facebook marketing. What's more? Native advertising is intriguing, engaging, and inspiring. Besides native advertising, you can also try other channels, such as Reddit ads, Snapchat ads, Amazon ads, Twitter ads, Pinterest ads, and Quora ads.
How To Protect Your Facebook Ads Account
While it's possible to recover a disabled Facebook ads account or to get a new account once yours is permanently disabled, the most important thing is staying safe. In this segment, find out how you can stay safe to avoid losing your ads account.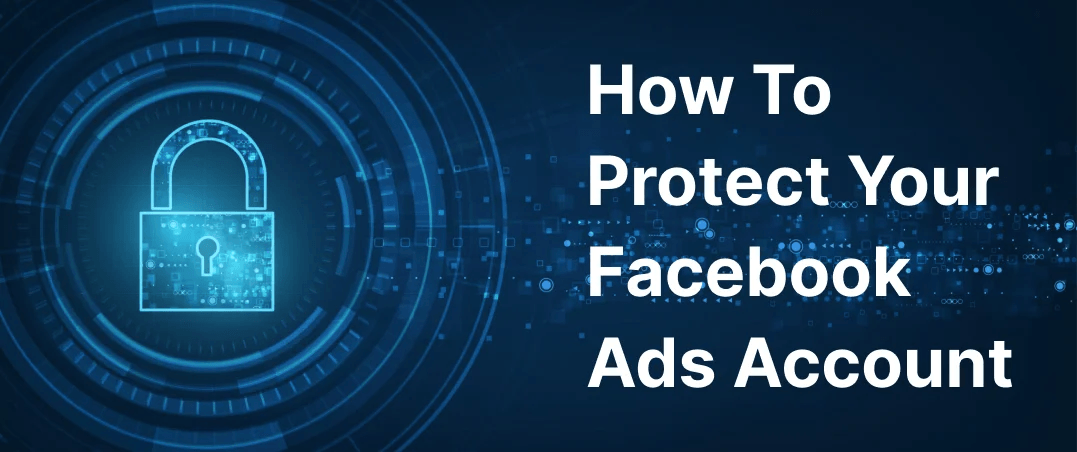 1. Grasp Facebook Ads Policies
To prevent your Facebook account from being disabled, make sure to read and understand Facebook Terms of Use, and importantly, the company's ads policies. As you have seen, there are so many rules and regulations that have to be adhered to. Importantly, make sure that landing pages and the content therein meet the set standards.
2. Serve Quality Ads
Then, minimize the risk score of your account. For starters, risk score refers to the level of your account's trustworthiness to Facebook. The score is determined by the company's algorithms. Be consistent in the quality of ads you serve to prevent large volumes of disapproved ads and other related reasons that could be detrimental to your Facebook customer feedback score. To ensure that the ads you serve are up to the mark, test them first.
3. Avoid Payment Issues
The payment schedule should also be consistent. As discussed earlier, Facebook tends to flag down accounts that are characterized by late or defaulted payments. Importantly, use Business Manager to manage your payments. It allows you to use different payment methods without running any risks.
4. Be Careful with Access
It's also essential to conduct due diligence when issuing access to your ads account. Make sure that all the team members you add have no existing bans or problems with Facebook. Giving access to banned users can be contagious to the health of your ads account.
5. Launch Ads from One IP address
Last, make it a habit to log in from a single device. As mentioned earlier, logging in from different devices can raise the red flags. Launching ads from multiple IP addresses is synonymous with online fraud.
Summary
There you have it, folks, ten reasons why your Facebook Ad account is disabled, how to appeal facebook ban, and importantly, how to be on the safe side from Facebook's ads account bans. Once you adhere to all the rules and regulations of Facebook, you won't have to worry about disabled Facebook ad accounts!